With over 200 million happy & active users on the Viber platform, one can confidently say that Viber has revolutionized how we make calls, send messages, and share information (and pictures) with loved ones and colleagues. Since the astounding emergence of this remarkable platform, new users and other people who are considering whether to sign up or not have always asked how easy it is to transfer Viber messages from one Android to another.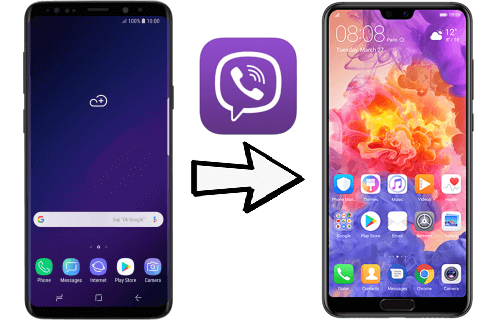 The Viber team has thought about this and developed an ingenious solution for such situations. Here is how you can transfer your Viber messages from Android to Android without necessarily being tech-savvy! Let's get started already. We will share 3 ways of transferring Viber messages from one Android to another without breaking a sweat!
Part 1. The Official Way to Transfer Viber Messages from Android to Android
It's not unusual to stumble upon different articles teaching you how to transfer your Viber message on to a new device (especially from an Android device to another Android gadget). Some of such articles end up complicating a very simple procedure and throwing you into a difficult maze. Now, we will see how it works in detail. How do you back up & transfer your Viber messages?
To begin with, and since we are discussing Android to Android Viber messages transfer, it's advisable that you get a Google cloud account where you can back up your Viber messages. Now that you have taken that out of the way, open your Viber app and follow these simple steps.
Tap "more option" on your screen and click on "Settings".
Now tap the "Backup Viber" option.
Lastly, choose "Back up", and everything will be on autopilot from there. You can then relax while Viber continues to back up your messages.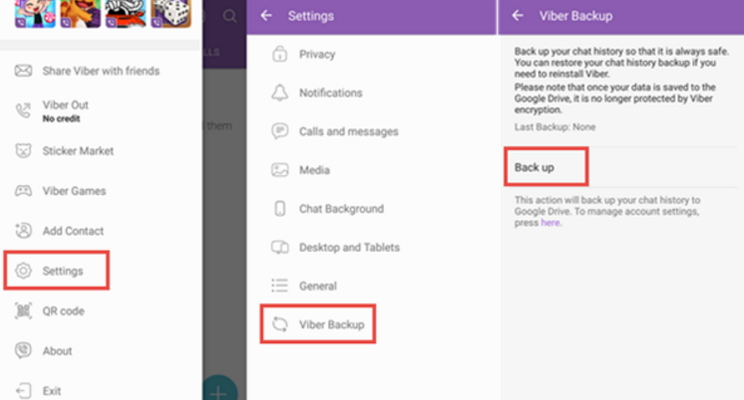 That's quite easy, isn't it? Meanwhile, the backup could take some time (depending on your data size and network strength). Also, if you wish to change your phone number, remember to activate the new number on the old device before proceeding to back up your Viber messages on the old device (like we described in 3 steps above).
As soon as the backup on the old device is completed, you can then proceed to download and install Viber on the new (Android) device.
Lastly, you can use the "more option" in the Viber app to access the "Settings". Choose the "Account" option and tap "Restore". Once you tap on "Restore now", you will have every message from your old phone on the new Android device.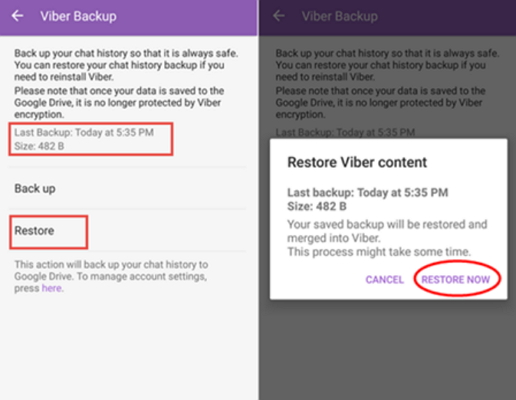 You need to do this with your data or over WiFi connection. Then if you have purchases like sticker purchases, you can restore them from the "Account" option. Simply click on "Purchases" and select "Restore" to restore previous purchases.
Pros
It's easy to do by yourself, and you can access your account from anywhere.
It doesn't demand much data; you can transfer your messages using your mobile network or WiFi.
Cons
There are concerns of Google drive accounts getting hacked even though it seems almost impossible.
The Speed of download and upload may be low depending on file size and network strength.
Part 2. The Basic Way to Transfer Viber Chats between Android Devices via Email
If you have an Android device, then you definitely have an Email account. Do you know that you can use your Email to back up and transfer your Viber messages? Well, if you don't, you know now!
Viber allows you to transfer your message via Google Drive or Email. We have discussed the former earlier so let's see how the "Email transfer" works with Viber messages. Like the first method we discussed earlier, this option is also easy to handle by yourself. Here is how it works.
Tap on the three-bar icon on your Viber app to access the "Settings" option. Then click on "Settings" to display "Calls and messages" - tap on it.
Click the option that says "Email message history" and choose the "Email" option from the list of applications that will pop up. Then type in your email address and password to login to your email account.
Once the above steps are completed successfully, you will be directed to log into your email account again so you can receive your Viber message backup.
If you followed the above steps correctly, then you should already have all of your Viber messages/chats saved in your Email. All you need to do now is to log into your Email account on your new Android device, then download the zip file and extract them to view.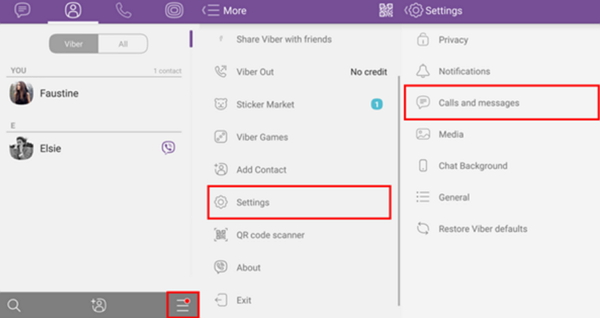 Pros
It is easy to set up and great for backup.
Your Viber messages are secure at all times.
Email services are compatible and accessible on any Android device.
Cons
You can only extract and view them in CSV format.
You cannot restore the mailed Viber messages to your Viber account.
Part 3. Viber Messages Transfer between Android Devices via Backuptrans
Ever thought of the dreadful and heartbreaking moment when something out your control leads to the loss of your Viber message or chat History? Or maybe you're getting a new (Android) phone but worried about losing your Viber messages. Well, you should worry no more.
The days of having challenges with transferring your Viber messages from one Android to another are over. With Backuptrans software, you can back up and transfer or restore your Viber messages from Android to Android without sweating it.
Install the Backuptrans Android Viber Transfer software on your computer.
Use your USB cable to connect your phone to your computer and click the "Back up my data" option that will pop on your screen and click "OK". At this point, this software will back up Viber messages or history on your Android phone.
Now, check the Viber message chat history area on the software. You should be able to view all current Viber messages on your Android phone displayed on the software.
Connect the new phone to your PC and select "Android phone" from the list of devices you will be prompted with.
Then, go to the tool bar at the top of the page and click on "Transfer Messages from Android to Android".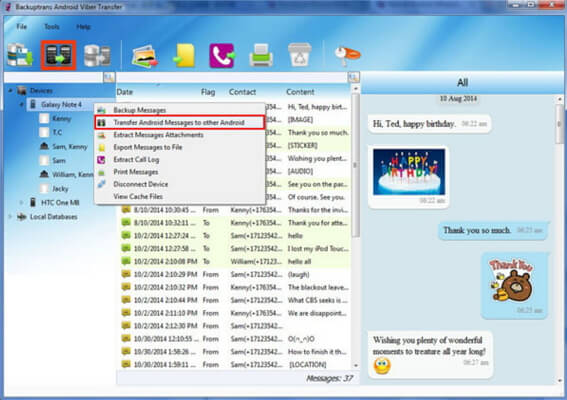 If you do all of that right, then you will successfully transferred your Viber messages from Android to Android like a pro!
Oh, one last thing! If you are going to be using the same phone number in the new Android phone (that is, the same SIM card), ensure that you do the following:
Insert the SIM in the old device and connect to the Backuptrans software to back up the messages or Viber history to a local database.
Once the backup is completed, remove the SIM card from the old phone and insert it into the new one. Then plug in the new device into the computer using a USB cable.
Install Viber app on the new Android phone and verify your phone number like you did the first time you signed up on Viber.
While the new phone is still connected to the PC, open the Backuptrans software and restore all Viber messages on the new Android phone.
Pros
The BackupTrans software is user-friendly and easy to navigate.
It serves as a local database where your Viber messages are stored.
You have the option to transfer your Viber messages individually.
It is compatible with virtually all Android phones.
Cons
You must be online to access your Viber messages from the software.
The software is not free. So, you need to purchase it.
Conclusion
Hopefully, this guide takes you by the hand through the different ways you can transfer your Viber messages from Android to Android without any fear of losing your chats.