When there is inadequate storage space on your device, you don't get to enjoy the use of the device very much. For example, you wouldn't be able to save any new photos, videos or other data on your device. But even more importantly, you will not be able to download any app updates or even software updates and this can cause your device to fail to work normally.
If you use WhatsApp a lot, it is likely that you have a lot of media files like audio, photos and videos that come attached to the messages. One of the best ways to clear up some storage space on your device is to move WhatsApp media to SD Card. In this article, let's take a look at the best way to do it.
1. Move WhatsApp Media to SD Card on Computer
This is perhaps the easiest way to transfer WhatsApp media files to SD card. You simply use the computer as the go-between by copying the files and transferring them to the computer and then move them to the SD card. You will however need an SD card reader to complete the process. Here's the step-by-step guide to help you move WhatsApp media files to SD card using your computer:
Step 1: Begin by connecting the Android device to the computer using USB cables and wait for the PC to detect the device.
Step 2: Double click on "My Computer" or "This PC" in the file navigator and then find your phone. Click on it to open the files and folders on the device.
Step 3: In the phone's internal memory, locate the folder named "WhatsApp".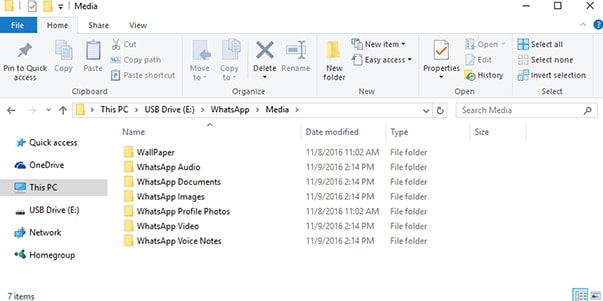 Step 4: Simply copy the entire folder and paste it on a suitable location on your computer. You can then delete the WhatsApp data in that folder to free up space in your device's internal memory.
Step 5: Now insert the SD card into the card reader and connect it to your PC and simply copy and paste the folder to the SD card.
2. Move WhatsApp Media to SD Card without Computer
If you would rather not use your computer to transfer the data or you don't have an SD card reader that you can connect to the computer, you can use an app known as ES File explorer to move the WhatsApp media files to SD card. Here's how to do it:
Step 1: Download ES File Explorer from the Google Play Store and then install it on your Android device.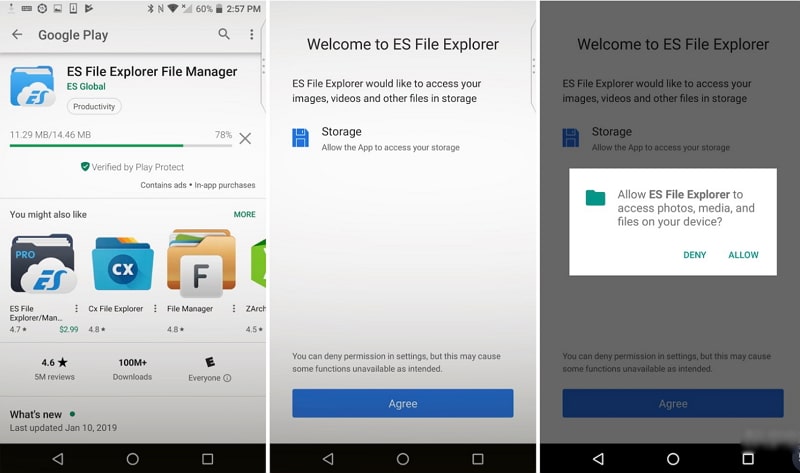 Step 2: Open the application and then click on "Internal storage files".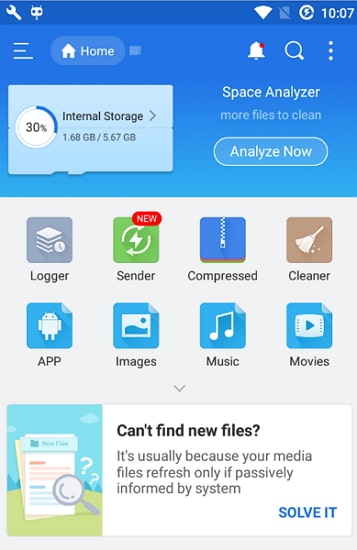 Step 3: All the files in the internal storage files on your device will be displayed. Click on "WhatsApp" to open the files elated to WhatsApp.
Step 4: Find the folder named "Media" and cut it.
Step 5: In your SD card section, create a new folder named "WhatsApp" and then paste the media files in that folder.
3. Change WhatsApp Storage to SD Card
Perhaps one of the easiest ways to move WhatsApp media files to your SD card is to change the default storage of all WhatsApp data to SD card. This may not be easy to do without a third-party tool but there are plenty of apps that can help including FolderMount and XInternalSD. These apps work by allowing you to easily root your device so you can easily store any type of data on your SD card. Here's how to use XInternalSD to change WhatsApp storage to SD card:
Step 1: Install XInternalSD on your device (you can find it on the Play Store) and then open it. In the app's main interface, change the path for the internal SD card to eternal.
Step 2: Click on "Enable for Apps" and then select "WhatsApp".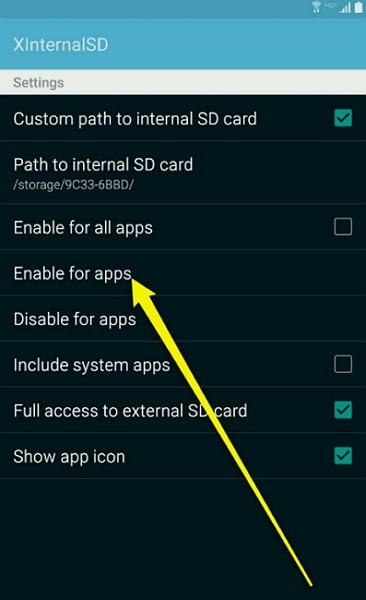 Step 3: Copy the WhatsApp folder from internal storage and paste it to the external SD card.
Step 4: Delete the WhatsApp folder in the device's internal memory to create space on the device and then simply restart the device. From now on, all WhatsApp media files will be stored on the External SD card.
4. Bonus Tip: What is an SD Card?
Most digital devices utilize memory cards and the majority of memory cards are SD cards. The "SD" in SD cards stands for Secure Digital cards and they are generally small non-volatile memory cards inserted into devices like cameras, phones, camcorders and sometimes even computers to create additional storage space. SD cards can be instrumental in helping you safely and easily store media files like photos, videos and audio files that generally take a lot of space on devices.
Just like the various different kinds of devices in the market, there are also various SD cards with brand names like Samsung, Transcend, Kingston, SanDisk and so much more. These SD cards also vary by size, storage capacity and speed.
The SDSD (Secure Digital Standard Digital Card) support lower storage capacities below 2GB. The SDHC (Secure Digital High Capacity Cards) can have a memory of up to 32GB storage. The SDXC (Secure Digital Extended Capacity Cards) offer a memory of up to 2TB.  If you choose to use an SD card for storage purposes, the following are just some of the factors you should consider:
The cost of the SD card is a big factor. While you may want to go for the most affordable model, keep in mind that the cheapest SD card may not have adequate storage or speed.
The speed is also a factor. If you are going to be using your SD card in a smartphone, a class 2 is more than sufficient. A class 4, 6 or 10 would be beneficial to a photographer.
You also have to consider the amount of storage space you need and this will be determined by how much data you want to store.
The physical size of the SD card is also very important. It needs to be able to fit in the card slot on your device.
Now that you have all the information you need, you can go ahead and use your preferred SD card to store WhatsApp media files and save space on your device.