Sometimes WhatsApp backups create problems, and you cannot restore them. You cannot get your files back using that local backup. In this case, you need to force WhatsApp to restore your data from the local backup. This is a complete guide on how to solve WhatsApp can't restore local backup problems. We will introduce excellent software that can restore and create a backup for your WhatsApp account without any problem.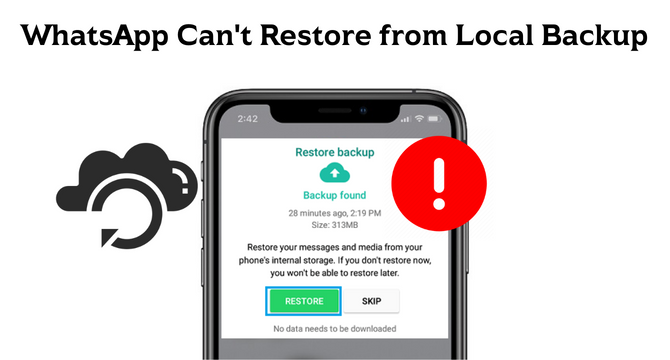 Part 1. Reasons for My WhatsApp Can't Restore Local Backup
WhatsApp sometimes fails to recover data from local backups. This issue can be because of many reasons. There is nothing to worry about; all these reasons are temporary and can be rectified. Some of the major reasons are:
1. Google Account
Before restoring data, make sure that you are using the same Google account for backup and on your mobile phone. Logging into two different Google accounts cannot work in this situation.
2. Phone Number
The same phone number is also required for creating a backup and restoring data through backup. If the number on your Google drive backup and on your WhatsApp account is not the same, you will definitely face the problem.
3. Chat History or SD Card
Any virus or other issue with your SD card or chat history will not allow you to restore data safely through backup. Make sure to keep everything clean, virus-free, and clear.
4. Poor Internet Connection
WhatsApp works with a good internet connection. Any problem with your internet will cause a hindrance in restoring the backup. So, make sure to check the availability of a good internet connection.
Part 2. Restore WhatsApp from Local Backup with WhatsApp Restore Tool
iMyFone iTransor for WhatsApp is the best WhatsApp and WhatsApp Business transfer software that contains high-end features and reliable functions. It helps users to transfer and restore WhatsApp data in the easiest way. It is free to download for both Android and iPhone users.
Features of iTransor for WhatsApp
Transfers WhatsApp between Android and iPhone.
Transfers WhatsApp from iPhone to iPhone and from Android to Android.
Restores WhatsApp from backups in various formats like HTML, CSV/XLS, and PDF.
Restores WhatsApp data between Android and iPhone.
Provide 100% safety, direct transfer, and all chat attachment options.
Backup WhatsApp on Android or iPhone and Restore
Step 1.First of all, download and install iMyFone iTransor for WhatsApp and open it on your computer. Now connect your Android or iPhone with your computer and provide permissions according to your mobile.
Step 2.On the left side of the screen, you will see three options. For backups, select the middle option Backup WhatsApp on Device. Now select the type of WhatsApp (WhatsApp or WhatsApp Business).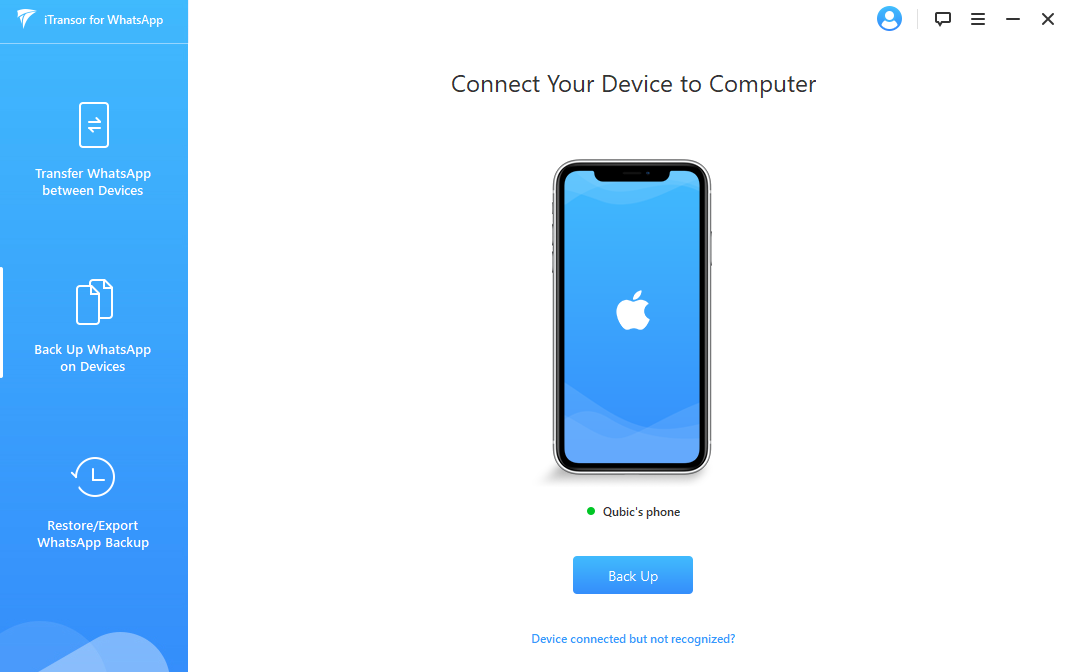 Step 3.After all the above steps, click on the Back Up button, and this will start restoring your data. This step will take some time, so be patient. When the backup is successful, click on the Done button. You can also see the location where you want to store your data on your computer.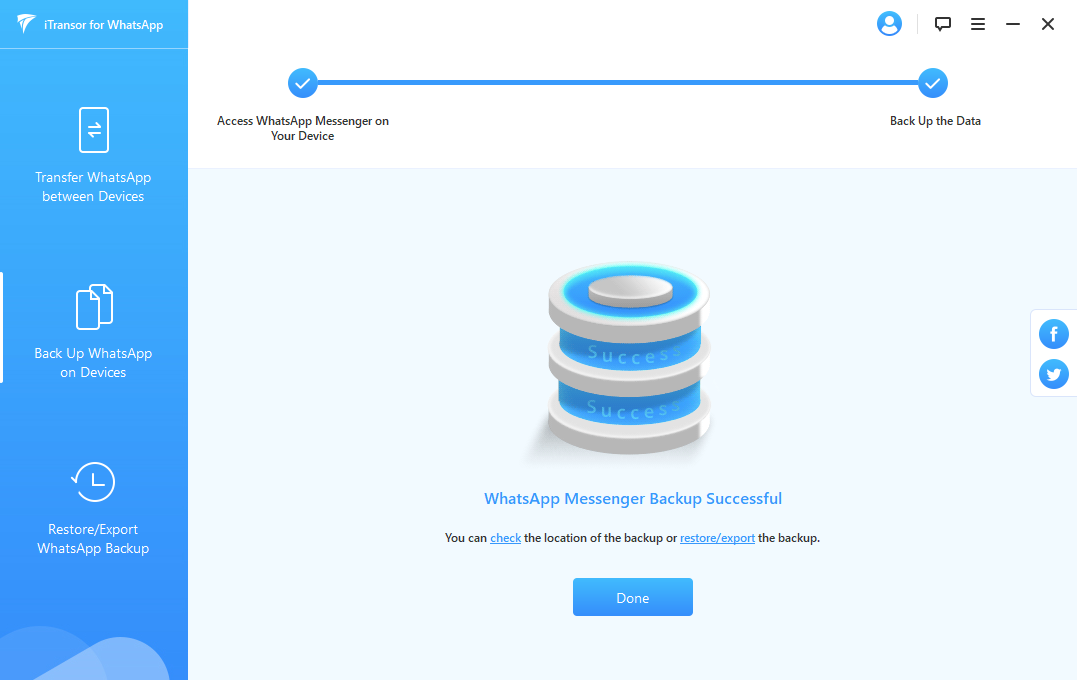 Step 4.For restoring WhatsApp backup data, you will need to select the 3rd option, Restore/Export WhatsApp Backup from the left side of the screen. Clicking on this option will show a list of different backups. Choose the one according to your mobile, or you can also skip it to restore backup automatically.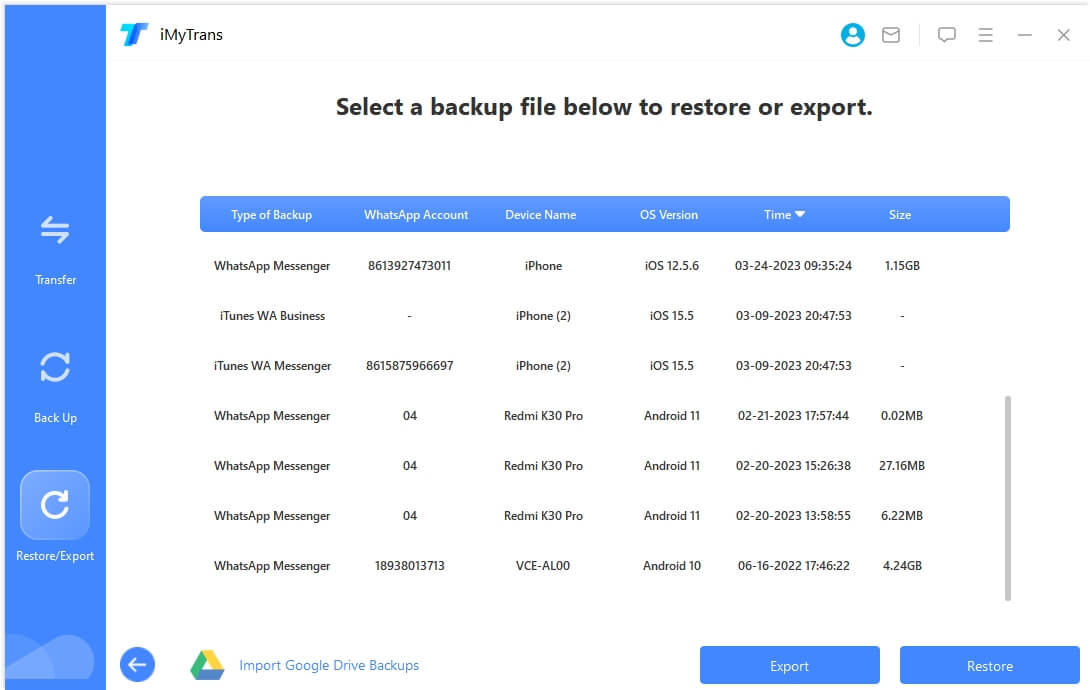 Step 5.At the bottom of the screen, you will see two options Restore to Device and Restore to Computer. After all, connect your mobile to the computer and give all permissions. Select the WhatsApp type and click on the Restore button.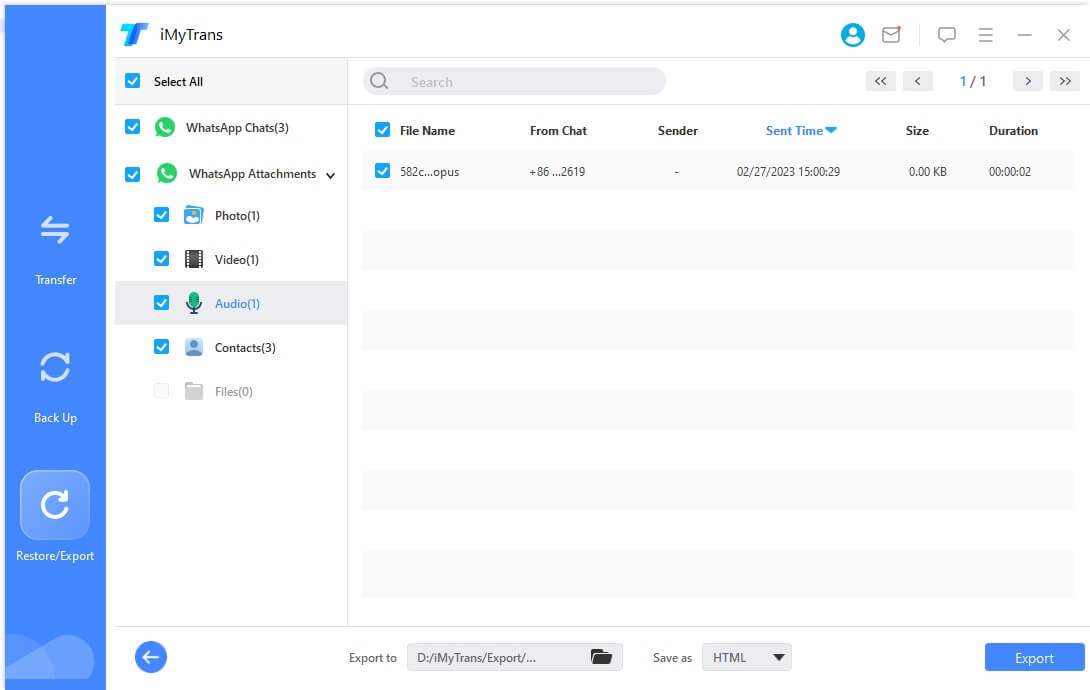 Part 3. Check and Create WhatsApp Local Backup Folder in Right Path
Creating a local backup for WhatsApp is such an easy and quick procedure. It is very similar to creating a backup for Google Drive. You will not need any Third-party tool or software for this purpose. Just follow the simple and easy steps for creating WhatsApp local backup.
Check WhatsApp Local Backup Folder Path on Android
Step 1: Open File Manager. Go to Internal Storage > Android > Media > com.whatsapp > WhatsApp. Open the WhatsApp folder. You will have different folders, and make sure that you have all those original folders there. Tap on Database.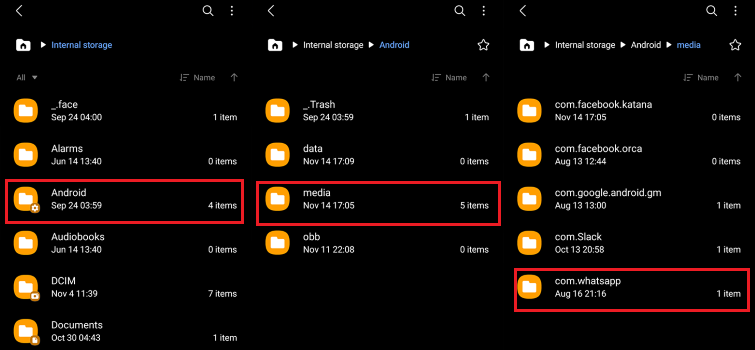 Step 2: Here, you will see all the local backups created by WhatsApp. You can see the most recent backup through time and date.
Create WhatsApp Local Backup
If you have found out that the local backup path in your device is not right, you can manually create the folders or you can backup your WhatsApp again to get another local backup by following the steps below.
Step 1: Open WhatsApp on your mobile and go to its Settings. In settings, you see an option of Chats. Tap on this option, and a new screen will appear.
Step 2: Select the second last option of Chat Backup and tap on it. The information of the recent backup file will appear on the screen, including the date, time, and file size.
Step 3: Tap on Back Up, and this will start creating your backup file. Moreover, you can also include or exclude media from your chat.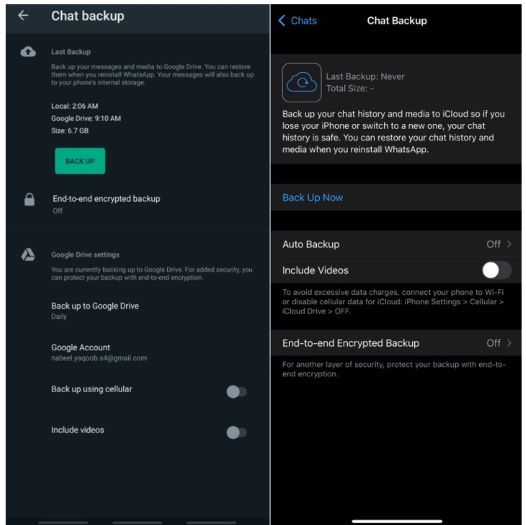 FAQs: More About Restoring WhatsApp Local Backup
1

How do I back up locally on WhatsApp?
Local backups on WhatsApp are very easy to create and restore. There is no need to attach a mobile with any additional device, software, and tool for this purpose. Just make sure to have a good internet connection, and you are good to go.
Open WhatsApp and go to settings. Tap on Chat > Chat Backup and tap on the Back Up button to start creating your backup file.
2

Does uninstalling WhatsApp delete local backup?
No, if you have a backup file of your chat, then uninstalling WhatsApp will not delete your files or messages. You can simply reinstall the WhatsApp application and restore data through local or Google Drive backup through various methods. Some of the important methods are described in the above sections. Follow those methods to get your previous chat back.
Conclusion
There is nothing to worry about if your WhatsApp can't restore local backup because it can be a temporary issue that can be solved easily. Some of the reasons are described in this article. We have discussed different methods to solve the issue, and you can try any of them. If you are not successful in solving the problem, use iMyFone iTransor. It will solve your issue related to WhatsApp restore from local backup instead of Google drive.