There are times when you buy a second-hand phone without knowing previous owner's information or you forget the screen lock out of the blue while the Find My iPhone feature is still on. Any situation like this will drive you crazy. In this case, there is nothing you can do but to seek help from a one-stop solution.
While there are tons of options, iMyFone iBypasser remains at the top of the market. And today let's take a deep look at what can iMyFone iBypasser do, why it should be your first choice in terms of these tricky problems and can you get its free registration code.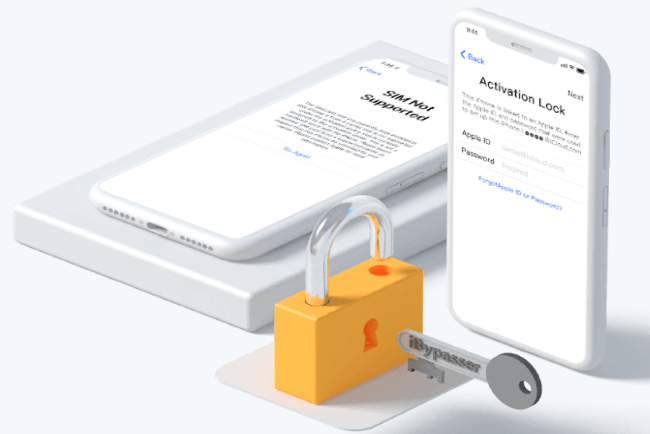 Part 1. Why Do You Need iMyFone iBypasser?
iMyFone iBypasser is such a great helper in getting users out of those tricky scenarios and having access to their devices again.
1

Bypass iCloud Activation Lock Screen
When you sign in to iCloud with your Apple ID, the Find My feature on iPhone will be enabled. And since the activation lock is linked to this feature, it will be automatically turned on as well. With this activation lock, any unauthorized intrusion into your device will be prevented. In other words, no one can reactivate your iPhone without your Apple ID and password because the iCloud Activation Lock is turned on.
However, what if you want to set a new Apple ID but your iPhone is a second-hand device or you just forget the Apple ID and password you use when you first log in? Don't worry, in this case, iMyFone iBypasser can help to bypass the iCloud activation lock without any previous information.
2

Remove Screen Lock and Bypass Activation
If you try the wrong passcode on your iPhone for too many times without getting positive results, the iPhone is disabled will appear on the screen to let you retry again in several minutes later. In this case, you can use iMyFone iBypasser as well to remove the screen lock and prevent your device from getting into a worse situation like you can only try to enter the passcode again in years later.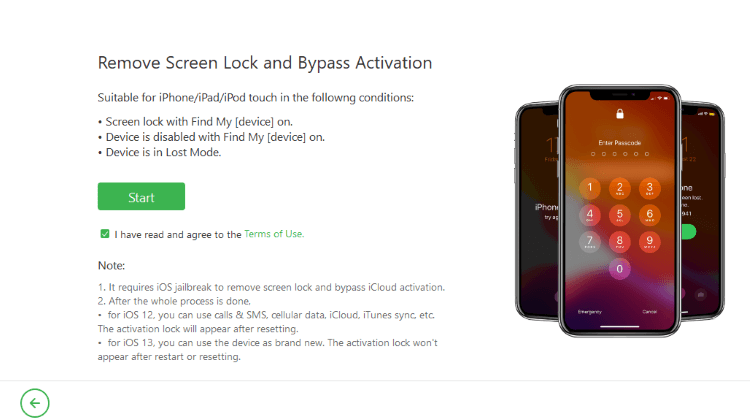 3

Remove iPhone SIM Lock
iPhone SIM lock is a restriction added to the service provider's cell phone. By imposing this restriction, your phone can't use any other network provider's SIM cards before the initial contract is ended. That's why you will see SIM Not Valid appear on your iPhone when you try to use other carrier's SIM card. If you can't do that on your own, then iMyFone iBypasser can easily help you remove the SIM lock as well.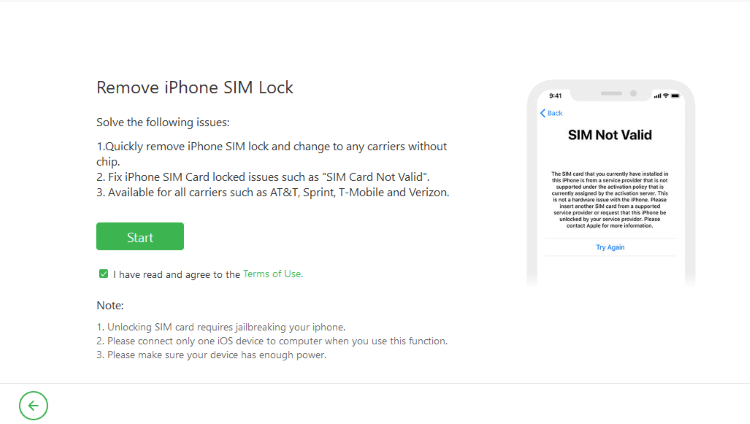 4

Turn Off Camera Sound
If you bought an iPhone from Japanese or Korea, it definitely comes with a shutter sound every time you take a photo. However, you may feel awkward sometimes when the sound keeps showing up thus disturbing others at some formal occasions. In this case, you can use iMyFone iBypasser to help you get rid of this embarrassing situation without losing any data.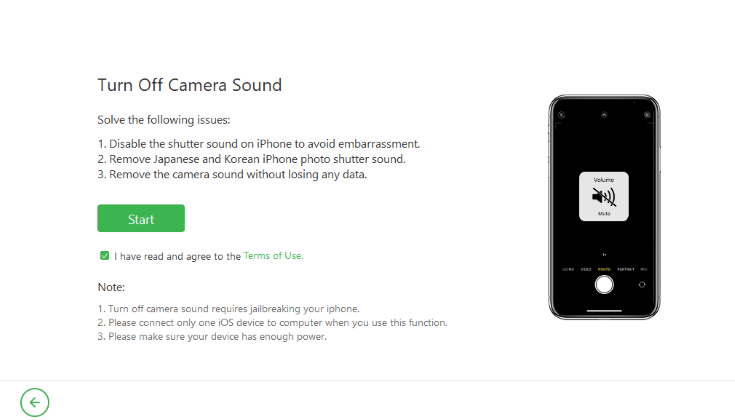 Part 2. Is it Possible to Get iMyFone iBypasser Registration Code for Free?
It is only possible when iMyFone has its own activities available online and you get the free registration code by involving in these activities. Other than that, you can't get access to any free iMyFone iBypasser registration code.
Therefore, if you find some articles online suggest that they can offer you iMyFone iBypasser crack licensed email and registration code, don't click on them. These terrible disinformation may contain malicious software and thus intruding your private data without your knowing. Below are some of the examples that can help you better identify them, Don't be Tricked!

Part 3. Why Should You Need an Authorized iMyFone iBypasser License Code?
As we've discussed that the crack version online is unreliable, it is now we talk about why you should need an authorized iMyFone iBypasser license code. And the reason is simple: You can enjoy iMyFone iBypasser in a safer way.
A True Money-saver
Compared to its competitors, iMyFone iBypasser is a real money-saver while guaranteeing you the greatest efficiency in helping you to unlock your device. The service you get from it is worth every penny and more.
Trustworthy Customer Service
It's certainly ok if you want to know more about it before deciding whether to choose it or not. iMyFone is equipped with a professional team that is 24/7 standby to solve your confusion.
If you're not satisfied with iBypasser and ask for a refund after you purchase it, the 30-day Money back guarantee made by iMyFone can still help you out.
Part 4. All Plans of iMyFone iBypasser
I'm sure now you are interested in what kind of plans does iMyFone iBypasser offer and what differences do they have, given that, I'll show you one by one.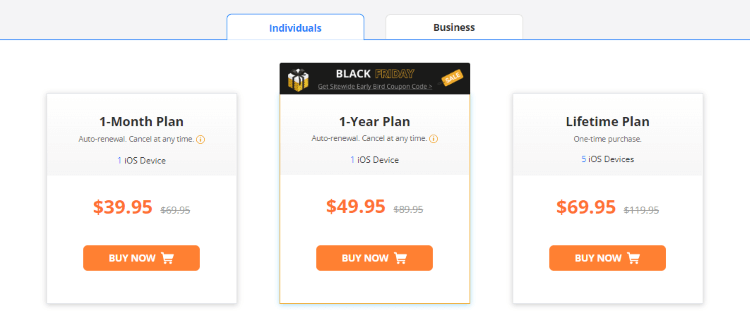 1-Month Plan: This license is applicable to 1 iOS device that lasts for a month and you can get it at $39.95.
1-Year Plan: This license is also applicable to 1 iOS device that lasts for a year and you can get it at $49.95.
Lifetime Plan: This license is a one-time purchase that is applicable to 5 iOS devices, you can get it at $69.95.
Business Plan: If you need to fix some problems on more than 5 devices, we also have a business plan on the list. And the money you need to pay depends on how many devices that need repairing and how long do you need this product.
No matter what kind of plan you choose, you can renew the software to enjoy its latest features all the time. And I'm sure that whatever the plan is, there is certainly one that can suit your need. If you do need iBypasser to help you out, you might check its plan with the bonus offered in the next part.
Part 5. A Bonus for iMyFone iBypasser with 10% OFF
Now that you know what iBypasser can do to help you in despair and what plans can it offer to better suit you, if you're still interested in the powerful features that iBypasser have, you can use below 10% OFF coupon below to try it yourself.
10% OFF Coupon Code: YTR5E7
Since the coupon is placed here, I'll show you how to use it to get a discount when you're making a purchase.
Step 1: You should go to the purchase page of iMyFone iBypasser first, choose the plan you want and click on Buy Now.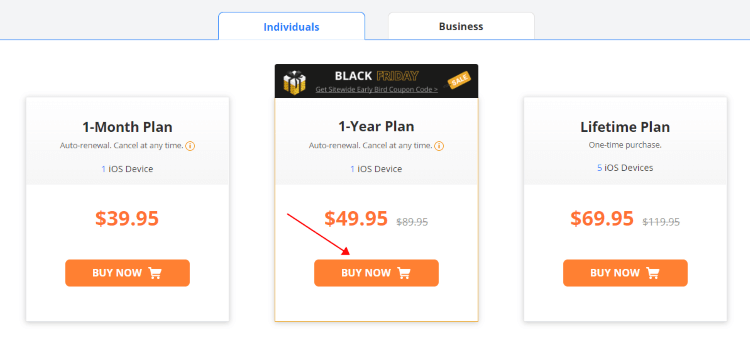 Step 2: You can see I have a coupon sign at the left corner, click on it, copy the coupon that offered, paste it in the box and click Apply.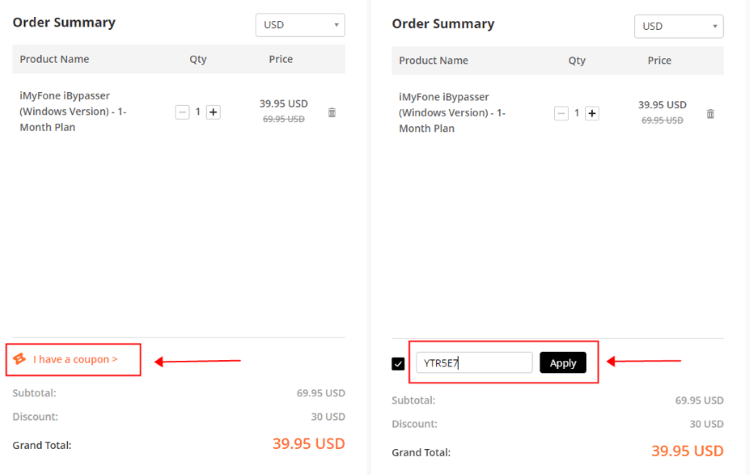 Step 3: The coupon now is applied. You can enter a valid email address and choose your belonging region to finish the payment process.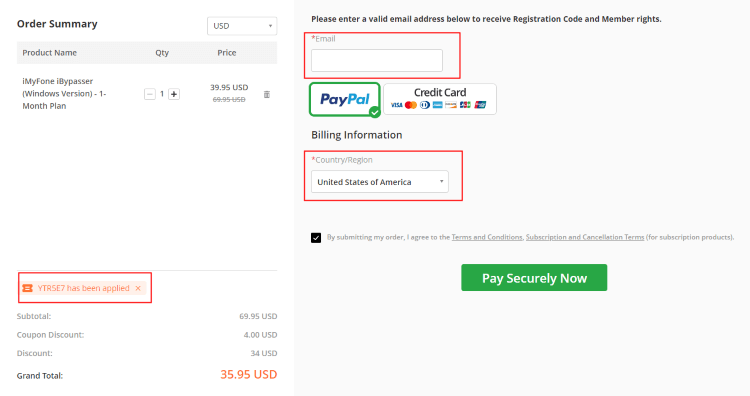 Conclusion
This article detailedly discusses iMyFone iBypasser, hope you can better understand it. Don't trust any free or crack licensed email and registration code post online, they really won't work. Also, a 10% OFF coupon is offered in case you should need to buy its plan. And whenever you have questions about it, you're welcomed to leave a comment below or contact our support team for help, we'll try our best to solve your puzzle.