Are you having trouble getting text messages forwarding enabled on iOS 15? Does it seem like this simple function just doesn't work for you, even though it was one of the promising new features for the new iOS? Being able to view text messages across devices can be really convenient, so you don't want to miss out. Luckily, there are a few simple solutions to fix SMS forwarding iPhone problem that may help you out:
Steps to Enable Text Message Forwarding on iOS 15
Here is how to enable text message forwarding on iOS 15:
(1) On your iPhone running iOS 15 or earlier versions, go to Settings > Messages > Send & Receive.
(2) Tap where it says "Use your Apple ID for iMessage" and then put in your Apple ID and password.
(3) Now you can choose an e-mail address to associate with your Apple ID. After you have chosen the one that you want to use, click Next.
(4) Go to Settings > Messages again, then tap Text Message Forwarding.
(5) Your iPad or Mac will receive a verification code in Messages. You will need to enter this code into your iPhone to verify.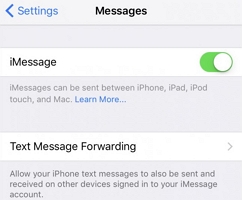 ---
Can't Activate iMessage & No Text Message Forwarding Option?
If you can't seem to activate iMessage, then try a few things:
Check the time and data on your iPhone.
Turn off and restart iMessage.
Update your version of iOS.
Talk to your cellular service provider.
Toggle airplane mode on and off.
Remove any restrictions for iMessage in your settings.
Sign out of iMessage and sign back in.
You can read about these troubleshooting methods in more detail here: How to Fix Error Occurred during iMessage Activation?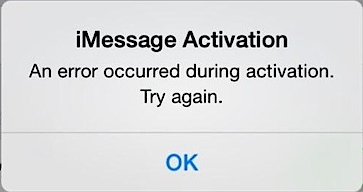 ---
TIP: Transfer Old iPhone Messages to Your iPhone 13/12
You can use a tool called iMyFone iTransor to easily transfer messages from your old iPhone to your new one, if that's what you're trying to achieve through forwarding. iMyFone iTransor lets you back up and restore all kinds of data from your iOS devices. Here are some of this application's great features which help you transfer data, even if you use iOS 15:
Key Features (iOS 15 Supported):
Transfer messages from iPhone to iPhone, Windows or Mac.
Besides messages, it supports other 17 types of data, such as WhatsApp, notes, voice memos and much more.
Back up your data on device completely or selectively without overwriting old backups, and FREE of charge.
Similarly, restore your device partially (such as by restoring only your messages) or completely, depending on your needs.
How to Transfer Messages/iMessages from Old iPhone to iPhone iPhone 13/12
First, you will need to back up the messages on your old iPhone:
(1) Install and launch iTransor on your computer and plug your old iPhone in. Please notice that the program supports not only iOS 15, but the earlier versions such as iOS 14/13/12/11.
(2) Click where it says Back Up Device on the main screen after choosing Acquire Backup from Device & iCloud.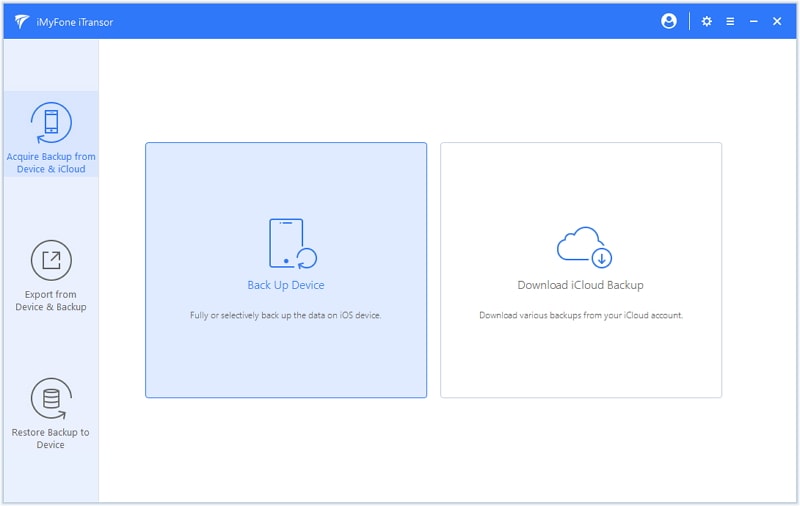 (3) Check Messages option which is under Select One or More Data Type(s). You can choose other data if you need. Click Back Up to proceed.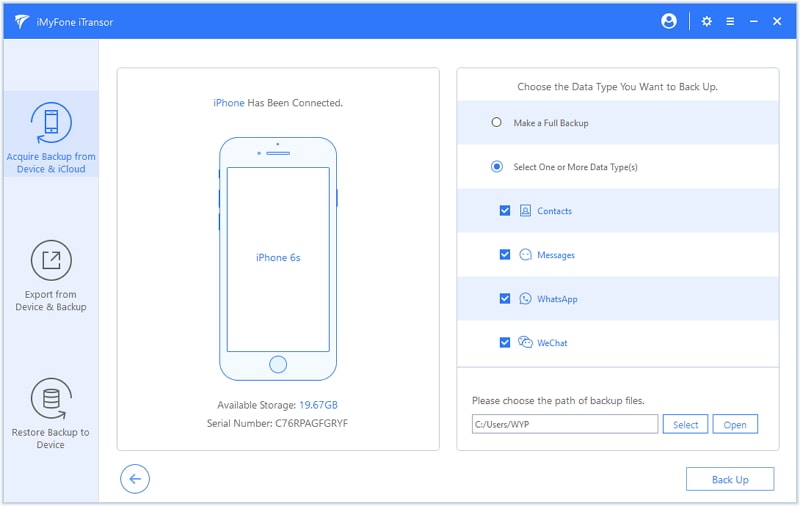 (4) Wait until the messages on the old iPhone are backed up before unplugging your iPhone.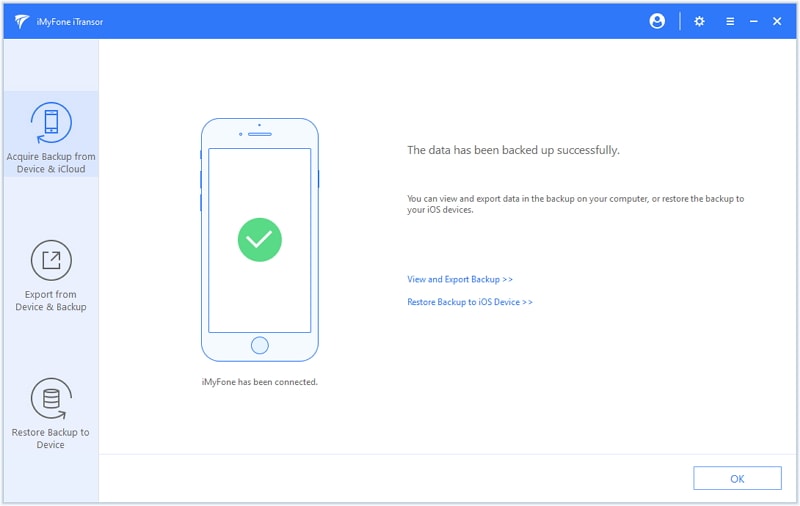 Now, you will restore the messages to your new iPhone:
(5) Unplug your old iPhone and plug your new one into your computer and click where it says Restore Backup to Device on the left sidebar. Choose the message backup from the list provided, then click Next.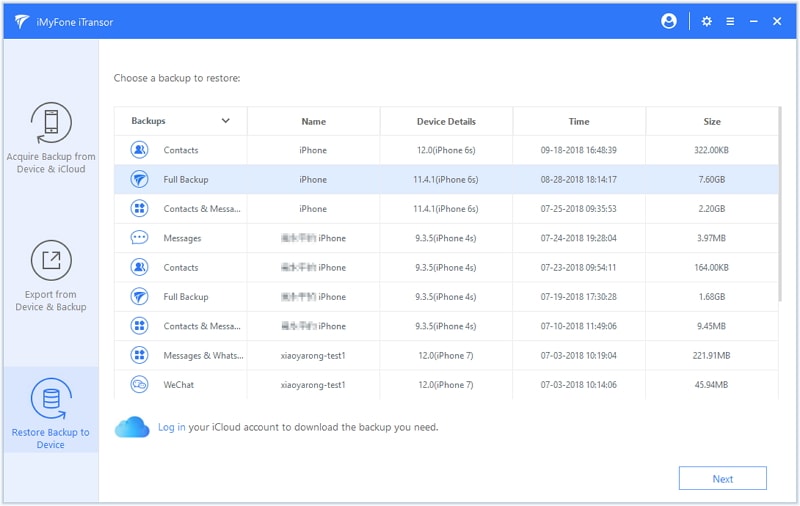 (6) Click Directly Restore after you make sure that the option of Messages is checked and the new phone is connected. Then you can merge the messages in backup with the ones on new iPhone by click Merge, or replace the messages on iPhone by clicking Replace.
(7) Then you just wait for the process to be completed. Do not unplug your device until the restoring is done.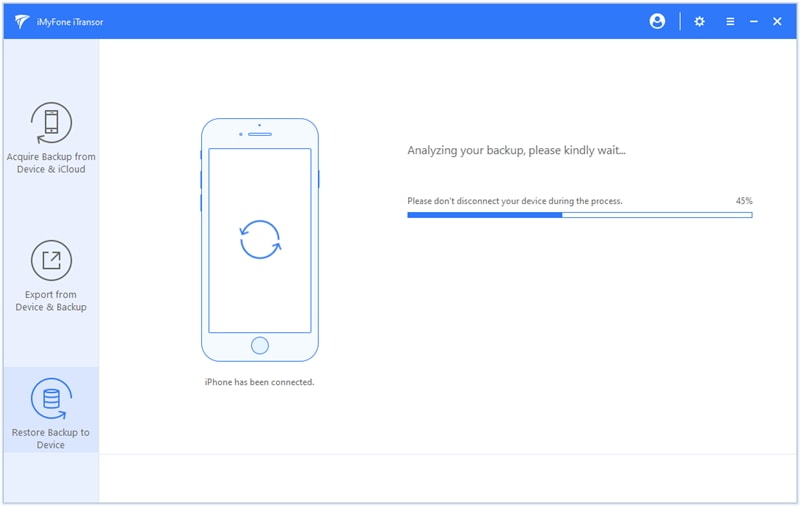 Once iMyFone iTransor has transferred the messages successfully, you can view them on your new iPhone.
Text message forwarding can be very useful for iOS users, but if you can't get it to work or you are simply looking to transfer your messages to a new phone, then iMyFone iTransor can be a good tool to use instead. In just a few minutes, you can transfer all of your messages conveniently to your new iPhone 13, even if iOS 15 is running on it.