Did you get a new iPhone to replace an old or broken one and you tried restoring the new iPhone from backup, but it's taking too long? This can often happen when you have lots of data on your backup from your old phone. Sometimes the restoring process might even seem fairly short at first (maybe only a few hours), then it will steadily increase while it's restoring, instead of decreasing like it should!
If your estimated restoring time is 20 hours or more, you might be wondering if something is wrong. This can be especially bewildering if you're using your lightning cable (which is supposed to be fast) instead of your local Wi-Fi network.
So, why is this happening and how do you fix it?
Reasons Why Restoring iPhone from Backup Takes Too Long
There are many reasons why restoring your iPhone from backup may be taking too long:
1. It could be that you don't have the latest version of iTunes on your computer, and this could be causing problems.
2. You can't restore an iPhone backup that was made with an newer version of iOS (iOS 15, for instance) to a phone that uses an older version (for instance, iOS 9).
3. You may not have enough storage space on the new phone to take the backup. Make sure that it does.
4. Sometimes the issue is a bug or there are unknown problems that are hard to identify.

How to Fix Restoring iPhone from Backup Taking Too Long
First of all, you need to go through the above possibilities to confirm that the issue isn't caused by these common problems listed above. What if you do your best to fix all of these issues and you still can't restore the iPhone backup? In that case, you can try this great iPhone restore tool called iMyFone iTransor.
What Is iMyFone iTransor and Why Is It Better Than iTunes?
iMyFone iTransor is an application that can help you make and restore backups of your iPhone without the need for iTunes. Why use it instead of iTunes? There are many reasons:
Key Features (iOS 15 Supported):
You can avoid a lot of the bugs and unknown errors of iTunes.
The restore time is very short, often less than 20 minutes.
Most importantly, you can choose what data is most important and selectively back only that data up. You can also back up all of your data, too, of course.
Later, you can export data from backups and selectively restore only what you need to iPhone. This saves you time and space. Naturally, you can also restore all of your data as well.
How to Restore iPhone from Backup Using iMyFone iTransor
(1) Open iTransor on your computer and make sure that your iPhone is plugged into the computer. Click where it says Restore Backup to Device on the left sidebar and select a backup from the list on the screen and click Next.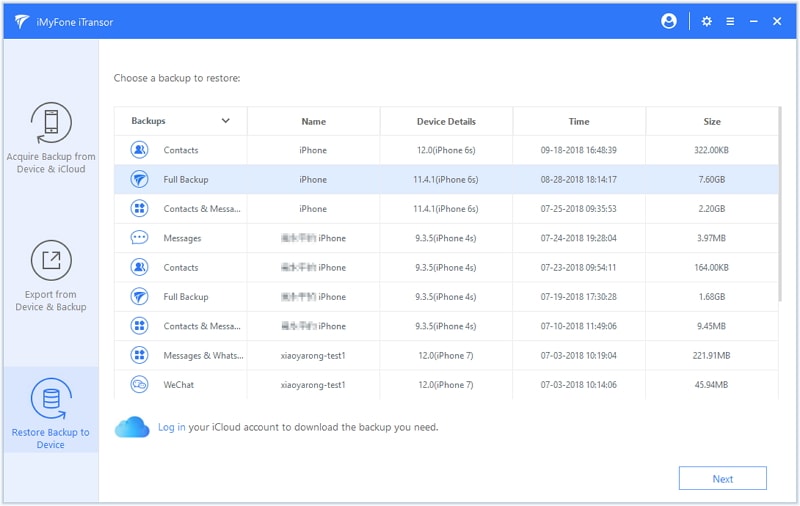 (2) Select Restore Full Backup (you can also select Restore Partial Backup if you want to be selective in what data you're restoring).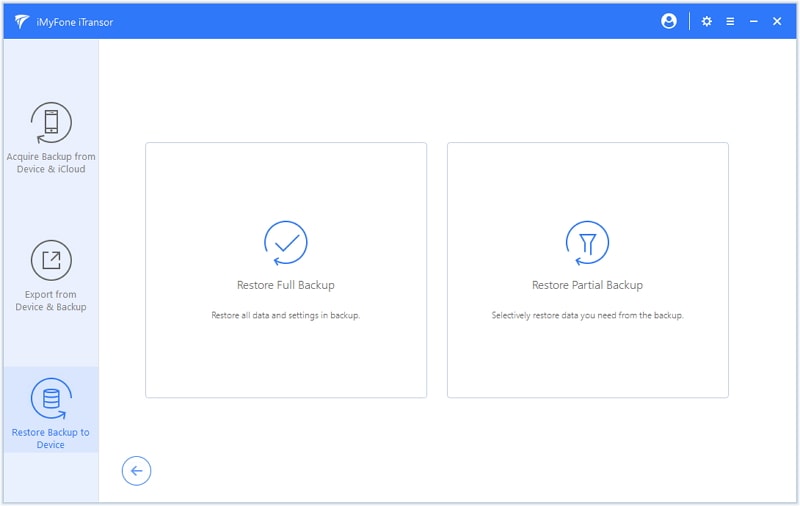 (3) Then iTransor will tell you what you should keep in mind about the restoring. Click Directly Restore if you are sure to do this.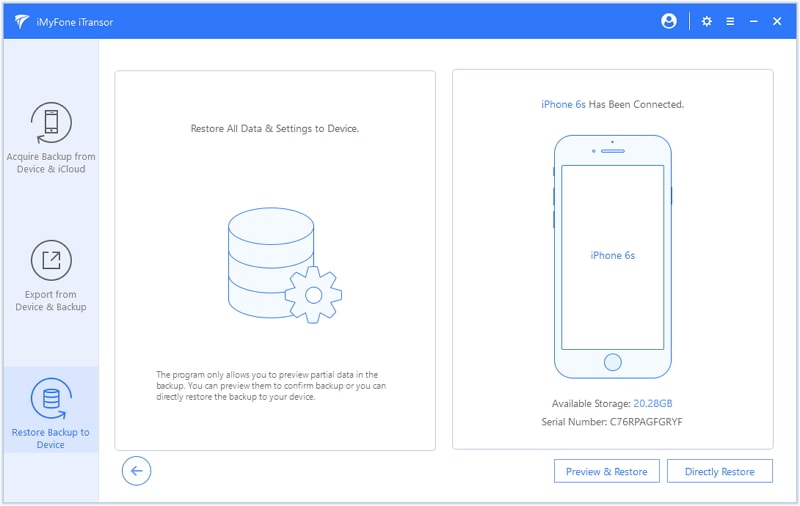 (4) Then choose to merge or replace the data and settings on your device with the backup. After that, you can just sit and wait for your backup to restore. The whole process can be finished in several minutes.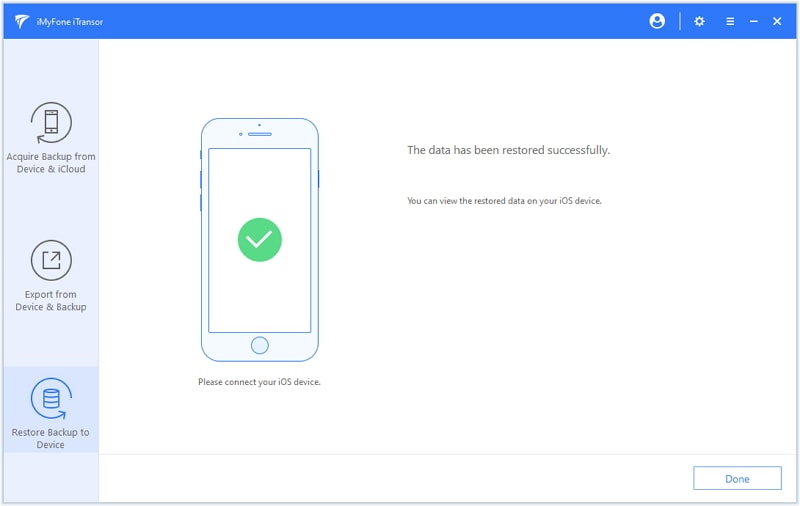 If you are restoring a backup to your device and it is taking too long, next time consider using iMyFone iTransor to both back up and restore your device. It is fast and gives you a lot of options compared to iTunes. You know what? The backup function of this program supports iOS 15 and is totally for free! Download and use it right now!