There are many types of iTunes error codes come out when your iTunes experience different malfunctions. One of such issue is iTunes Error 3600, which is mostly encountered when iOS users try to restore, update, or downgrade their handheld devices like iPhone,iPad and iPod. So, error 3600 of iTunes is also called "iPhone restore error". This error has been reported by many users to be the most stressing and hard-to-fix iTunes error.
When Does iTunes Error 3600 Occur?
iTunes error 3600 occurs during any of the following iTunes operations:
Downgrading to an earlier version of iOS.
Upgrading to the latest iOS 14 version.
Restore your iOS device data using iTunes on a Windows computer.
Interrupting your iOS device update or restore process.
Using iTunes on a jailbroken iOS device.
If you are currently going through that your iphone could not be restored because of iTunes error 3600 happened, this article can offer some solutions with detail steps to help you fix it.
How to Fix iTunes Error 3600 (iPhone Error 3600)
The following iTunes troubleshoot methods and tips will help you to fix iTunes Error 3600 quickly.
Tips
When iTunes 3600 error occurs on your computer, you can try these two simple ways first to resolve the problem.
Restart your computer and iPhone/iPad/iPod touch: It could also be that you've not restarted your device for a long while. So, restart your computer and iOS device and try restoring, or upgrading your device again.
Check the USB cable and port: If the USB cable or port have damaged, then you will also get this iPhone error 3600 message on your computer. You should check the Lightning USB port first.
If the problem still insists after using the above two ways, then you can try the advanced solutions we offered below.
Solution #1. Use iTunes Repair Tool (The Quickest)
You may have tried many regular methods but it doesn't work. So it is probably caused by iTunes itself. Under this circumstance, you need to give your iTunes a body check and find out what goes wrong then fix it.
iMyFone TunesFix provides free examination to detect the potential problems of iTunes. There is a feature in Tunesfix called "Repair iTunes could not backup/restore", it especially targets the error code like 3600 and can perfectly fix this issue. It can also make your iTunes run optimally without any errors or issues when downgrading, upgrading, restoring or updating your iPhone, iPad or iPod touch.
Key Features of TunesFix:
Fix iTunes error 3600 just in one click.
Auto-detect 100+ iTunes errors and fix it easily, such as another high frequent "Restore Issues" known as Error 3014.
Repair iTunes error 3600 and other iTunes issues without any data loss.
Fully compatible with iTunes 12.10.and later versions, and with all versions of Windows.
Steps to fix iTunes Error 3600 using iMyFone TunesFix:
Launch TunesFix, then it will auto-detect your iTunes. If there are any malfunctions are detected, then you can click the repair button and Tunefix will start to repair for you.

Choose "Fix Other iTunes Problems" and then click "Repair" to let TunesFix repair your iTunes error 3600. Please, ensure you have a stable internet connection during the repair process.

Once it is done, open iTunes on your computer again. Now you can use it without any hassle.
Solution #2.

Update Your iTunes

Updating your iTunes software is a good way that you can try to fix iTunes error 3600:
On Mac: Launch iTunes and click on the following tabs "iTunes > Check for Updates". Then install the latest version of iTunes by following the onscreen guide.

On Windows: Launch iTunes and click on the following tabs "Help > Check for Updates". Then install the latest version of iTunes by following the onscreen guide.
If you can not update iTunes on your computer, iMyFone TunesFix can also help you to fix it.
Solution #3.

Update Your Computer

Updating your computer can help to fix some bugs from the old version and correct them by the latest version:
On Mac:To download macOS software updates, choose Apple menu > System Preferences, then click Software Update. Tip: You can also choose Apple menu > About This Mac, then click Software Update.

On Windows: To manage your options and see available updates, select Check for Windows updates. Or select the Start button, and then go to Settings > Update & Security > Windows Update.
Solution #4. Turn off Windows Defender Firewall
There are times when Windows Defender Firewall software can restrict iTunes when restoring, updating and restoring an iPhone/iPad or iPod touch. You can temporarily turn off your computer's Firewall until you've complete your iPhone update, restore or downgrade.
Click on the Windows Start button, and select "Settings > Update & Settings > Windows Security > Firewall & network protection.

Choose a network profile and select "Windows Defender Firewall".
Switch the settings to Off.
Solution #5. Reset The Network on Your iPhone
You will also face this iTunes error 3600 issue when the network of your iPhone is not configured correctly. You can follow the below steps to reset the network of the iPhone and fix the problem.
Open the Settings app on your iPhone.
Tap General option.
Then tap Reset Network Settings.
Then your iphone will begin to reset its network. After that, check your iTunes and see if this issue gets fixed or not.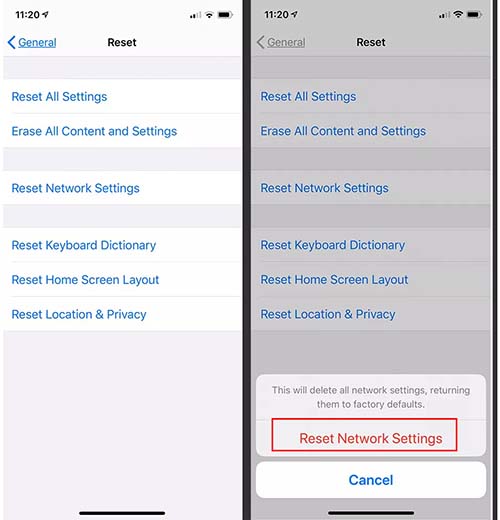 Conclusion
We've discussed 7 methods that you should be aware of how to fix iTunes error 3600 for your iOS devices. However, some methods might exist the chance of successful recovery but could bring risk to your computer. iMyFone TunesFix,as an iTunes repairing expert tool, fixing iTunes error 3600 safely with one-click operation.
This is a more advanced solution by securing your data,saving your time and without bringing risk to your computer! Therefore, we encourage you to dowanload TunesFix in order to have an fully examination on your iTunes, to find out the reason that really cause error 3600 happen at your device.