If I Uninstall iTunes, Will I Lose My Music Library
Actually, NO! It won't delete your music library when you uninstall iTunes. Besides, it won't delete movies, podcasts, home videos, playlists, iOS backups, etc. neither. However, it may happen that iTunes will be empty after reinstalling. Though the library is empty, all the media files are stored in the iTunes folder. You need to add them to iTunes again, or restore the library from the .itl file.
When you install iTunes, it will automatically create 6 new folders to store iTunes files. But when you uninstall iTunes, it just removes the iTunes application. That means all the iTunes data are still left on your PC, occupying huge space and influencing PC performance.
What are still left on your PC when iTunes is uninstalled: 5 other related iTunes software, iTunes media, iPhone backups, used iTunes/iOS updates, temporary downloads, cache, cookies, logs, and other junk. If you uninstall iTunes, don't forget to delete the iTunes data as well.
Safer Way to Uninstall iTunes without Losing Music
You can manually uninstall iTunes, but it's not complete as it still leaves useless files and not safe enough if you make it incorrectly. Here we introduce a safer and complete way to uninstall iTunes without losing music - using iMyFone TunesFix iTunes Uninstall tool. It takes over what you want to do with iTunes.
Key Features:
Uninstall iTunes and its related components in the right order, in just one click
Choose to keep or delete all the iTunes data (music, playlists, movies, backups...) when uninstalling.
Remove iTunes without leaving any harmful fragments or traces
Also detect and repair 100+ iTunes issues
Steps to Completely Uninstall iTunes and Its Components
Step 1: Please download and install iMyFone TunesFix. Once done, launch TunesFix. It will start to detecting your iTunes. It won't take long, just a few seconds.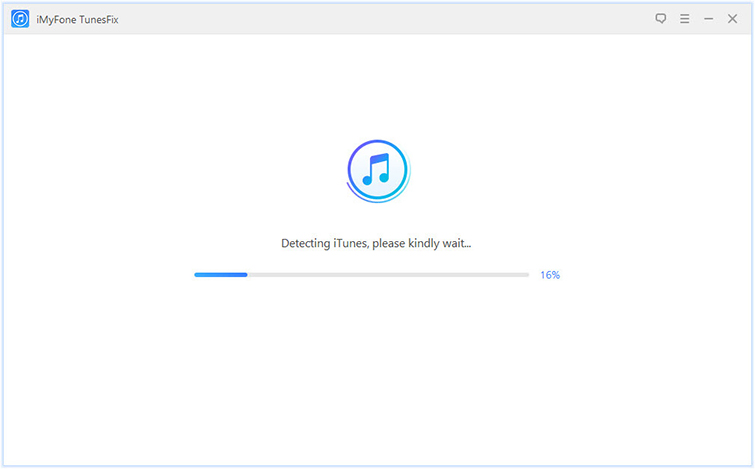 Step 2: You will be guided to the home interface. Here choose "Full Uninstall" which is the feature to remove iTunes and its components.
Or it will show you iTunes is damaged, you can click "Back" icon there to the home interface.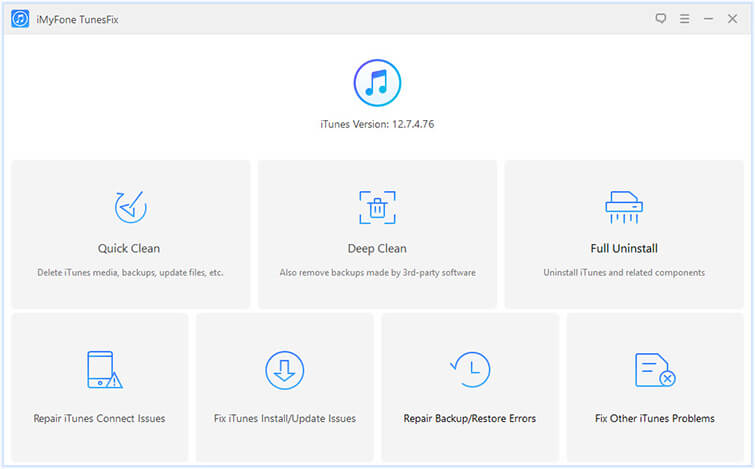 Step 3: When you are in the uninstall page, click "Uninstall" to start it.
Note: If you don't want to keep the iTunes space, check "Also delete user data..." before you click Uninstall.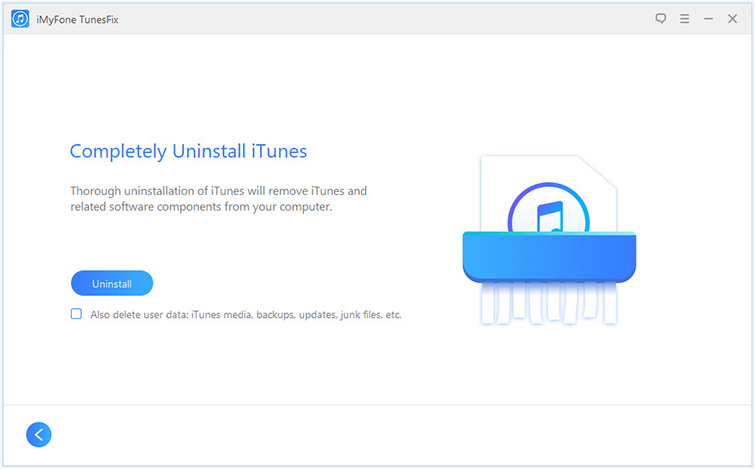 When it's done, you won't find any traces of iTunes on your iTunes. If you want to reinstall iTunes, you can click "click here" on the Done page of TunesFix.
How to Clean iTunes Junk When iTunes is Uninstalled
From the first part above, you would know that uninstalling iTunes won't delete iTunes data. But if you want to clean iTunes space when iTunes is uninstalled? Don't worry, take the advantages of iMyFone TunesFix. It provides 2 cleaning options to quick or deep clean iTunes space.
TunesFix Scans and Cleans iTunes Space
What does TunesFix clean - iTunes media, old iOS backups, useless software updates, temporary downloads, cache, cookies, logs, and other junk
"Quick Clean" or "Deep Clean" - "Quick Clean" scans and cleans iTunes data from its default folders. "Deep Clean" also scans and removes hidden iOS backups left by third-party software but it needs more time
Preview iTunes data and free up space selectively in bulk or all at a time
How Do You Clean iTunes Space When iTunes is Uninstalled
Step 1: Lauch TunesFix and you will see "Quick Clean" and "Deep Clean" modes from the home interface. Choose one there. Click Scan and wait for a moment please.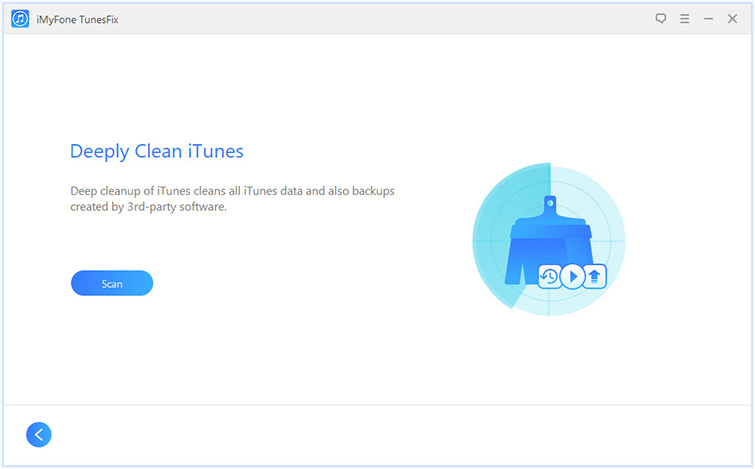 Step 2: When it finishes scanning, you can double click the file type to preview the data. Select the unwanted files and click "Clean". It runs very fast to remove the selected files. When cleaning is done, it shows you how much space has been freed up.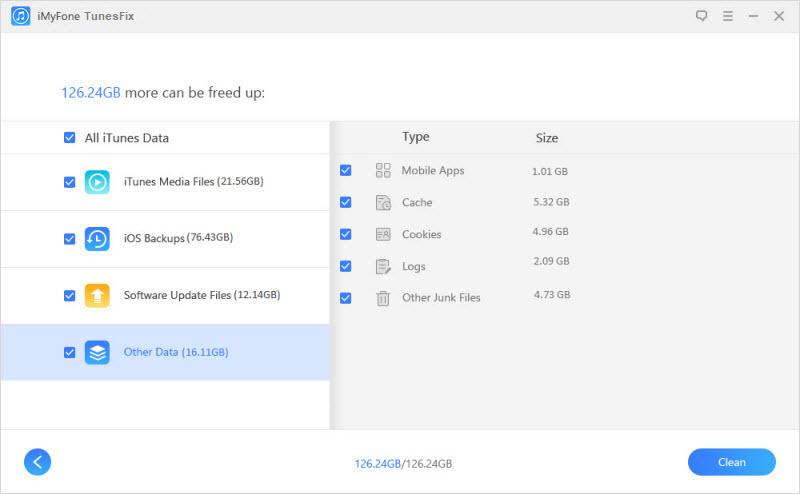 According to iMyFone TunesFix users, it can handles all your needs with iTunes. Take a free download to enjoy this one-stop iTunes related tool.