One of the most frequently happened issues of iTunes is its connection with iOS devices. And related reminder is called iTunes error 0xe8000084 or error 0xe80000a.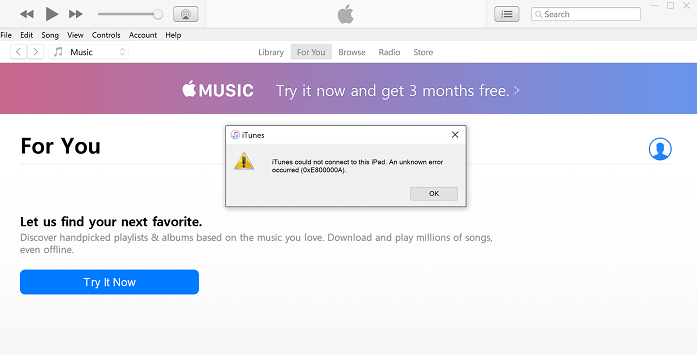 Read These FAQs about iTunes Error 0xe80000a Before You Start
1. What does iTunes error 0xe80000a mean?
iTunes error 0xe80000a or iTunes error 0xe8000084 are both reporting a warning that iTunes could not connect to this iPhone or iPad. When you try to update your iPhone X to the latest iOS 14 with iTunes, suddenly you meet an instant files deletion or new files appearing, or also experience the drop of internet connection speed, then an "unknown error occurred (0xe800008a)" will pop up as you see.
2. What cause iTunes error 0xe8000084/0xe80000a?
Your iTunes version could be outdated so your iPhone or iPad becomes incompatible with it.
Conflicts between processes running in your system background.
Poor network between your iPhone or iPad and iTunes.
A damaged USB cable or port that makes it difficult for iTunes to recognize your device.
Incorrect download of iTunes or incomplete component files
3. How do I fix error 0xe800000a in iTunes?
How do You Fix Error 0xe80000a in iTunes?
Below we will offer several effective ways to help you fix the error 0xe800000a in iTunes, then you can try them out one by one.
Method 1: Update Your Windows, iOS, and iTunes to the Latest Version
As we mentioned above, one of the possible reasons for the iTunes 0xe80000a error is software or hardware incompatibilities. So updating Windows 10, iOS, and iTunes to the latest version may fix the problem.
How to Update Your Windows Version?
Select the Start menu, then select Settings > Update & security > Windows Update.
Next, select Check for updates.
Then install any updates if available.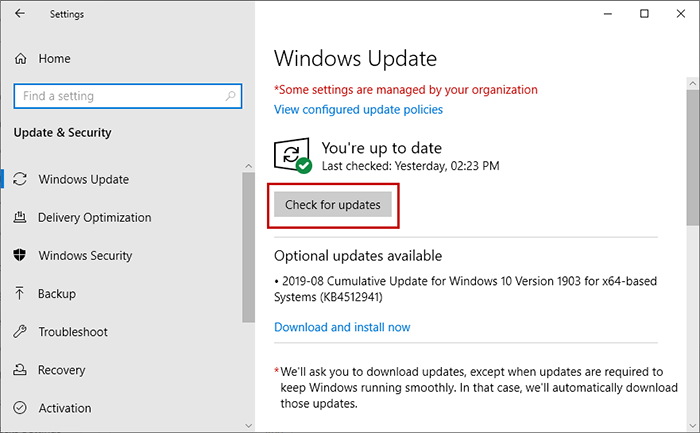 How to Update Your iOS Version?
Open the Settings app on your iPhone.
Next, select General, and then Software Update.
Then click Download and Install button if any update is available.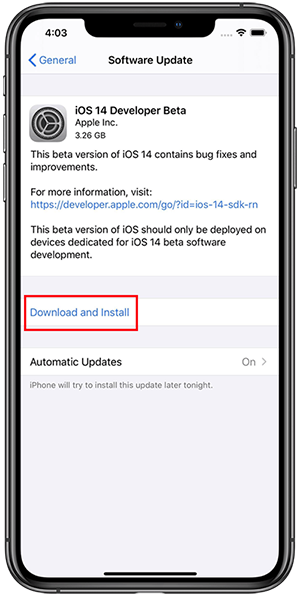 How to Update Your iTunes?
Open Apple Software Update in the Start menu.
Install any updates If available.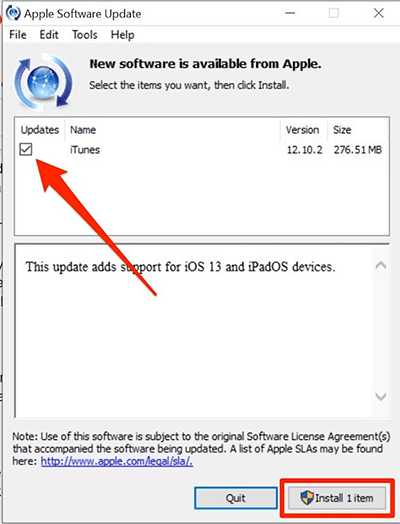 Method 2: Reset iTunes app in Windows 10
If you have installed the iTunes app form Microsoft store, you can also reset the app to their default settings to fix the iTunes error 0xe80000a. Here is how to do that.
Open settings app using the keyboard shortcut Windows + I.
choose Apps menu then Apps and features.
Search for iTunes and tap on advanced options.
Choose Reset and repair and then Reset option to reset the iTunes app to the default settings.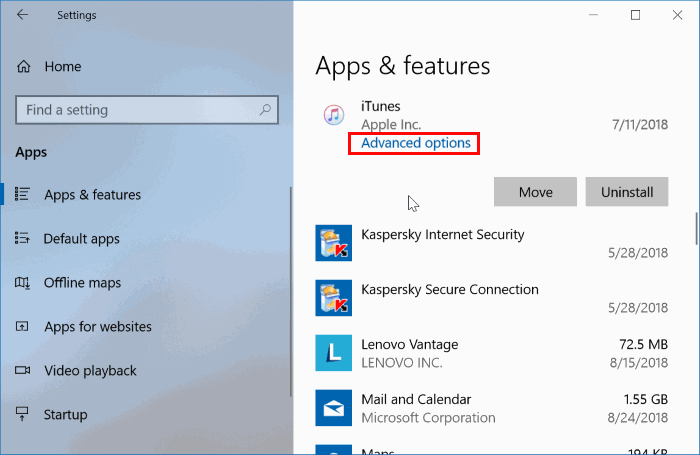 Method 3: Disable Antivirus and Security Softwares on Windows PC
Sometimes, those third-party antivirus apps or security softwares can cause iTunes error 0xe8000084/0xe80000a. To fix the issue, you can pause or uninstall those third-party antivirus apps or security softwares. After that, connect your computer to your iPhone again. Then you can check if the problem is still exists.
Method 4: Uninstall/Reinstall iTunes and Related Components
As the reasons we have discuss above, one of the main causes is that incorrect download causing iTunes lack of some component files. In this case, you can totally uninstall iTunes then re-download again.
For Window 10 User:
You can manually uninstall the main components files of iTunes, here we will list each component to you and explain how you can remove them.
The components files you need to remove:
Apple Application Support
Apple Mobile Device Support
Apple Software Update
Bonjour
Click on Start > Settings > Apps & features and click on the above features.
For Mac User:
Right-click the iTunes.app file in the Applications folder and click Get Info
Click the padlock icon and enter your Admin Password
Expand Sharing & Permissions and set "everyone" to Read & Write
Drag the desktop iTunes icon to the trash
Type Activity Monitor into Spotlight and launch the app
Find iTunes Helper and remove it

Navigate to Library > Preferences and remove files with "com.apple.itunes" at the beginning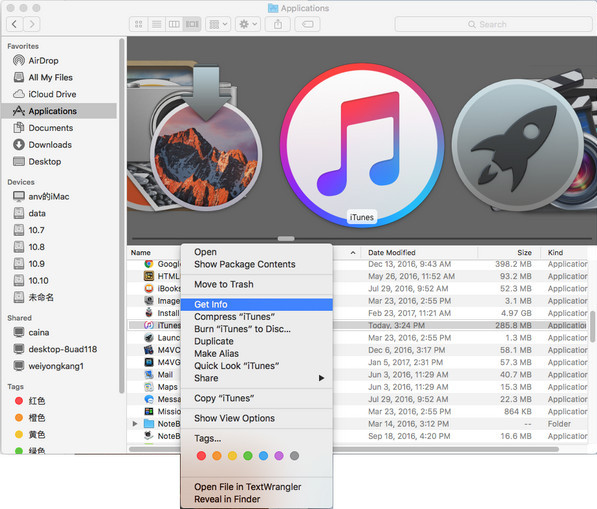 NOTICE:
One thing you need to be aware of is you have to uninstall thoroughly before you proceed reinstallation process, or you might repeat error 0xe8000084 once again due to fault components files listing. As the manual uninstallation process instruction showing above, it requires many steps and cautious operation. So we don't recommend you choose to uninstall iTunes and its components one by one manually. You can choose a trusted helper
iMyFone TunesFix
to get all the manual uninstall jobs done in just one click, without any uninstall residual troubles. Just turn to
Method 6
to check out more details.
Method 5: Manually Fix iTunes Error 0xe8000084 on Windows
If the PC you are trying to connect your device to has a windows operating system, here's how you can solve the error 0xe8000084. You can fix the error by using the following steps:
Connect your Apple device to the PC and quit iTunes.
Pressing "Alt + Ctrl + Del" keys on your keyboard at the same time and choose Task Manager.
Once Task Manager is open, sort the processes by Image Name and kill every process that starts with "Apple". In order to kill a process, simply right click on the process and select "End Process" or "End Task". Make sure to end the "AppleMobileDeviceHelper.exe" process in order to complete this step.

Open the Run command by pressing "Win + R" keys on your keyboard at the same time.
When the Run command appears, Copy and Paste the following command in the text box.
If your operating system is 32-bit, copy and paste this command: "%ProgramFiles%Common FilesAppleMobile Device SupportAppleMobileDeviceHelper.exe".
If you are using a 64-bit operating system, copy and paste this command: "%ProgramFiles(x86)%Common FilesAppleMobile Device SupportAppleMobileDeviceHelper.exe"
Open iTunes once this is done to check if the error has been fixed.
NOTICE:
This method is only applied for the windows system and the operator should have knowledge about computer nature. It contains around six steps but actually you might need to do more if your original setting is different. For those who are not familiar with computer operation, this method is not a perfect fit for you.
Method 6: Fix iTunes Unknown Error 0xe80000a in One Click
If you are a user chasing quick and effective solution to fix this urgent error, we highly recommend you to choose a trusted tool iMyFone TunesFix.
Tips
TunesFix is a quick program and it can fix iTunes unknown error 0xe8000084 within 2 or 3 minutes. Then your iOS devices can be fixed to normal easily.
It is praised by many users that TunesFix is the best solution during all the methods they have tried before——easy, workable and no concern at all. Let's find out what it can do for you!
Key Features:
Scan and auto-detect the issues like error 0xe8000084 or error 0xe80000a then fix in one click.
100% safe repairing and you won't lose a single KB of files while using TunesFix.
Boost iTunes performance with a single click, enable your iTunes updating to the latest version.
Uninstall iTunes completely and also erase the data traces of iTunes installation files.
Repair 100+ iTunes problems automatically.
As you can see, TunesFix can do more compared to any method above. And this tool is super easy to use. You can permanently get rid of the error in one click by following these steps:
Launch iMyFone TunesFix and it will automatically detect your iTunes and necessary components. If your iTunes or components are damaged, you can choose to repair it.

After repairing, then you will be directed to the homepage. On this page, you can see all the options available to fix your iTunes issues. Please check your iTunes can connect to your iPhone or not. If not, click "Repair iTunes Connect Issues" mode.

Click on "Repair" to start the process. Once this is done, your iTunes will work properly.
Apart from a single repairing iTunes connection issues, it can do a lot more than that:
More iTunes Errors and Issues TunesFix Can Solve:
Fix iTunes Install/Update Issues: including error 4000, 3600, 2503, 2, 127, 126, iTunes/iTunesHelper was not installed correctly, Apple Mobile Device Service failed to start, insufficient privileges, etc.
Solve Backup/Restore Errors: such as error 14, 3194, 39, 3212, 2009, 3004, etc.
Repair Other iTunes Problems including error 1004, 1611, 4005, 3014, 9006, iOS update errors, iOS restore issues, etc.
Conclusion:
This article has introduced 6 ways to help you fix iTunes error 0xe8000084, you should have a basic understanding of this issues.
It is very common that "your iPhone can't connect to iTunes" this situation happen and pop up related error code, so that is why we recommend you to install iMyFone TunesFix as your safeguard. You can fix 99.99% common issues in one click also improve your iTunes performance by regular updating version and cleaning up cache. Install now to get the free examination for you iTunes!