iTunes for Windows has evolved and comprises numerous features that make it more than a media player and iPhone/iPad/iPod synchronization software. iTunes now integrates other Apple software and would install these services during iTunes installation such as:
iTunes,
QuickTime,
Apple Software Update,
Apple Mobile Devise Support,
Bonjour,
Apple Application Support.
All these services are always installed together with iTunes, but would always run in Windows background. Therefore, it may be absurd for you to uninstall only iTunes software without uninstalling iTunes related components especially when you're having issues with iTunes.
More so, uninstalling these apps may be a little bit hard for anyone who doesn't know them or how to locate them. Therefore, it is advisable to use an iTunes uninstall tool to remove iTunes and it's related components. Hence, we shall be discussing four iTunes uninstaller tools and compare them to give you a better clue on the best one for you.
Best Four iTunes Uninstaller Tools
The following tools are very useful in uninstalling iTunes and its related components on a Windows PC.
#1. iMyFone TunesFix
iMyFone TunesFix is the primary solution to all iPhone uninstallation issues and errors. This tool has the capacity to uninstall all iTunes related components just in one click without affecting your iTunes library and backups. Many iTunes users who have used this tools always recommends it for everyone who needs to repair iTunes, clear up iTunes caches, or needs to optimize their PC performance. TunesFix is fully compatible with all versions of Windows and iTunes 12.5 and later versions.
Key Features:
TunesFix can uninstall iTunes and its related components efficiently without erasing your important files and data.
All or some iTunes backups and libraries stored on your PC can be scanned and erased using TunesFix.
iTunes junk files and backups that are not stored in the default folder can be scanned and erased
Fix all iTunes problems and issues just in one click.
Steps to uninstall iTunes:
Step 1: Download and install TunesFix on your PC. Launch TunesFix and choose "Full Uninstall".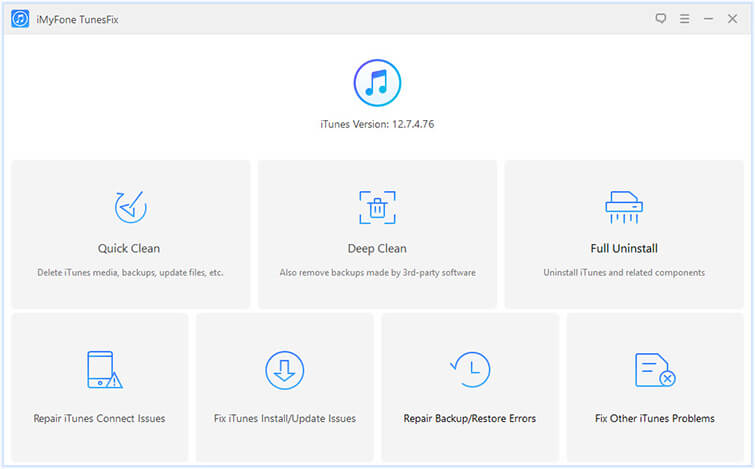 Step 2: Click "Uninstall" for TunesFix to start removing iTunes and its software components from your PC.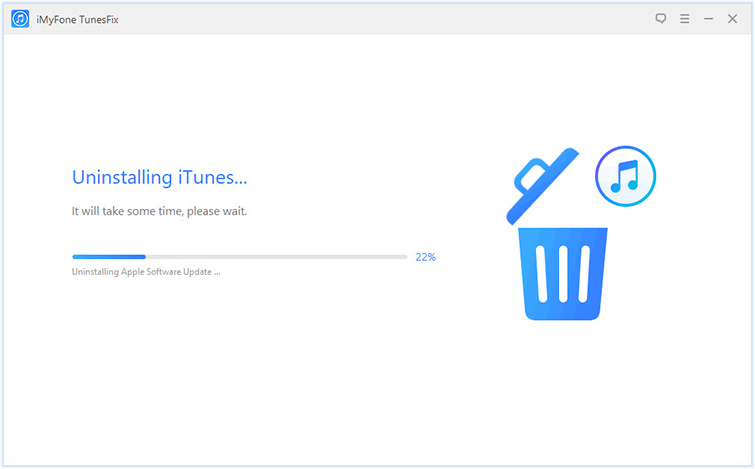 Step 3: When uninstallation is complete, you can click "OK' to close the program.
#2. Uninstall Tool
Uninstall tools promises clean removal of iTunes and iTunes software components. You can use it to clean a limited amount of iTunes files and registry items. However, you'll need to install iTunes in the first place using Install Tracker.
Steps to use Uninstall tool:
Step 1: Download and install "Uninstall Tool" on your PC. Launch it and select "Uninstall or Modify" from the home interface.
Step 2: After default uninstallation program has completely unins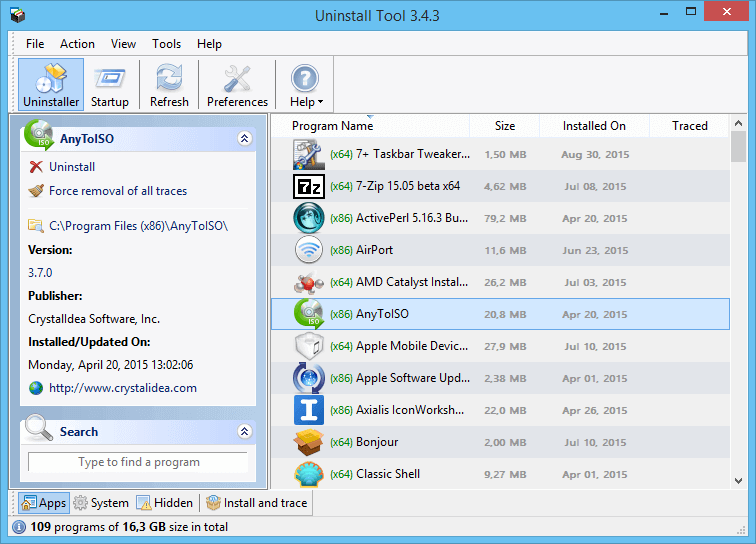 talled iTunes, click "Yes" to uninstall iTunes related components.
#3. Revo Uninstaller
Revo Uninstaller is one of the iTunes uninstall utility that you can use to remove leftover traces of Apple software and registry settings, files and folders on your Windows computer. It has a free version that gives you 30 days free trial before committing your money.
Steps to uninstall iTunes and its related Apple software using Revo Uninstaller:
Step 1: Download and install Revo on your PC.
Step 2: Launch the software and click "Uninstall" to scan for iTunes and its related software.
Step 3: Click "Ok" when the uninstallation process is complete.
#4. CopyTrans Drivers Installer
CopyTrans Drivers Installer is another tool that promises to uninstall iTunes and related Apple software completely. From the look of this software, it seems you can only remove iTunes related Apple software one by one and in a particular order. However, they also offer other solutions to remove iTunes in few clicks.
Steps to uninstall iTunes using CopyTrans:
Step 1: Download CopyTrans Driver Installer. Open the zip folder and drag "CopyTransDriverInstaller.exe" file to your desktop, double-click on it. And start the program.
Step 2: Click "Uninstall" to remove iTunes, QuickTime, Apple Software Update, Apple Mobile Devise Support, Bonjour, and Apple Application Support from your PC.
Step 3: CopyTrans will now remove iTunes and all iTunes software components from your PC.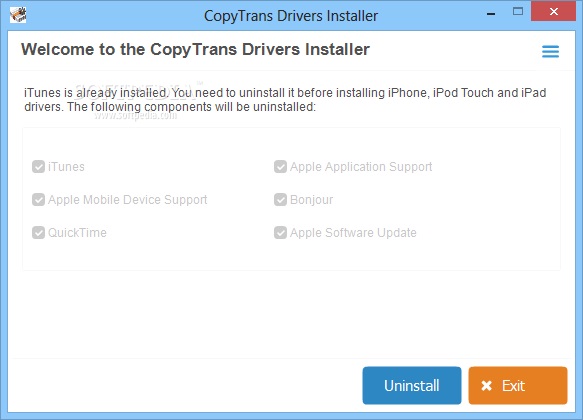 The Comparison of the 4 iTunes Uninstall Tools
We've done a good introduction to the best four iTunes uninstaller apps, but we are yet to give you a clear view of the one that would suit you best. Among these iTunes uninstaller tools:
TunesFix is the best among them because it doesn't have any demerits or cons.
Others like Uninstaller tool works when iTunes installed using a special tool called Installer Tracker.
Revo offers no feature for features for iTunes repair.
While CopyTrans isn't straightforward and can take hours to completely uninstall iTunes and Apple software components.