When you see the message told you ".msi files is missing", uninstalling iTunes or other Apple related software becomes a serious chore. You may get a message such as "the feature you are trying to use is on a network resource that is unavailable" and this relates to a missing file called "iTunes.msi". Nothing seems to work when this file is missing and even if you copy it from another computer to yours, it still doesn't work.
The good news is: you don't have to lament over this problem anymore. We have just the perfect solution to your worries.
How to Uninstall iTunes When .msi File is Missing
Several people have tried, and failed, to find a solution to the problem with iTunes' missing .msi file. This is the only way to uninstall iTunes when the .msi file is missing. Incidentally, it's also the best way.
Key Features:
Completely uninstall iTunes and related Apple software even when .msi file is missing.
Also uninstall iTunes without losing music or other iTunes data, if you want.
Deal with all sorts of iTunes errors, even if you don't know what the problem is.
Has a high success rate and with just one click.
Deeply clean iTunes useless files to save huge space and boost iTunes/PC performance.
iMyFone TunesFix is your one-stop solution for every iTunes error you can possibly think of and issues with iTunes.msi are not an exception. It can fix more than 100 iTunes errors, repair all iTunes issues without loss of data.
How Can I Uninstall iTunes When .msi File is Missing
Step 1: Launch iMyFone TunesFix and it will automatically detect your iTunes. If your iTunes is damaged, it will show you the specific status of your iTunes. In this case, since you want to uninstall iTunes, you can click Back icon.
Step 2: Then choose "Full Uninstall" module from the home interface.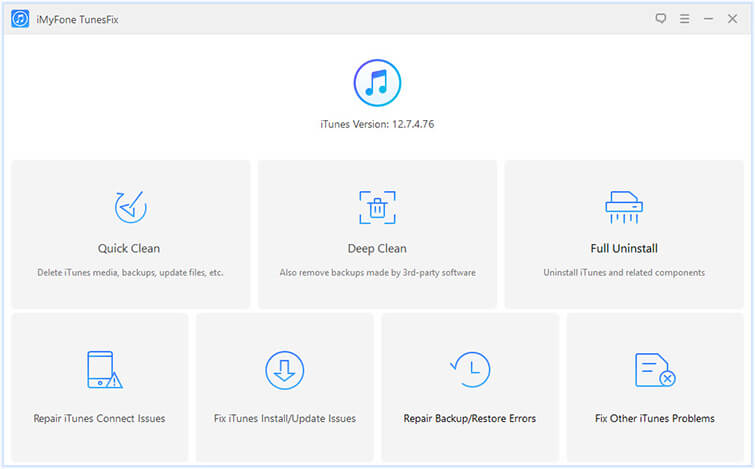 Step 3: Click "Uninstall" and TunesFix will start to remove iTunes and related components from your PC.
Note: If you don't want to delete iTunes data, don't check "Also delete user data…" before you click on "Uninstall".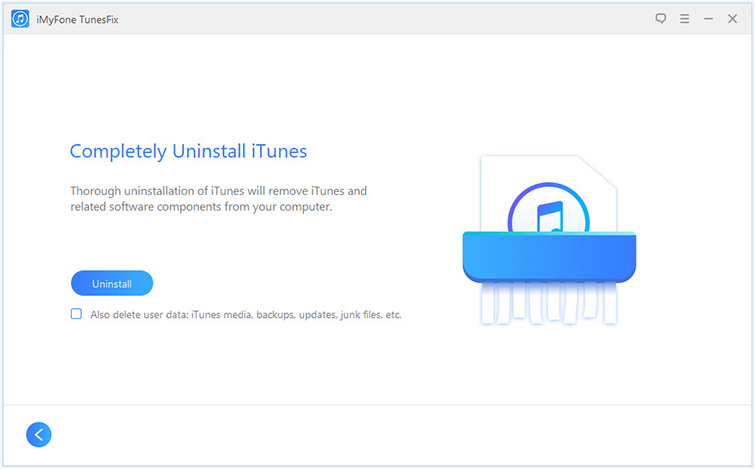 Once the uninstall is done, in case you want to reinstall iTunes, tap "Click here" to access the latest or old iTunes version.
Will iTunes Uninstall Aslo Remove iTunes Data
No, it won't. When you're done with the uninstallation, iTunes data still remains on your PC and if you don't remove it, it would continue to slow down your PC and interfere with your use and enjoyment.
You can get rid of this data, both obvious and hidden, with iMyFone TunesFix, even when iTunes is uninstalled. TunesFix has two cleaning options that you can use to remove the iTunes data. They are the Quick Clean and Deep Clean modes. You can use the following steps:
Step 1: Launch TunesFix and you will be directed to the home interface.
Step 2: Select the clean mode that you want to use, like "Quick Clean". Then click "Scan".
Note: Apart from common iTunes data, "Deep Clean" also scan and delete all the hidden iOS backups left by third-party software on your PC. It takes a little longer.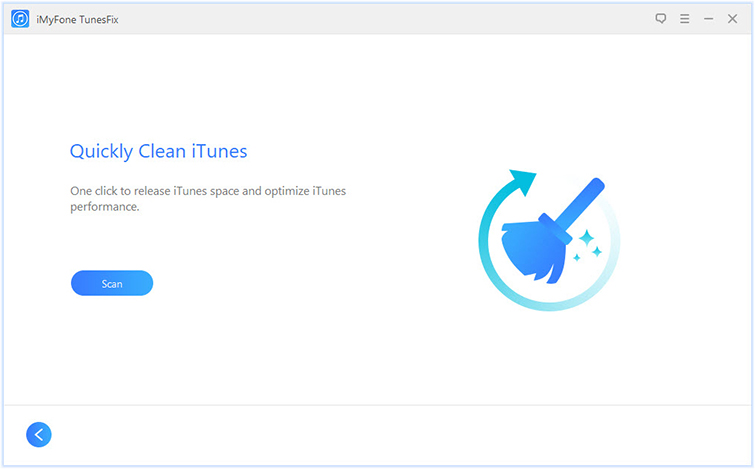 Step 3: Once scanning is done, you can preview and select the files you want to delete, like iTunes media, iOS backups, iTunes/iOS update files, useless downloads, cache, cookies, and other junk.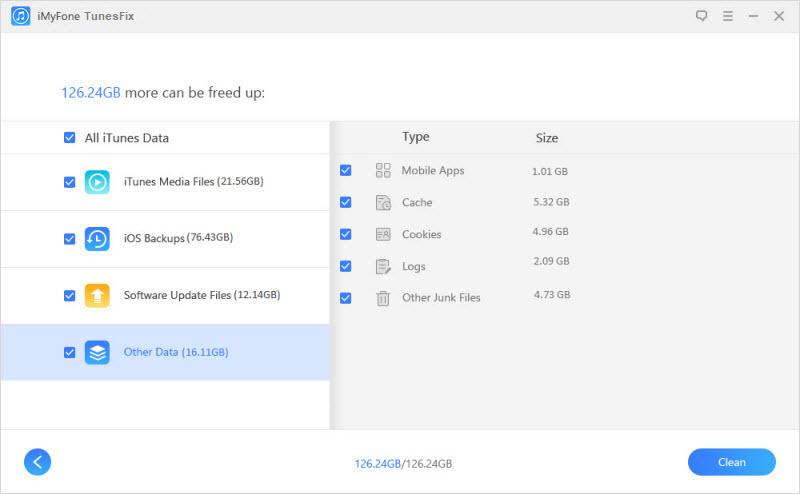 Step 4: Click "Clean" after selecting the files you want and TunesFix will start to delete the checked files. Once it's done, it will show you how much storage space has been freed.