It is possible to recover data on corrupted hard drive. You only need to know the right method and tool to recover the data. It does not matter whether your hard drive is corrupted, failed, or broken; you can still try to recover it.
In this article, we will see how you can recover data on corrupted hard drive. We will share the methods and steps, and you can easily recover data on your own.
Watch this video for quick guide about recovering deleted data on bad hard drive:
Part 1. How to Recover Data from Corrupted Hard Drive with Best Efficient Tool (Windows&Mac)
iMyFone D-Back is a data recovery tool for Windows and Mac. It can recover data on corrupted hard drive. The powerful algorithm recovers almost all types of files and formats and recovers them without any hassle. With the help of its quick and deep scan, it can recover your files quickly.
The software works in various scenarios, including crashed computer, corrupted hard drive, accidental deletion, lost partition, Raw partition, virus attack, and formatted drive. The algorithm digs deeper and recovers your files in all scenarios. Moreover, it works on almost all digital storage devices, including SD cards, hard drives, SSDs, USB flash drives, and media players.
If you have lost data, you understand the stress that comes with it. It is nothing short of a nightmare, especially because both MacOS and Windows operating systems do not offer any way to recover data. This is where third-party professional tool come to save the day. Below, we take you on a journey of data recovery using iMyFoneD-Back Hard Drive Recovery.
Key Features of iMyFone D-Back:
Apart from data recovery, the software can also repair your photos and videos. It detects corrupted media and repairs them.
It recovers more than 1000 types of files and formats. All kinds of lost data is recovered using the software.
It requires only a few simple steps that beginners can also follow. There is no need for expertise and knowledge.
The algorithm recovers files quickly. The scanning speed is faster than other recovery tools.
The scanned files are filtered according to their file type and format. The desired data can easily be recovered after selection.
The software offers commendable recovery results. It has an excellent success rate.
Steps to Recover Files from Damaged Hard Disk:
Step 1: Download D-Back Hard Drive Recovery Expert and install it on your computer. It is available for both Mac and Windows.
Step 2: Connect the corrupted hard drive and launch the application. The drive will be detected automatically, and you will see it on the main menu. Click on it to start the scanning.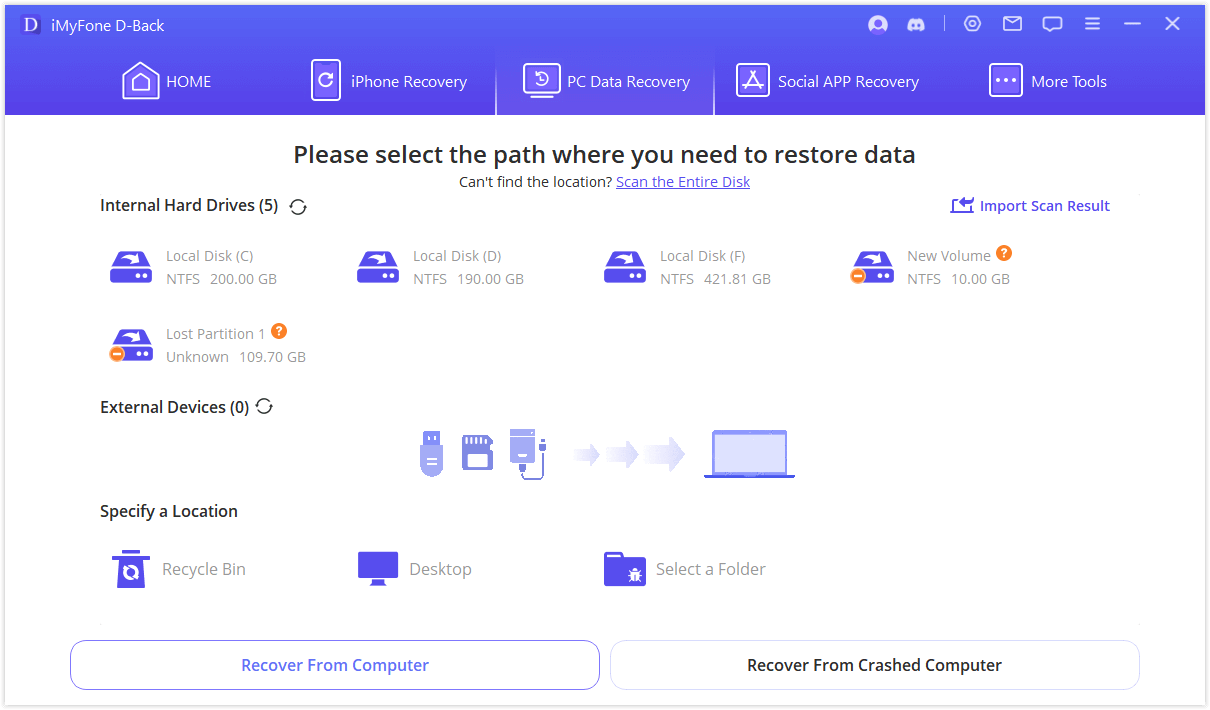 Step 3: After scanning, you will see all your files. You can see the filtered files on the left according to their type and format. The scan can be paused and stopped in the middle.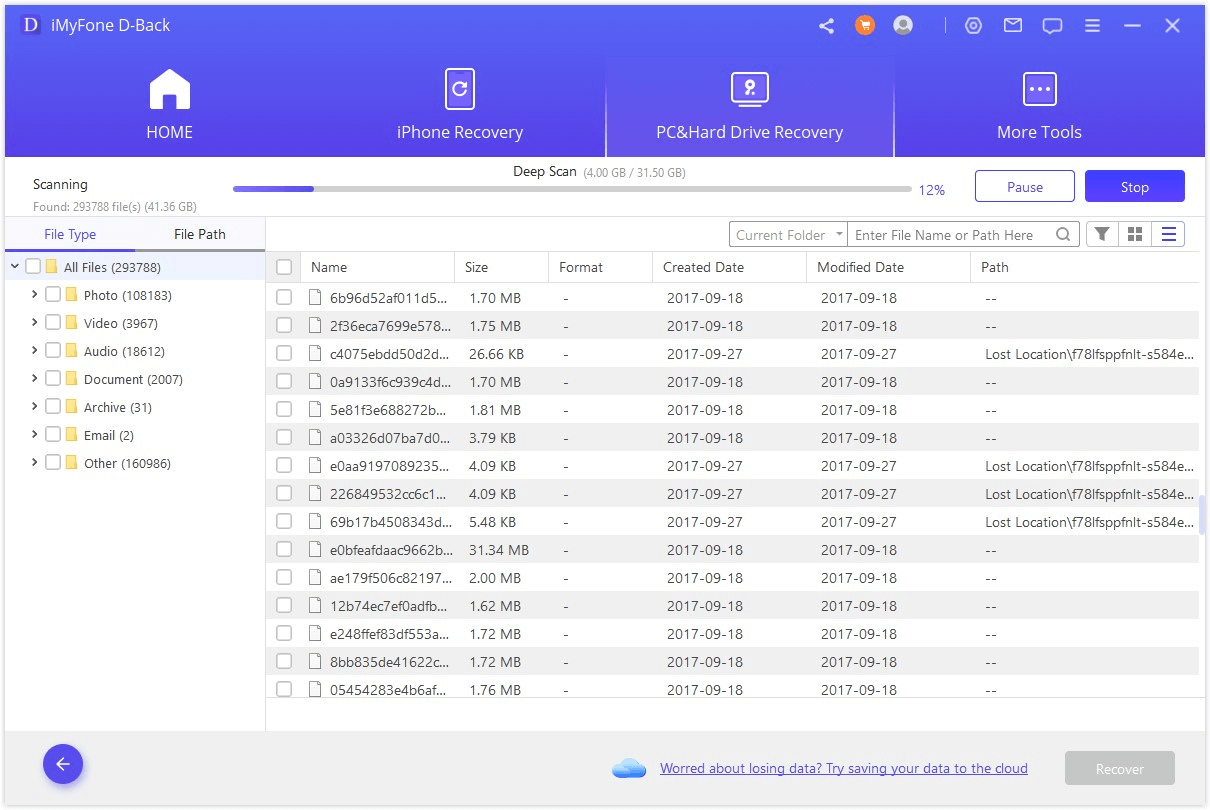 Step 4: Select the files that you want to recover. Click on the Recover button and select the destination for the recovery. The process will take some time, and your files will be saved to the desired location.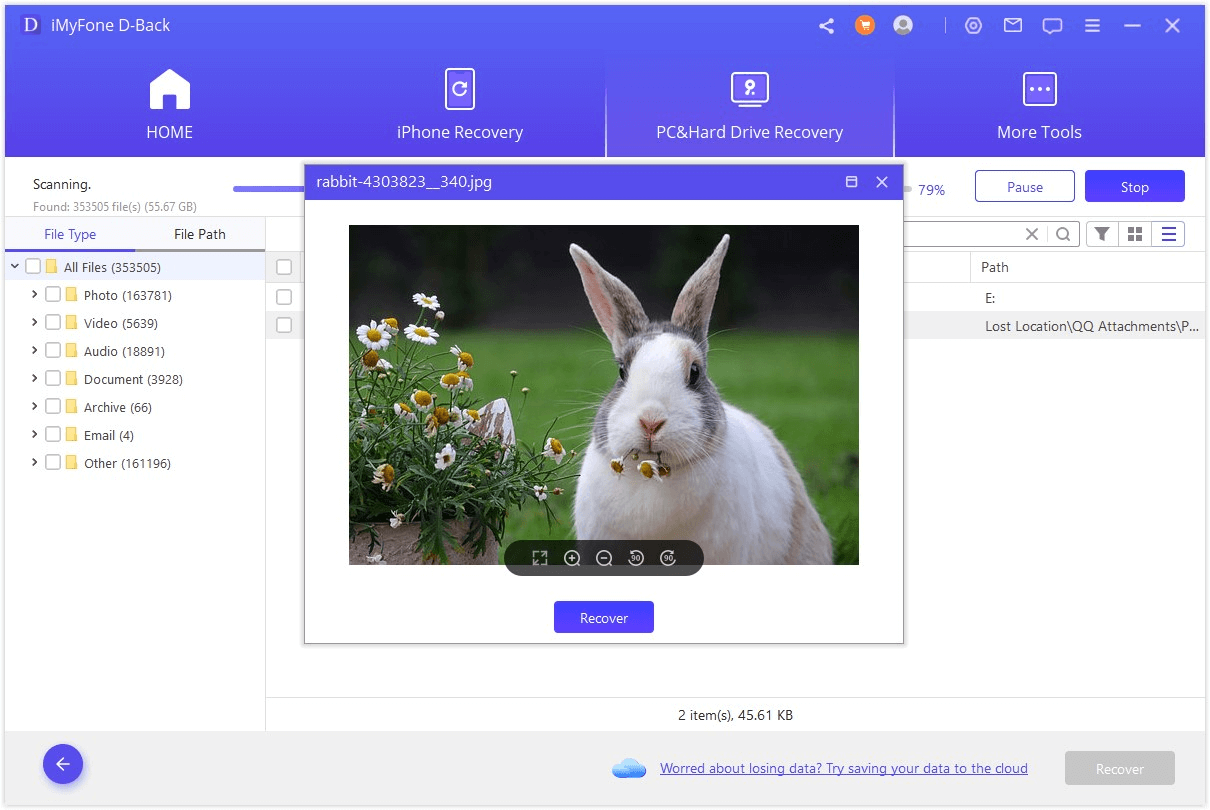 Part 2. How to Recover Files from Bad Hard Drive Using CMD
CMD is a built-in tool to recover your files from a bad hard drive. It recovers your files for free and removes bad sectors and problems from the drive. But it is not always successful and cannot recover your files like data recovery software.
Method 1: Attrib Command
Attrib is a special command for CMD that can be used to change the attributes of files. For instance, it can remove or set the hidden attribute, read-only attribute, archive attribute, etc. Thus, if your files are not visible due to the wrong attributes, this command can solve the issue and bring your files back.
Step 1: You need to open the CMD first. Type CMD on the search bar, and you will have it. Open the application.
Step 2: Connect the hard drive to the computer and note the drive letter. Type "chkdsk drive letter: /f" and hit Enter. Replace the drive letter in the command.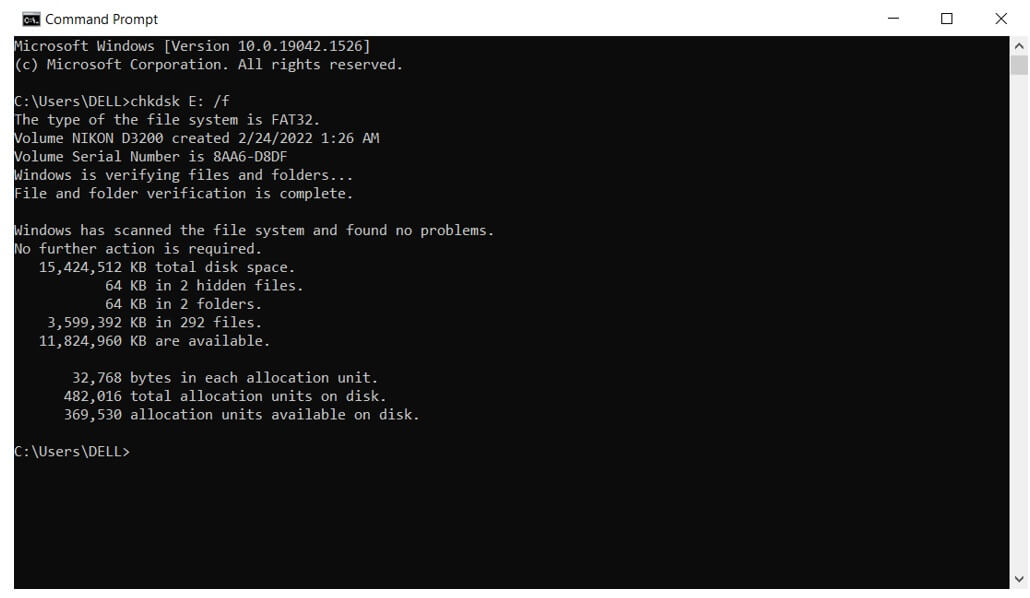 Step 3: Now, it is time to use the attrib command. attrib -h -r -s /s /d drive letter:*.*
Replace the drive letter in the command and use it in CMD. It will recover your lost files within a few seconds. Check your hard drive for the data.
Windows File Recovery
Windows File Recovery is a command-line tool that works just like CMD. You need to download it from the Microsoft Store. This CMD software can recover your deleted files from the drive. You only need to enter two commands, and it will recover the files from the hard drive.
Step 1: Download Windows File Recovery from Microsoft Store and install it.
Step 2: Launch the application. Use the following command.
winfr S: D: /mode of recovery /switches
"S" is the source drive, and "D" is the destination drive. Replace these letters with the drive letters on your hard drive.
The mode of recovery can be "regular" or "extensive". Switches refer to the file type, such as ppt, or the path of the folder.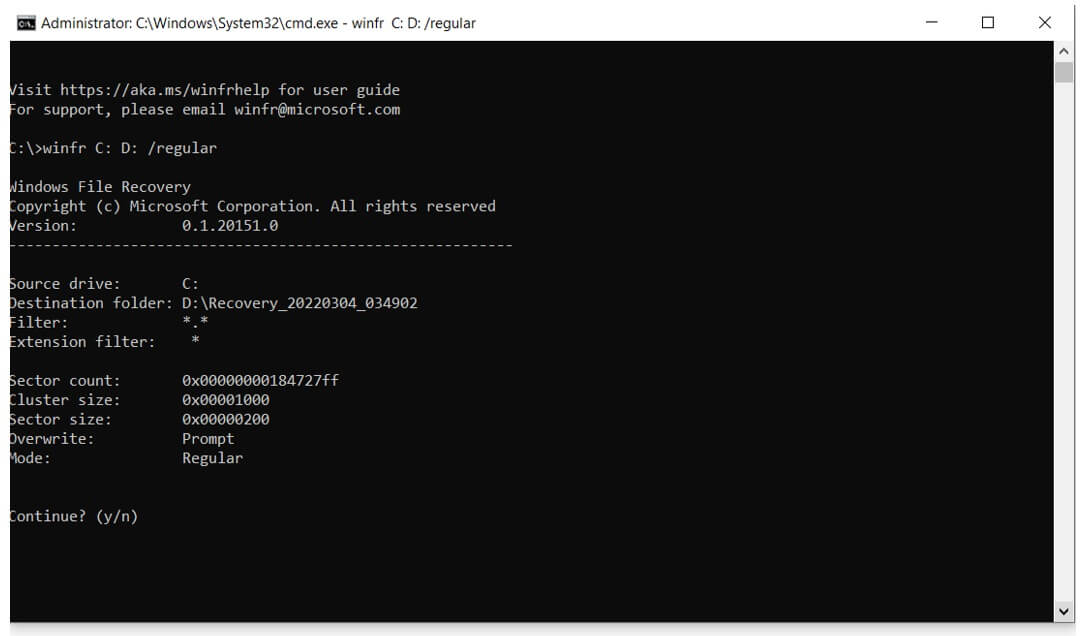 Step 3: It will ask you to confirm; press Y on the keyboard. It will start the recovery process, and you need to wait until it finishes.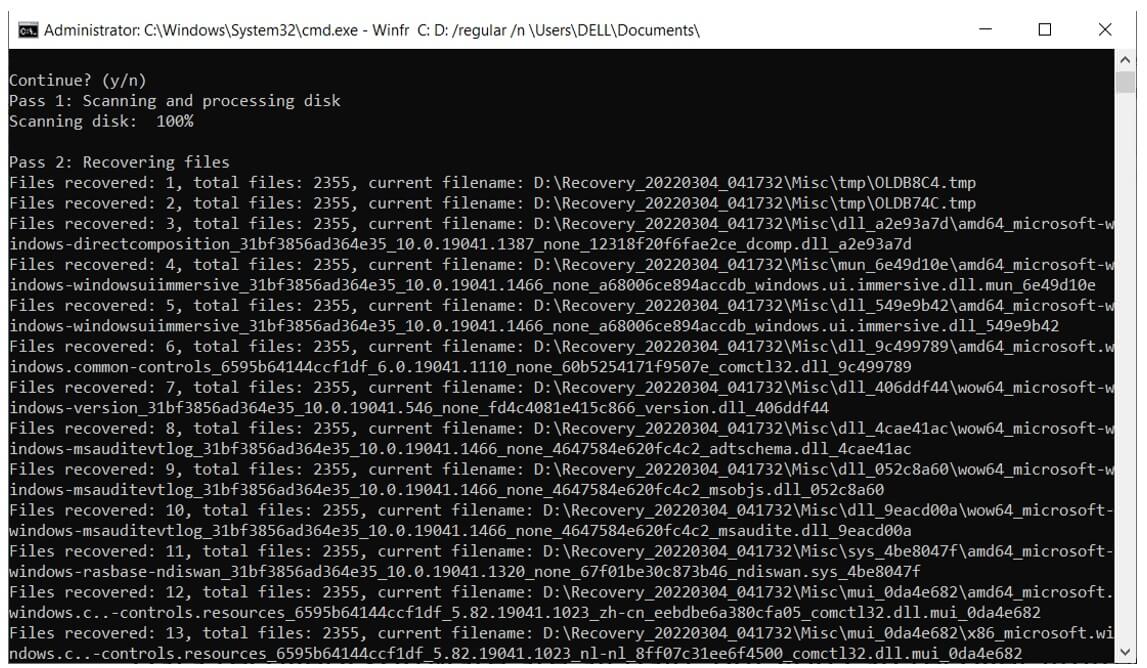 Bonus Tip About Corrupted Hard Drive Recovery
What Causes Hard Drive Failure?
Physical Damage: Hard drives have physical moving parts inside. Any damage can cause hard drive failure; therefore, it should be handled with care.
Excessive Temperature: Hard drives cannot bear excessive temperature. The optimal temperature is 40-50°. If the temperature exceeds this temperature range, the hard drive will fail earlier than its useful life.
Strong Magnetic Interference: Due to the strong magnetic field, the domains of the hard drive are disturbed. It damages the hard drive and may delete the startup files. Because of the disturbance in the domains, the data is deleted.
Excessive Power: Due to high voltage and excessive power, hard drives are damaged. They could suffer from data loss and might fail in the worst case. The causes of excessive power could be surges in the power system or natural causes, such as lightning.
Water Damage: Water spills can also damage the hard drive. If you have accidentally spilled water on your laptop or CPU, the hard drive could fail. In such a case, the hard drive cannot be fixed.
Firmware Corruption: In case of any problem with the firmware, the hard drive might fail. In such a case, the hard drive is unrecognizable. It could be the manufacturer's fault.
How to Avoid Hard Drive Failure?
Keep the Drive Clean: Keep your hard drive clean. Dust and particles accumulate on the drive and might damage the internal system of the drive.
Turn Off When Not in Use: When the computer is not in use, it is better to turn it off. Otherwise, the temperature of the hard drive will increase above the optimal condition, and it will affect the health of the drive.
Use in Air-Conditioned Room: Air-conditioned rooms are excellent for hard drives. These keep the temperature of the hard drive lower and help the drive last for a long time.
Use a Stabilizer: Stabilizers are necessary to deal with power surges. These protect the connected device from excessive power and voltage. It is an excellent safety measure to protect the computer and the hard drive.
Handle Hard Drive Carefully: The hard drive should be handled with care. Avoid water spills and other physical damages.
Keep Away from Strong Magnets: Strong magnetic fields can disturb the magnetic domains. The data on the drive can be deleted. Therefore, it is better to keep magnets away from the hard drive.
FAQs About How to Recover Data on Corrupted Hard Drive
1

Is There Any Free Software to Restore Data from A Corrupted Hard Drive?
Yes, you can use iMyFone D-Back to restore data from a corrupted hard drive for free. The scan and preview of the files are free. A few files can be recovered without buying the license.
2

Can I Recover Permanently Deleted Files from A Broken Hard Drive?
Yes, permanently deleted files from a broken hard drive can be recovered using iMyFone D-Back. Its powerful algorithm can recover your data from the drive. If the drive is detectable, it is possible to recover lost data.
3

How to Recover Photos from A Corrupted External Hard Drive?
You can try iMyFone D-Back. It is a powerful data recovery tool that works on a wide range of file formats, including images. It can recover data from corrupted external drives. Connect your drive to the computer and use the software. It will recover the file on its own.
Conclusion
The sudden failure or corruption of the hard drive is a loss for the user. All data is lost, but fortunately, the lost data can be recovered using a data recovery tool or other methods. We have discussed two methods that can help you recover data using CMD. These methods work, but you cannot expect good results in all cases.
For successful data recovery, you can try iMyFone D-Back. It has a powerful algorithm that recovers lost data from a corrupted or bad drive. All your files will be recovered, and you can do it on your own.