Are you having trouble getting your WiFi to work correctly? Do you find that iPhone keeps dropping WiFi after iOS 13/12/11 upgrade? Even when you turn the WiFi off and then back on again, it seems to be unable to find connections? This can certainly be very annoying, especially if it's happening for no discernible reason. Let's go over a few ways to fix this issue if your iPhone keeps dropping WiFi after upgrading to iOS 13/12/11.
Way 1. Check Whether Your Home WiFi Connection Runs Well
The first thing that you should check is whether your home WiFi connection is working. Do the following:
Check to see if other devices can connect to WiFi. If they can, then the problem probably isn't with the WiFi network. If they can't, move on to the next step.
Check to make sure your router is working. Are there signs of life? Are LED lights blinking? Check your router's manual to make sure that the router is giving you signs that it is online and sending out a WiFi signal.
Reboot the router if there seems to be something wrong.
Unplug the router for ten seconds and plug it back in.
Update the firmware on your router and then reboot.
Try different bandwidths/channels.
If none of this works, then it's probably not your router.
Way 2. Restart Your iPhone/iPad to Fix iPhone WiFi Dropping out
Next, you can try restarting your device and seeing if this helps. Follow these steps:
Take your iPhone or iPad and hold down the sleep/wake button and the volume down button at the same. (If your iPhone is older than the iPhone 7/7s models, then you hold down the home button instead of the volume down button.)
Wait ten seconds.
Let go and wait until your device restarts and the Apple logo appears.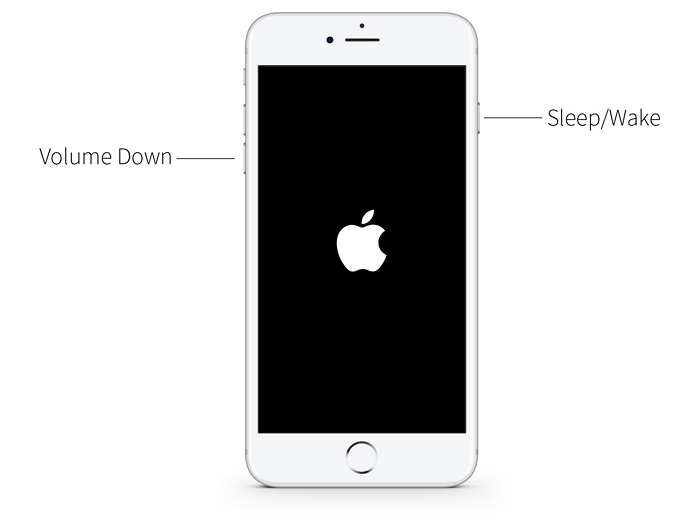 If you are using iPhone 8 and iPhone X, just press the volume down button and then the volume up button. After that, keep holding the side button until you see the Apple logo.
Sometimes this will work temporarily, other times it will be a permanent solution.
Way 3. Fix iPhone Keeps Dropping WiFi (iOS 13/12/11 Supported)
This WiFi issues can be caused by improper software installation. Actually, there are lots of problems including WiFi issues that can happen when you freshly install a new version of iOS (which is iOS 13/12/11 for now). Sometimes it's a good idea to use a 3rd-party tool to fix such bugs and issues. iMyFone D-Back is the best choice for you. It can help you fix all kinds of problems and incompatibilities on your device in just a few minutes without any data loss. You don't need to be a computer expert to use it, either. Its features include:
Key Features:
Helps fix issues automatically with just a quick scan, such as iPhone wifi not accepting password, black screen, restart issues, etc.
Fixes all kinds of iOS problems that you can meet during or after iOS 13/12/11 update.
Fixes iOS back to normal without data loss.
Here is how to refresh and update your iOS installation to make it problem-free with iMyFone D-Back:
(1) Download and install iMyFone D-Back from iMyFone official download center onto your computer, then connect your device to your computer.
(2) Click the Fix iOS System tab and then choose Standard Mode.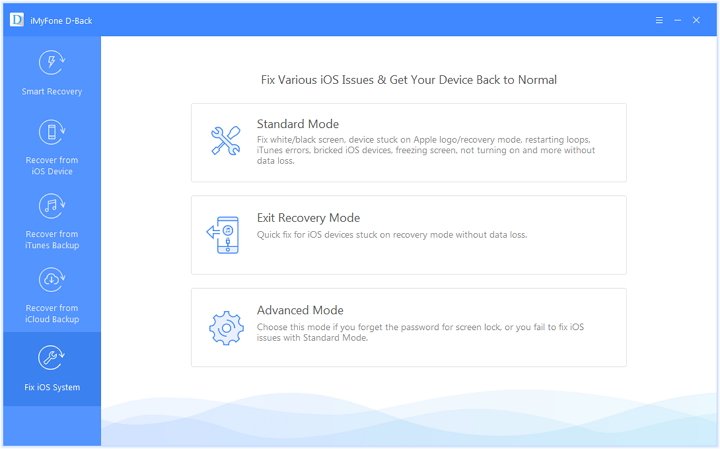 (3) The program will instruct you to put your device into DFU mode or Recovery mode to start the iOS update.
How to Put iOS Device into DFU Mode
Just press and hold your sleep/wake button and your home button at the same time on your device. Let go of the sleep/wake button after around 10 seconds, but keep holding onto the home button for an addition 5 seconds.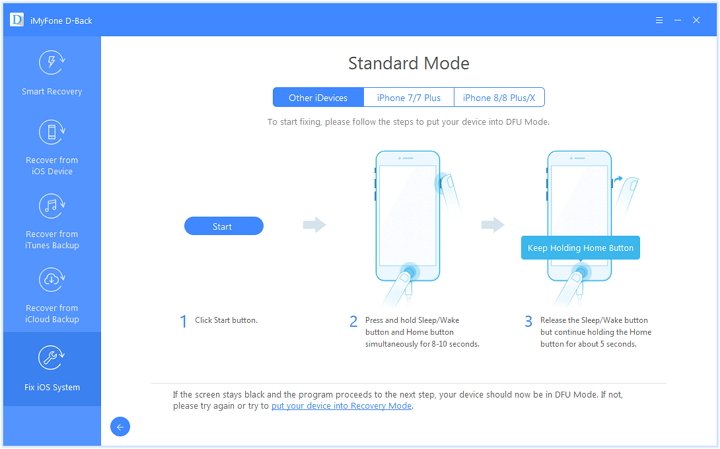 How to Put iOS Device into Recovery Mode
Press and hold your sleep/wake button and your home button at the same time on your device. Don't release the button even you see the Apple logo. Keep holding the two buttons until you see the Connect to iTunes icon on your device screen.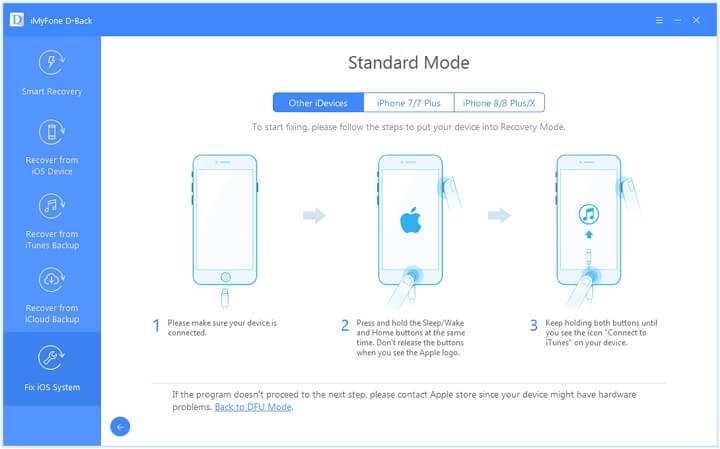 (4) D-Back will automatically detect your device model and offer the correct firmware that you need to download to fix the iOS problem. Just click where it says Download on the screen to start the process.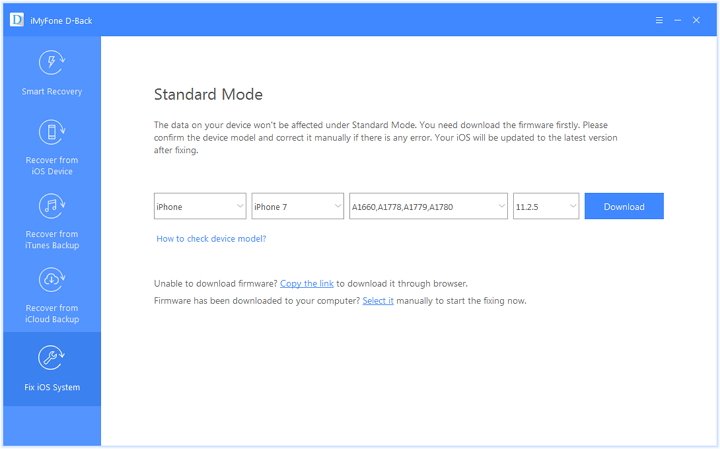 (5) Click Start to Fix. Wait until D-Back has told you that it is done.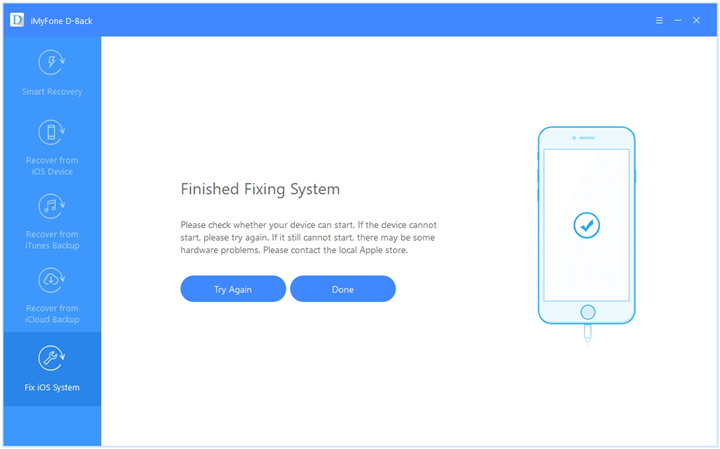 Way 4. Rejoin WiFi Network
Do you keep trying to connect to the network, but it keeps telling you that the password is incorrect, even though you know that you put it in right? Try this:
(1) On your device, go to Settings, then WiFi.
(2) Tap on the network that you want to connect to.
(3) Tap Forget This Network.
(4) Tap Forget when it asks you to confirm.
(5) Now, again under your WiFi settings, tap the network that you want, then input the password again and rejoin it.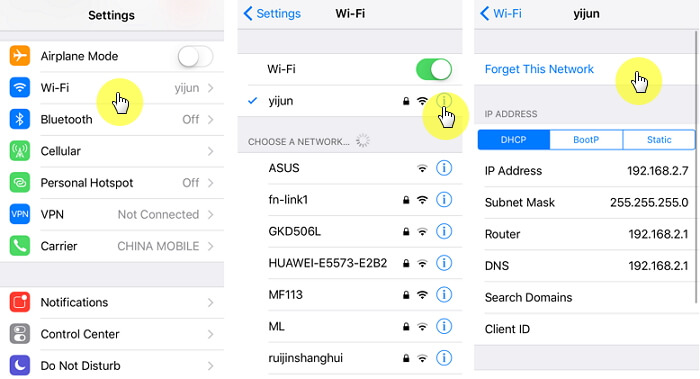 Way 5. Reset Network Settings
Oftentimes, flushing your network cache and clearing the settings can make a big difference. Here is how you do this:
(1) Go to Settings on your device.
(2) Go to General.
(3) Tap on Reset.
(4) Tap where it says Reset Network Settings.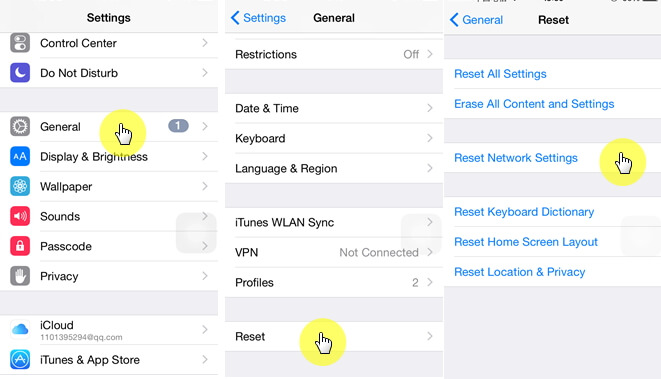 This should clear just about everything that is related to network settings on your iPhone and can help fix a lot of different types of software issues with the network, including the iPhone/iPad keeps losing wifi.
Way 6. Disable Your VPN Connection
Though VPNs can help you bypass certain blocks that are externally imposed on your connection, sometimes iPhone keeps losing the WiFi connection after iOS 11.3/12/13 upgrading because the VPN connection interfering with your WiFi connection. If you are using a VPN, then try this:
(1) Launch your VPN app.
(2) Find the settings within the app to disable it. (This will vary depending on the app.) If this doesn't work, then you can:
(3) Go into Settings on your device.
(4) Go under Apps and disable the app manually.
Way 7. Change to Google's DNS or Open DNS's Settings
If your ISP is having a DNS issue, then you will often have problems connecting to the Internet. You can get around this by changing your DNS to Google or Open DNS. Do this:
(1) Open Settings on your device and tap WiFi.
(2) Tap the little "i" icon that is next to the lock and WiFi icon near the name of the network you're connected to.
(3) Tap on the numbers next to where it says DNS.
(4) Using the on-screen keyboard, change the numbers to Google's DNS (8.8.8.8 or 8.8.4.4) or Open DNS (208.67.222.222 or 208.67.222.220).
Conclusion
One of the most irritating problems that you will encounter with iOS is, of course, the network problem, since the internet can affect so much of everything else. If you encounter a WiFi problem on iOS 13/12/11, though, just follow the steps highlighted above. If the basic tips don't help and you're a non-technical person, iMyFone D-Back will take care of most issues for you.
Regarding other tips and issues that may occur when you are upgrading to iOS 13/12/11 (including 11.3), you can refer to iMyFone's complete guide on iOS 12 and get the answers you need.