The ease of connectivity to the internet most mobile gadgets provides has induced some impressive innovations, whether they are android, iOS (including iOS 12) or any other platforms, their connection to a mobile network or WiFi and makes them indispensable productivity-enhancing tools. The process of connecting to the internet via WiFi remains fairly the same for most devices and can be summarized as: switch on your WiFi, locate an available WiFi network, input the required passwords and connect to the WiFi. A major question that often be asked is how to view WiFi password on iPhone.
Regular Ways to Find Stored WiFi Password on iPhone/iPad
Smart devices such as the iPhone automatically remember these passwords, however, viewing the previously saved passwords from these sites can prove to be difficult for most users. Interestingly, some hacks exist to provide easy access to users willing to view WiFi passwords on iPhone.
Method 1: Login to Router Settings
This hack on how to view WiFi password on iPhone is somewhat situation-specific, so works at times but is worth a try. The logic is to try locating the IP address of the WiFi router, gain access to its settings then access the password for the router. Follow the steps below to locate the router's IP address:
• Home > Settings > WiFi, on the WiFi network you're connected to, tap the "i" tab.
• View the router section, scan and jot the IP address.
• In a new tab in Safari, transfer the IP address and tap the enter button.
• This would automatically lead you to the router's login session.
To proceed, it is critical to know that the default username and passwords of most routers are both "admin". However, if this does not work, try searching for "default password for XXXXXX router model" replacing XXXXXX with your actual router model. This should provide an actual login credential that can be used for the router, then you proceed to either "wireless setup" or "wireless settings"' contingent on the router type to locate the WiFi password.
Worthy of note is the fact that should the router settings and passwords have been changed by the network administrator, this method is ineffective to view WiFi password on iPhone.
Method 2: Use iCloud Keychain Sync
To view the WiFi password, a better alternative is to use the iCloud keychain sync which basically synchronizes all saved iCloud data including login details and WiFi passwords across all the linked Apple devices. Afterward, you can view the preferred WiFi password via the Keychain app. It should be noted though that the method doesn't work on non-Mac laptops. To execute this method, follow the steps below:
• On your iPhone's home screen, go to Settings > iCloud > Keychain. Toggle the iCloud Keychain on.
• Return to Settings and toggle the Personal Hotspot on.
• Power your Mac.
• Connect it via the WiFi feature to your iPhone's Personal Hotspot.
Once successfully connected, to view the WiFi password, proceed with the below steps:
Still on your Mac, search for "Keychain Access", using (Cmd + Space) to initiate the Spotlight Search.
Identify and open your preferred WiFi network.
Search and click on the "show password" option to view the password. Note that should there be a password restriction on your Mac account, you would be asked to input the password before you can view the WiFi password.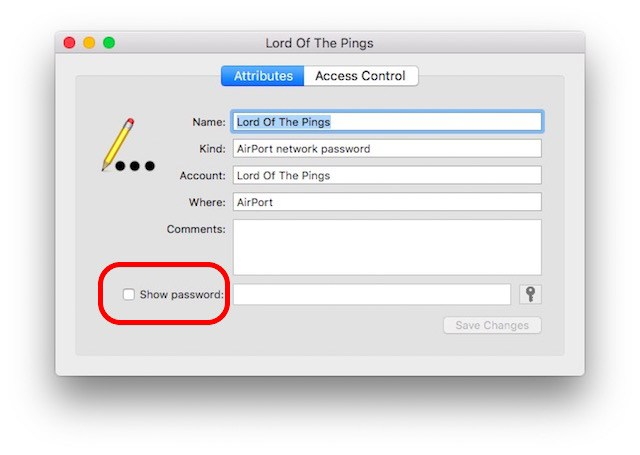 Use Free Apps to View WiFi Password on Jailbroken iPhone/iPad
Jailbroken iPhone/iPads offer users diverse and interesting user experience as it unlocks the device's potential, similar to the Android experience. This feature provides iPhones with immense capabilities to solve problems such as the "how to view WiFi password on iPhone" problem and/or to gain access to previously unauthorized WiFi networks by hacking their passwords.
App 1: WiFi Passwords
From your home screen, proceed to Cydia and search for "WiFi Passwords". The WiFi passwords app is a free app that is adept at finding WiFi passwords. Prior to installing the app, it might be necessary to add some sources on Cydia. So start Cydia > Manage > Sources > Edit menu and add (http://iwazowski.com/repo/) as the source.
• Proceed to install the WiFi Passwords app by tapping the install tab at the top right screen corner.
• After installation, click the "Return to Cydia" option. Hereafter return to the home screen.
• Start the WiFi Passwords app to gain access to all the available WiFi and their passwords.
• Connect to your preferred WiFi network.

App 2: iSpeedTouchpad
Download and install the app using the same approach described for WiFi Password app above. Run the iSpeedTouchpad App and search for all available networks. Once the preferred network is identified, click on it to reveal the available passwords and connect to the networks using the passwords.
App 3: Speedssid
Also, this app can be downloaded and installed from Cydia for free using the steps described above. After installation, one unique feature this app brings to bear is that It can hack networks that are far away or out of range.
App 4: Dlssid
As the name implies, this application hacks passwords of Dlink wireless routers and can search for passwords via tracking the Network's Mac address you provide. The app goes for 5.50 Euros but is free on Cydia. Moreover, it can be downloaded and installed in the same vein as the previously stated applications.
Tip: How to Fix iPhone not Sharing WiFi Password (iOS 12 Supported)
People want to view and find the WiFi password mostly because they want to share it to their friends who come to visit your home and would like to have access to your home WiFi. Probably you have found your WiFi password with the methods above. But what if you know the password, but unluckily your WiFi sharing feature of iPhone does not work. It's upsetting, but you can find the best fix here by using an iOS fixing tool -- iMyFone iOS System Recovery (iOS 12 supported).
Key Features:
The tool is able to fix a large number of iOS issues like being stuck in recovery mode, reboot loops, unresponsive device screen and so on.
The "Fix iOS System" feature consists of three different options for different problems which are "Standard Mode", "Exit Recovery Mode" and "Advanced Mode". No data will be lost or affected when you are using the "Standard Mode" and "Exit Recovery Mode".
It works with all the iOS versions and iOS devices (iOS 12, iPhone 8 and iPhone X supported).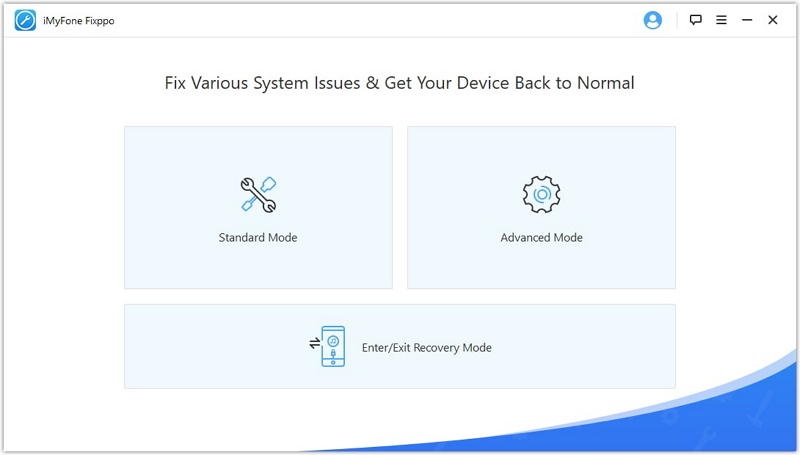 In summary, WiFi passwords were instituted to protect all network users from the malicious activities of hackers, hence the need for secure networks still remains relevant today. Although it can be a little cumbersome to remember all the WiFi passwords you use, it is crucial you know easy steps to retrieve your passwords once the need arises whether with a jailbroken iPhone or not. This noble idea is what this article titled how to view WiFi password on iPhone hopes to achieve and we hope it has!