iShredder is a product of private protector which is one of the market leaders in data erasure of iOS devices. iShredder helps you destroy files with ease and without a trace. That means it can be helpful especially when you want to sell or give away your iOS device and want to ensure that your personal files is destroyed without leaving any chance to recovery. It works with just some few easy steps and is available in 4 editions namely Pro, Standard, Pro HD and Enterprise.
Comparison between iMyFone Umate Pro & iShredder
iMyFone Umate Pro is one of the best iOS data erasers in the market and it makes sense to compare it with iShredder to know where it stands. Let's compare them.
Features: iShredder boast of good features. For example, destroying all files on your iOS 13/12/11 device without trace and cannot be recovered. It utilizes state of the arts and trusted deletion algorithms.
On the other hand, iMyFone Umate Pro can erase data on iOS without the risk of it getting recovered even with the most modern recovery tool, it can clean all iOS files like videos, photos and messages and it utilizes just 3 easy steps. In addition, it's also a iOS space saver by deleting junk files, temporary files and many other files.
Supported Files to Erase: iShredder supports file types which include videos, photos, messages etc while iMyFone Umate Pro supports all iOS files including messages, videos, photos, contacts etc. And it provides different erasing modes for you to choose the precise files to erase. You can even preview the files before deletion to make sure that you won't erase any important file.
Easy to Use: Both are easy but it is actually easier to use the iMyFone Umate Pro than iShredder as iMyFone has a really friendly interface.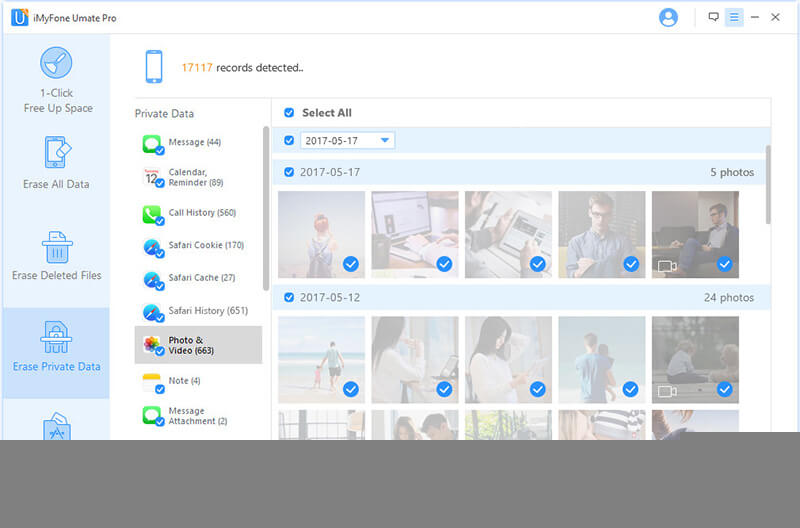 Best Alternative to iShredder for iOS 13/12/11
iMyFone Umate Pro or iMyFone Umate Pro for Mac is indeed the best alternative to the iShredder software and the reasons are obvious. We will show you why.
1. Data Erased is 100% Unrecoverable: The truth is that any data erased using the iMyFone Umate Pro is 100% unrecoverable. What this means is that data cannot be recovered even if you use the latest recovery tool which helps you keep your data private.
2. Preview and Choose Exact Files to Erase: The good thing about iMyFone Umate Pro is its precision when in operation. It has the ability to scan your device, identify the files are available for deletion and select the exact files you like to erase after previewing them.
3. Erase Both Current and Previously Deleted Data: You may have erased the files but there is a possibility that it can be recovered. What the iMyFone Umate does is to scan your iOS device and show both the deleted and existing files which you can then erase permanently.
4. 3 Erase Modes to Choose from According to Your Needs: iMyFone Umate Pro utilizes 3 erase modes to ensure that your data is permanently deleted; however, the choice is entirely yours to choose. You must choose according to your needs.
Erase All Data - Erase all data permanently with 100% unrecoverable. Instead of using a factory reset, this is a better choice. It can be useful especially when you want to sell off your iOS device and want all data erased for security reasons.
Erase Deleted Files - When you casually delete files on your device, there is a high chance that it can be recovered. What this tool does is to show you those deleted files and delete them permanently so that it can never be recovered even with recovery tools. So if you want to ensure your previously deleted files are permanently deleted then this mode is what you need.
Erase Private Data - It erases your private information so that it does not fall into the wrong hands because it is unrecoverable. It is suitable especially when you intend to sell the device to another user.
5. 1 Click to Free up Huge Space for Your iPhone iOS 13/12: This tool is not only a data eraser but also a space saver. With just one click you can compress and delete photos, remove junks and large files and free up space on your device.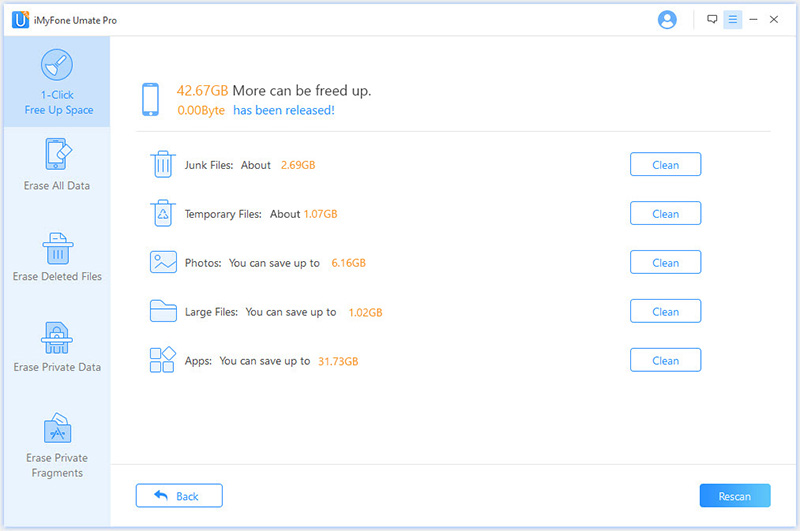 ---
Steps of Using iMyFone Umate Pro to Erase iOS 13/12/11 device
It just involves just few easy steps and the process is complete as seen below.

Step 1. Connect your iOS 13/12/11 device.
Step 2. Select any of the required erase modes.
Step 3. Erase your iOS 13/12/11 device permanently.