Erasing iPhone is not a new thing among iPhone users. In fact, there are several reasons that could warrant you to erase iPhone 11/12 Pro.
One of such reasons is when you need to trade you old iPhone for a new one. This is because your device could fall into the wrong hands where your confidential information could be retrieved.
Another reason for wiping iPhone could be free up space on your iPhone especially when it becomes sluggish and has reduced performance. Don't forget that you may also want to restore your device to its original settings and this could be a reason to completely erase iPhone.
Whatever the reason, the point is to erase your iPhone completely, without any traces left. Then you should make sure all the data on your device will be deleted, including all your personal information. Now, let's find the solutions out.
Part 1. 3 Ways on How to Completely Wipe iPhone if you Still Have It
If you still have your iPhone, there are some solutions you can use to erase the device without having to go through some rigorous processes. Here will introduce both the ways of using 3rd party tool and the common ways.
Way 1. How to Completely Erase iPhone with No Chance of Recovery (iOS 15 Supported)
With iMyFone Umate Pro, you'll have one of the best tools to completely erase iPhone without any chance of recovery. It can erase verious iOS files including contacts, call history, videos, messages, photos, third-party App data, etc. And it can also erase previously deleted files traces and private data on your device.
Key Features of iMyFone Umate Pro iPhone Eraser
Erase All Data including your Private Data - It offers you a chance to permanently erase all your data and setting from your device. Factory reset is not enough especially for a permanent delete, but Umate Pro can do.
100% Unrecoverable - The iMyFone Umate Pro will help you to completely wipe an iPhone with 0% recovery.
Erase Deleted Files - This tool helps you to see your deleted files and erase them permanently so that it can't be recovered again.
1 Click Free Up Space - This software offers you just 1 click cleanup by removing temporary files, junk files and other hidden data.
Fully compatible with iOS 15 and receive lots of positive reviews from macworld.co.uk, getintopc.com, pocket-lint.com, macbed.com etc.
This software has earned a lot of good reviews due to its performance. The following is a step-by-step guide to fully wipe iPhone 7/8/X/11 data by using this software.
Step 1. After installation, please connect your iPhone device with USB cable.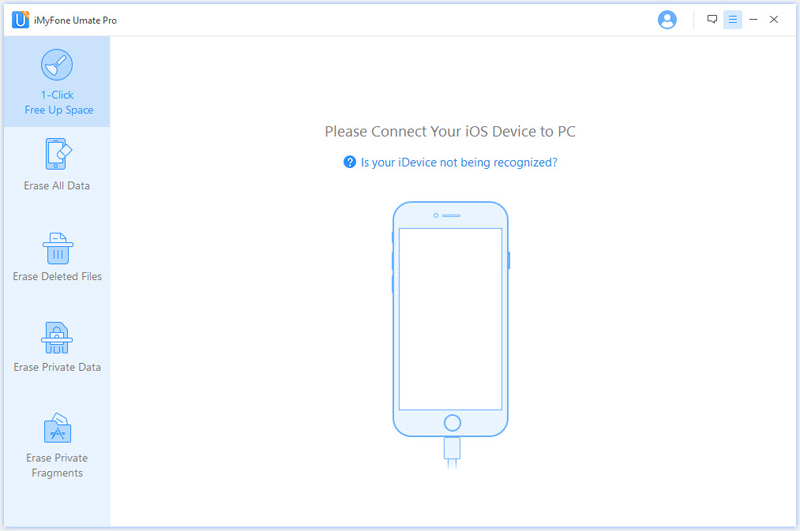 Step 2. Select any of the erase modes that suits your needs. The Erase All Data feature can greatly meet your need if you want to erase your iPhone data permanently.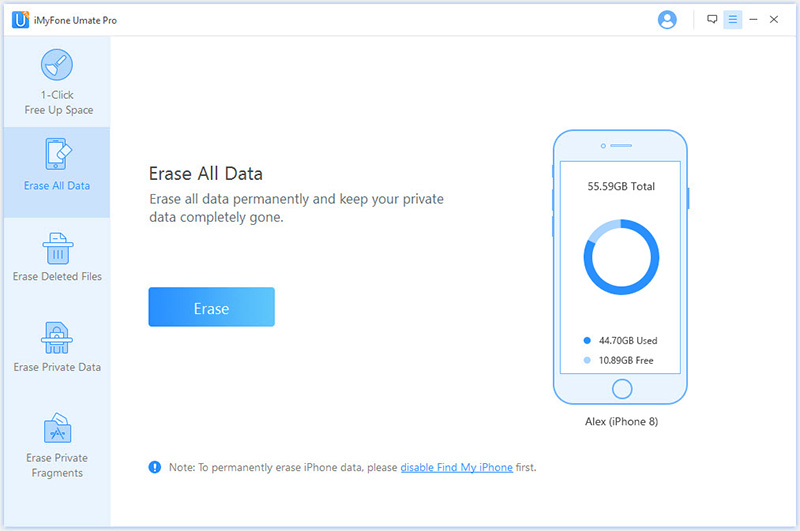 Step 3. Erase your iPhone data as you want it.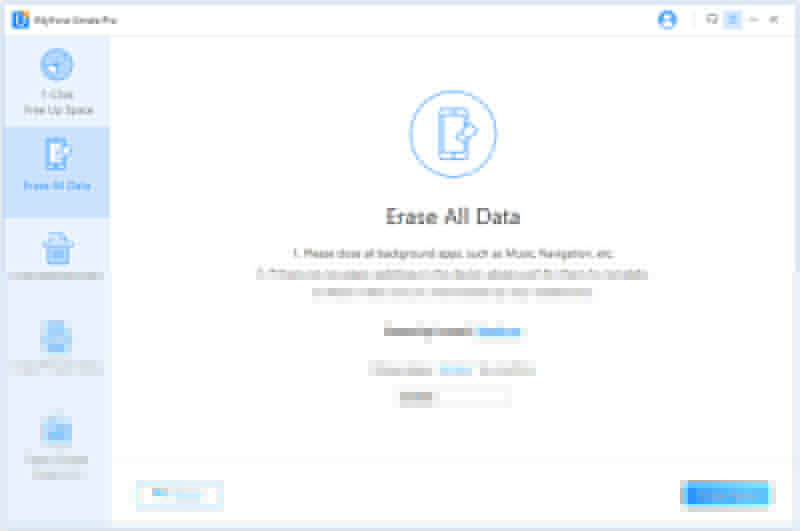 Using iMyFone Umate Pro can erase iPhone data without leaving any trace of recovery in such 3 simple steps. This makes iMyFone Umate Pro the better choice.
Way 2. How to Completely Wipe iPhone from Settings
If you still have your iPhone, there are steps you can use to erase the device without having to go through some rigorous processes.
Tap on Settings in your iPhone and then select General.
Scroll down to look for Reset button and tap on it.
You will now see many different options for deleting data from your iPhone.
Look for Erase All Content and Settings and tap on it.
If you have set a code in your iPhone, you will be required to type the code to proceed.
After entering the code a small pop-up will ask you to confirm your choice. Select Erase iPhone and the wiping process will begin.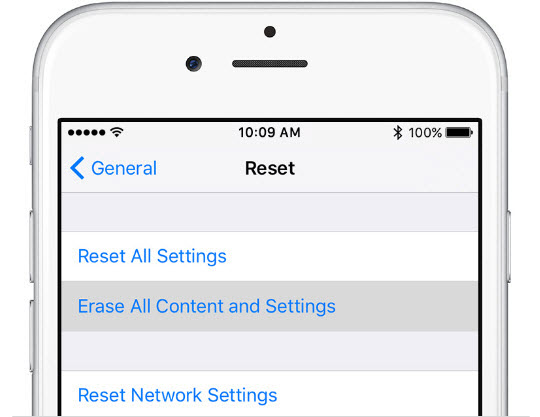 Way 3. How to Erase Your iPhone from iTunes
Wiping iPhone using iTunes is a common way, but you shoule know that iTunes will automatically backup your Contacts, Notes, Calendar to the data base before iPhone restoring. Here are the steps to do it.
Open iTunes and connect your iPhone to your computer.
Select your device from the list of available device.
In the Summary tab you will find Restore iPhone button, click on it.
A pop-up will ask you to confirm your choice and when you select Restore again, iTunes will start erasing all the data from your iPhone.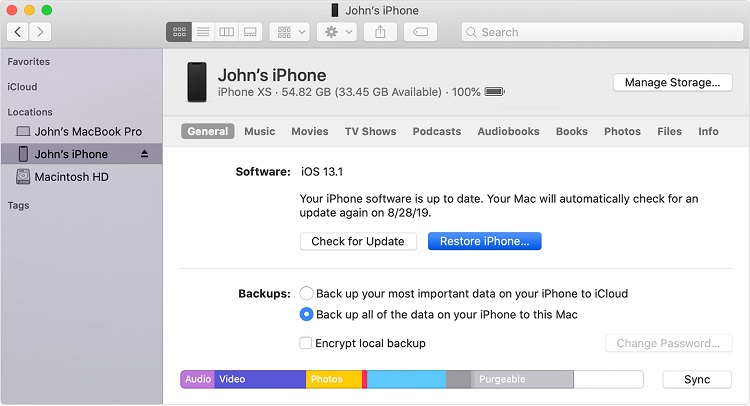 Note
As you can see from the above, the steps are simple. However, it is important to note that the disadvantage is that it does not erase iPhone permanently. The implication is that erased data through the "Reset" / "Restore" option can be recovered by using recovery software, making it unsuitable when privacy is important. But Umate Pro does it well which you can prove it from the comments of some medias.

Part 2. How to Erase iPhone If You No Longer Have Your iPhone
If you no longer have your iOS device either it has been stolen or lost you can remotely ezrase it following these steps:
Go to www.iCloud.com/#find > enter your Apple ID > click Find My iPhone.
Select the device that you want to erase.
Tap "Erase iPhone" to confirm.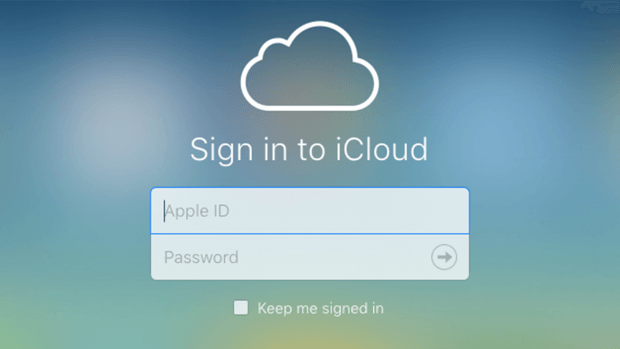 Conclusion
By now, you have known the ways to erase iPhone data completely and their strengths and weaknesses. To protect your data privacy, be sure to choose the most effective solution. After our testing, we found that iMyFone Umate Pro is the best one. Don't hesitate to try it now.