Just like many other communication apps, WeChat can record a lot of private data and leave it lurking on your iPhone without your knowledge, even after your uninstall it from your iPhone. You might try manually deleting your messages or your cache, but that won't help if someone tries to go through your iPhone using recovery tools.
Another concern is that unfortunately WeChat eats up a huge chunk of our iPhone storage and slows down your iPhone. So, it is important you clear the WeChat Cache on your iPhone regularly to free up space or protect privacy.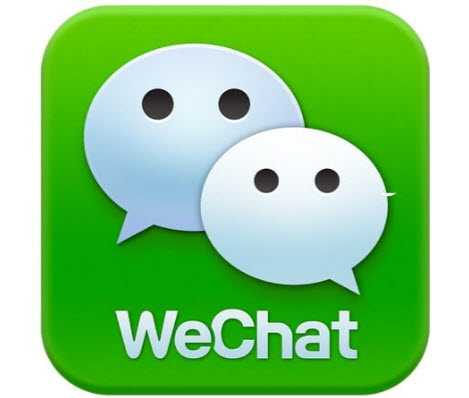 Part 1. Uninstall to Clear WeChat Cache on iPhone [Quick Way]
To clear up WeChat Cache on your iPhone, the quickest way will be to uninstall the app and re-installing it on your device.
Note that this will not only delete the app cache but will also remove all the app data on your iPhone. If you still want to retain some messages, videos, photos as well as other data received or sent through the app, then it is not advisable to uninstall the app.
Part 2. Clear WeChat Cache on iPhone via WeChat App [Partial Cleanup]
You can use the Manage Storage feature on WeChat to clear the cache. To do this, you should open WeChat, go to Settings > General > Storage > Clear WeChat.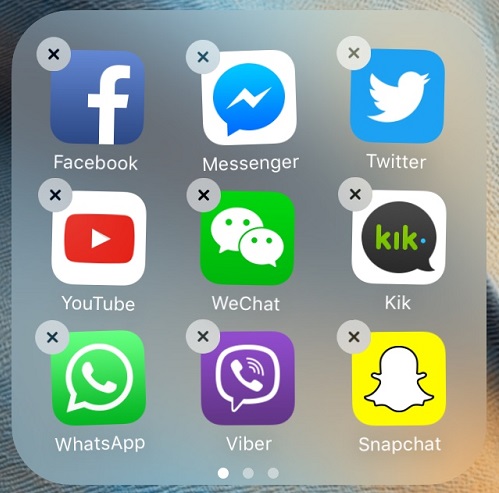 After you follow these steps, WeChat will automatically clear then cache. Note that this option will not clear up all of the useless Wechat cache and only a little storage space will be released (generally about 50MB), which makes it not the best option to clear up the WeChat cache on iPhone.
Part 3. Clear up All iPhone WeChat Cache [Complete Cleanup]
As we mentioned before, the quickest way to delete the WeChat cache is to uninstall and reinstall the app. However, it will delete all other important WeChat data on your iPhone, rendering the whole process unsuitable.
iMyFone Umate Pro or iMyFone Umate Pro for Mac is an all-in-one solution for iOS space saving and privacy protection, which is capable of cleaning all iOS files. It has the capability to delete all of the WeChat cache on your iPhone without actually deleting other important WeChat data. In fact, all your invisible Wechat junk files — like caches, cookies, crash logs and corrupted files — can be removed for free.
Key Features of iMyFone Umate Pro:
Permanently Delete Current WeChat Data: It is possible that your WeChat data contains private information.
Permanently Erase Deleted WeChat Data: This erase mode simply ensures that the already deleted WeChat data which can be recovered is permanently deleted.
Permanently Delete WeChat Fragments: This erase mode will permanently delete this fragments of private data so that no one will ever be able to see what you were up to.
Permanently Clean Up with a 0% Chance of Recovery:Allow you to delete all your contacts, messages, notes and browsing history.
Before watching the text guide, here we provide you with a video tutorial.
The text guide of clearing WeChat cache on iPhone is as below.
Step 1: Connect your iPhone. Select the 1-Click mode, and scan you iPhone.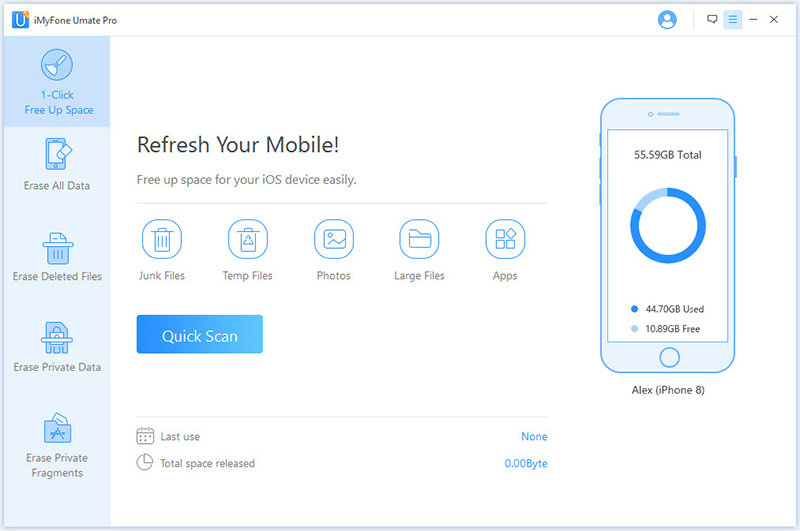 Step 2: After the scan finished, choose the "Junk Files" option, click on "Clean" to delete your WeChat cache on iPhone.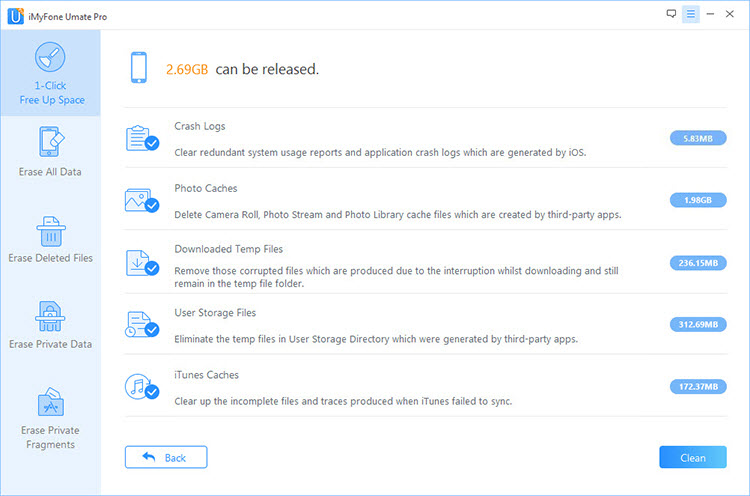 Not only can iMyFone Umate Pro delete the cache of WeChat, but it also works for deleting caches of other apps, such as WhatsApp, Skype, Snapchat, Viber, and others. The cache of all of these apps can be cleaned at once conveniently and easily.
Part 4. More You Want to Know about an Excellent Tool
An excellent tool called iMyFone Umate Pro has more features that you can't not miss. As we all know, Wechat data can be permanently deleted. And, manually deleting chats, messages and media files is recoverable. In order to permanently erase your sensitive WeChat data, you should consider erase modes on iMyFone Umate Pro which can permanently erase data, making the erased data unrecoverable even with the most modern recovery software.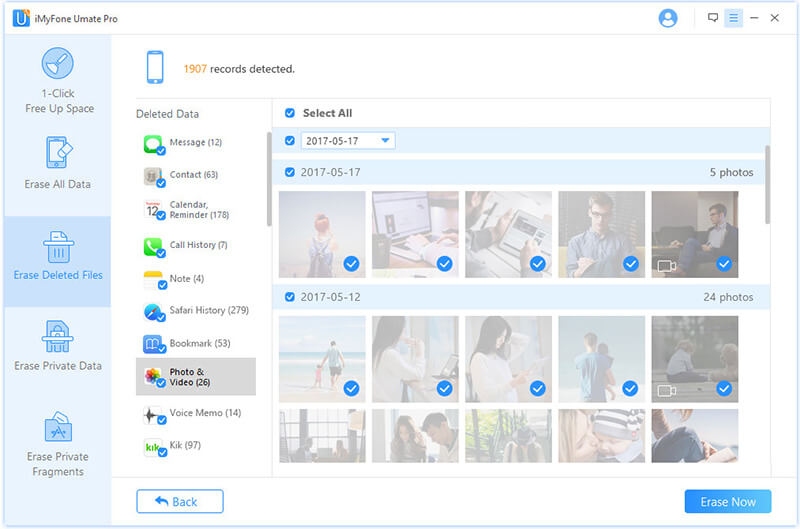 Did you know that a lot of apps leave behind fragments of private information, even after they have been deleted and uninstalled? Not only does this happen with WeChat, but also WhatsApp, Skype, Viber, and others. This is extremely important, especially if you ever plan on giving away your iPhone.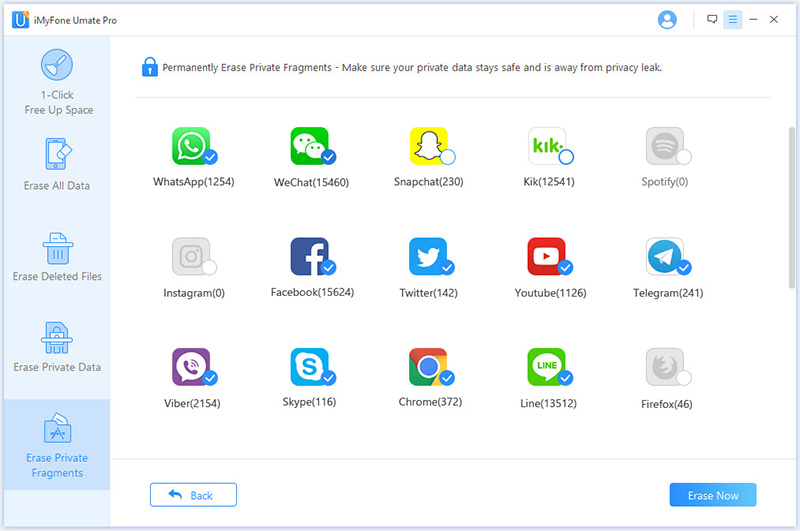 Conclusion
iMyFone Umate Pro is highly rated of by hundreds of users and well-known media. The program is easy to use, fast and at the end leaves you with enough storage recovered from your device which ensures that your device performs at an optimal speed. 1-Click mode can be used to throughly clear your WeChat Cache by removing junk files on your iPhone. In short, Umate Pro offers the best way to permanently delete all of your private WeChat data. It can permanently delete current and deleted WeChat messages and attachments, permanently delete your cache, and delete all the private fragments that the app may leave behind.