We are noe in the age of big data. It is easy that our private info has been collected by other. So it is important for us to permanently delete any traces of our private data anywhere. Before reselling or giving your iPhone away, I suppose you use "reset" to erase all content and settings on your iOS 13/12/11 device. But it is not safe enough. Some tools can still access your data then.
The safest way is to use iOS full data eraser to completely erase everything from your iPhone/iPad with zero chance of recovery. Even the previously deleted files will be found out and permanently deleted. Here are the top 3 iOS full data erasers you can consider.
Top 3 iOS Full Data Eraser
There are many iOS full data erasers in the market which promise to permanently erase your iOS device. You may not know how they are different. But here we dissect the top 3 iOS full data erasers for you. I will know which should be chosed then.
1

iMyFone Umate Pro
iMyFone Umate Pro or iMyFone Umate Pro for Mac is the most popular and reliable iOS 13/12/11 eraser with its key features and excellent performance. It is easy to use with such a simple yet premium UI. The UI is user-friendly so that you can just follow the instructions step by step.
With advanced overwriting technologies, iMyFone iPhone Data Eraser certainly can completely delete iOS 13/12/11 data from the root. No trace of recovery will be left then.
To make sure that private and personal data is completely gone, it offers 3 security levels.
High level: It erases the data 3 times, so this security level is best if you have very very important data such as bank account details etc.
Medium: It is a recommended security level. Data is overwritten with junk files to ensure the confidentiality and non-recovery of data.
Low level: It is a binary security level which overwrites all the data with zeros to make sure that the data can never be recovered.
So how can we completely erase everything on your iOS 13/12/11 device before giving it away?
Step 1: After installing iMyFone Umate Pro, you must connect your iOS 13/12/11 device to computer via USB cable.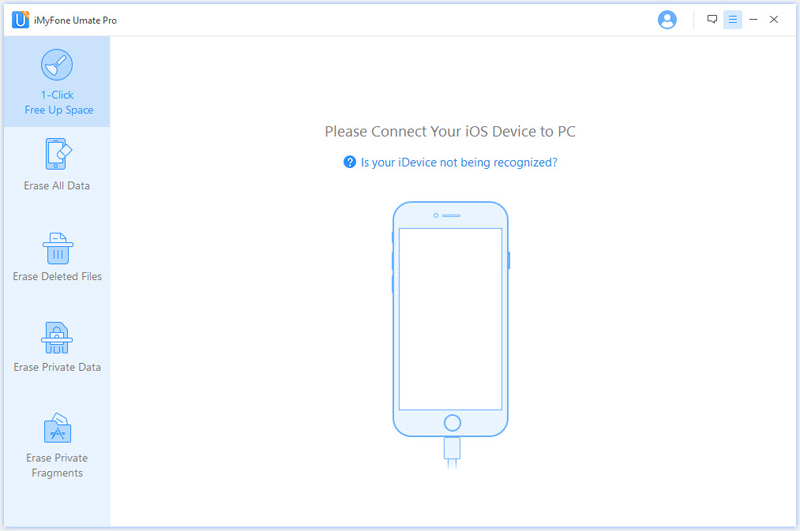 Step 2: When your iOS device is connected successfully, choose 'Erase All Data' tab, click "Erase" button.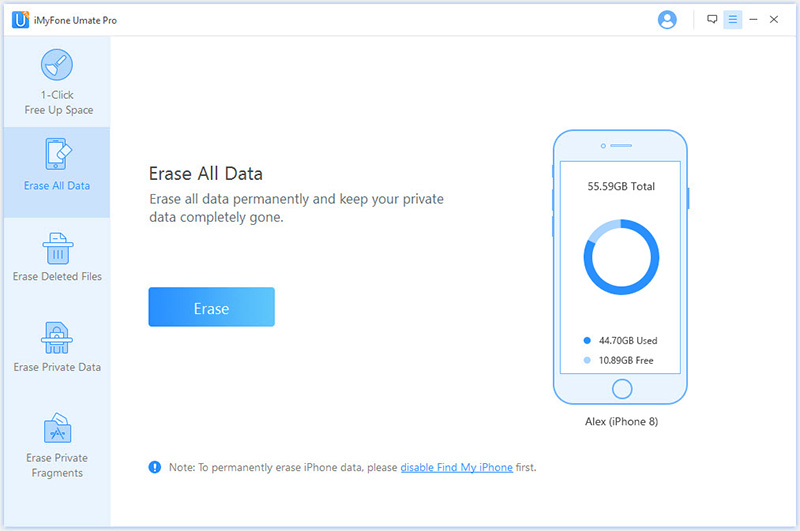 Step 3: Type "delete" into the box to confirm, you can also change the security level by simply clicking on the link. Then click 'Erase Now' button to erase all the data on your device.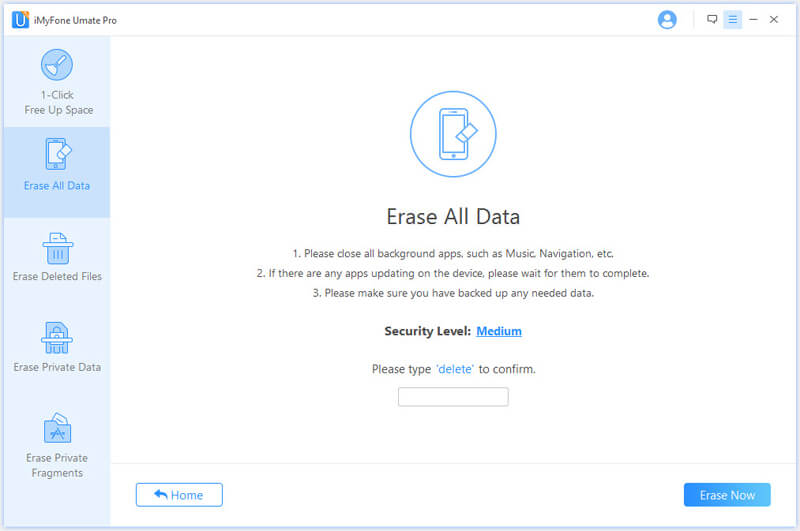 When it finishes,everything on your iOS device will be completely removed. Even all the previously deleted data will be found out and permanently deleted. It will look like a new iPhone/iPad just taken out of the box.
Apart from permanently delete everything from your iOS device, you can also select some private data to erase. As then, iMyFone Umate Pro provides other 3 erase modes to meet your needs.
Erase Deleted Files: Generally you may manually delete data from your iOS device. They are just invisible. They will be found out by iMyFone and permanently deleted. It will can promise all your deleted files is 100% safe.
Erase Private Data: You can select unwanted private data to permanently delete here. It supports messages, call logs, contacts, voice memo, Safari history, etc. Different from other erasers, it supports to permanently delete WhatsApp and WeChat messages/attachments.
Erase Private Fragments: It is the most complete and in-deth erasure for third-party apps. Do you notice that third-party apps will produce fragments when using? You can run it to permanently erase all of them.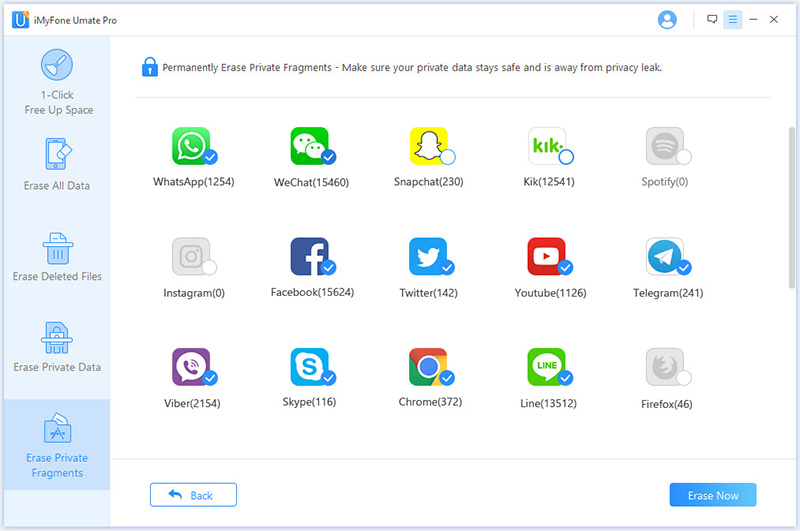 2

iSkysoft Data Eraser
iSkysoft data eraser is also a well-done iOS full data eraser that can delete all the existing data and deleted data permanently, which cannot be recovered ever. Only you have the power to control what to deleter, so the complicated eraser can make sure that all your private data will strictly end up at your hands.
It secures the user's personal information like banking information or accounts' passwords.
Clean up junk files and speed up your iPhone/iPad/iPod Touch.
Permanently overwrite deleted files.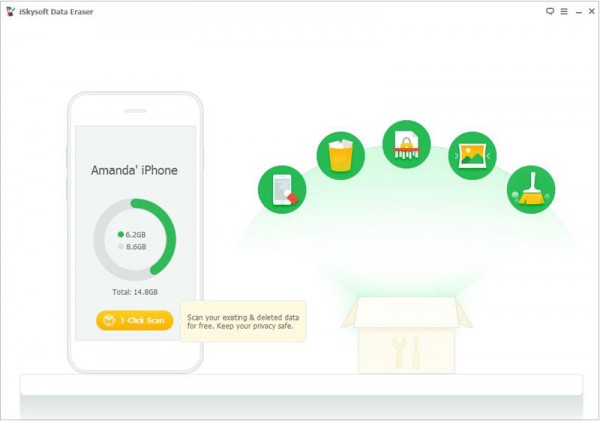 ---
3

Coolmuster iOS Eraser
The effective and safe data erasing ability of Coolmaster iOS Eraser would help you to permanently remove all private data from your iPhone, iPad or iPod Touch. It supports both Windows and Mac computer. It also guarantees zero chance of recovery.
All private data on your iDevice can be detected, such as emails, passwords, music, videos, contact and account info, etc.
There are three erase modes on the software. You can choose one depending on your needs.
With advanced detecting, scanning and overwriting technologies, personal data on your iDevice can be erased completely.
---
| Metrics | | iSkysoft Data Eraser | Coolmuster iOS Eraser |
| --- | --- | --- | --- |
| Permanently erase private data | | | |
| Permanently erase deleted files | | | |
| 100% Unrecoverable | | | |
| Support permanent erasure of WhatsApp & WeChat data | | | |
| Support erasure of third-party apps | | | |
| Speed up iOS | | | |
| Preview first & select | | | |
| 1-click process | | | |
| Losslessly compress photos | | | |
| Clean all useless files once | | | |