There is no denying that cloud computing has revolutionized the way data is stored around the globe. If you are an iOS user, then you can clearly appreciate the power of cloud computing with the services afforded to you by iCloud. In case you didn't know, iCloud is Apple's cloud storage facility that lets every iOS user back up 5GB of data free of charge! iCloud allows you to back up virtually everything on your iOS devices! Everything you have backed up will be availed to you in a pinch, in the event that you lose vital data e. g business contacts, photos etc. In this article, we present to you two awesome ways to extract your iPhone backup without breaking a sweat!
1

Extract Your Data from iCloud Using iCloud.com
iCloud is just that great place to back up your documents, photos, videos, emails, calendars, reminders, Safari data and notes. One way to use iCloud is going to iCloud.com and then sign into your iCloud account.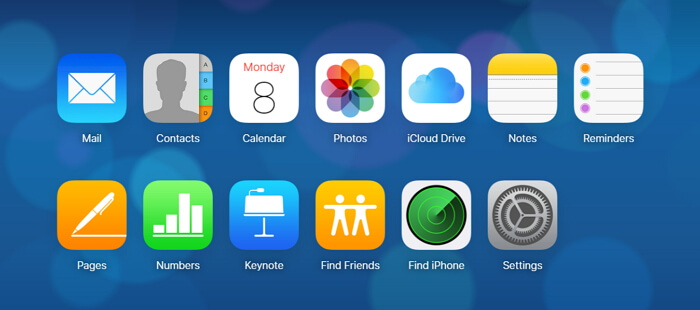 Then you will see all the data types you can view and extract from iCloud.com. As you can see, only a few types of files can be extacted. Just download your data to your computer and you are good to go!
2

Extract Data from iPhone Backup Using a Third-Party Software
You can also choose to go with a good third-party software in extracting your iPhone backup from iCloud. One such software is iMyFone iTransor Lite iPhone Backup Extractor, a tool that is fast growing in popularity in the realm of iOS data backup and extraction.
Key Features:
It can export 18 types of data. For example you can extract WhatsApp from iPhone, or from iTunes/iCloud backup..
It also supports selectively extract everything important you need rather than all data in backups.
it has a powerful trial version that will surely convince you to make the full purchase.
The Pro version of iTransor Lite is available to restore backups made by iTunes/iCloud/iTransor Lite Pro to your iOS devices without overwriting the other data.
So, how do you use the very easy-to-use program to extract your data? The following is the specific guide you can refer to.
Steps to Extract Data from iPhone Backup via iMyFone iTransor Lite
You will need to download and install the software on your PC/Mac. The software set up has two versions to cater for these two OSs. After downloading, you can just run the iMyFone program.
Step 1. From the home window, you will see three options. Pick the Extract Data from Backup mode according to the backup you have. Here we take extract from iTunes Backup as the example. Select an iTunes backup that you want to extract data from and click Next.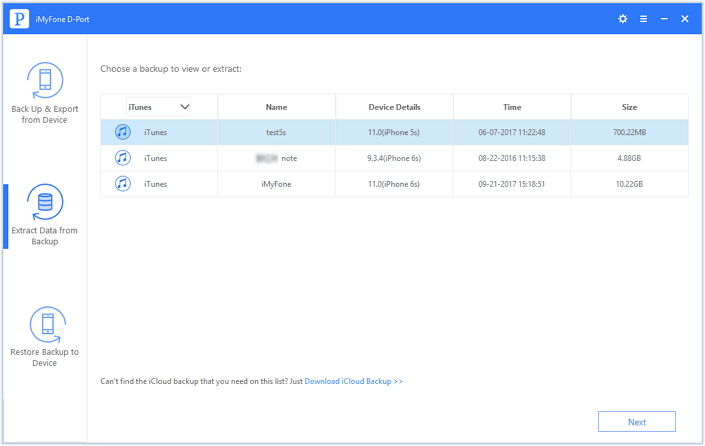 Step 2. After that, you may need to select the file types you want to extract from Backup, such as contacts, photos, messages etc. Of course you can choose all the file types. Then click on Next to scan your iTunes data.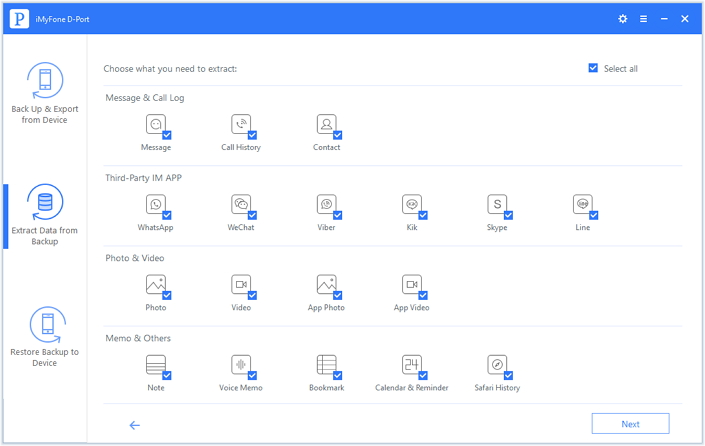 Step 3: The last step in the process is to preview the files you would like to extract. You can select the ones you want by simply checking them. Lastly, click on Export and choose the path you wish to store the files on your computer and finish the process.
Note
Extracting data from iCloud backup is with the similar steps. You just need to log in your iCloud account and download your iCloud backup. iMyFone repects users' privacy and never keep users' account info.
It cannot get simpler than iMyFone iTransor Lite and it can extract more types than the first method. Don't forget that the free trial version of iMyFone iTransor Lite iPhone Backup Extractor is offered! Just have a try!