Have you lost your important SIM card data without being notified? Are you trying to recover lost data from your SIM card?
If yes, then this article is for you. This article will share how to recover lost data from SIM. We will share some easy methods that beginners can also try. There are different methods, so you can choose the one that suits your situation. Let's start!
Part 1: What Data Is Stored on a SIM Card
The word SIM stands for "Subscriber Identity Module." A SIM card is simply a small and smart card that connects mobile with a specific cellular network and gives identity to the holder in a specific mobile network.
You can also store data like personal security keys, contact numbers/lists, text messages, user identity, and location on the card. There is minimal storage space on all SIM cards where the data is stored.
Most of the information on the SIM card is important. For instance, the contacts stored are quite useful, and you would never like to lose them. A few messages are also stored in the SIM memory.
Part 2: How to Recover Contacts from SIM Card on iPhone/Android
The data saved on a SIM card can be lost for many reasons. There can be any scenario for you to lose important data. Therefore, many people search for how to retrieve data from SIM cards. We will explain how you can do it with deactivated, damaged, and old SIM on Android or iPhone in a straightforward way. Before going into any method, you can use any third-party tool or software for this purpose, and the backup and restore option can also work in all scenarios.
2.1: How to Recover Contacts from Deactivated SIM Card
Using a deactivated SIM card is not possible. So, precautionary measures should be creating backups or consistently shifting data from the SIM to the device. In case you have not done anything like this, there is still a way to try.
Steps to Use:
Step 1: Call your mobile operator to help you recover contacts from the deactivated SIM card.
Step 2: Once they agree, they will send you the list of the phone calls you have made in the past. Here, you will have to remember the numbers on your own. No owner names will be mentioned for any mobile number.
Step 3: The list will be sent to your new mobile via mobile number or through email. Take the list and save numbers one by one on any other device. This will help you to extract contacts from a deactivated SIM card.
2.2: How to Recover Contacts from Damaged SIM Card
A SIM card can get damaged or stop working unexpectedly without showing any clue. If your SIM card gets damaged, you can lose your important data.
Here is the method everyone should try to recover their contacts from a damaged SIM card. Other than this, you can also use the backup and restore method by using any tool or software or by direct backup data from iCloud, iTunes, and Google Drive.
Let's see how to recover contacts from a damaged SIM card.
Steps to Use:
Step 1: Contact your SIM Provider (company) and tell them the situation. You can easily get the contact number from the monthly bill or the company's official website.
Step 2: You will be asked to provide account information first by the company. Every company has its procedure. You will have to go through that procedure.
Step 3: After a deep investigation, the company will issue you a new SIM card with the same contact number and data. Insert that card into your mobile, and all of your contacts will be shown on your mobile's contact app.
2.3: How to Recover Contacts from Old SIM Card
If you have an old SIM card and you want to recover contacts from it, make sure that the SIM card is not expired. Only then can you recover your contacts. Here are some simple steps to recover contacts from an old SIM card.
Steps to Use:
Step 1: Insert the old SIM card into your mobile and wait for it to show the contact list on your mobile.
Step 2: After a few minutes, the SIM will show you the contact list that can be shifted to your new mobile. Select the contact list and use the Export, Copy Paste, or Shift feature of your mobile.
Step 3: Save the numbers to your new mobile and put the old SIM card out of it. This is how you can easily recover your contacts from an old SIM card.
Part 3: How to Recover Lost Data from SIM Card iPhone/Android
We have seen different methods to recover contacts from the SIM cards in different scenarios. Now, we will look at how to retrieve data from a SIM card on an iPhone using the software.
iMyFone D-Back for iOS is a powerful data recovery tool developed to recover lost or deleted data. Its unique algorithm makes the task very easy and requires a few simple steps. The software can deal with 18+ data types and different data loss scenarios. You can use its free trial version to get your task done. It has an Android version as well. If you are an Android user and want to recover deleted contacts/phone numbers on Android, you can choose iMyFone D-Back for Android.
How to Recover Phone Number from SIM Card Using D-Back:
Step 1: Launch iMyFone D-Back for iOS on your computer and open the software. Click on the Recover from iOS Device.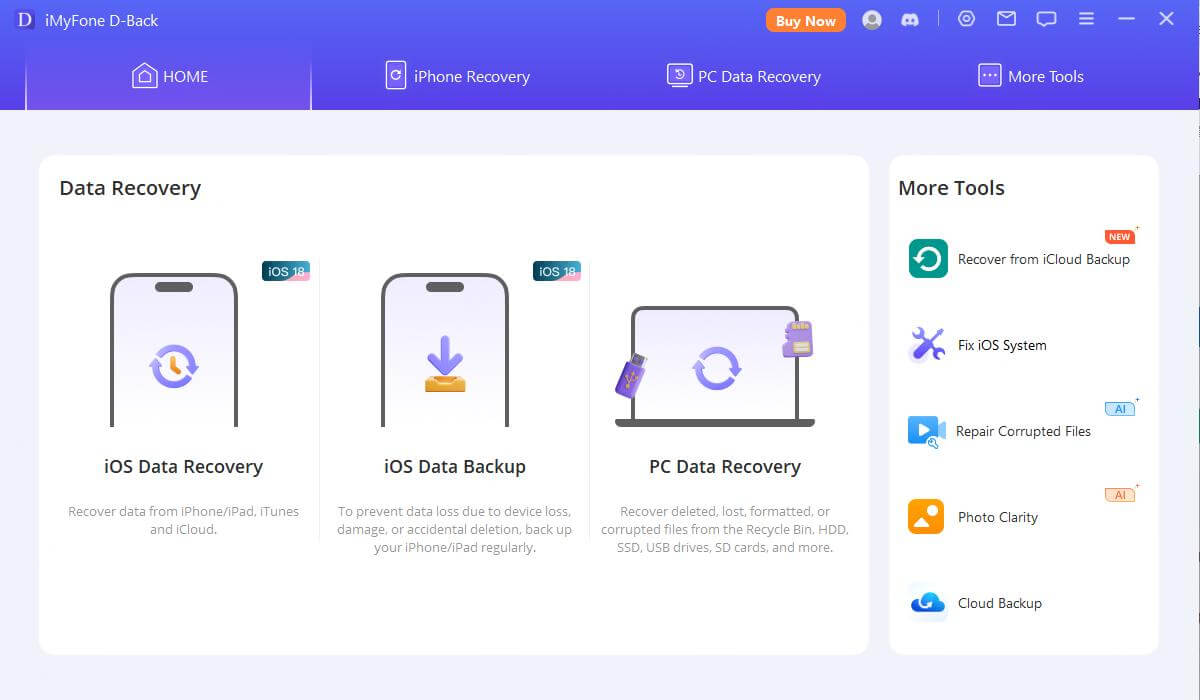 Step 2: After selecting the recovery type, connect your mobile to the computer and click on the Next button. D-Back for iOS will scan your device or other sources completely and show you the recoverable data on the screen.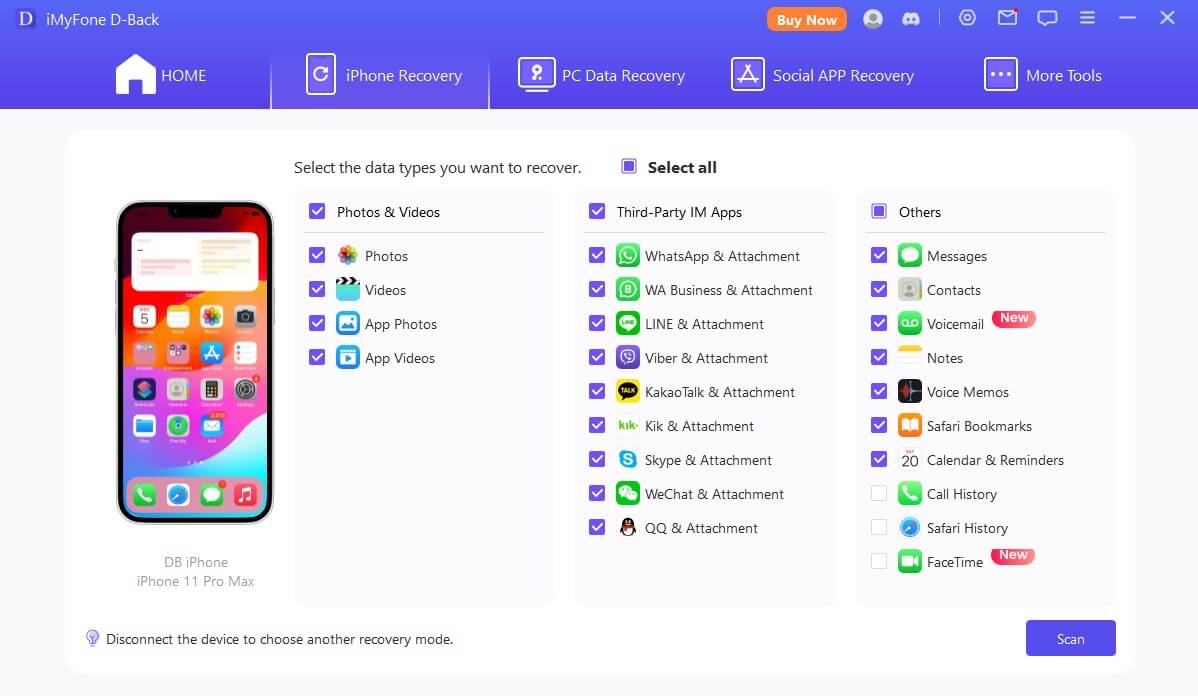 Step 3: Select the SIM card data (contacts and messages) from the screen and click on the Scan button. Now, preview the data before recovery if you want. Lastly, click the Recover button to store the recovered data on your device at the desired location.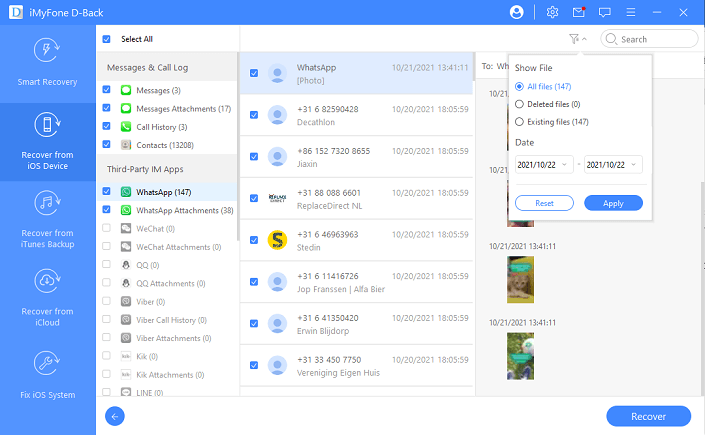 Note: You can follow the same steps to recover data from iTunes and iCloud backups just by providing credentials first.
Part 4: FAQs about SIM Card
4.1: How to Access SIM Card Data on Android
Go to Settings and scroll down the screen to tap on Wireless and Networks. This will allow you to see the data on your SIM card. You can see the SIM type, name, roaming information, and mobile data activation from here. Go to Contacts to see the contacts saved on your SIM card. Besides this manual method, you can use applications like SIM TOOL MANAGER and many more to access and modify your SIM data.
4.2: Can a SIM Card Be Recovered
Yes, it is possible to recover a SIM card. If your SIM is expired or deactivated, there will be few chances to recover it. Otherwise, you can follow the methods mentioned above to recover your SIM card according to your situation.
4.3: How to Recover Deleted Contacts from SIM Card without a PC
You can contact the company through any mobile to regain your data. You can also choose your mobile's Google Backup and restore feature to get your data back. Moreover, you try different mobile applications.
Conclusion:
It is not difficult to recover lost data from a SIM card if you know the right way to do it. Like an SD card, deleted or several different methods can also recover lost data from a SIM card. Google backup is one of the easiest ways to get the data back, but it works if you had created backups as a precautionary measure. We have shared the best and most reliable methods to recover lost data from SIM cards. You can get it by contacting the company or using iMyFone D-Back for iOS (the best data recovery software for iOS) to regain data from devices, iTunes, and iCloud backups.