It is really annoying that your iPad is freezing while in use. This is not a rare problem for iPad users. Freezeing issue also happens after you restore or updating iPad. There are some things you can do when your iPad gets frozen. In this article we discuss the reasons behind the freezing of iPad and the effective methods on how to fix the problem. Even if the latest software iPadOS 14 is running on your iPad, the article will help too.
Why Does My iPad Keep Freezing?
Sometimes the iPad freezes due to malfunctioning apps or too many apps open and running at the same time. This can cause the device's performance to dip causing the freezing. Other reasons for an iPad that keeps freezing could be problems with your operations, for example, overuse leads iPad to overheat or you have altered the settings of the device in a manner that causes it to malfunction. Besides, why ipad keeps freezing up is very probably because of software problem. It may just becomes frozen during or after iPadOS update, iPad restore, and restoring backup to iPad.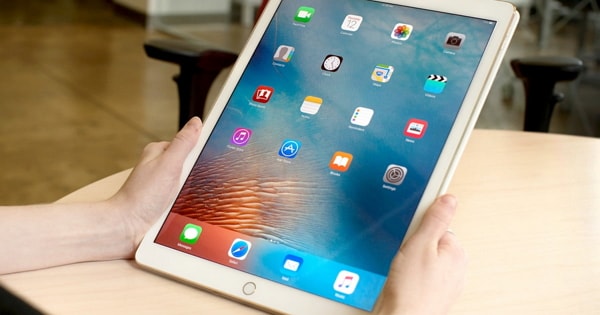 4 Most Efficient Methods to Fix a Frozen iPad Back to Normal
1. Perform Hard Reset on iPad (No Data Loss)
This is the most easy way to perform when there is a problem with iOS or iPadOS. Sometimes hard reset works perfectly if your iPad freezes all the time. Here is how to perform hard reset on iPad:
Step 1. Locate the Sleep/Wake button at the top and the Home button bottom center.
Step 2. Press the Sleep/Wake button and Home button for about 30 seconds until the Apple logo is displayed on iPad screen. After that, your iPad will restart.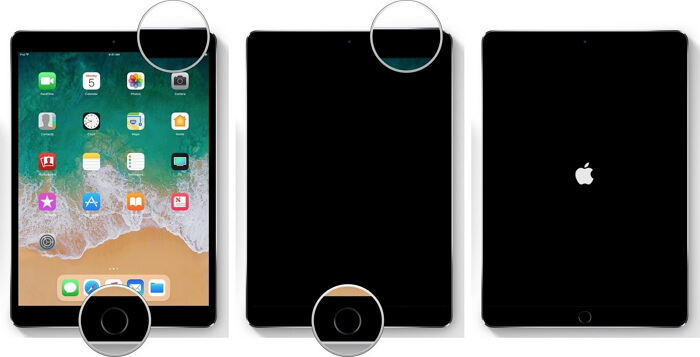 2. Best Way to Fix iPad Keeps Freezing (No Data Loss)
The second way that you can fix a frozen iPad is using a third-party software that is built with "fix iOS" feature because your iPad must have some glitches with the iPadOS. The tool we recommend here is iMyFone Fixppo which can refresh your iOS/iPadOS and fix all iOS/iPadOS problems without data loss. Developed by iMyFone company which is recommended by famous media sites such as Cult of Mac, Makeuseof, and so on, this program is outstanding for its powerful features as below.
It is the best iOS/iPadOS repair tool in the market. Its advanced and exclusive technology guarantees positive results.
Fix various iOS/iPadOS system problems, such as iPhone error 53, white screen etc.
It supports iPad Air, iPad Mini, iPad Pro, iPad with Retina Display, and all iPhone models including iPhone 12.
It is fully compatible with iPadOS 15/14 and iOS 15/14.
Here is how to fix iPad that keeps freezing using iMyFone Fixppo without data loss. Once you have downloaded iMyFone Fixppo on your computer, install and launch it. Also have your iPad cable with you and follow these steps.
Step 1. Choose Standard Mode
When you open the program on your computer you will see 3 options in the middle. Choose Standard Mode from the onscreen options.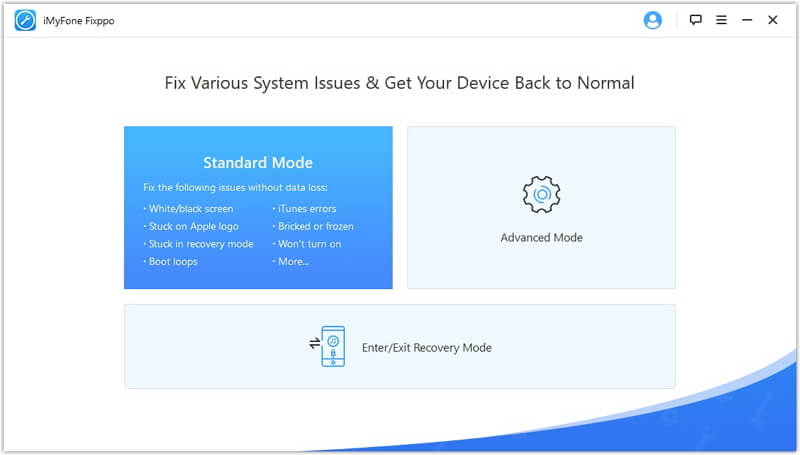 Step 2. Connect Your iPad
Connect your frozen iPad to the computer using a USB cable. Click Next button. If your iPad can be detected, you can go to the next step. Otherwise, follow the on screen instruction to put your iPad into DFU or Recovery Mode.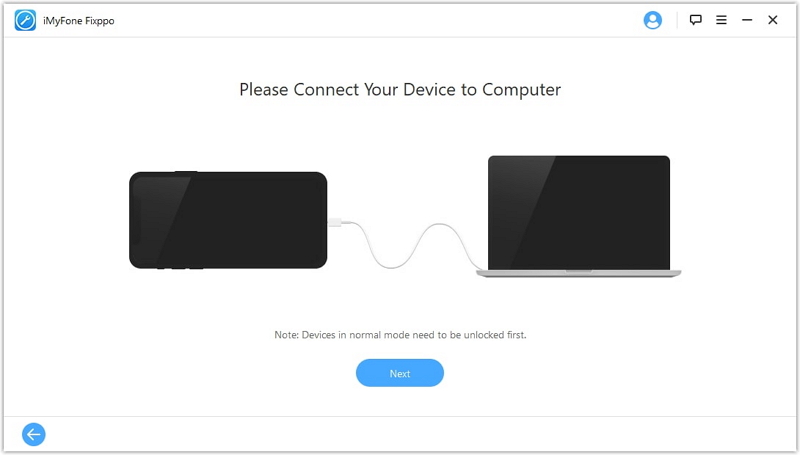 Step 3. Choose and Download Firmware
Next, iMyFone Fixppo will provide all the firmware that is compatible with your iPad. iPadOS 15/14 will also be provided. Therefore, just choose a suitable version and click on "Download" button and wait for the firmware package to be downloaded.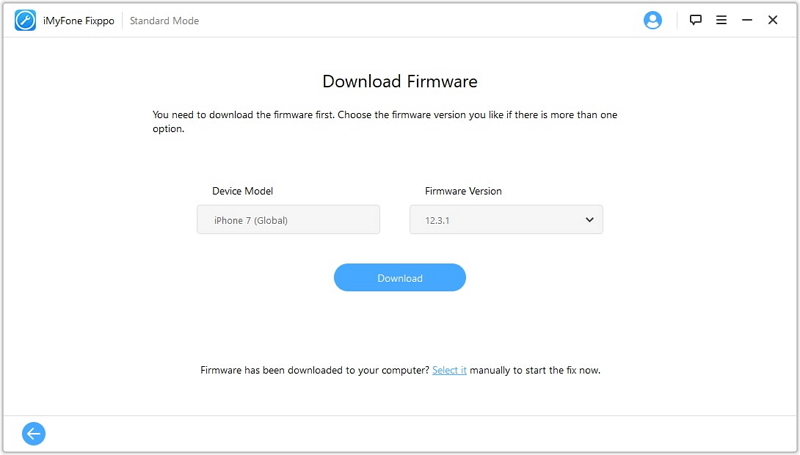 Step 4. Fix iPad to Normal
Upon completion of the firmware download, click Start button and the program automatically fixes your iPad. Within a few minutes your device will be fixed and it will reboot to normal.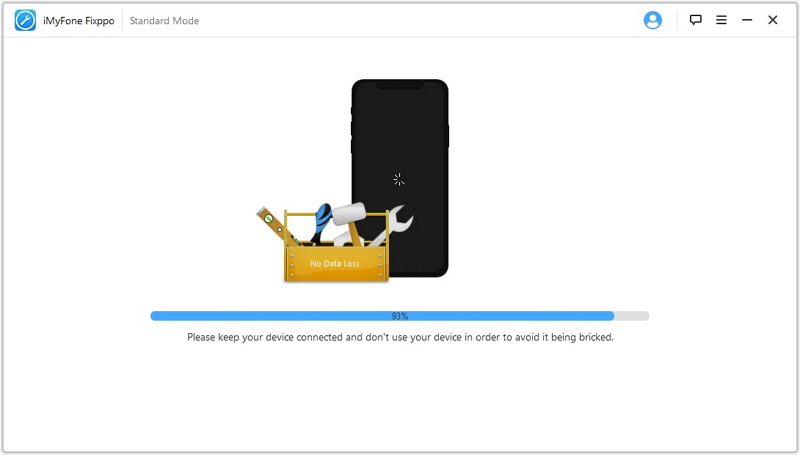 Using iMyFone Fixppo iOS/iPadOS repair software to fix iPad that keeps freezing does not result to any data loss. Therefore it wins losts of good feedback from users. Just download the free version to have a try.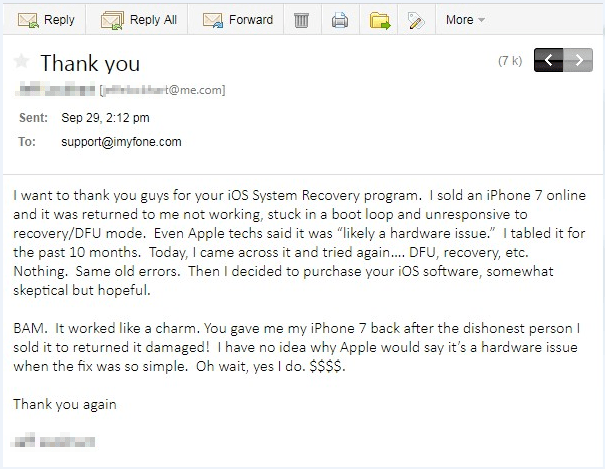 3. Restore Your iPad to Factory Settings via iTunes (Data Loss)
The third way is to restore your iPad using iTunes on your Mac or Windows computer. Note that all your data and settings on your frozen iPad will be erased and your iPad will be just like a new one after restoring. Consider twice if you have no any backup before your iPad got frozen. Here is how to do it.
Step 1. Open iTunes and ensure you have updated to the latest version.
Step 2. Now connect your frozen iPad to computer using the iPad's USB cable.
Step 3. If your iPad can be detected by iTunes, you can just click the iPad icon on the left, and then choose "Restore iPad". Confirm the restoration request by clicking on "Restore" and your iPad freezing problem will be fixed.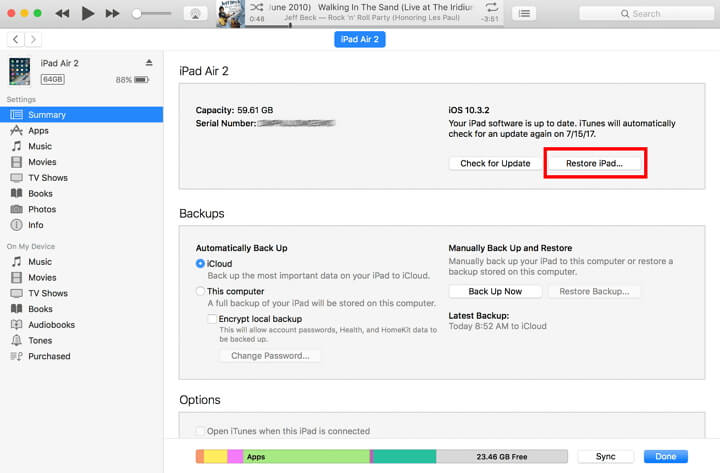 Step 4. If not, press Home button and Side button together until you see "Connect to iTunes" logo appear on the iPad screen. Don't release the button when you see Apple logo on the screen.
Step 5. Once iTunes detected an iPad in recovery mode, click on "OK" and then "Restore iPad".
Step 6. Confirm the restoration request by clicking on "Restore" and your iPad will be fixed.
Step 7. Once your device is restored it will restart and you can set up the device.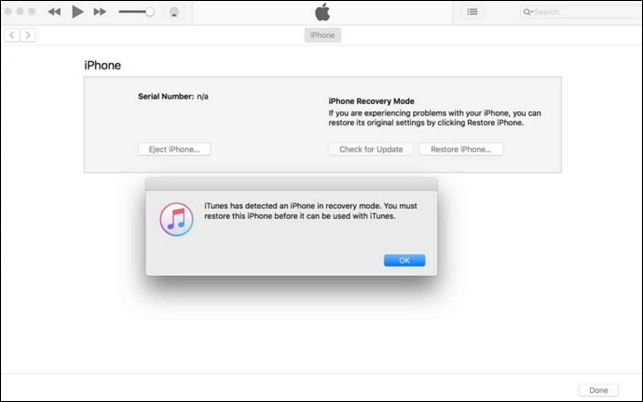 4. Do Some Checking If Your iPad Still Works
It is recommended to check the storage, battery and Apps on your iPad because these factors will also get your iPad frozen.
Make sure your iPad have enough storage and battery. Delete the Apps that you seldomly use in order to free up some space. Charge your iPad and don't use it when it is has little power. Some people find their iPad runs very slow and even freezes when the battery is less than 10% or 15%.
If you have recently installed any app and after that iPad freezes all the time, then you need to delete the Apps to see if your iPad gets frozen or not. Some Apps cannot work normally, which can cause your iPad to freeze.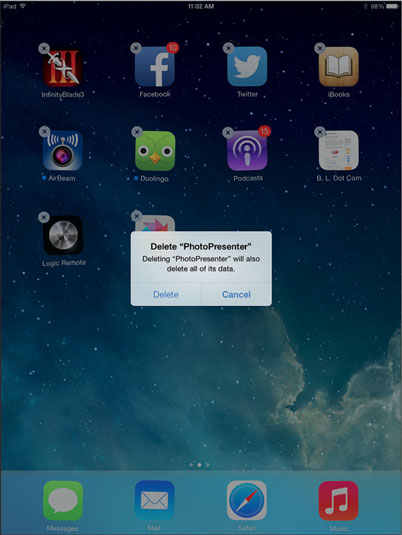 Review of the Above Solutions
| Solutions | Success Rate | Data Loss | Ease of Use | Time |
| --- | --- | --- | --- | --- |
| Hard Reset | Sometimes successful | No data loss | Very easy | Very fast |
| | 100% works for all iOS issues | No data loss | Easy | Fast |
| Restore iPad | Sometimes successful | Wipes everything | Complex | Time consuming |
| Do Some Checking | Only works when iPad still works | No data loss | Easy | Fast |