Most iPhone users have been accustomed to using iPhone camera to take photos in daily life and happily snap away every day due to its high pixels. Record a romantic wedding; capture beautiful landscapes during traveling; shoot precious moments with family or friends and more, those are what we do with our iPhone camera. We have all our memorable photos stored on our iPhone, and once these photos are deleted or lost unexpectedly, it becomes a total disaster. Here we offer four practical methods for you to recover deleted photos on your iPhone.
1. Manually Recover Deleted Photos on iPhone within 30 Days
For iOS version later than iOS 8, photos deleted will be still kept on your iPhone for 30 days in case you want to retrieve them later. However, these photos are not visible when you view photos. To retrieve the photos you deleted recently from backup photos, you need to open the Photos app, and tap on Albums to locate the folder of Recently Deleted.
You can select the photos you want to recover by a tap on them after clicking on "Select" and then click "Recover" on the bottom right corner.
If you don't tap on any photos after you click "Select", all the photos will be selected automatically, and you will see the bottom right corner button is Recover All. You can recover all the photos deleted in 30 days on iPhone by clicking on it.
2. Recover Deleted iPhone Photos from iCloud
If you've unfortunately deleted some valuable photos that you desperately want back, and you managed to back up the photos to iCloud before deleting them, then there's no need to worry. You can simply restore the iCloud backup and recover the photos you accidentally deleted. Here's how to do it:
1) Progress through the setup process, until you reach the Apps & Data section, then hit 'Restore from iCloud Backup'.
2) Sign into iCloud, then choose the most relevant backup which includes the deleted photos.
3) Make sure you're connected to Wi-Fi, and then wait for a 'Time Remaining' bar to appear. Once that's complete, you'll be able to access everything from the backup.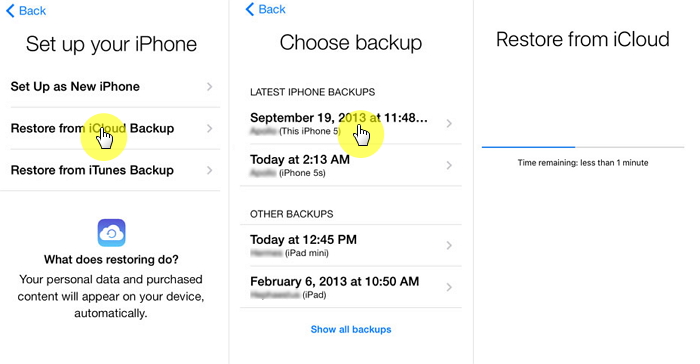 3. Recover Deleted iPhone Photos via iTunes
1

Recover Deleted Photos by Syncing them Back from Computer
Now, if you're a person who regularly syncs their photos from iPhone to computer, it will be super-easy to sync the photos you need back if you've deleted them. Want to know how?
1) Open iTunes on your computer, then connect your iPhone which you need to sync the photos back on via the USB cable.
2) Wait for your device to appear in the left panel on iTunes, then click on it.
3) Underneath your device, you'll see 'Photos' – hit that.
4) A 'Sync Photos' page will then appear, and at the bottom you'll see a 'Sync' button that you need to press.
5) Select exactly what you want to sync, then click 'Apply'.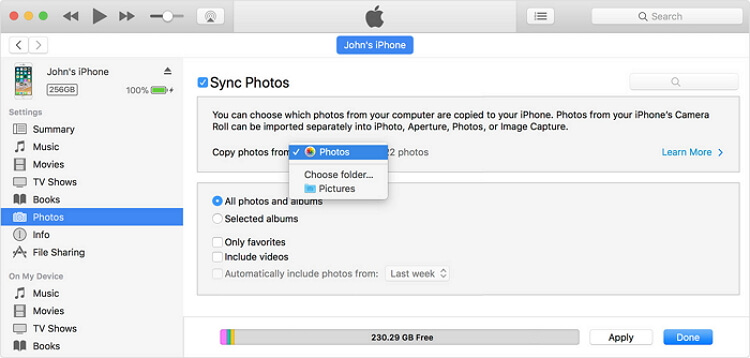 2

Restore iTunes Backup to Recover Deleted iPhone Photos
Not everything needs to be done through the cloud these days, because there's still the trusted option of restoring your photos through iTunes. Of course, you'll need to have backed up your iPhone before you deleted any photos, but here's what you need to do:
1) Open iTunes on your computer, then connect your iPhone via the USB cable.
2) When your device appears on the left side, click it to bring up the overview screen.
3) Select 'Restore iPhone...' and choose the most recent backup file.
4) Once you've hit 'Restore', you'll need to wait for it to complete and restart before it takes effect.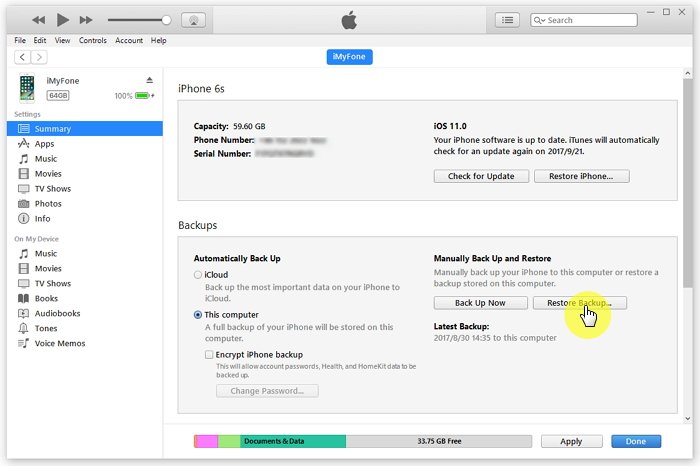 4. One-click Solution to Recover Deleted Photos on iPhone
iMyFone D-Back iPhone data recovery is an excellent recovery tool that will serve you well when you need to recover deleted photos on iPhone. There are various aspects of the software which you'll absolutely love.
Key Features:
Not only can it restore different types of data, it does it in a way that means it never overwrites the current data on your device.
Allows you to preview the recovered photos before you recover it so you can carefully select what you need.
Offers robust security so you never need to worry about data breaches.
Extremely easy-to-use, regardless of your technical knowledge and the situation of your device. It is compatible with iPhone 11 and iOS 13.
Step 1

Select the Lost File Type and How You Lost It

Download and run the program on your computer. From "Smart Recovery" tab, check the box before "Photos", then you need to choose how your photos are lost.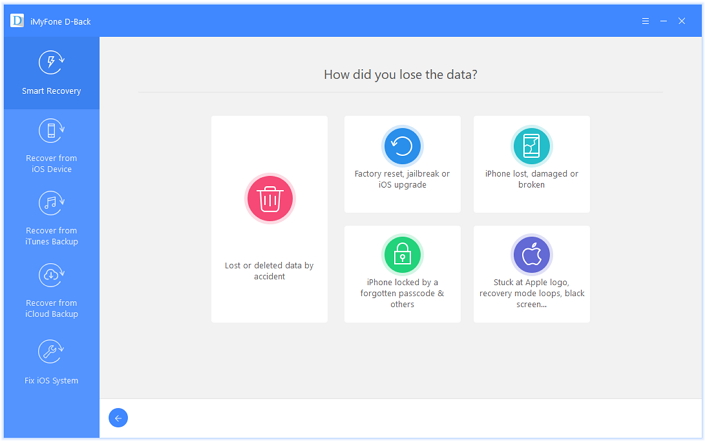 Step 2

Scan iOS device, iTunes or iCloud

After the first step, the program will thereafter automatically let you scan iTunes by clicking iTunes account stated on the window or iCloud by logging in after the program intelligently analyzes.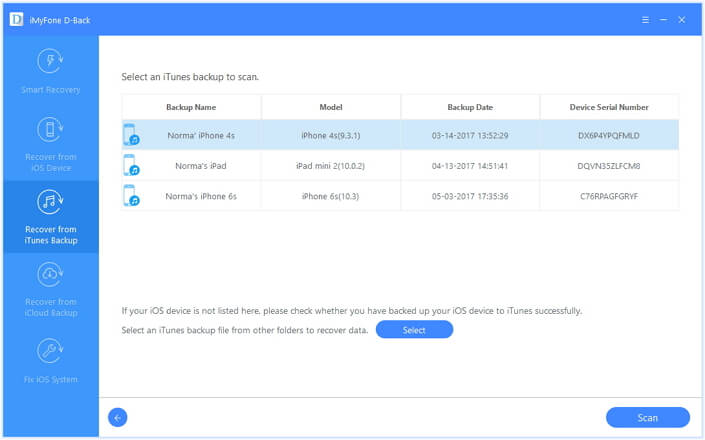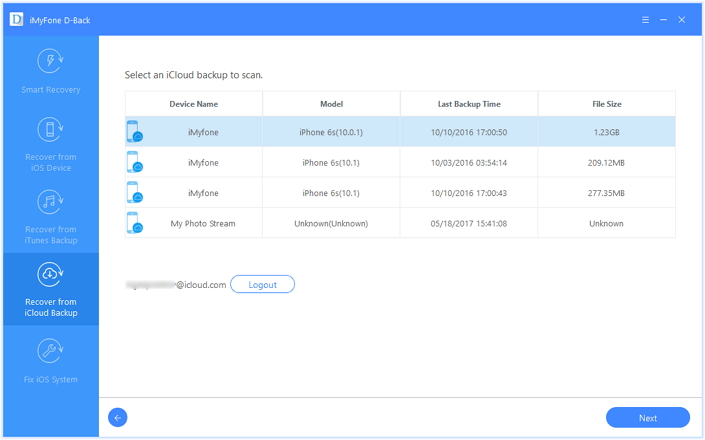 Step 3

Preview and Recover

When the scan completed, you will note that photos are fitly organized on the interface. You can then preview the deleted photos and select the ones that you need. Last, click "Recover" and choose a location for storage on your computer.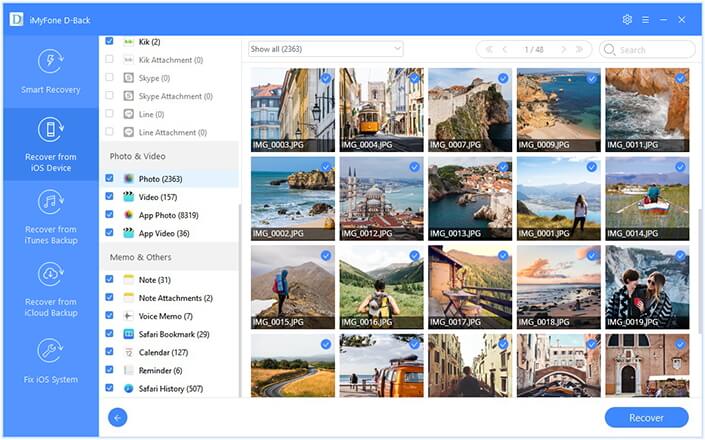 And that's all. Your deleted iPhone photos are back with ease.
Besides, iMyFone D-Back iOS data recovery can also recover lost videos, text messages, contacts and more on iPhone, iPad and iPod Touch (iOS 13 supported) with the similar process. And the free trial version is offered for you to experience its smooth. Just have a try.