WhatsApp messages are not erased permanently from your phone once you delete them. They are still stored on your previous backup as well as you device itself. According to different circumstances, there are different ways to recover deleted WhatsApp messages on iPhone. In this post, 5 methods are listed. Keep reading this article and check how to get back deleted whatsapp messages.
Part 1. How to Get Back Deleted WhatsApp Chats History Free(with Backup)
1.1 Directly Recover Deleted WhatsApp Messages from the Interlocutor's Chat History
So, what do you do if you've deleted your WhatsApp chats from your iPhone? First of all, you can try to recover those deleted messages through your friend's chat history. This is the simplest approach that is recommended while the messages are still there in the other interlocutor's chat history. So you can ask him/her to export the WhatsApp chat history and send it to you. Or just screen shot the WhatsApp messages and send the picture to you.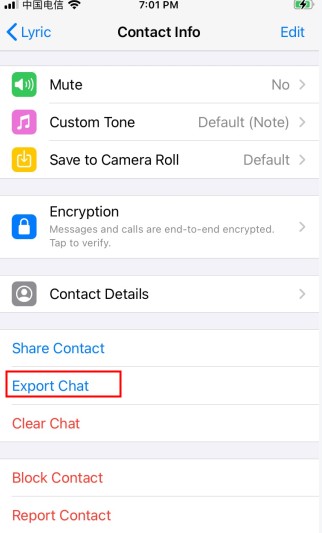 But sometimes it's embarrassing to ask someone to help you with this. As cloud technology has become an excellent way for people to back things up, it is much easier to recover data after a deletion. This is the reason why we are talking about the other 3 methods in this part as they are simple to recover WhatsApp messages for free.
1.2 How to Restore Deleted WhatsApp Messages from iCloud Backup
As you know, WhatsApp can be linked to your iCloud account to save the backup of the app. In this way, you can restore deleted WhatsApp messages from iCloud backup.
Step 1: Check if you have enabled the auto backup by going to Settings > Chat > Chat backup.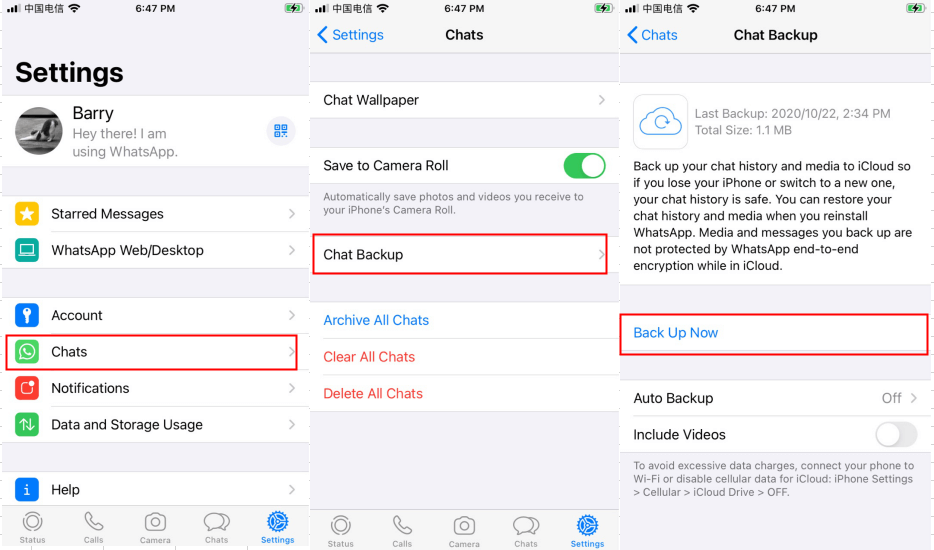 Step 2: If yes, then uninstall the WhatsApp application and make sure that you verify your phone number once you reinstall.
Step 3: Simply tap on Restore Chat History and you shall retrieve your deleted Whatsapp messages once the restore process is done.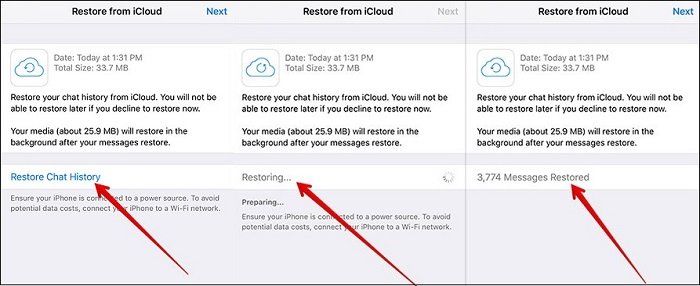 Note
You must be signed in with the Apple ID you use to access iCloud.
You should have backed up Whatsapp messages in iCloud or tuned on auto backup before.
1.3 Restore A Whole iCloud Backup to Get Back Deleted WhatsApp Messages
Apart from the above the solution, you can also restore deleted WhatsApp messages from the whole iCloud backup. Before that, you have to make sure that there's enough storage in your iPhone to store the data in iCloud backup file. Follow the steps below:
Step 1. Open Settings > General > Reset > Erase all Contents and Settings.
Step 2. Tap on Erase Now, enter your password to confirm.
Step 3. Go to set up your device, tap Restore from iCloud Backup, then sign in to iCloud.
Step 4. Select the backup file which contains the deleted WhatsApp messages to restore.
Note
It will erase all contents and settings on your iPhone.
You should have backed up Whatsapp messages in iCloud before.
The current data on your iPhone may get overwritten.
1.4 How to Retrieve Deleted WhatsApp Messages from iTunes Backup on iPhone
If you have backed up deleted WhatsApp messages to iTunes before, then you can utilize this method to get them back:
Step 1. Open Finder on Mac, or iTunes on PC.
Step 2. Connect your iPhone to the computer, choose "Trust This Computer".
Step 3. Select your iPhone when it appears in the window.
Step 4. Select Restore Backup.
Step 5. Choose the most relevant backup, click on Restore. Enter the password for your encrypted backup if asked.
Note
You have to restore the whole backup and can't selectively choose the deleted WhatsApp messages to restore.
You can't preview the data in the backup.
It requires a prior iTunes backup before the deletion.
Part 2. How to Recover Deleted WhatsApp Chats via ChatsBack (iOS 17 Beta Supported)
If you didn't back up your device on iTunes regularly, or you failed to activate the automatic backup function in iCloud, you may be a little worried. In this situation you will need a third-party data recovery software. iMyFone ChatsBack is a powerful recovery tool to retrieve deleted WhatsApp messages on iPhone effortlessly without backup. You can also see deleted WhatsApp messages on iPhone with preview mode.
Watch this video to check how to recover deleted WhatsApp messages on iPhone
Recognized by Cult of Mac, and Payetteforward, the program has served more than 2 million users in 200+ countries worldwide. Check more features of this tool:
It allows users to freely see and read WhatsApp messages before recovery so that they can selectively recover the messages they need.
Supports extracting WhatsApp from iPhone or backups without overwriting the current data on iPhone & Android.
Get back or restore your deleted WhatsApp messages with 3 simple steps.
Apply advanced technology to guarantee high success rate.
The following instruction shows how to restore deleted WhatsApp messages back from iPhone without backup with ChatsBack for WhatsApp within just three steps. Please note that the program works even for the device running iOS 16.
Step 1. Connect Your Device
Before start, download and install ChatsBack for WhatsApp on your computer. Don't you worry, the download is completely safe. Then connect your iPhone to the computer and choose to recover from the Device Storage.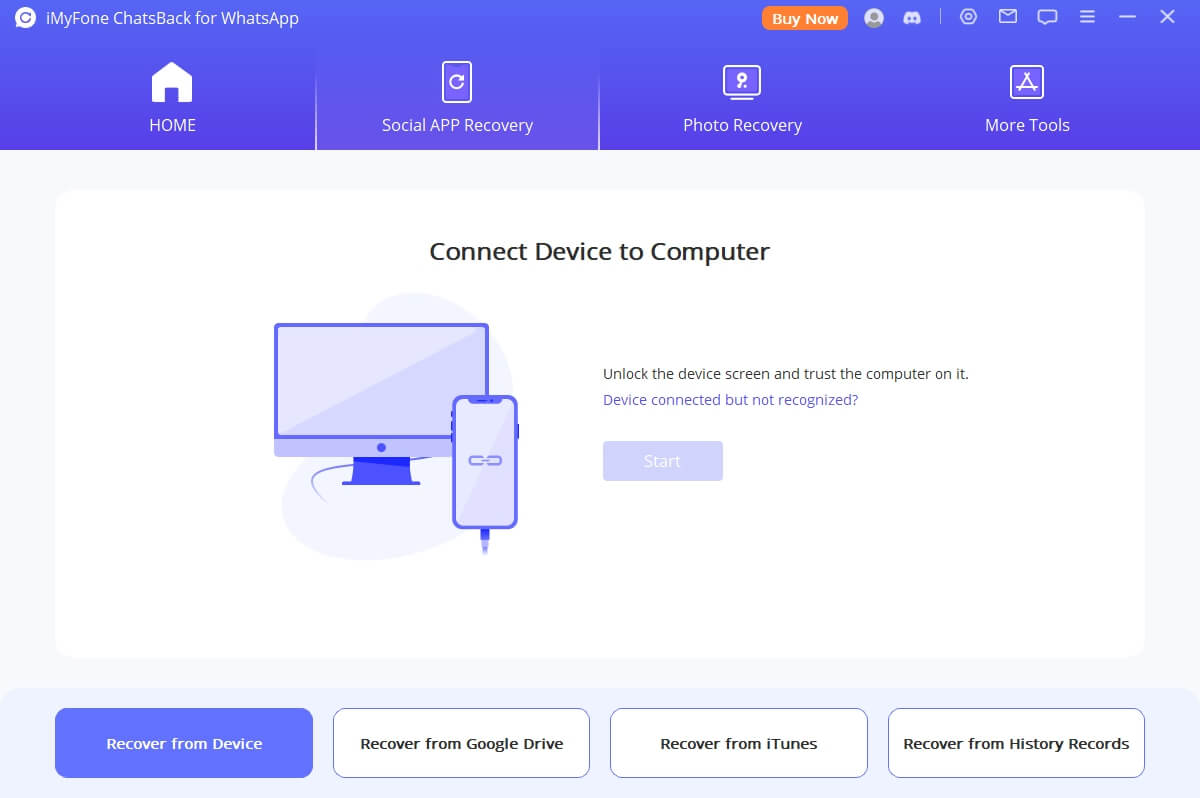 Step 2. Start to Scan
Once it is recognized, choose "WhatsApp" and you can click "Scan" to proceed.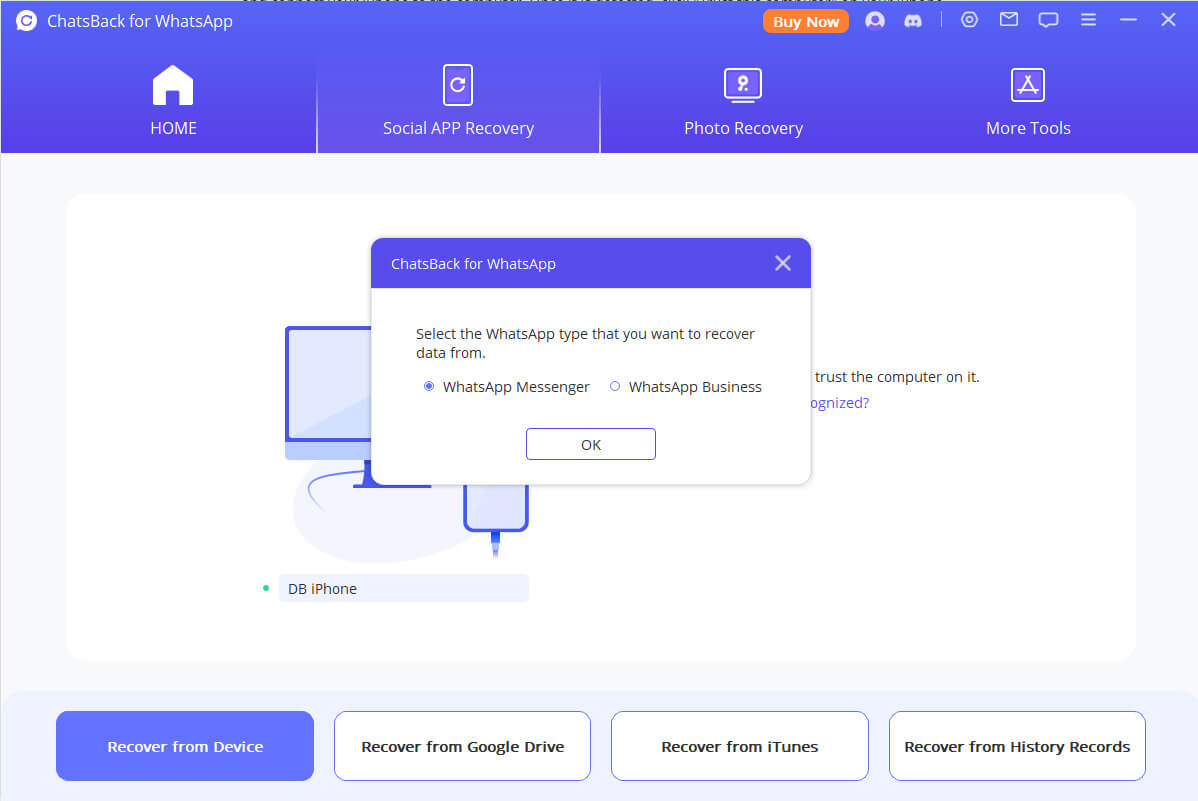 Step 3. Preview and Recover Deleted WhatsApp Messages
When scanning finishes, you can read and preview the data to find the exact WhatsApp messages you need. Then select the messages and click Recover to Device or Recover to Computer.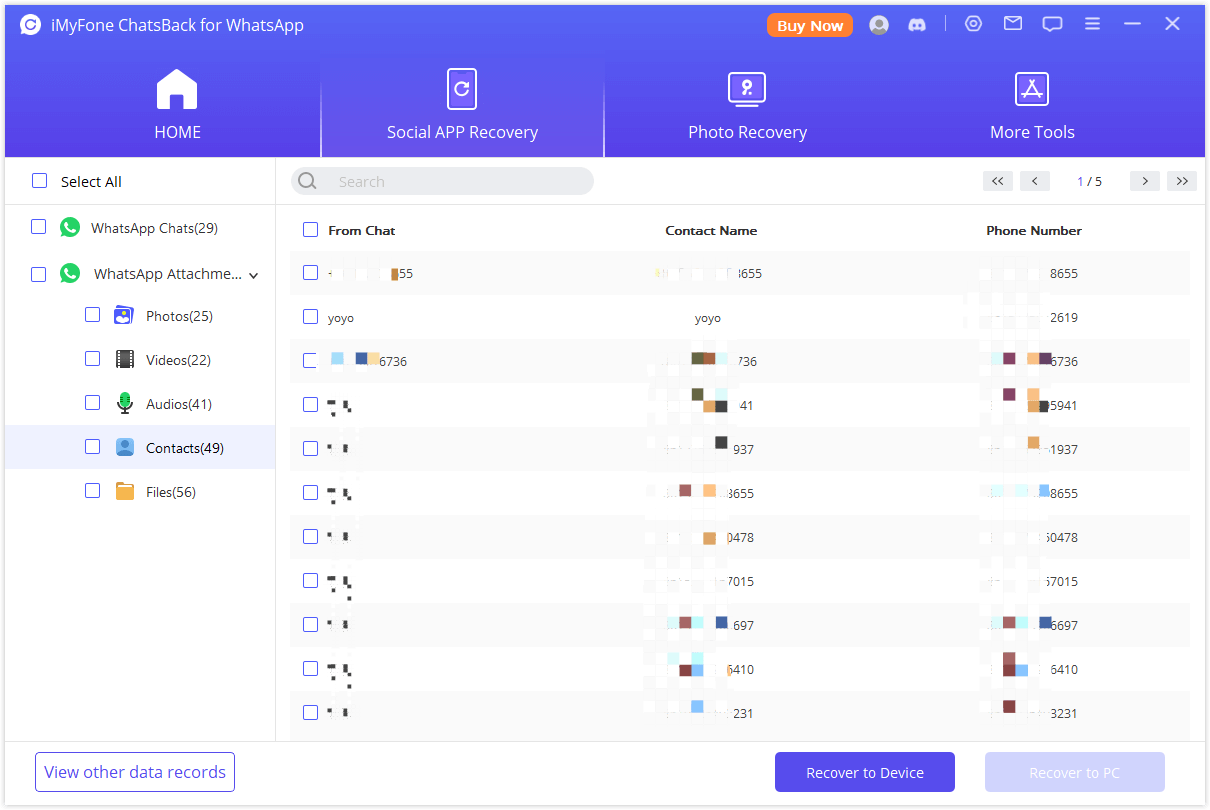 Note
Please stop using your iPhone once you deleted messages, otherwise the deleted WhatsApp messages will be overwritten and unrecoverable.
Except for recovering deleted WhatsApp messages directly from iPhone, ChatsBack can also recover WhatsApp chats from iTunes backup selectively. The steps are also quite simple as well. Choose the recovery mode according to your situation as you like.
Part 3. Hot FAQs About How to Recover Deleted WhatsApp Messages
Q1. How Far Back Can I Recover WhatsApp Messages from iPhone?
If you are recovering deleted WhatsApp messages from iTunes or iCloud backup, then you are recovering your WhatsApp messages as far back as your last backup. This might contain the messages months or years ago, and it's hard to find the messages you want. In such case, ChatsBack for WhatsApp is recommended, in this way, you're able to view the deleted WhatsApp messages and selectively choose to recover.
Q2. Can I recover WhatsApp messages deleted 1 year ago without backup?
It depends. The deleted data on iPhone won't be cleared immediately after the deletion. They'll keep invisible and be removed to the "unallocated" space. So if the deleted WhatsApp messages on iPhone hasn't been replaced by new data, then you can try to recover them with the help of ChatsBack.
Q3. How long are deleted WhatsApp messages stored?
Deleted WhatsApp messages are stored for 30 days. You can decide to restore Deleted WhatsApp messages back before that duration ends. The app will automatically delete them from the 'Recently deleted' folder when 30 days elapses. However, you can still recover the permanently deleted message using third-party tools.
Q4. Can we recover deleted WhatsApp Chat History legally?
Yes. You can get back deleted WhatsApp messages legally if it's a court matter and the same is supplied by the service provider. But remember, it's only the court or police who can authorize for the retrieving of such deleted WhatsApp messages if it's for legal matters like divorce or threatening messages. So, you have to seek viable channels, report, and be given the go-ahead to extract such messages.
Q5. Will I lose my WhatsApp conversations if I change phones?
You will not lose your WhatsApp messages even if you change phones. Your conversations are saved in iCloud backup and you can just transfer them to the new phone. Open your WhatsApp and go to the 'Settings' > 'Chats' > 'Chat Backup' options. Click on the green 'Backup' button to get back your deleted WhatsApp chats on your new phone.
Q6. How to see deleted messages on WhatsApp iphone without any app
You need download ChatsBack for WhatsApp to see the deleted WhatsApp messages. It support preview the deleted messages on WhatsApp before you perform the final recovery. After you delete the chat on WhatsApp, it is not deleted forever, all WhatsApp data is stored in Sqllite database and some cache file. You can still get back deleted WhatsApp messages by some third party software.
Final Thoughts
We are living in a very hectic world, losing important data happens at times, being able to make use of fast and reliable solutions is definitely important. Always remember it's best to make regular backup for your important data.
After reading this guide, now you can easily recover deleted Whatsapp messages directly from iPhone or from iCloud/iTunes backup by utilizing any of these methods. All you need to do is to choose one suitable for you. It's recommended to use professional WhatsApp Recovery tool - iMyFone ChatsBack according to your situation. Some users have sent their feedback to us and here we can have a look at one of them: