5 Best AnyFix Alternatives to Repair iOS System for 2023
Category: iPhone Issues
5 mins read
If your device has any of the iPhone difficulties, you may have tried to connect it to AnyFix to fix the issue. Despite some minor benefits, AnyFix's free version only offers one choice. The premium versions are expensive, and you may lose data if you attempt a deep scan if the normal scan fails.
These flaws may make you seek out AnyFix alternative like iMyFone Fixppo, which is affordable and easy-to-use. So while it is our first recommendation, we have also listed some other alternatives. However, you don't need to go anywhere when you can access iMyFone Fixppo in just a click.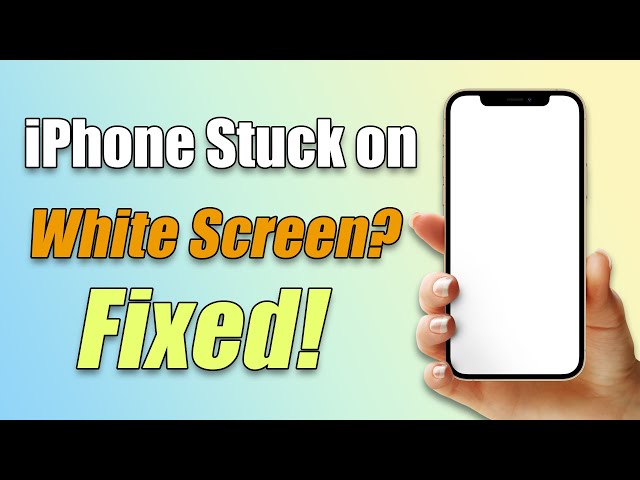 5 Best AnyFix Alternatives to Repair iOS System (Pros and Cons)
An excellent AnyFix substitute that can fix a multitude of iOS issues without affecting data is iMyFone Fixppo. One click is all it takes to enter or exit Recovery Mode, and there are two modes with different settings for various problems.
All iPhone models are compatible with this programme and is simple to use with its straightforward user interface. In contrast to other iOS system repair tools, Fixppo promises to be easy-to-operate enough for anyone without any technical knowledge. Quickly and painlessly, your iPhone-related problems should be solved without leaving a trace.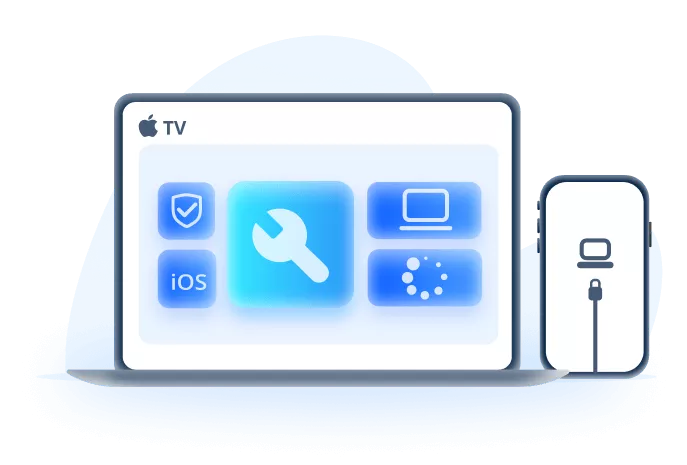 Key Features:
Fixes numerous iOS system difficulties, such as iPhone stuck on Apple logo or guided access mode.
Standard Mode fixes the majority of iOS bugs without data loss.
You're allowed to reset iPhone for different occasions.
No technological expertise is required to use it because it is simple to use.
All iDevices are supported including the iPhone, iPad, and iPod touch.
Can fix iOS devices without erasing data in 4 simple clicks.
Has two modes for fixing almost all iOS problems.
The self-detection feature is very helpful.
You can enjoy more in the paid version.
2

FoneDog

This programme is another substitute for AnyFix because it can resolve a variety of iOS-related problems. This programme can assist you whether your phone won't restart properly or your iOS won't let you upgrade. It also provides iOS repair tools to enable you to restore your iOS system to normal at home on your own.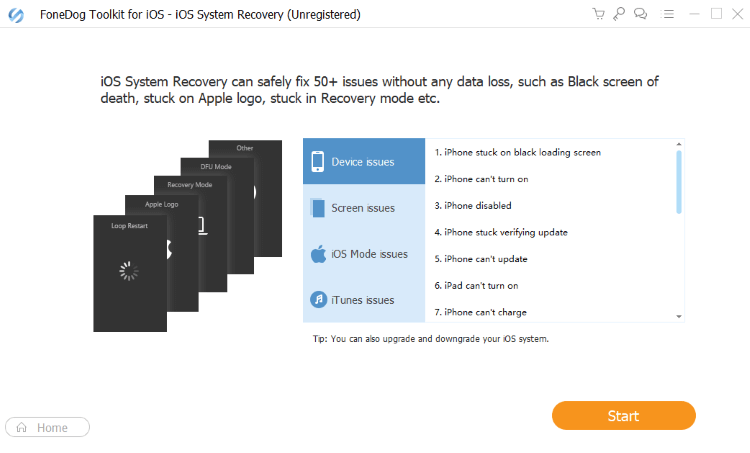 Fix a variety of iOS system difficulties, such as the boot loop and the pink line screen.
From the whole range of devices, including iPhone, iPad, and iPod touch can almost be fixed.
The free version of FoneDog is useless. It is necessary for you to register and supply the registration code.
Even if FoneDog has issues, it is challenging to request a refund.
The majority of iPhone troubleshooting techniques are ineffective.
3

FixGo

This application is mostly used to fix non-starting phones. When it comes to resolving problems like iPhone locked in spinning wheel or phones stuck in frozen screen, this AnyFix substitute also stands out. And many users enjoy this programme since it provides a secure approach to fix an iPhone.

Like the majority of high-end recovery tools, the FixGo programme has a cost. There is a free version, however it only has basic capabilities. Additionally, as it only updates an iPhone to the non-jailbroken version, it is of little assistance in the case of a jailbroken iPhone.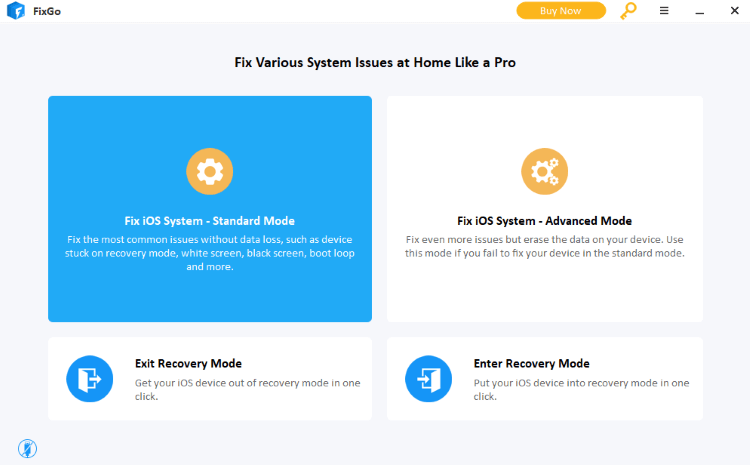 Simple iPhone issues can be fixed easily.
Support all iPhone models.
There are few features in the trial version.
The customer service crew takes too long to respond to their questions.
It is unable to resolve problems with Apple TVs.
4

UltFone

Due to its user-friendly user interface and potent ability to resolve more than 150 different sorts of iPhone stuck problems without erasing data, UltFone iOS System Repair is recognised as another iOS system repair software.

You can fix iOS issues like the iPhone white screen, iPhone not turning on, and more. And like Fixppo, it also provides one click to enter Recovery Mode that is also important if you don't want to use iTunes.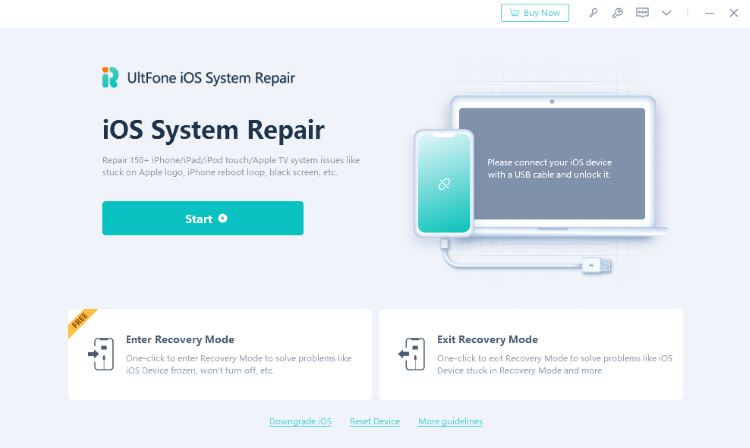 iPhone stuck in Recovery Mode? 1 Click to fix it.
Fix the majority of iOS issues without losing data.
iOS system issue is time-consuming to fix.
There is a high risk of data loss throughout the repair process.
The utility is unstable and occasionally crashes.
5

TunesKit

One of the AnyFix alternatives, TunesKit also has a free version that allows you to easily enter and exit Recovery Mode. Not to add that it can be used to fix many iOS issues, it is also compatible with the majority of Apple devices and is efficient and simple to use.

The main drawback of this programme is that, like the others on our list, TunesKit iOS is not a free download. And you can enjoy more only when you buy its plans according to different needs.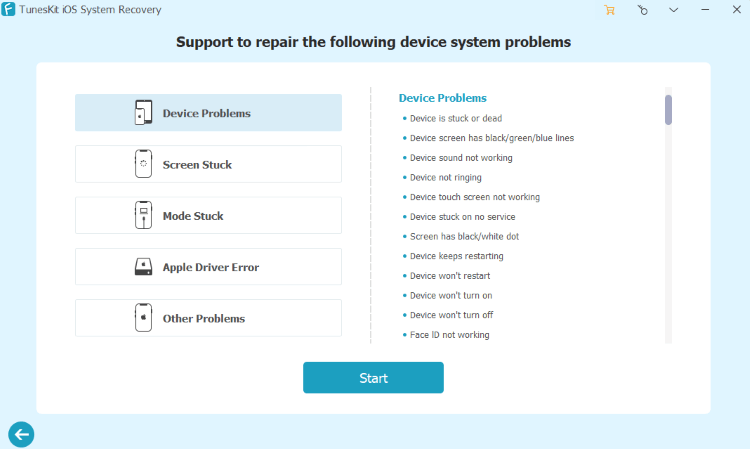 Recover an iPhone from disabled screen, update failure and more.
Supports iOS 16 and all iPhone models.
Only entering and leaving Recovery Mode are supported by the free version. You must upgrade to the pro version of iOS in order to repair the iPhone.
Slower working and takes time to respond in every steps.
It sometimes fails to successfully solve iPhone stuck problems.
How to Fix iOS Problems in 4 Steps
You can easily get rid of all iOS issues if you know how to use the Standard Mode of iMyFone Fixppo.
Step 1: After a successful installation, open Fixppo and choose Standard Mode.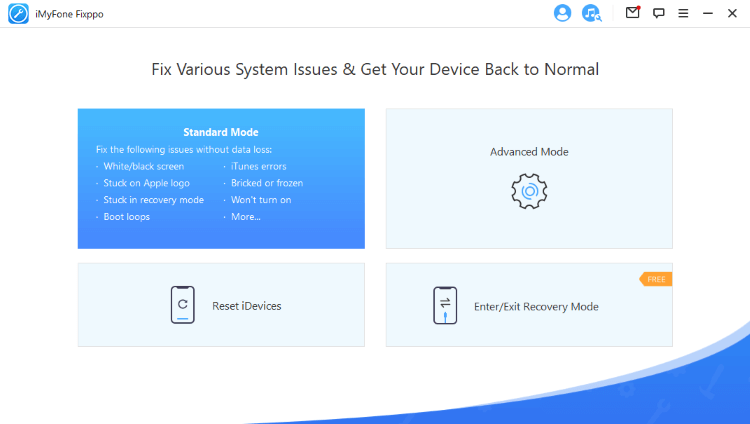 Step 2: Utilize the iPhone's lightning cable to connect it to the computer. And you may have to adjust your iPhone into Recovery Mode once it's not recognized. (Or you can try 1 click to enter this mode for free with feature on Fixppo's interface).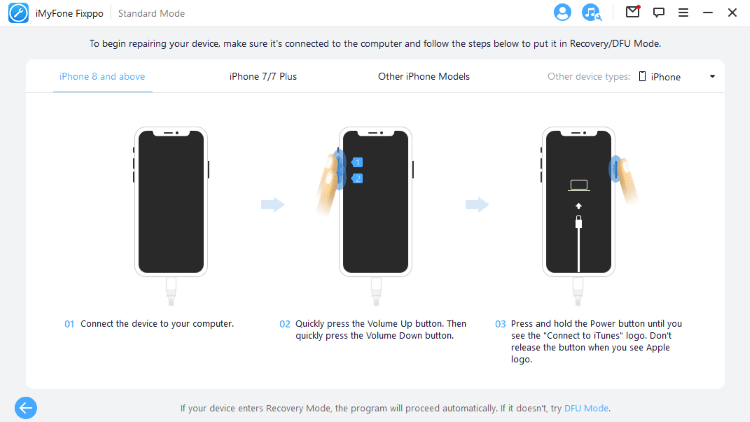 Step 3: To repair the device, you must download the most recent firmware. Simply click Download and Fixppo will start right away.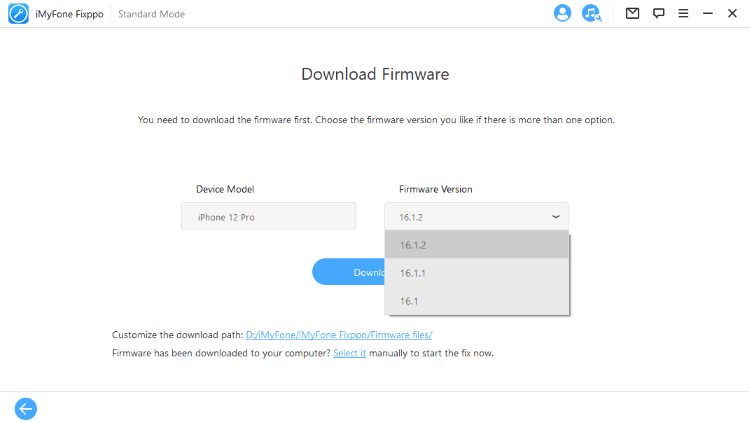 Step 4: After the download is finished, click Start and Fixppo will start fixing the device's issue. Wait for 10 minutes or so and the iPhone problem you encounter will be solved with your iPhone be restarted smoothly.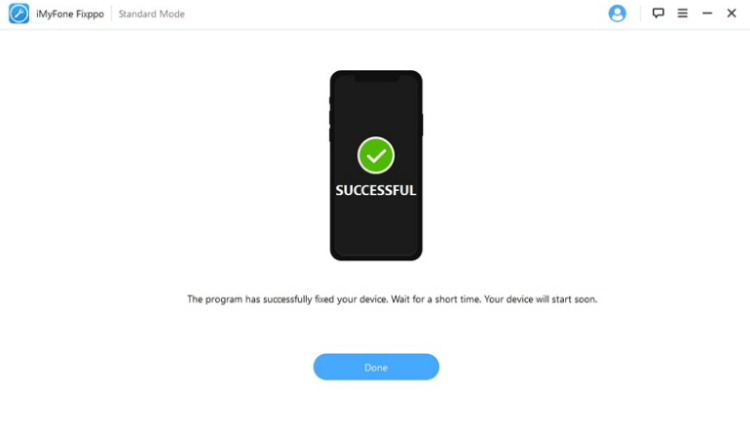 FAQs about the Best AnyFix Alternative - iMyFone Fixppo
1

Is Fixppo legal?

Yes, it is 100% legal and secure while many individuals and companies are already using its features without any issues.
2

Does Fixppo jailbreak my iPhone?

You may downgrade your iOS version to an older one with iMyFone Fixppo without jailbreaking your smartphone.
3

Can I use iMyFone Fixppo for free?

You can use the simple free trial version of enter/exit Recovery Mode for all iOS devices to learn more about the services that Fixppo provides. It is available for free download right now.
4

Does Fixppo do harm to my devices?

No, it does not cause any harm to devices. All your software and hardware remains 100% safe when what it does is to solve your iPhone problems.
Concluding Remarks
It's not uncommon to run into issues with your iPhone but don't worry too much because these tools for repairing the iOS system are here to assist you. And users are encouraged to try iMyFone Fixppo because it is without doubt the most user-friendly iOS system repair solution and has the best success rate. If you have iPhone problems to be solved, have a try for it and you would know it deserves to be the first choice.