I have an iPhone 6s and its fingerprint isn't working. I remember that I updated it to the latest iOS 16. Has the fingerprint stopped working because of upgrading or is there any other issue with my iPhone? If anyone knows, please give me some assistance to fix this issue.
Have you met the same problem as the above iPhone user did? We all adore getting everything latest and so in the case of technology. We can't wait to get the latest updates notifications and are willing to update every applications, games or OS to get their newest versions. But many times we get stuck in some trouble while participating in technical work and happens to experience problems like iPhone Touch ID not working. Don't worry! We are providing some helpful solutions for iPhone fingerprint not working problem. Let's get on to them.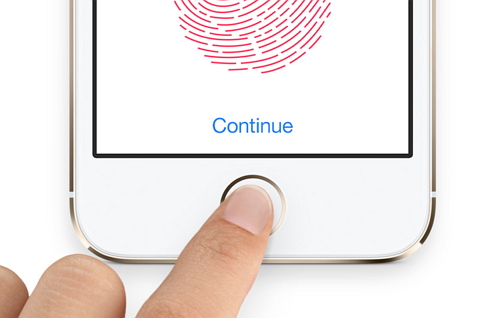 Before checking the details of all methods, you can have a brief view of them first.
| | Success Rate | Needed Time | Difficulty | Data Loss after Fixing |
| --- | --- | --- | --- | --- |
| iMyFone Fixppo | High | Short | Easy | No |
| Reboot Your iPhone | Low | Short | Easy | No |
| Reset Your Touch ID Fingerprints | Medium | Short | Easy | No |
| Factory Reset | High | Long | Complex | Yes |
| Restore iPhone with iTunes | High | Long | Complex | Yes |
1. Solve the Problem without Data Loss
You can resolve the issue using iMyFone Fixppo iOS System Recovery that is a recovery software to fix iOS issues. Be it your iPhone, iPad or iPod, the software manages to fix the issue without interfering with your precious data. In other words, it keeps your data harmless, ultimately saving it for your use.
Key Features:
You are getting lots of advantages to this software. iMyFone Fixppo iOS System Recovery is able to deal with several iOS system issues. If your iOS device restarts continuously, your iPhone GPS doesn't work or the device becomes unresponsive, you should try this software undoubtedly.
As mentioned above, the data is not lost from your device if you use this software. Moreover, this is fully protected software and there is no harm to your computer and your iOS device.
It is not too hard to use. With its user-friendly interface, anyone can use it without difficulty.
It works perfectly with all iOS devices and iOS versions including iOS 16.
It has a 100% success rate for fixing.
Step 1. Install the Software
Download the software from iMyFone official website and install it. After that launch it on the computer and you will see the following window. Choose "Standard Mode".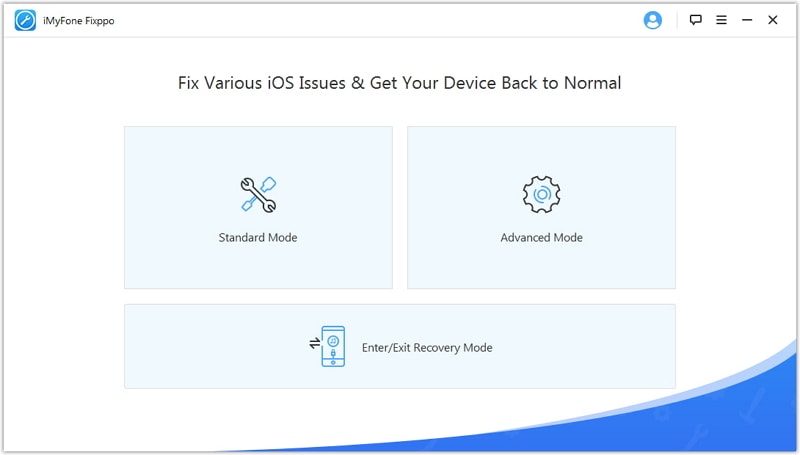 Connect the iOS device to the computer using a USB cord. Put your device into DFU Mode or Recovery Mode, then the device will get detected by the software.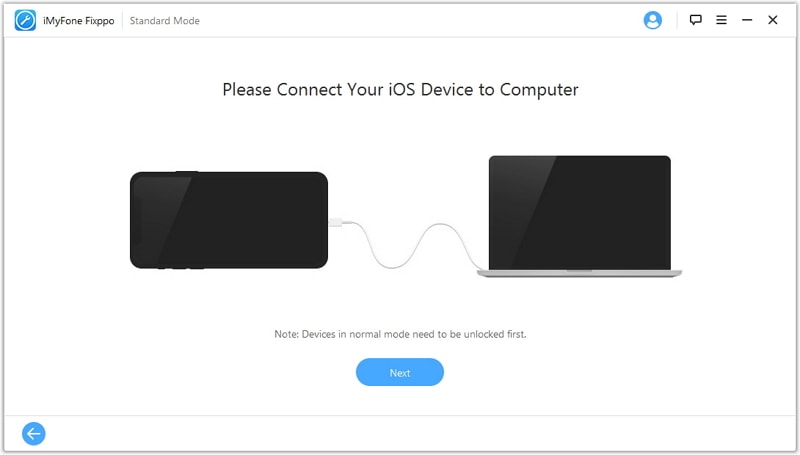 Step 2. Download Suitable Firmware
Simply tap on "Download" and wait for some time as the program will take time to download the latest iOS firmware.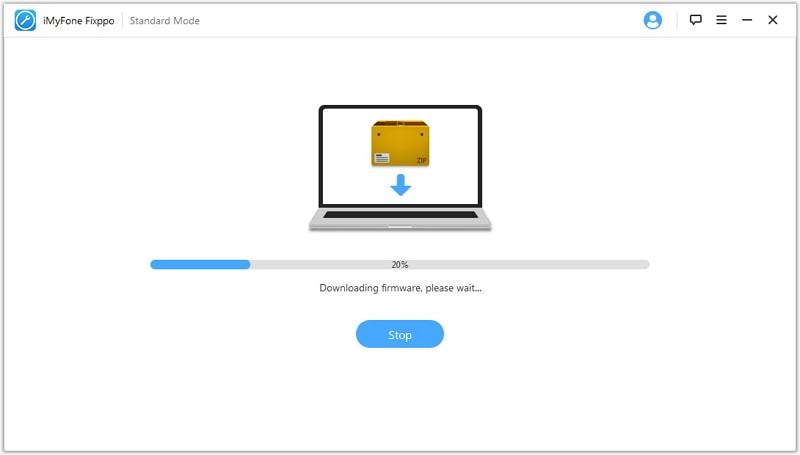 Step 3. Fix iOS System
After performing the previous steps, iMyFone will start solving the issue in the device. Your device will get restarted and you can use it as a brand-new device.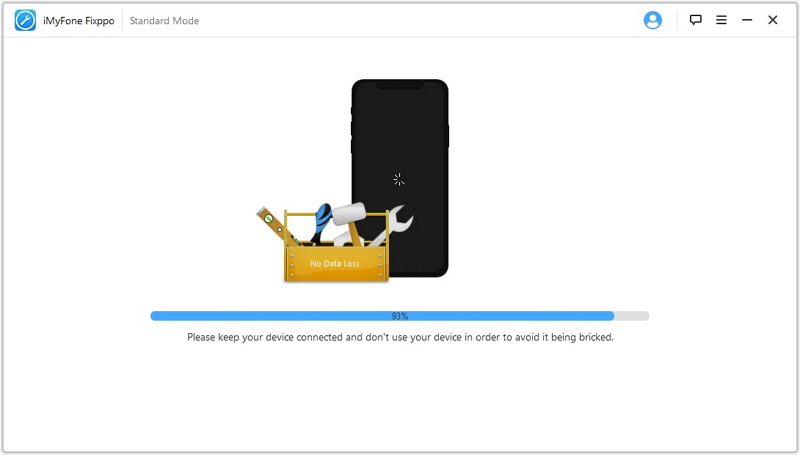 A lot of professional media sites have trusted and recommended this tool.
2. Disable Touch ID and Reboot Your iPhone
Firstly, try this solution to fix iPhone fingerprint not working issue. Take the following action to perform this method.
Go to "Settings" and tap "Touch ID and Passcode". There, type in your passcode.
In the next step, turn off the following by toggling off the switch beside them – iPhone Unlock and iTunes & App Store.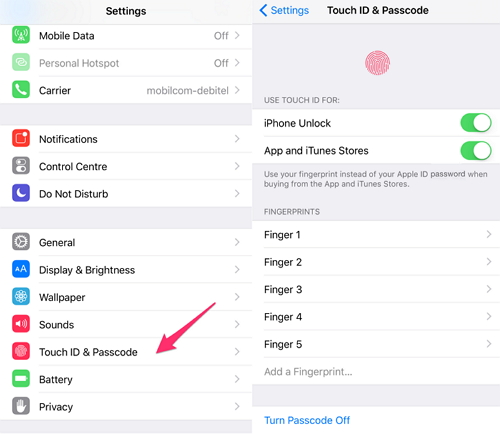 Now, you need to push the "Home" button in order to get back to the home screen. Subsequently, press "Sleep/Wake" and "Home" buttons altogether to restart the device.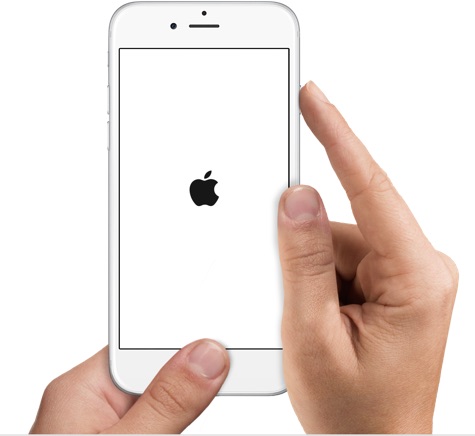 Now again perform the first step i.e. "Settings">"Touch ID and Passcode">Type the passcode.
Now turn on everything that you turned off in the second step.
Hit "Add a Fingerprint" now and insert a new finger.
3. Reset Your Touch ID Fingerprints
If the above solution could not assist you, try deleting the old and adding a new fingerprint. This takes less than 2 minutes and hopefully, this solution will help you out for the iPhone fingerprint not working glitch. Let's find out how to do this.
Deleting a Fingerprint:
Tap on "Settings", choose "Touch ID & Passcode" that you will find by scrolling down.
Enter the passcode.
Now remove the fingerprints that you had added by tapping on them one by one and hitting on "Delete Fingerprint". Continue this pattern until and unless all the fingerprints are erased.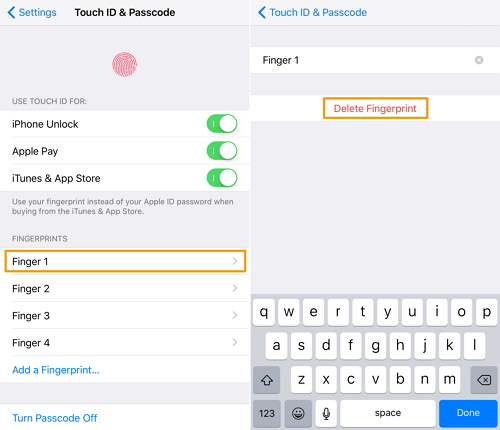 Adding a Fingerprint:
Again go to "Settings">"Touch ID & Passcode>Enter it.
After that, tap on "Add a Fingerprint".
Now gently push the "Home" button from the finger which you want to use as your fingerprint scanner. Keep pressing until you feel a vibration. Keep tapping on the "Home" button varying the angle each time.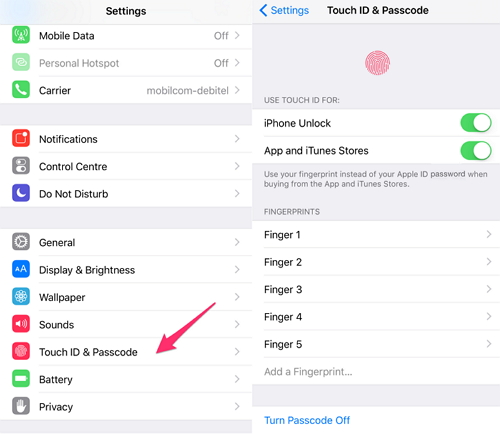 Note
You don't need to press the Home button too tightly, slightly keep touching on it so that it can scan your finger in a detailed way and from every position. You are able to add up to 5 fingerprints. If you want your dearest friend, partner or a family member to unlock the device, scan their fingerprints as well.
4. Factory Reset
Sorry to say, but if the iPhone fingerprint not working problem still exists after doing the above efforts, try a factory reset. This method erases all the data but is a useful method to resolve any problems.
Go to "Settings">"General">"Reset".
After that tap on "Erase All Content and Settings" hit "Erase iPhone".
The resetting process will start and the iPhone will restart giving your device a fresh start.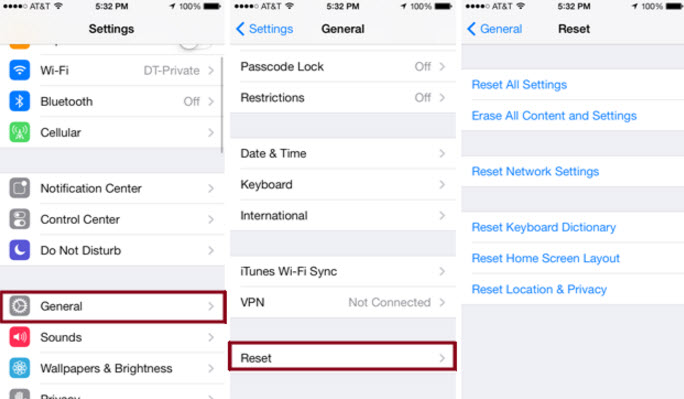 5. Restore iPhone with iTunes
It's really saddening that the problem of iPhone fingerprint not working is still chasing you. But don't worry users! Here's another solution. Go for restoring iPhone with the help of Tunes. Don't be upset about how to perform the method, just scroll down and read on. This will erase your data as well so it's vital to make a backup.
Firstly, allow the iPhone to connect with the computer and open the iTunes app on the computer.
Secondly, when the device is detected by the app, click the "iPhone" button.
Thirdly, head to the Summary tab and once you notice the "Restore iPhone" button, click on it.
You will be prompt to make a backup. It's good if you made backup already, this will minimize a step as in you don't need to make time for backup. You will just click on the "Restore" button.
iPhone will restart and you will get to see "Slide to Setup" on the screen.

Tips for Adding a Fingerprint
Here are some of the useful tips you need to know to add a fingerprint perfectly.
Moisture-free Finger or Screen
Your sweaty or damp finger stops the Touch ID to work properly. Make sure to keep your finger to be used for scan should not be wet by anything. Also, the same applies to the Home button. It should also be free of dampness or moisture.
Forceless Touch
Always touch the Home button lightly. Applying excess pressure can avoid adding a fingerprint.
Proper Touch while registering
When you are going to register your fingerprint, assure that it is touching the Home button accurately. In addition, remain the finger at one area only during the verification.
It just takes a little of your precious time to go with the above methods in order to fix iPhone fingerprint not working problem. The solutions really help to relax your nerve when getting this kind of problem. Just be calm and follow one of the referred processes. Moreover, if you wish to save your data while performing any method, you can go with iMyFone Fixppo iOS System Recovery software (compatible with iOS 16). It's also not complicated and doesn't take any technical information.