The iPhone 7 loop disease is known to many people but there is a surge in the number of users facing this problem. This disease can affect both iPhone 7 as well as iPhone 7 Plus users.
The main disappointment for many people is that it affects their device almost at the end of the warranty period. So, it becomes expensive for them to fix.
Basic Knowledge of Loop Disease
According to some experts, the phones start getting affected by this disease as they age. The iPhone 7 loop disease is responsible for various issues in the device. But before that, let's see what the loop disease is.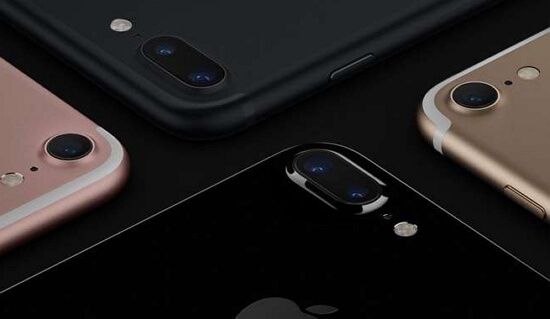 What is the iPhone 7 Loop Disease?
This disease is similar to the touch disease that affected the iPhone 6 models. But in this case, the audio chip on the motherboard loosens. This might be an audio-related problem but many normal functions get affected by it.
What are the Symptoms of iPhone 7 Loop Disease?
The iPhone 7 users facing this issue will face poor audio quality issues like an unusual speaker or audio behaviors. They might also face microphone problems in which the other person cannot hear your voice.
Because of this issue, you will not be able to access the speakerphone button during the call.
Many users have also reported issues like grayed out speaker icon or voice memo icon during calls. This disease also slows down and freezes the iPhone 7.
However, in the later stages, the device will get stuck on boot up. Your device will get stuck on an infinite loop displaying the Apple logo until you reset it. This is the reason it is called loop disease.
Top Solutions to Fix iPhone 7 Loop Disease
Is your iPhone 7 suffering from a loop disease? When you make calls, is the speaker button grayed out?
Some users may experience the problems due to loop disease after the iPhone 7 comes out of warranty period. However, before you give for iPhone 7 loop disease repair, let's talk about the top solutions for fixing this issue.
Option #1. Try to Fix iPhone 7 Loop Disease in One Click
Here you'd better use one of the most advanced and safest tools to fix this issue. iMyFone Fixppo is developed using the latest technology.
The standard mode of Fixppo can be effective for iPhone 7 loop disease fix without data loss.
It is capable to solve various kinds of iOS issues like bricked phone, iPhone stuck on boot loop, iPhone keeps shutting off, etc.
It has full compatibility. All iOS version (iOS16 supported) and iOS devices are supported.
It has been recommended by Macworld, Cult of Mac, Payetteforward, Makeuseof and so on.

Key Features:
The software's "Fix iOS System" feature can deal with numerous iOS problems, such as black screen, white screen, iPhone stuck in recovery mode, restart loops and so on. It can fix the problems with no loss of data.
The software holds expertise in recovering lost data under various lost data scenarios, like accidental deletion, or data disappearing suddently.
iMyFone Fixppo is compatible with almost all iOS devices including iPhone 15, and supports to recover 22 types of data including, photos,contacts,WhatsApp messages, Kik messages, WeChat messages and so on.
It can find the deleted data fast with its four recovery modes.
Limited Time 10% OFF Coupon Code: FARTT91
Step 1 – Download and install iMyFone Fixppo on your computer, launch the program and connect your iPhone to the computer using a USB cable.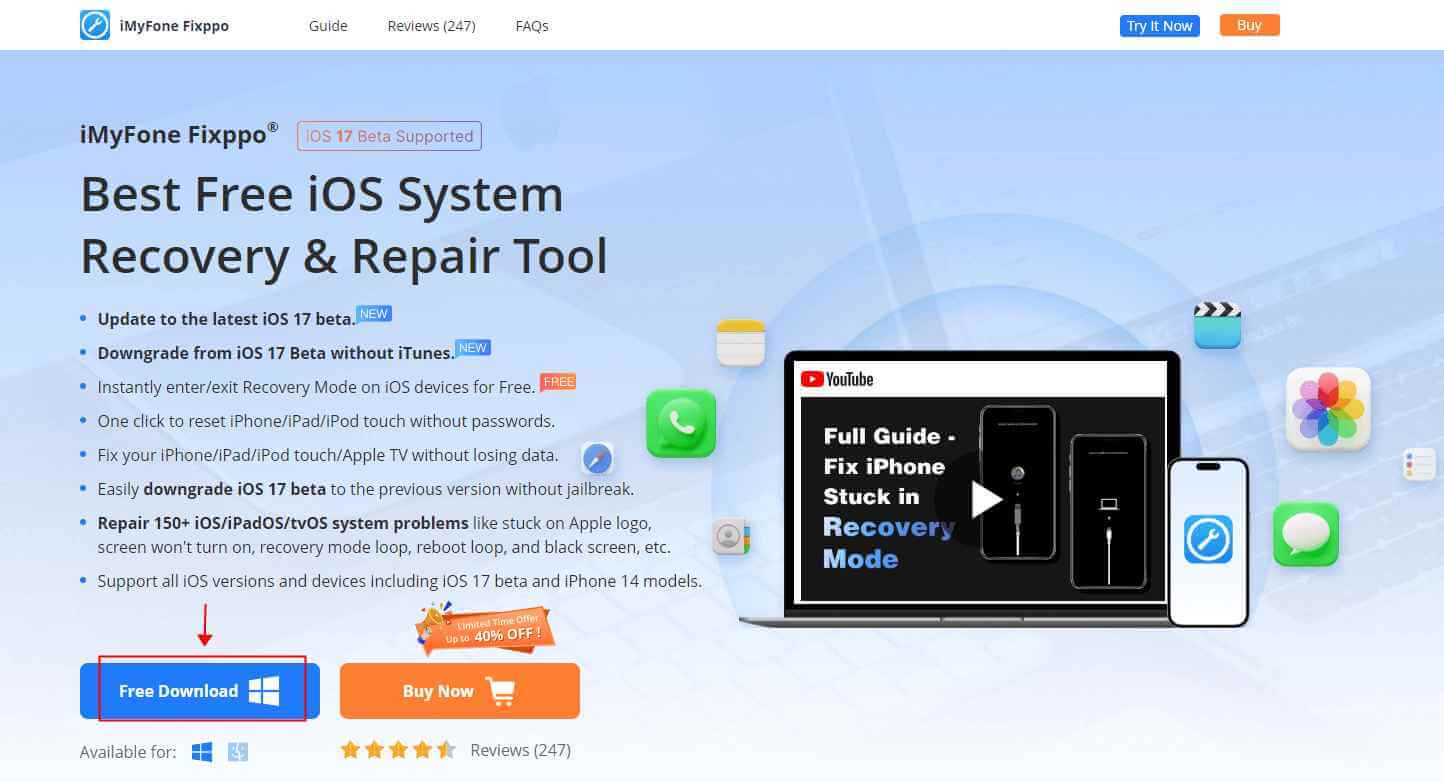 Step 2 – Click the "Start Repair" button and choose "Standard Mode".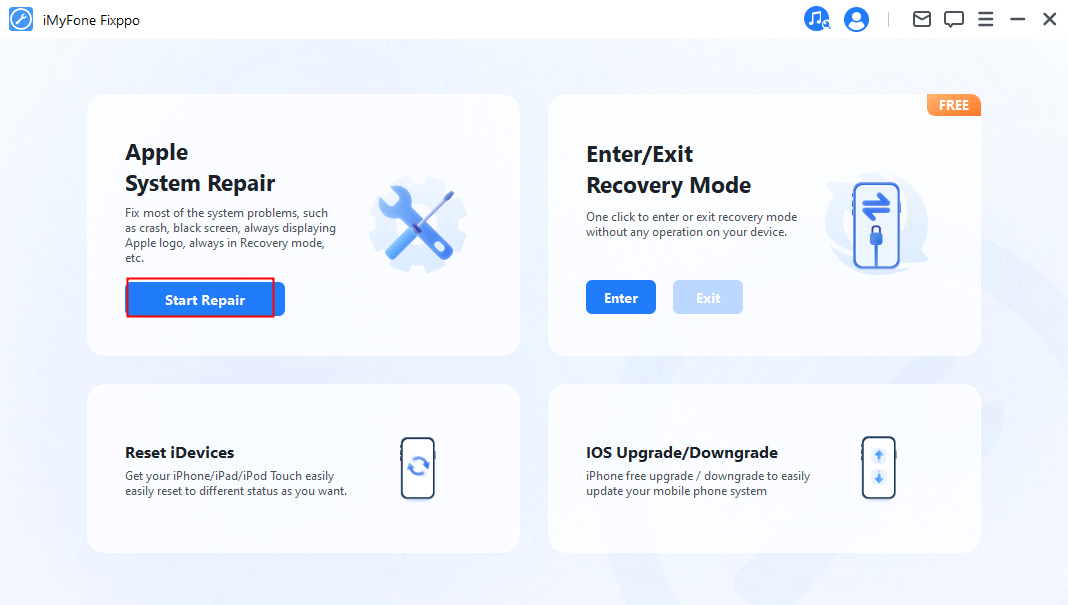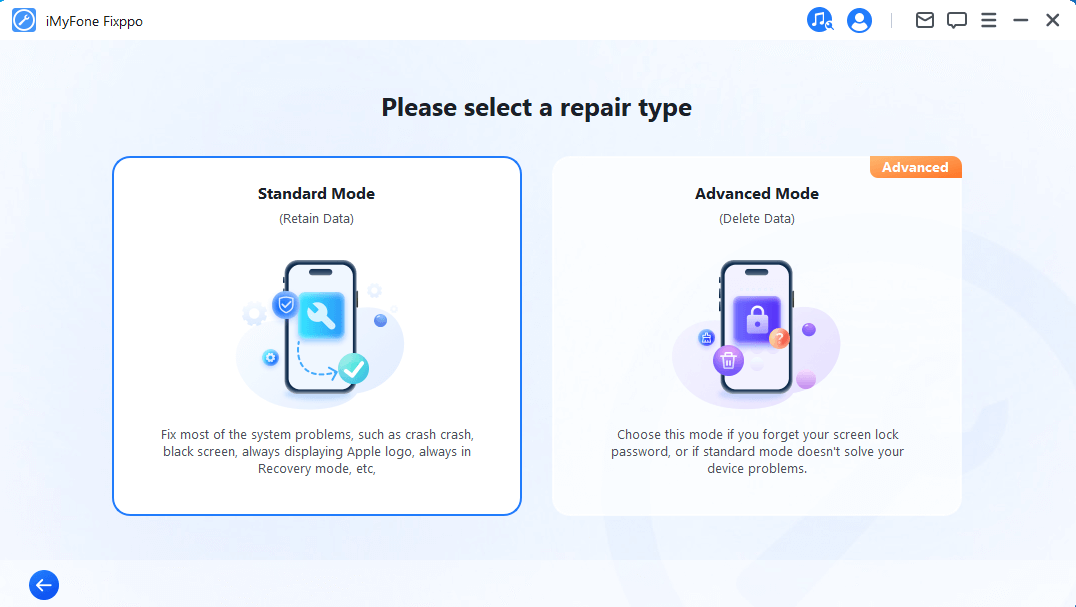 Step 3 – Enter Recovery Mode or DFU Mode.
Connect your iPhone to the computer using a USB cable. Follow the on-screen instructions to put your iPhone into DFU or Recovery mode.