Question
My iPhone 6S is getting weird, as soon as I tap on the Settings icon it freezes. I have tried to switch it off but it didn't happen either. Please help me! Tell me how to switch off iPhone when it's hanged?
Your iPhone might be getting frozen because of a number of reasons, ranging from an outdated iOS to some hardware glitch. We can understand what you must be going through. But, you are not alone there unable to do anything with your hanged iPhone. We are going to help you get out of this annoying situation and fix the problem with these amazing solutions. In this article, we are going to tell you, how to turn off iPhone when frozen and how to unfreeze your hanged iPhone.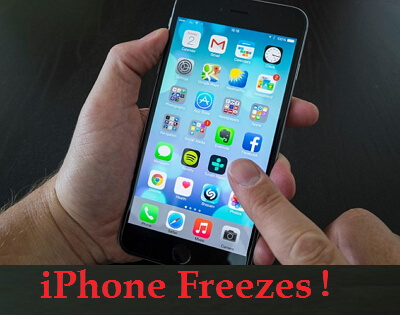 If You Just Want to Turn off iPhone When It Is Frozen
When the iPhone touchscreen gets hanged and becomes unresponsive, you won't be able to access it in any way. Some people might want to turn it off to save battery. We will explain the simple process of how to turn off iPhone when frozen right here –
Hold down the 'Sleep/Wake' and 'Home' buttons on your iPhone together.
Keep holding them until the screen goes blank. Immediately lift your fingers when you see the blank screen, else the iPhone will restart.
At the end, if nothing works leave your iPhone like that till the battery empties on its own.
If You Want to Unfreeze Your iPhone
When your iPhone is hanged or stuck on certain screen, what can you do to get your iPhone back to normal? Here are some common tips that you can try to unfreeze the hanged iPhone.
1

Force Restart Your iPhone
As the first tip, we recommend you to force restart your iPhone. It will fix the iOS glitches and help you to unfreeze your iPhone. Once you restart your iPhone, it may work like before. The steps for each iPhone are as follows:
iPhone 6S/SE/Older Models of iPhone –
Concurrently hold down the 'Home' and 'Sleep/Wake' buttons as long as the Apple logo doesn't appear on screen. Release the buttons quickly after seeing the logo and let the iPhone restart.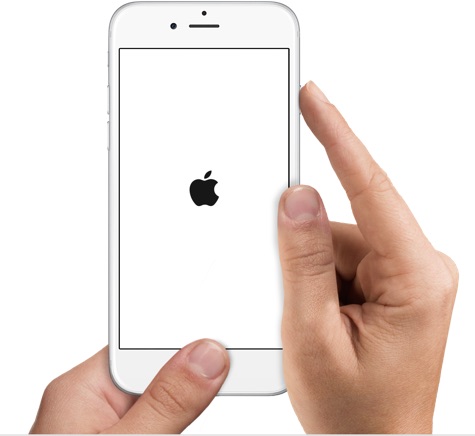 iPhone 7/7 Plus –
Press down the 'Volume Down' and 'Sleep/Wake' buttons together and wait till you see the Apple logo. Release your fingers and allow the iPhone to restart.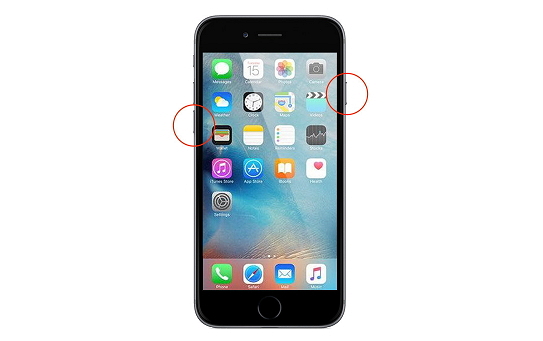 iPhone 8/iPhone X –
Click the 'Volume Up' key and release quickly and then tap the 'Volume Down' key. Now, hit and hold the 'Sleep/Wake' button until the Apple logo is visible. Leave some time for iPhone to restart.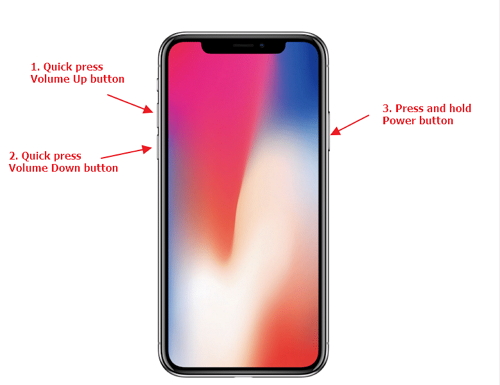 As soon as the restart process is over, your frozen iPhone screen should work normally.
---
2

Fix a Frozen iPhone without Data Loss
If you are unable to fix your iPhone by force restarting it or the issue reoccurs, then try using iMyFone iOS System Recovery. This software can bring your frozen iPhone back to life by fixing issues such as stuck in Apple logo, black/white screen, or recovery mode. Most iOS issues including a frozen or unresponsive screen get resolved under the standard mode without any data loss.
You can also use the program to fix the errors or problems that occur after iOS update including iOS 15 update, for example, iMessages/Messages are randomly deleted, and so on.
What's more, if you want to reset your frozen iPhone, Fixppo can help you reset iPhone even without password.
The program is designed for both operating systems i.e. Windows and Mac. Therefore, if you are wondering what to do when the above method goes in vain, you need to take help from iMyFone iOS System Recovery. The guide is as follows.
Step 1 – Install the latest version of iMyFone iOS System Recovery on your computer and connect your iPhone using a lightning cable.
Step 2 – Once the iPhone is connected, click on 'Standard Mode' to start the process of fixing your iPhone.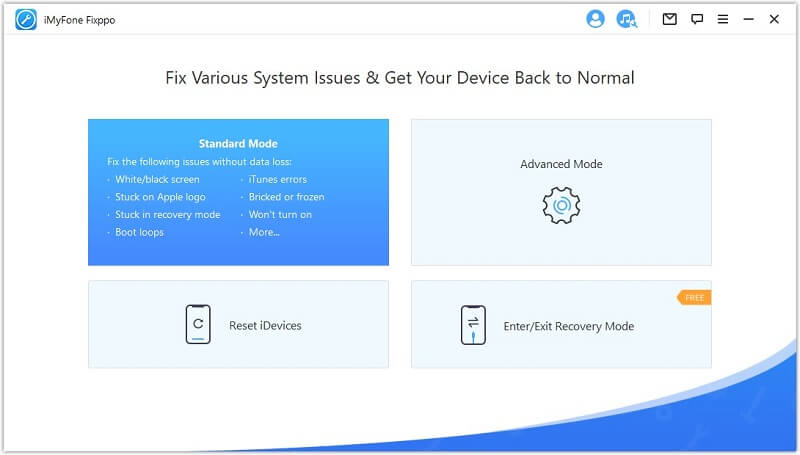 Step 3 – As the next step, you need to click on the 'Start' button for the purpose of taking your device into DFU mode. This click on the button will provide you instructions on the screen to make you enter your device into DFU mode.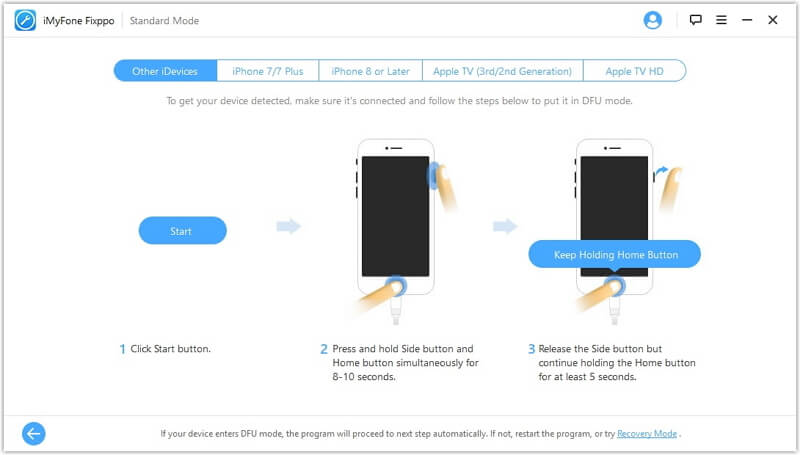 Step 4 – On successful DFU mode process, your device will be positively recognized by the software and will give matching firmware for your device. Tap 'Download' to initiate the downloading and installation process. After downloading is done, click the 'Start to Fix' button. It will automatically fix the iPhone in a while and let it run smoothly.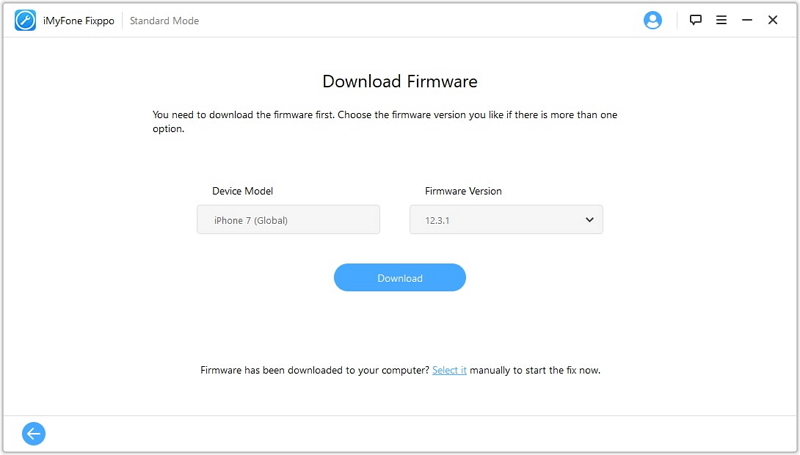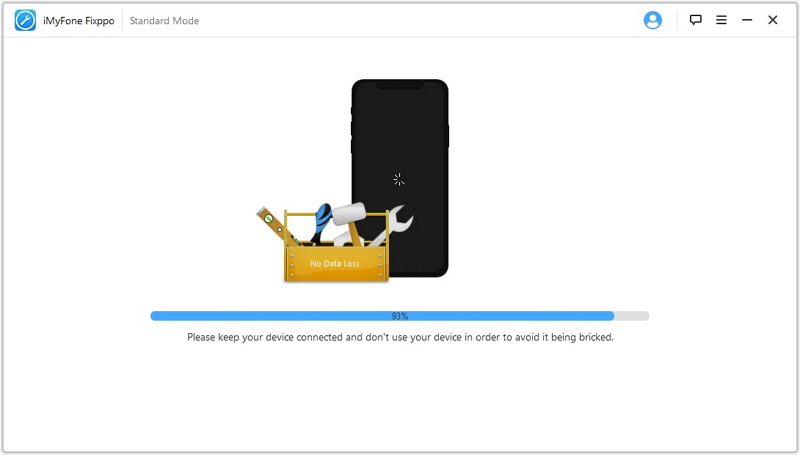 ---
3

Ask Someone to Call you
Apart from just learning how to turn off iPhone when frozen, a simple trick like making a call to your number may unfreeze your device. Tell a friend or a family member to make a call to your number, it might unlock the screen and unfreeze it.
---
4

Restore with iTunes (Data Loss)
The last resort that can save your device and make it unfreeze is restoring it using iTunes. Though, this process will result in loss of iPhone data.  You need to put your device into Recovery mode and then restore with iTunes. Here is the step-by-step guide –
Ensure that iTunes is upgraded to the most recent version and launch it. Connect your iPhone to your PC using a lightning cable.
To put your iPhone in recovery mode, follow the steps mentioned for 'force restart' in the previous part of this article. But, don't release the key upon seeing the 'Apple logo'. Keep holding the buttons until 'connect to iTunes' flashes on screen. If you are still not clear about that, check the guide here.
Now, press the Restore' button and wait for the process to finish.