There is no doubt that iPhone 7 is another beautifully crafted device that is very reliable and performs better than its predecessors. Even today, we can see people using iPhone 7 as their daily-driver. If you are one among them, what would you do if your iPhone 7 suddenly stops working?
iPhone 7 has lots of features like a great camera, powerful chip, dual speakers and much more. But even this flagship phone can give problems occasionally.
In this article, we will talk about potential problems on your iPhone 7 which may stop working because of those problems. And then, we will offer the best solutions for you.
Part 1. Potential Problems on Your iPhone 7 Which is Not Working
Apple iPhone 7 may have numerous problems in it. We will list some common ones that many users face on a regular basis.
Many iPhone 7 users have noticed that the speaker icon gets grayed out during the calls. This issue can be because of a bad speaker or accessories that are connected to the phone.
Some people are also suffering from the "No Service" issue on their device. When the user exit from Airplane mode, they do not have cellular service. They are unable to make calls or exchange messages because of this issue.
iPhone 7 was designed with a bigger battery and A10 Fusion chip that is efficient so that the device can run longer. But users are seen complaining about rapid battery drain.
Some people were seen struggling at the earlier stages itself. They were not able to activate their new phone.
Many users have complained about poor audio quality in their iPhone 7. They say that during a call, the incoming voice is very low.
Part 2. Why Has My iPhone 7 Stopped Working?
We have seen multiple problems that iPhone users face regularly. Many users have reported that their iPhone 7 stopped working and they don't know why. Your iPhone 7 may stop working because of various reasons stated below.
If your iPhone 7 is infected by malware, it may suddenly stop working. The malware or virus could enter through an app that you downloaded.
If your iPhone screen freezes and doesn't respond to the touch, you will be unable to use it.
A small hardware issue, after you drop your device, can also be the reason for this issue.
Your iPhone 7 can also stop working if there is a software issue or bug on your device.
Part 3. Brief Introduction of the Following 4 Methods
You can refer to the table to see the differences between the four methods given below.
| | Success Rate | Difficulty | Required Time | Data Loss | What Can Be Fixed |
| --- | --- | --- | --- | --- | --- |
| Force Restart | 50% | Easy | Short | No | A few software issues |
| Restore via iTunes | 80% | Complex | Long | Yes | Some software issues |
| iMyFone Fixppo | 100% | Easy | Short | No | All system/software issues |
| Apple Support | 100% | Complex | Long | Depends | Most hardware/software issues |
Part 4. How to Fix iPhone 7 Not Working Issue
Regardless of the reasons for iPhone 7 not working issue, we have given the top solutions in this part of the article to fix this issue.
Method 1. Force Restart Your iPhone 7
If your iPhone 7 is not working, try to force restart it and check if it works normally.
Step 1: Press Volume Up button once and then press the Volume Down button once.
Step 2: Now, press the Side button and hold it until the Apple logo is seen on your screen. This will force restart your iPhone 7.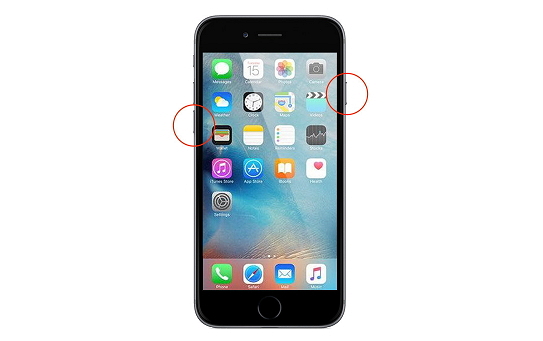 Method 2. Restore iPhone 7 via iTunes
When you restore your iPhone 7 via iTunes, many iOS issues will automatically get fixed. But your data will be erased all.
Step 1: Open iTunes on your PC and connect your iPhone 7 to it.
Step 2: When asked, tap "Trust" on your iPhone.
Step 3: Now, select your iPhone 7 on the iTunes screen.
Step 4: Click "Device" and then "Summary" on your PC.
Step 5: Next, click on "Restore Backup" and select the desired iTunes backup.
Step 6: Click on "Restore" to restore your iPhone 7.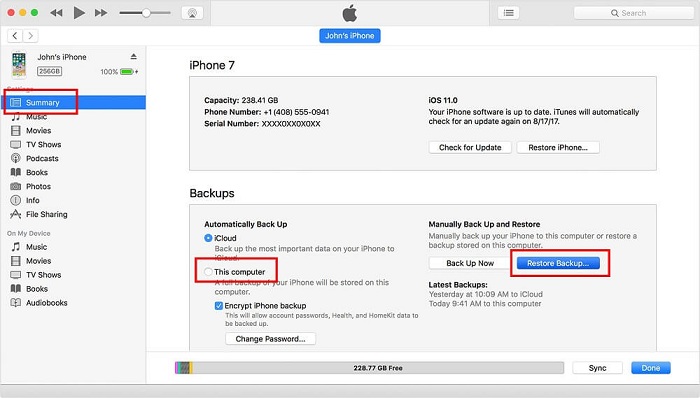 Method 3. The Best Way to Fix iPhone 7 Not Working Issue
If you want your iPhone 7 to work again without losing data, you need to use the best iOS repair tool in the market. iMyFone Fixppo is one such tool that can easily fix all system-related issue in simple clicks. Fixppo is developed by iMyFone, which is an advanced company popular for making professional tools for Android and iOS users.
Fixppo has a 100% success rate and fastest repairing rate in its field for repairing system issues.
When you use Fixppo for fixing various iOS issues, you will not lose the device data.
There is no need to be a tech-savvy due to its simplicity.
It is compatible with all iPhone models and iOS version, including the latest iPhone 11 and iOS 13.
It has already been trusted by many professional media sites.

You can fix this issue with Standard mode of Fixppo with just a few clicks. Just follow the steps given below carefully. Download and install iMyFone Fixppo on your computer.
Step 1: Now connect your iPhone to the computer and click on Standard mode on the main page. Click Next. Fixppo should automatically detect your iPhone. If it does not, put it in DFU or Recovery mode. Follow the instructions given on the screen for putting the device in DFU or Recovery mode.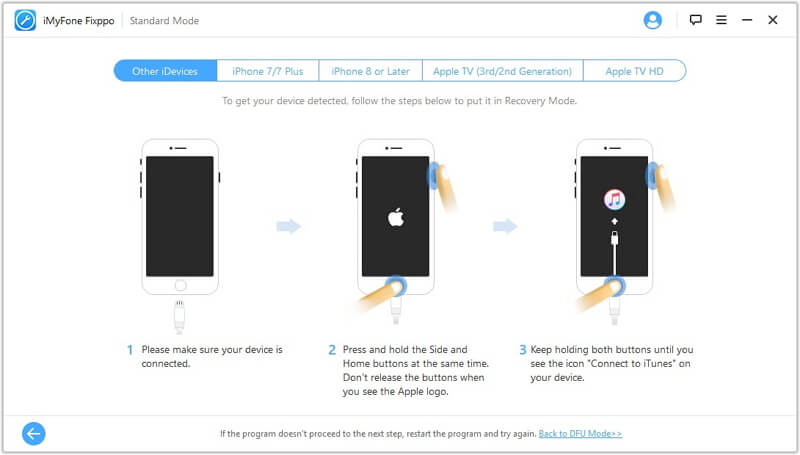 Step 2: Once the device enters the DFU or Recovery mode, it will automatically get detected by the software. Now download the latest firmware to bring back your iPhone 7 to life. Fixppo will display all the available firmware versions relevant to your device. Select the relevant firmware version and click Download.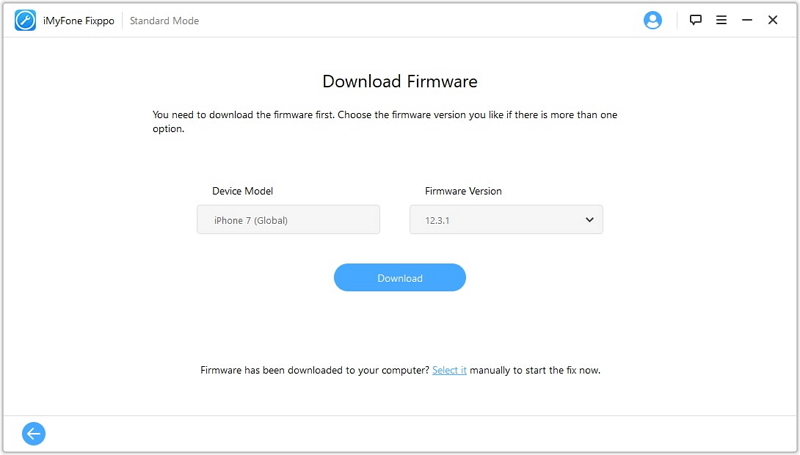 Step 3: Make sure the onscreen device and firmware information is correct. Now click on the Start button to begin the fixing process. After the process is complete, the iPhone will restart normally. If it fails to restart, retry all the steps or try the Advanced mode of Fixppo.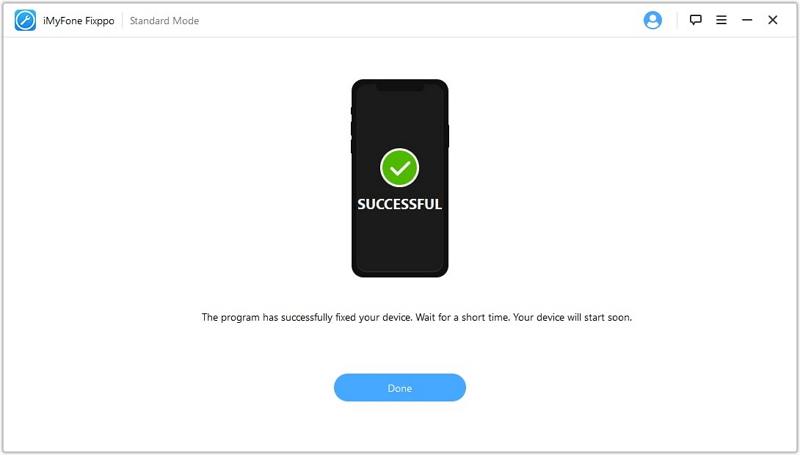 Fixppo is trusted by many users across the world and they have already fixed various kinds of iOS issues. So, don't wait. Download Fixppo and get rid of the iOS issues now!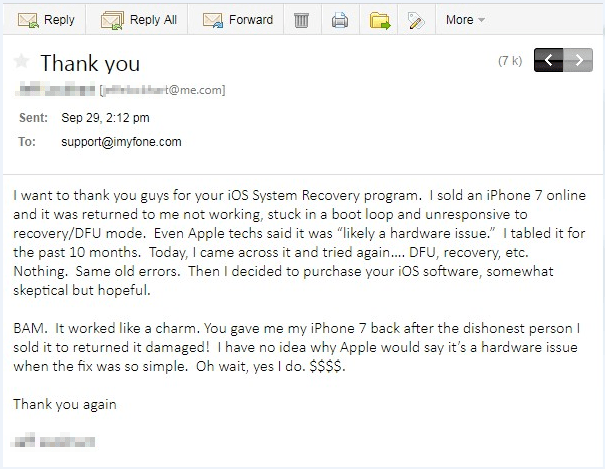 Method 4. Contact Apple Support Center to Check Hardware
Your iPhone 7 may also stop working if there is a hardware issue on it. So, it is better to get it checked by the professionals.
If none of the above methods worked, contact Apple Support Center immediately. Let the Apple technicians check the hardware of your device.
If there is a major issue, replace the parts of iPhone 7. This should definitely help in case your iPhone 7 stopped working.
Part 5. How to Avoid Such Kind of Issues?
We hope your iPhone 7 is working again as before. Now we will give you some tips on how you can avoid such kind of problems in the future so that your iPhone doesn't stop working.
Way 1. Keep Your iPhone 7 Updated to the Latest
The most important way is to keep your iPhone 7 updated with the latest iOS software.
Step 1: Go to Settings and then General -- Software Update.
Step 2: The iPhone 7 will start searching for new updates. If there is an update available, download and install it on your device.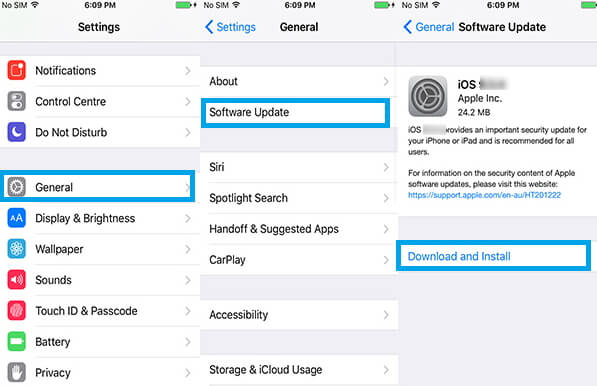 Way 2. Remove Problematic Apps Regularly
Removing problematic apps from time to time will help you keep your device safe and secure.
Step 1: To remove an app, long-press on the app icon until it starts shaking.
Step 2: Tap on (x) and then select Delete to confirm.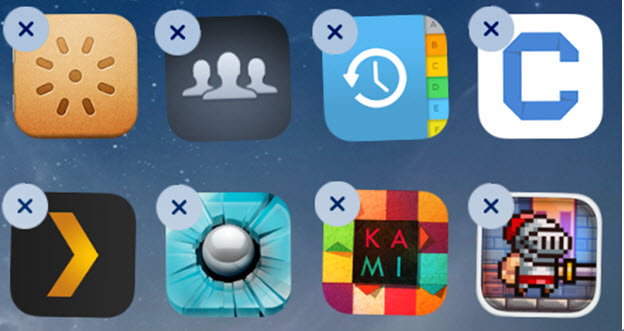 Way 3. Reset All Settings
You can also reset all the settings of your iPhone 7 to avoid such issues in future.
Step 1: Go to Settings -- General.
Step 2: Tap on Reset and then Reset All Settings. All the settings of your device will be reset.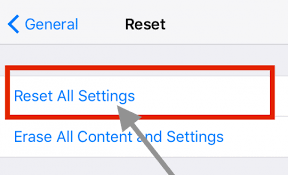 Conclusion
The different methods given in this guide are very simple and can be followed even by the user without any technical knowledge. Check all the methods and then decide which one would work for you. Tell us in the comment section below if you face any difficulties while following these methods.