iPhone Stuck on Emergency SOS Mode? 4 Methods to Fix!
Category: iPhone Issues
3 mins read
Emergency SOS mode sometimes proves to be an outstanding safety feature. But some users complain that an issue begins with iPhone stuck on emergency SOS mode which makes them can not use the phone, and the screen does not go away.
Fortunately, this frustrating situation can avoid using simple yet effective methods. First, we need to know why it happens and the reasons why you face the "iPhone stuck in SOS mode" problem. Read on.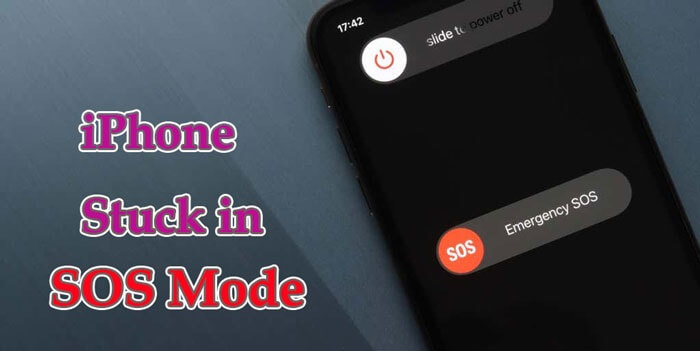 What to Do before Fixing iPhone Stuck on Emergency SOS Mode?
Part 1: The Reason iPhone Stuck on Emergency SOS Mode
Generally speaking, iPhone stuck on emergency SOS mode is because of some wrong operations we make. For example, if we press the volume up & down with the power button, you will enter SOS mode. Freshening or rooting iPhone may get iPhone stuck into emergency SOS mode also. According to this problem, we conclude 4 effective methods below. Now, go on.
Part 2: 4 Methods to Solve iPhone Stuck on Emergency SOS Issues
01

One Click to Fix iPhone Stuck on Emergency SOS Problem

If you don't want to get involved with complicated products and programs, you can use iMyFone Fixppo iOS repair tool. It is the best solution that helps you enter and exit recovery mode with one click. You can solve the emergency SOS problem without losing any data! Apart from that, you can control your iPhone and fix different issues with it.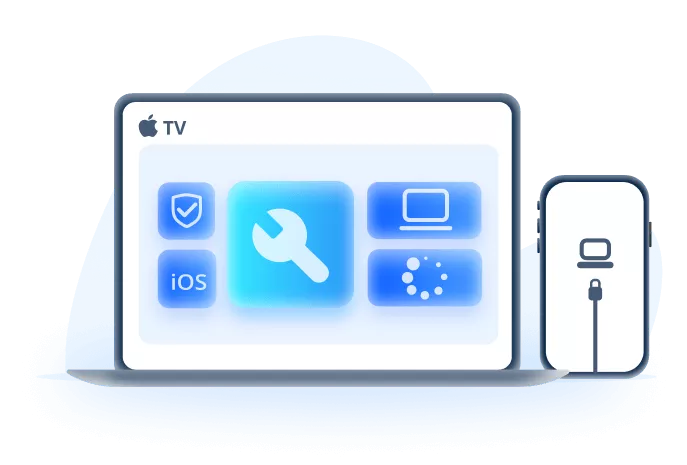 iMyFone Fixppo Key Features:
· Reset your Apple device with one click without having access to the password.
· Solve iPhone emergency SOS mode without losing any data.
· Fix most iOS system glitches, like stuck in guided access or black screen, etc.
· Complete support for the latest iOS versions and devices, including iOS 17 .
Limited Time 10% OFF Coupon Code for iMyFone Fixppo: FARTT91
A complete toolkit to fix different issues with your iPhone.
The premium and full version of iMyFone Fixppo is paid but it's worth it.
Fix iPhone Stuck on Emergency SOS Mode with 4 Simple Steps Below:
Step 1: Install Fixppo on your PC and select "Standard Mode" on the screen.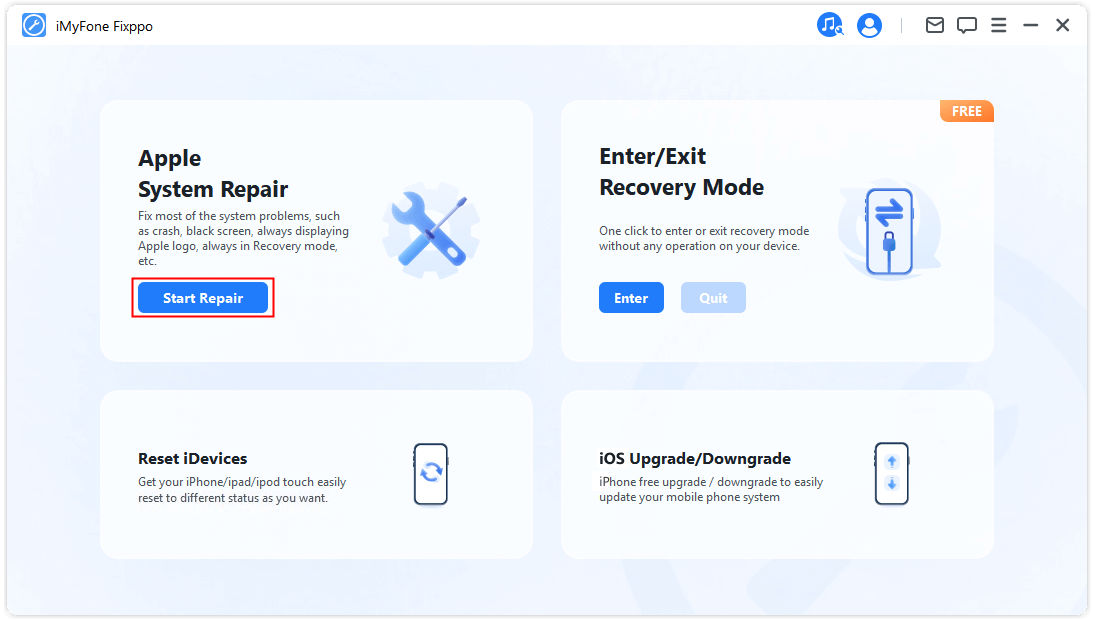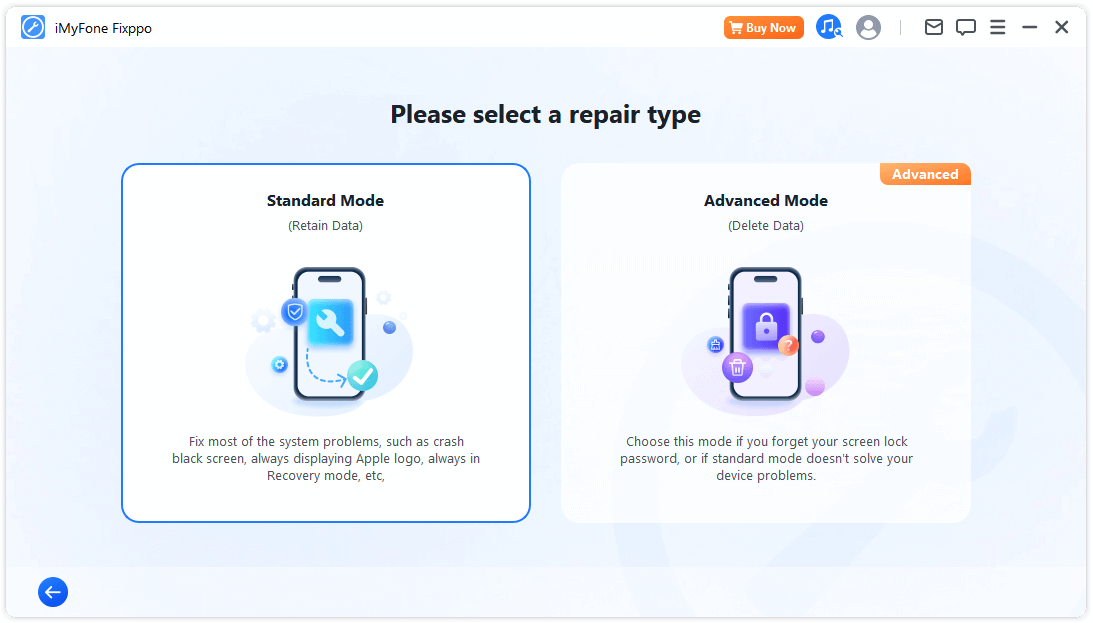 Step 2: Connect your iPhone with PC and follow the operation step on the screen to enter into DFU or Recovery mode.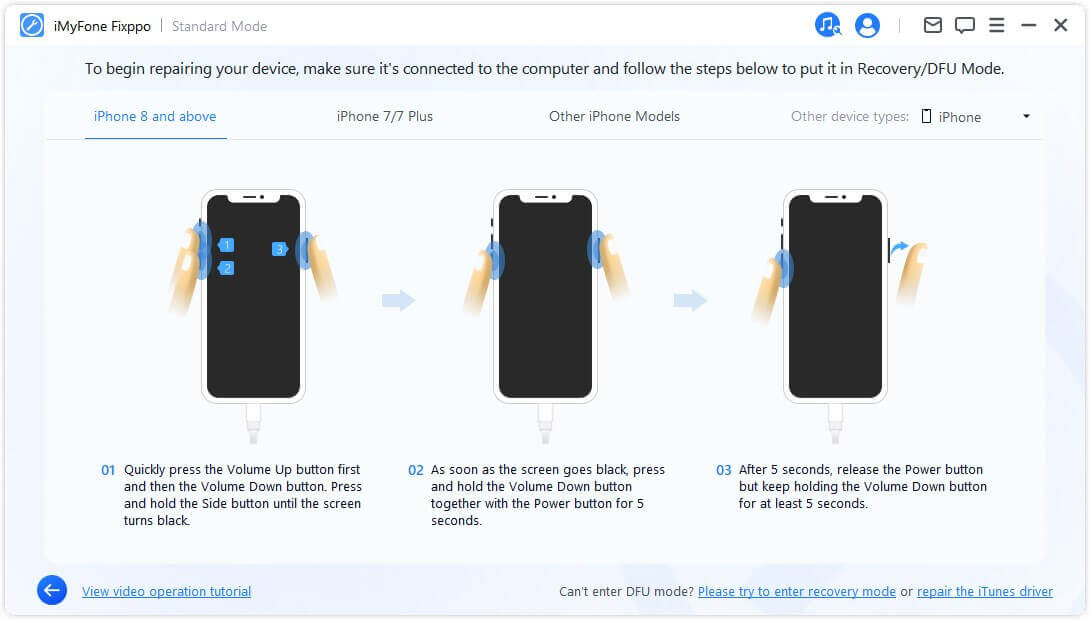 Step 3: The program will automatically detect the model of your device, and then download the firmware as it shows on the screen.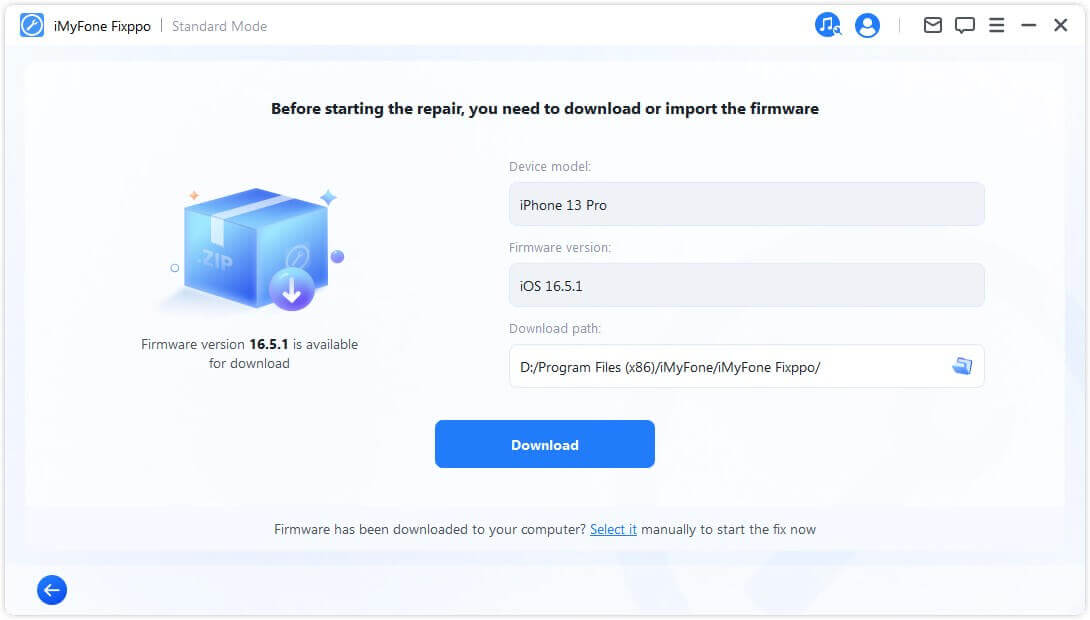 Step 4: Click the "Start" button, Fixppo will help you fix the "iPhone Stuck on Emergency SOS Mode" issues automatically!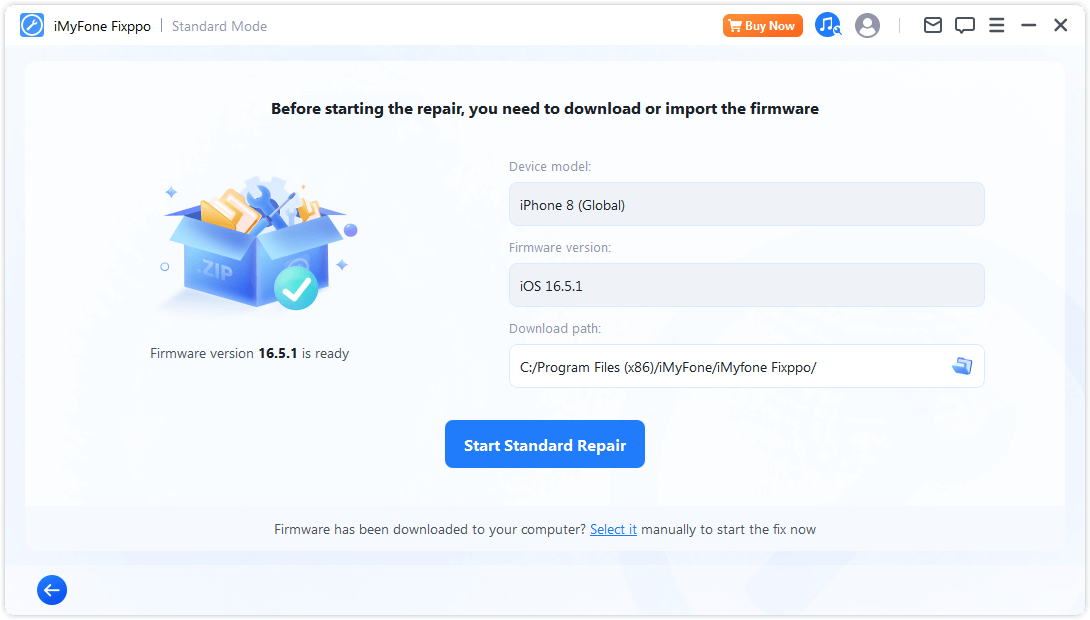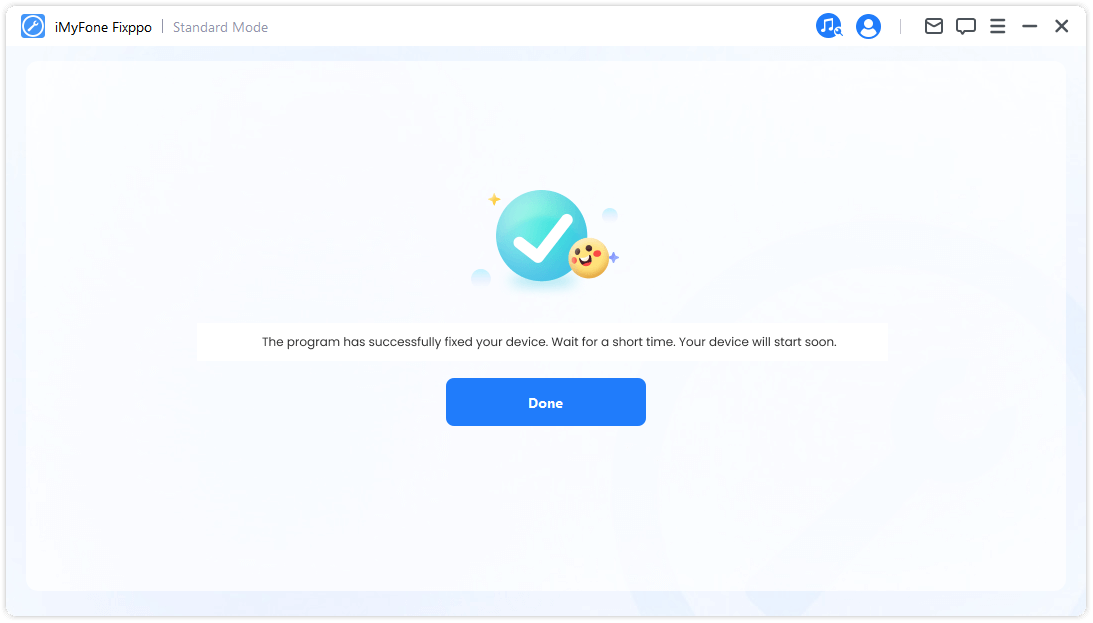 Here we offer you a 10% OFF discount for fixing iPhone stuck on emergency SOS mode by using Fixppo.
Limited Time 10% Off Coupon Code: FARTT91
---
02

Update iPhone in Recovery Mode

Updating your device in recovery mode might help you to solve iPhone stuck in SOS mode problem. Follow the steps below to do it!

Step 1: Connect iPhone to the PC and open iTunes.

Step 2: Force restart iPhone. Then you will see a pop-up window where you need to click the Update option. And iTunes will remove SOS mode on your device.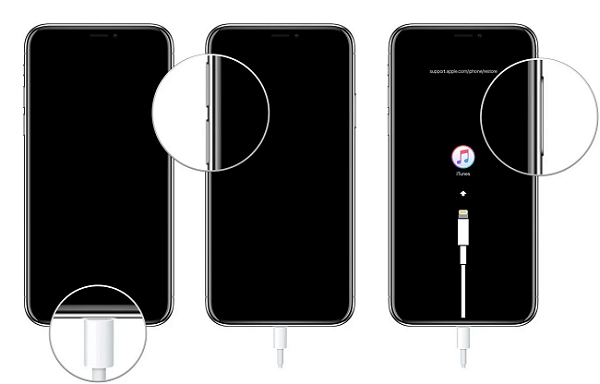 The process does not require any additional paid.
There is no guarantee this method will resolve the SOS issue.
---
03

Force Restart your iPhone

Force to restart the iPhone is an effective method to exit iPhone stuck in emergency SOS mode. Here are simple steps to follow.

Step 1: Quickly press and release the volume up and down button.

Step 2: Then press the side button for a few seconds until the brand logo appears.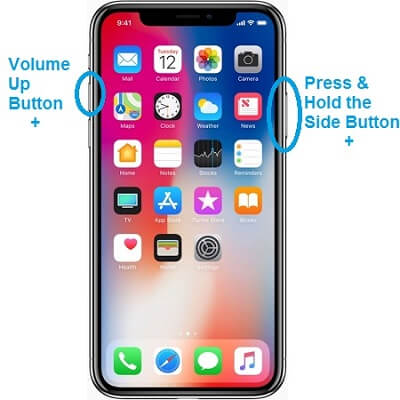 It is among the most effective methods available on our list.
It can be very frustrating, but there is no harm in trying it once or twice.
---
04

Contact Apple Support

Apple support offers technical support to resolve issues related to emergency SOS mode. You can also contact Apple service centers from your residence or office with their contact number.

Mention the iPhone stuck in the SOS mode problem you are facing first and describe the details of your phone in detail. They will help you check if your iPhone has some hardware problems or if its software is a related issue. If they confirm, you will be asked to visit the nearest authorized Apple store to solve that issue.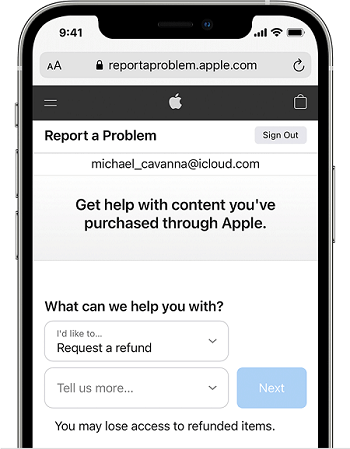 You can get help if your device has a hardware problem.
Getting help from Apple Support Center is not easy, you need to book an appointment to discuss the issue with Apple Geniuses. The whole process may take days.
FAQs Related to Solve iPhone Stuck on Emergency SOS Issues
1

How to end emergency SOS on iPhone?

If you are after the quickest and most efficient method to end emergency SOS on iPhone, Fixppo is the answer. This tool will allow you to get rid of the problem without losing any data or any hardware replacement. You can also benefit from many other issues regarding iOS.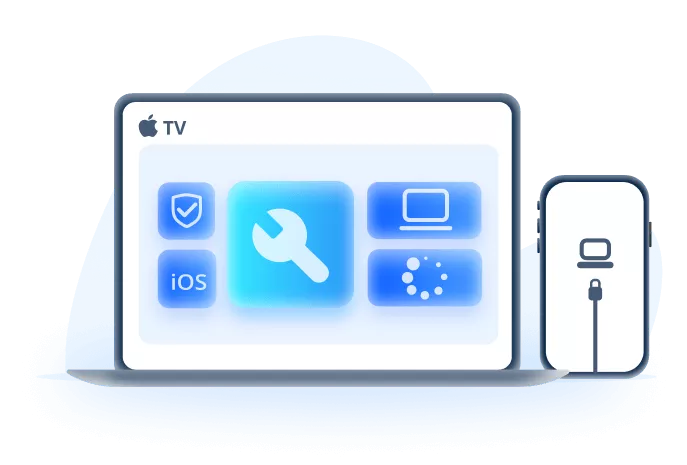 iMyFone Fixppo Key Features:
Fixes iPhone problems like iPhone stuck on hello screen or top of iPhone screen not working.
iOS issues can be dealt with easily with all your data remain intact.
You can reset iPhone to factory settings if you want to sell it.
It's beginner-friendly that requires no special skills.

2

What should we do if iPhone is stuck on the emergency call screen?

This problem can happen due to many reasons. If iPhone is stuck on the call screen, you can try to restart iPhone. If the device is unresponsive to restart commands, force-restart is another option. If it still occurs, take help from iMyFone Fixppo to fix it!
Conclusion
That's all effective way, choose the one you want to try! If you still have no idea how to fix iPhone SOS mode, and want to solve it without any data loss, you can't miss iMyFone Fixppo! Other options are also good but have some restrictions in certain cases. Click the button below to try the basic functionality with the trial version right now!