There are various iPhone issues which might leave users clueless. iPhone flashing Apple logo on and off is one of the common issues among the others. This problem might happen randomly and leave you distressed, as you are not able to do anything with your iPhone. Though the issue might arise due to a corrupted file or due to other iOS firmware issues, there are solutions to fix them too. Here, in this article, we are going to explain the top solutions to fix this iPhone flashing Apple logo on and off issue in detail. Keep reading to get your phone fixed!
The brief introduction of the following 4 methods will be shown, so it is convenient for you to compare them and choose the one you trust.
| | Success Rate | Required Time | Difficulty | Data Loss after Fixing |
| --- | --- | --- | --- | --- |
| iMyFone Fixppo | 100% | Short | Easy | No |
| Force Reboot iPhone | 30% | Short | Easy | No |
| Restore via iTunes | 80% | Long | Complex | Yes |
| Go to Apple Store | 100% | Long | Complex | Depends |
Part 1. Fix iPhone Flashing Apple Logo on and off without Data Loss
When your iPhone gets stuck in Apple logo, recovery mode, or black/white screen, iMyFone Fixppo comes as a savior to fix these issues. Be it your iPhone flashing Apple logo on and off, or any other iOS issues this tool can repair your device with 3 modes.
The best part is that you don't need to worry about your data because iMyFone Fixppo can fix your device without any data loss.
It offers a 100% success rate for repairing iOS system issues.
It stands out for its innovative technology to locate the iOS problems and fix them with a firmware.
It also helps you to get your iPhone to enter or exit recovery mode with only one click for free. No operation on your device is needed.
Downgrading iOS is also possible using this tool.
All iOS devices and iOS versions are supported, including the latest iPhone 14 and iOS 16.
It has been trusted by many professional websites around the world.

Here is the step-by-step guide to fix the iPhone flashing apple logo on and off using iMyFone Fixppo:
Step 1: You need to download the latest version of the program from the iMyFone official website and then install and launch it on your computer. Get your iPhone connected through a lightning cable.
Step 2: After connecting your device, you need to select the right mode among the 3 available modes. Here, you need to choose the 'Standard Mode' for fixing your iPhone without any data loss.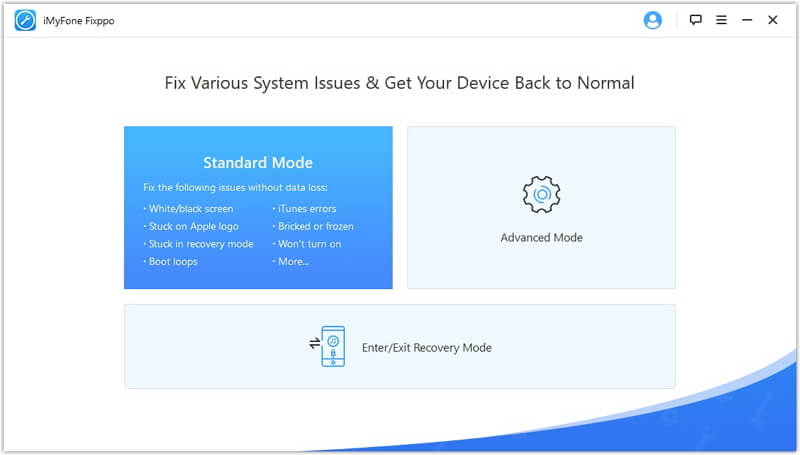 Step 3: You will now be prompted to put your iPhone in DFU/Recovery mode for initiating the repair process. Tap 'Start' and then follow the onscreen step-by-step procedure to do so.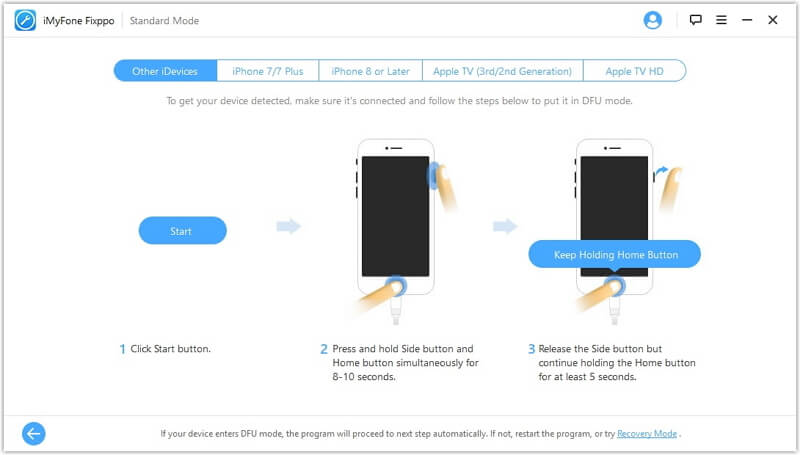 Step 4: Now, iMyFone Fixppo will automatically detect your device and provide all the available firmware for it. You need to choose a version and tap the 'Download' button.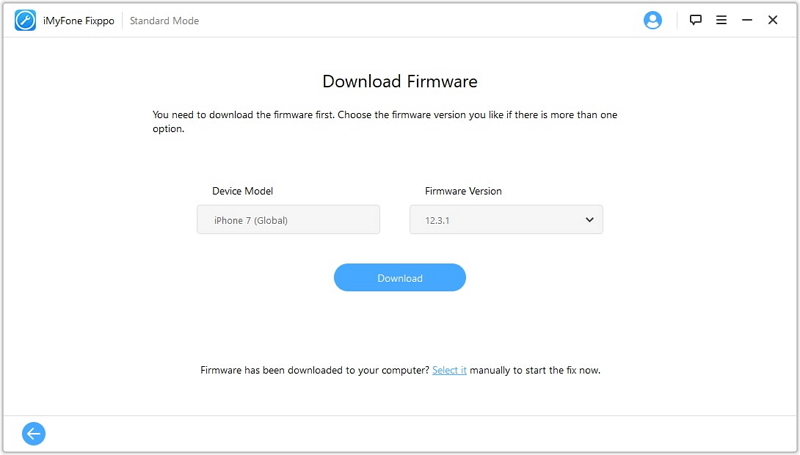 Step 5: When the firmware downloading is complete you need to click on the 'Start' button so that the device gets fixed automatically. As soon as the process is over, your iPhone flashing Apple logo will be fixed and your iPhone will be back to normal. The data on your device will still be there.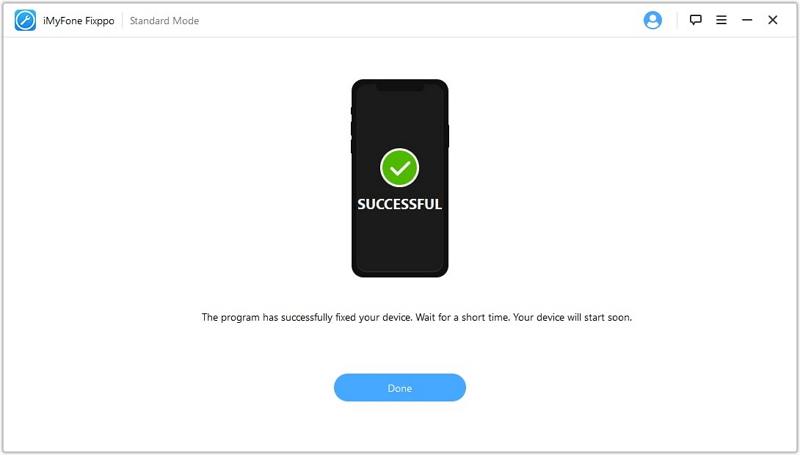 Part 2. 2 Other Possible Solutions You Can Try
There are also other methods to fix this problem. Sometimes they may not work, but you can still have a try.
2.1. Force Reboot iPhone
When your iPhone gets stuck in a specific situation like this and doesn't work even after trying numerous times to get out of the Apple logo loop, you can try force rebooting it. Force reboot fixes iPhone or iPads when they become unresponsive to user interactions and bring them back to normal. Here, we are going to explain to you, how to force reboot the iPhone and get it back to action.
iPhone 6S, SE or Older Versions –
Press and hold the 'Sleep/Wake' button along with the 'Home' button till the Apple logo start appearing on the screen.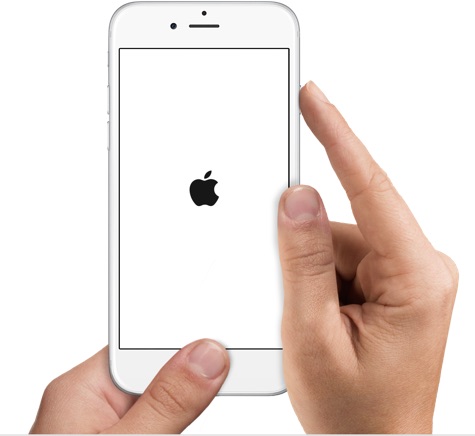 iPhone 7/7 Plus –
Tap the 'Power/Lock' button (found on the side of the phone) and 'Volume Down' key (present on the left side) together until the Apple logo appears.
The 'Slide to Power Off' slider will appear, which you need to ignore during this period and let the iPhone enter the startup process.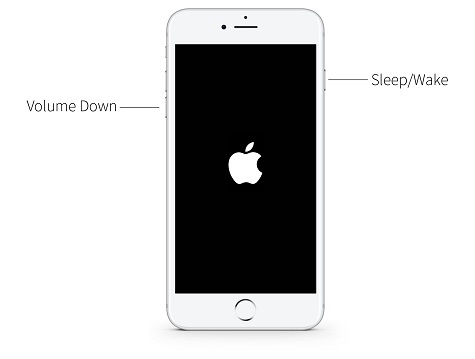 iPhone 8 or Later -
Tap the 'Volume Up' key and let go instantly.
Then repeat the same with the 'Volume Down' key as well.
Now, tap and hold the 'Power' key as long as the Apple logo is not visible.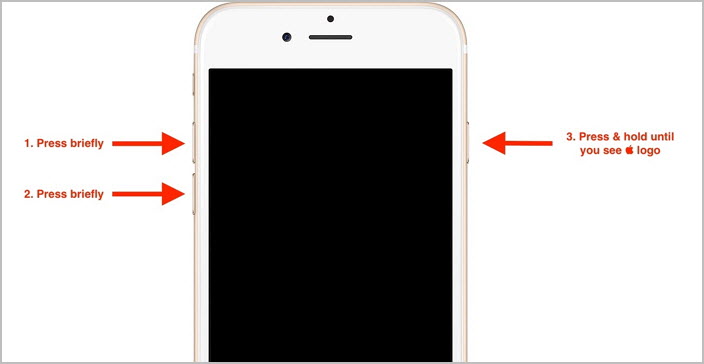 Note: After the appearance of the Apple logo, ensure to feed in the passcode of your iPhone rather than a fingerprint ID, to ensure the issue gets resolved without any glitch.
Now that the device has been force restarted we hope your iPhone flashing Apple logo problem is fixed, along with other iOS system issues.
2.2. Restore iPhone with iTunes Using Recovery Mode (All Data Erased)
You can also restore your iPhone with iTunes using recovery mode when your device doesn't respond to restore or update normally. In those cases, your iPhone needs to be put in recovery mode and then restore via iTunes to perform normally. If you don't mind the data on your device, you can have a try. Here are the steps –
Step 1. Update your iTunes to the latest version, and exit it if already open. Now, get your iPhone connected to the PC and launch iTunes and force restart it following the below-mentioned steps. You need to keep getting hold of the buttons when the Apple logo appears unless your device establishes a connection with iTunes successfully.
iPhone 6S and older/iPad/iPod touch –Hold down the 'Home' and 'Power' buttons simultaneously till the 'connect to iTunes' screen appears.
iPhone 7/7 Plus –Hold down the 'Power' and 'Volume Down' buttons together till 'connect to iTunes' is visible on screen.
iPhone 8 and later including iPhone 12 –Tap and instantly release the 'Volume Up' key and then repeat the same with 'Volume Down' key. Hold down the 'Power' button till 'connect to iTunes' appears on the screen.
Step 2. Click on the 'Restore iPhone' button after that and iTunes begins reinstalling the iOS and restoring your device back to the normal state (factory state). You then need to set up your iPhone from scratch when the process completes.
Note
Performing a restore with iTunes will wipe off all your data from your iPhone, consider twice before choosing this method.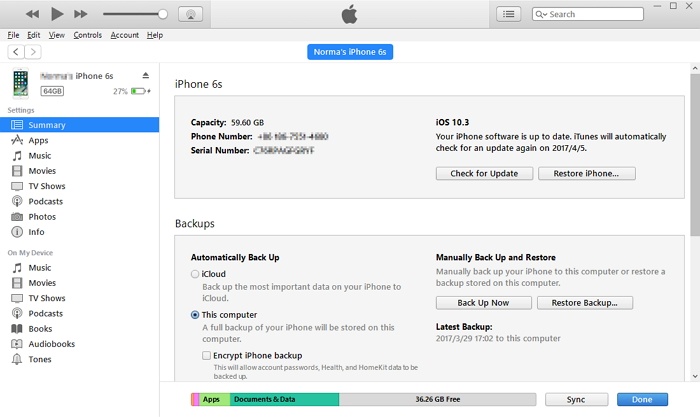 Part 3. Check iPhone Hardware at Apple Store
In case the iPhone flashing apple logo on and off issue is not resolved with any of the above methods, it might be a hardware issue. Getting in touch with Apple customer care will be of great help in resolving problem. They will check if there is a hardware problem that causes your iPhone flashing apple logo.
Do not hesitate to try the above methods according to your own situation. Feel free to leave your comments below.