"Hi, can anyone assist me? Yesterday, I updated my iPhone to 16/15/14 and when I was sharing a Wi-Fi password with my friend it didn't work. Why is my iPhone not Sharing Wi-Fi Passwords in 16/15/14? Are there any suggestions?"
Apple has made Wi-Fi sharing easier with "Share Your Wi-Fi" feature with iOS system. However, sometimes people get upset when the iPhone won't share Wi-Fi passwords at all when they are trying to use this feature. How you can fix this problem? That is the purpose of this article. We will explain to you a few tips to solve the problem of Wi-Fi password not sharing in 16/15/14. Let's get started.
Tip. How to Share WiFi Passwords in 16/15/14
If your iPhone is not sharing WiFi passwords in 16/15/14, before moving onto the solutions, we should first check the step guide on how to share WiFi passwords in 16/15/14 and see if you are performing it the right way or not. Let's assume that you are using the iPhone 1 that has not connected to the WiFi and there is an iPhone 2 which has already connected to the WiFi you are trying to connect.
Step 1 – Get into the "Settings" of iPhone 1 and hit on "Wi-Fi".
Note: Make sure both the devices are unlocked and have their Wi-Fi and Bluetooth both turned on.
Step 2 – Turn on the switch adjacent to Wi-Fi if not and then choose the preferred Wi-Fi network.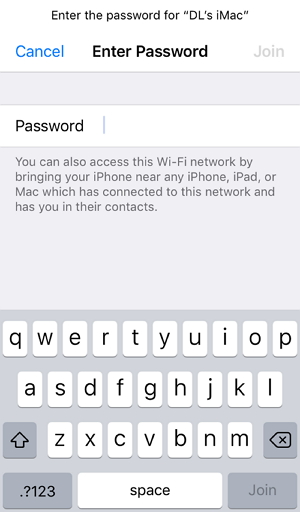 Step 3 – Now, hold the iPhone 1 close to the iPhone 2. Soon you'll receive an alert on the iPhone 2 that says, "[X] would like to join your Wi-Fi network. Do you want to send the Wi-Fi password for [Network Name]"? Hit on "Send Password", and you can enter and send the password to iPhone 1.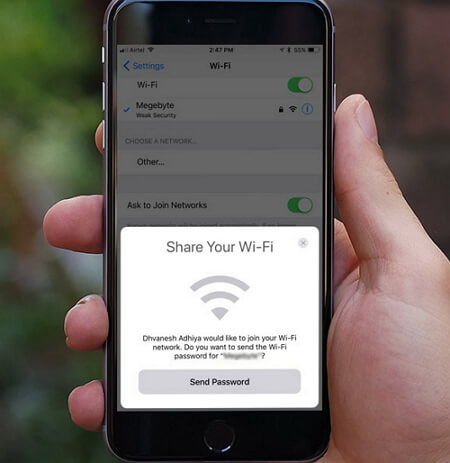 Double-check if you've tried to share passwords like this. If not, or if you may have missed anything, your iPhone won't share WiFi passwords in iOS 16/15/14.
Solution 1. Hard Reset iPhone and Try Again
Various software glitches which can, possibly, lead to the problems like iPhone not sharing WiFi passwords in 16/15/14. Hard rebooting your iPhone is a quick and easy solution for clearing out such software glitches.
Hold both the Sleep/Wake button and Volume Down at the same time for no less than 10 seconds or until you see an Apple logo appearing on the screen. Let go the buttons and let the device to reboot. This method is for iPhone 7/8/X/11/12, for older versions try the one listed below.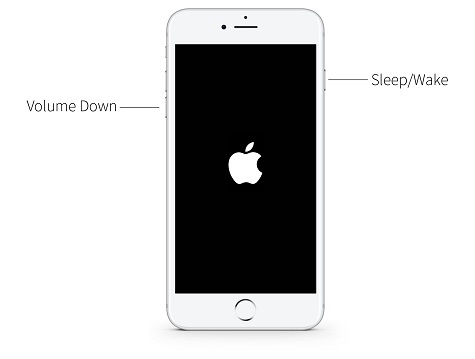 Hold down both the Sleep/Wake and Home buttons at the same time until you see an Apple logo appearing on the screen. Let go the buttons and let the device to reboot.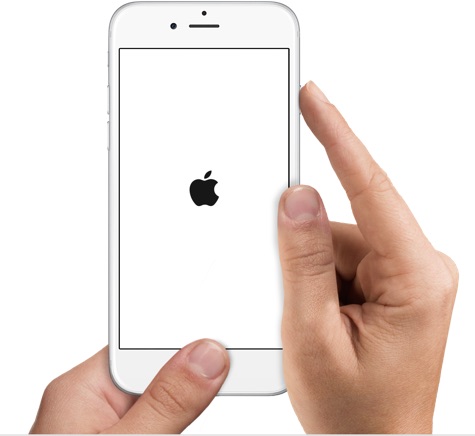 Solution 2. Fix iPhone Not Sharing Wi-Fi Passwords without Data Loss
When the above solutions didn't give results, there is a possibility that the issue is with iOS. And to remove this glitch, we recommend you to use iMyFone Fixppo which is specialized in repairing iOS related problems. It includes a marvelous feature named "Standard Mode" which helps the users in fixing numerous iOS problems without affecting and losing any data.
iMyFone Fixppo, recommended by famous media sites like Makeuseof, is 100% secure and reliable. There are millions of customers who downloaded and trusted this program.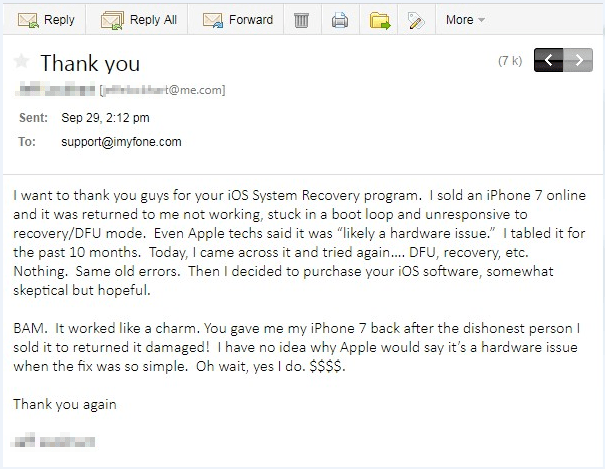 The tool is able to fix all iOS system issues like being stuck in recovery mode, reboot loops or unresponsive device screen.
The "Fix iOS System" consists of three different options for different problems which are "Standard Mode", "Exit Recovery Mode" and "Advanced Mode". No data will be lost or affected when you are using the "Standard Mode".
It provides a 100% success rate for repairing iOS issues.
It works with all the iOS versions (iOS 16/15/14 supported) and iOS devices (iPhone 14 supported).
Step 1 – Run the Program
Start with downloading iMyFoneFixppo. Afterward, install and launch it. Click on "Standard Mode" and plug your iOS device with the PC.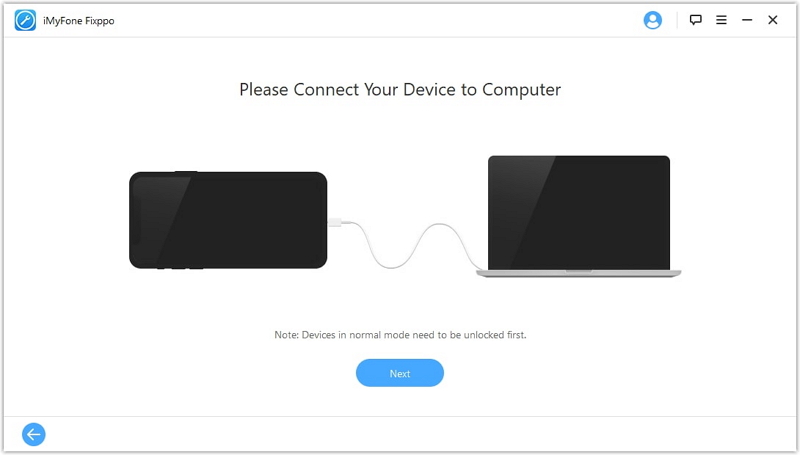 Step 2 – Select the Mode
Now, you will observe some steps to put your device to DFU or recovery mode. Follow them and proceed to the next step.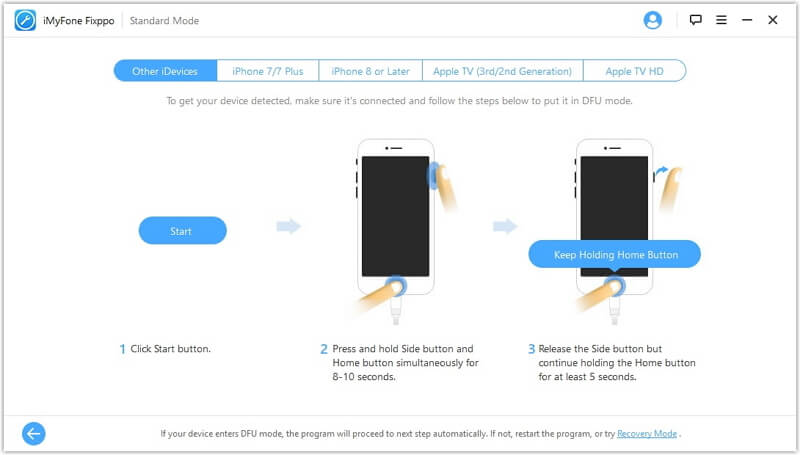 Step 3 –Get the Compatible Firmware
This step needs one click which is the "Download" button to download the appropriate firmware for your iOS device. Your device has been already recognized by iMyFone Fixppo and it will start downloading of recent iOS version for your device.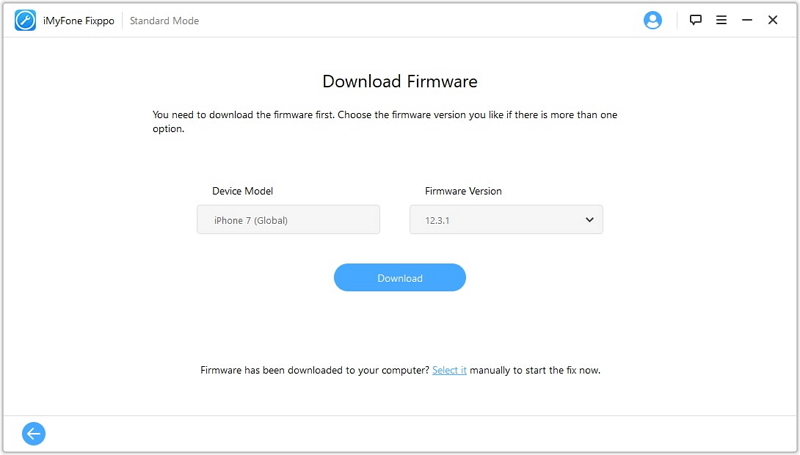 Step 4 – Start Fixing
The final move is clicking on "Start to Fix" option. With this, your firmware will be verified by the program and the WiFi password not sharing problem will start getting fixed. Just wait and start your device after the completion of the process.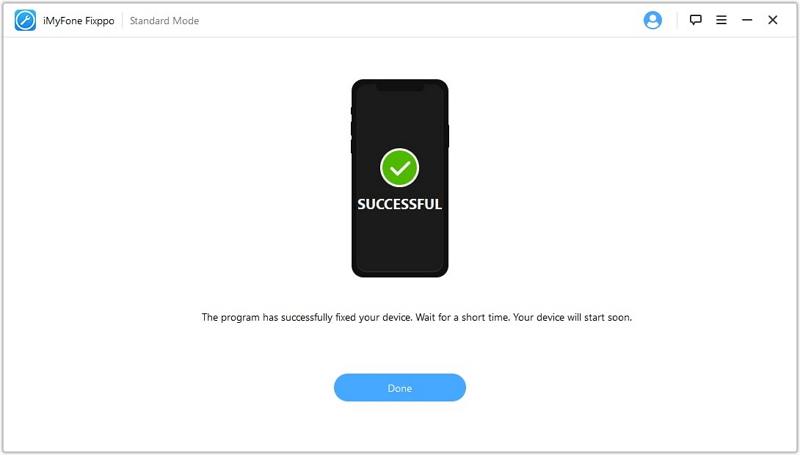 Solution 3. Make Sure Both Devices Are Running iOS 16/15/14
If your iPhone won't share WiFi passwords in iOS 16/15/14, double-check that both the devices are operating on iOS 16/15/14.
Open "Settings", tap on "General" and lastly hit "Software Update".
If your device is already running on latest iOS 16/15/14, you'll be notified with "Your software is up to date" but if not, tap on "Download and Install" to get your device updated to the latest iOS version.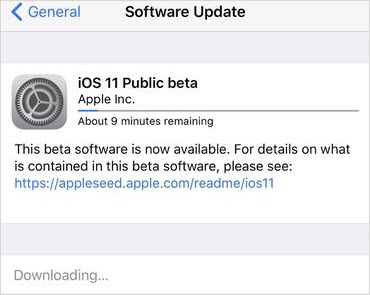 Solution 4. Make Sure Both iDevices Are Close to Each Other
Make sure both iOS devices are in the range of wirelessly sharing the WiFi Passwords. Holding them too far will certainly result in the poor connection between the devices and make it hard for the iPhones to detect each other.
Solution 5. Reset Network Settings
This step should be last resort if you're still experiencing the WiFi Passwords sharing not working in iOS 16/15/14 problem because performing a Reset Network Settings step will result in clearing all the WiFi, VPN and Bluetooth data stored on your iPhone.
Launch "Settings", tap on "General", then click on "Reset" and finally, "Reset Network Settings".
You'll be asked to confirm your actions, punch in the passcode (if any) and proceed with the positive options.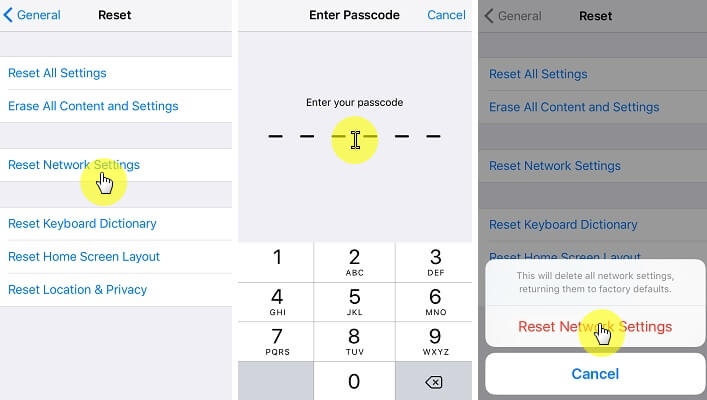 Conclusion
All the users update a device with the enthusiasm of getting something innovative or new features. And it is natural to get disheartened when any of the features fail to work after an update. But, we are always here to help you out. Those were some of the solutions you can try when the iPhone is not sharing Wi-Fi passwords in iOS 16/15/14. Hope you are out of the trouble now.