Tired of the username on your Kik account? Do you want to change it? In this article, we explore whether or not it is possible to change your Kik username. We will also share with you the various options at your disposal when it comes to managing your Kik account.
Is It Possible to Change Your Kik Username?
Unfortunately, it is not possible to change your Kik username. Your Username is your identity on Kik and as such the only way to change it would be to create a new account with a different email address. This is not a viable option for many since it would involve having to share your new Kik identity with your friends all over again. But you can change your display name.
Don't Miss: How to Get Back Old Kik Messages on iPhone
1

How to Change Your Kik Display Name
If you want to change your Kik display name to something more fun or just different, follow these simple steps to do it.
Step 1: Open the Kik app on your iPhone to access your account. Click on the "Settings" option on the main page. It is located on the upper right corner of the screen.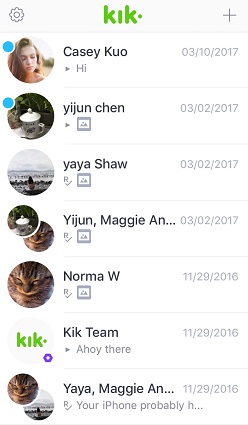 Step 2: next, tap on "Your Account" and you should be able to see your Kik username and your name.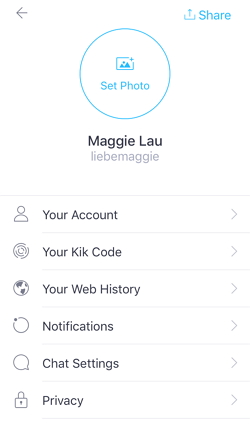 Step 3: Tap on "Name" to change your display name.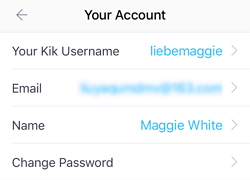 Step 4: A popup window will appear allowing you to enter a new name of your choice. Once you are happy with your new selection, click on "OK" to confirm.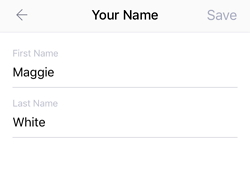 Step 5: You can go back to your account page to see if the name change has been successful.
2

How to Transfer Kik Messages from iPhone to Computer
If you need a safe way to back up your Kik messages or you just want to have a hard copy of your messages, the best way to do it is to export the messages to your computer. The best tool to help you easily export any number of messages from your Kik account to your computer is iMyFone D-Port. This tool is specifically designed to transfer not just Kik messages but any other type of data you want to transfer from your iPhone to your computer. The following are just some of the things it can do.
It can be used to view and extract multiple types of data from your iPhone including Kik Messages and their attachments.
The preview function allows you to see and choose the type of data you want to export.
You can also use D-Port to download and extract Kik messages from an iCloud backup file.
It is also handy when you want to view and extract data from an iTunes backup.
Did we mention that it is very easy to use and completely safe? Try it! You have nothing to lose.