Part 1. What is iPhone Guided Access?
Access on iPhone is an accessibility feature which lets you turn off button presses, taps, gestures, and other activities on your iPhone apart from the ones you can do on your current app. In other words, guided access on iPhone only allows access to a limited number of applications. This method is ideal if you are trying to prevent your child from accessing some apps on your iPhone. If they press the home button while guided access is enabled, they will need to enter a passcode before they can disable the feature.
Guided access is similar to the guest mode feature on other devices. It lets you hand over your phone to anybody without being bothered that they will go through your personal files and information.
How to Enable Guided Access on iPhone
Go to settings on your iPhone.
Click on General and then Accessibility.
Scroll to the Learning section and tap Guided Access. You will see a toggle switch, turn it on to enable Guided Access feature on your iPhone.
Tap passcode settings.
Tap the "Set Guided Access Passcode" option to set your passcode.
Turn on the toggle switch on the accessibility shortcut. Once it is on, you will be able to tap the home button for three times to turn on guided access within any app you want.
Part 2. How to Unlock Guided Access on iPhone
1. Unlock Guided Access on iPhone in One Click
Unlocking guided access on iPhone does not have to be a lot of stress for you. There are reliable tools that you can use, and one of them is iMyFone Fixppo. Should you find it difficult to unlock guided access on your iPhone, it is a problem that you can fix with this tool. iMyFone Fixppo software is easy to use and highly efficient. It is safe, and it keeps the data on your iPhone intact while ensuring that the problem with your iPhone is fixed.
Core Features of iMyFone Fixppo
iMyFone Fixppo fixes any issues with your iOS device while keeping the data on the device safe by using either the Single-Click method or Standard Mode.
You can use this tool to fix a lot of iOS problems such as such as iPhone stuck in recovery mode, iPhone stuck on factory reset, etc.
If any feature on your iPhone is not working, iMyFone Fixppo can be used to get your iPhone back in order. For example, if you are unable to turn on Wi-Fi or GPS or Unlock Guided Access, by using the iMyFone Fixppo, these issues should be sorted out in no time.
It is an easy-to-use software and does not require any technical skills.
It supports different iOS versions including the latest iOS 12 and iOS 12.1
Using iMyFone Fixppo Software to unlock Guided Access on your iPhone in one click is an effective method. You can follow the steps below.
Step 1. Launch the software and select Advanced Mode right on the tool's homepage.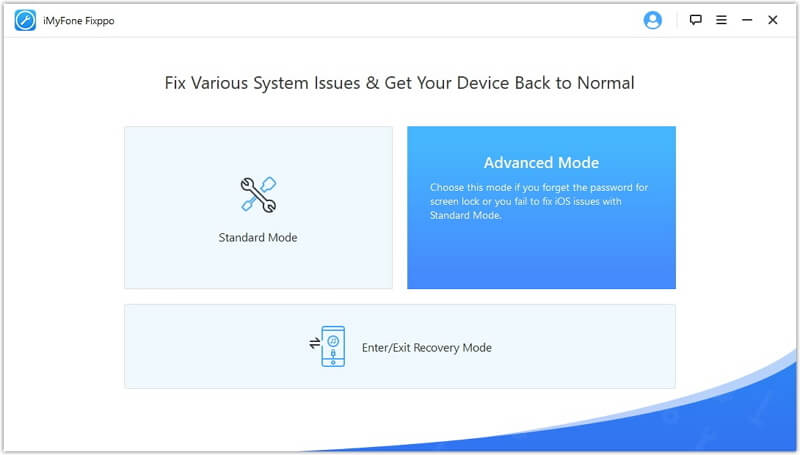 Step 2. Connect your phone and click on the Next button.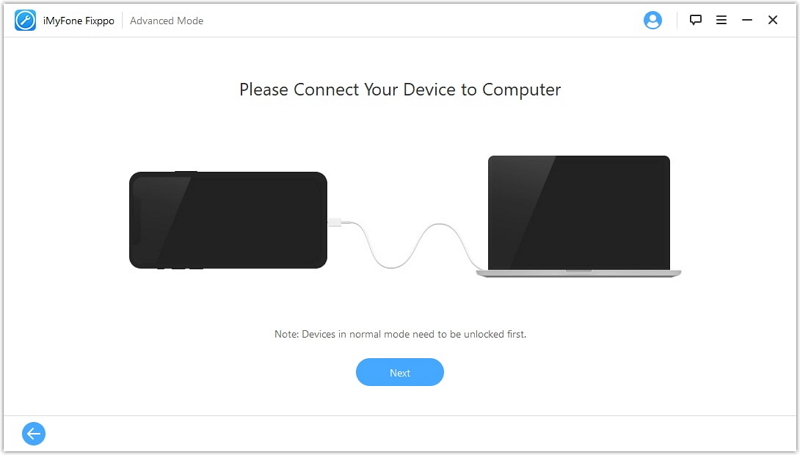 Step 3. Choose corresponding  firmware versions and lick 'Download' to install the firmware package.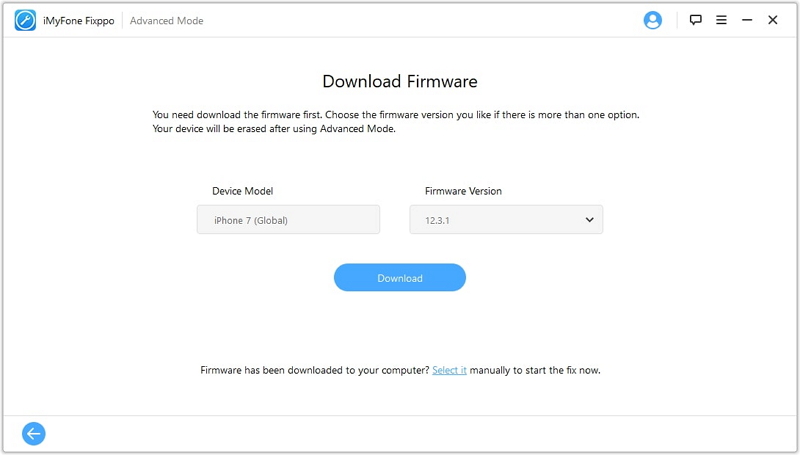 Step 4. The fixing process will start and your iPhone guided access will soon be unlocked.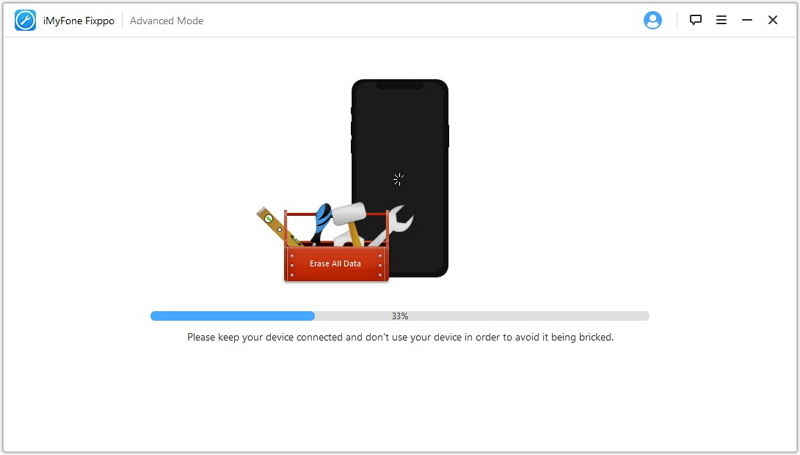 After the completion of the process, if your device does not restart, try the mode again or go back and use the Advanced mode.
2. Set New Guided Access Password Without Previous Password
You can do this through a hard reboot. You need to have a lock-screen passcode on the iPhone, and if you do not have one, you can set one through the "find my phone" app by logging into your iCloud account. After you have set this passcode, you can then do a hard reboot of your iPhone by simultaneously long-pressing the power and home button until your iPhone turns off. With the power button, turn the phone back on, and it will boot to the lock screen. Once you enter the passcode, your phone will exit the guided access mode and return to the normal home screen.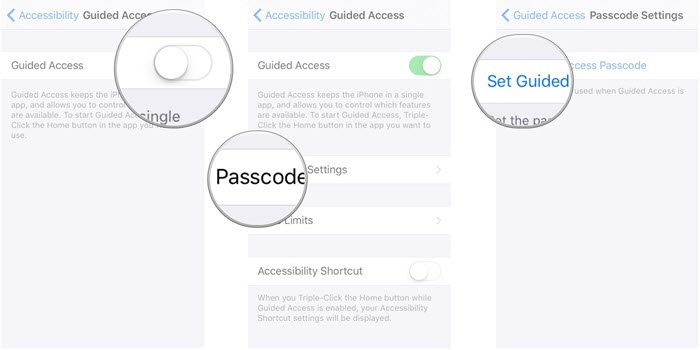 3. Disable Guided Access without Password Using iTunes
You can also disable guided access on your iPhone by connecting to iTunes and choose the "Restore iPhone" option. This will restore your iPhone to factory settings and wipe all the data on it.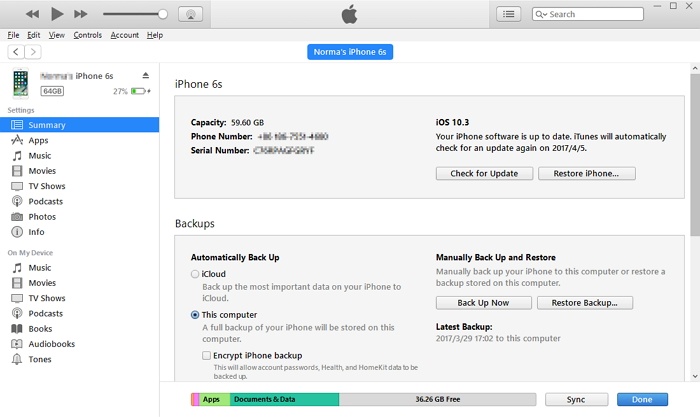 iPhone guided access is an effective way to keep your iPhone and private files on your iPhone away from strangers. But in case you are unable to take your iPhone out of this mode then, there is a problem, and this is what you need iMyFone Fixppo software for.