As a Macbook user. if you don"t know what the cookies are and what's all this hassle is about, you"re not alone in this. For the users of Safari browser, this article is the thing! Here you will be learning some basic information and some tips & tricks on how to clear cookies in Safari on Mac. So, pay attention!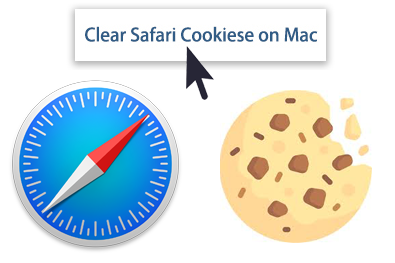 4 Proven Tips to Clear Cookies in Safari on Mac
Other Tips You May Want to Know
Tip 1: How to Find and Delete Cookies in Your Safari Browser
Most of the times, a user can manage their browser's cookies from the settings window of the browser. For users of MacBook, there's an option to delete cookies in Safari. Moreover, every browser comes with a "clear private data tool" which ensures and facilitates deletion of cookies. However, there's one particular issue that arises with the removal of cookies. Once you delete them, you are automatically logged out of all the sites that you use. This means that when you use those websites again, you will need to reenter username and password.
Nonetheless, it is possible to remain logged into the websites that you happen to use frequently and still block all other websites form using cookies. You can learn these methods by specifically looking for them on the internet. There are certain guides that could help you with this. For Mac users or those who have Safari browser on their systems, here's a simple step by step guide to view cookies from their system.  
Go to Safar > Preference> Privacy.
Once there, click "Manage Website Data" button.
Finally, click "Remove all" and delete all cookies stored by Safari on your Mac.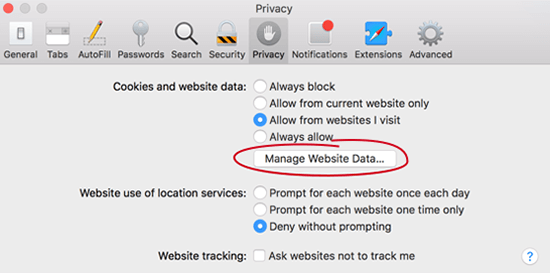 Tip 2: If You Use Old macOS Version, Here Is Another Way
As an old Mac OS X user, you will know that you are allowed to remove all types of cookies by simply resetting the safari browser. Even though this is considered as the last resort option, it means that everything gets cleared including username, passwords and autofill on different websites, browser history etc.
Press the "safari menu" on the top left and then select "reset safari" option.
It shows you a list of options.
Tick off the one you need and click "reset".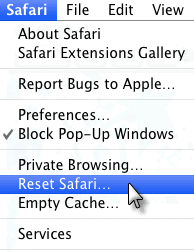 Apart from this, did you know that there is an easier and simpler way to get rid of cookie problem? There is no doubt that you can achieve the target by using a powerful Mac cleanup software. For this, we strongly recommend Umate Mac cleaner! What's this software about? How effective it could be? Let's learn about it in details.
Tip 3: Try Umate Mac Cleaner to Remove Cookies from Safari Like A Pro
Umate Mac Cleaner is an advanced and powerful Mac cleaning application that comes with an "all-in-one" package. This app is capable of efficiently cleaning up and boosting the performance of your Mac in a doable way as compared to manual operation. And you will find ways about how to clear safari cookies.
When it comes to Safari cookies removal, the app is very helpful with the unique "Erase Private Data" feature. It can delete some private stuff on your Mac with this function, including online traces, usage traces, chat data, mail attachments and photo junk. And the Safari cookies is a part of online traces. Let's how it works.
Follow these steps to remove cookies from Safari on Mac:
Step 1.Install the Umate application on your Mac.
Step 2.Select "Erase Private Data" function and hit Scan button.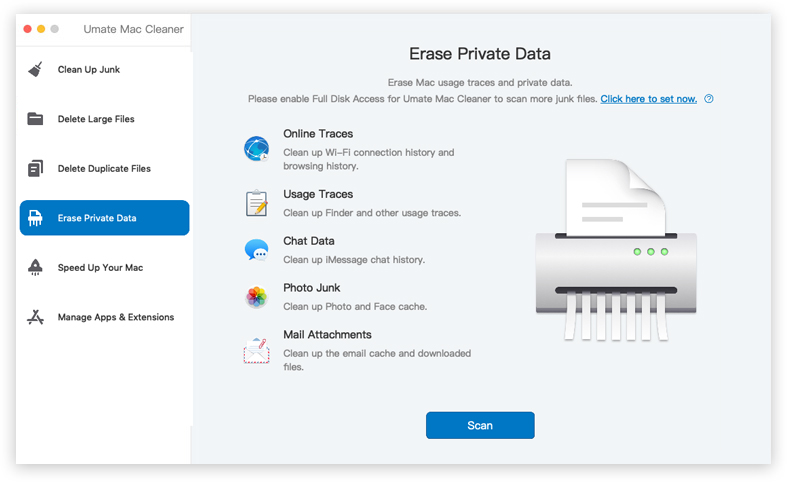 Step 3.Choose the items you"d like to delete and click "erase" to delete them in a flash.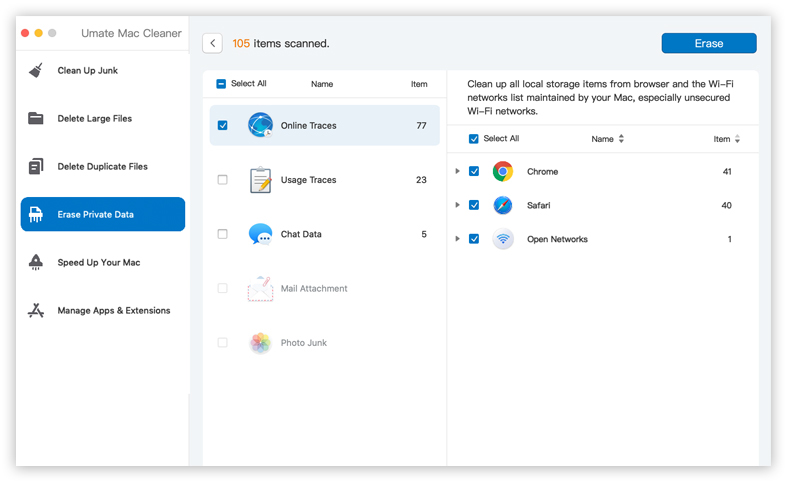 What make Umate Mac Cleaner unique:
| Easy to Use | One Click Removal | Unrecoverable | Secure Cleanup | Wide Compatibility |
| --- | --- | --- | --- | --- |
| Easy-to-follow operation and intuitive user interface. | Remove Safari cookies with just 1 click. | The data once removed is nearly impossible to be retrieved. | Safely removes Safari cookies without affecting important data. | Compatible with Macbook/iMac running macOS 10.14-10.9. |
Tip 4: Or You Can Just Block Cookies in Safari on Mac
Other than deleting, the user also has the option to block the cookies if they so like. Here's how it can be done.
Go to the safari menu and select "preferences" from there.
Visit the "privacy" tab.
You get different options in which you want Safari to treat cookies. These four options are as follows: Always block, Allow from current website only, Allow from websites I visit, Always allow.
Having selected the "Allow from current website only" option, close the "preferences" window. 
Note
We suggest you to select the Allow from Current Website Only option, which can allow first-party cookies (from the website you visit) and blocks those annoying third-party cookies (from the advertisers).

If you don"t want to block the cookies, you can choose not to disable cookies and delete them instead. That's what the following section is going to talk about.
How Does Cookies Work?
Cookies serve as an important feature for the browser. This means that turning them off will prevent you from logging into the websites.  Just as with any other thing in the world, the cookies also have both positive and negative uses.
When a user is browsing the websites on their Mac, the cookies are automatically stored in the web browser locally. Gradually, the cookies continue to pile up. When this reaches a certain point, the cookie pile will eventually make your browser slow. Different types of browsers face issues peculiar to them and have their own ways of getting rid of those problems. Let's just begin by looking at the adverse impact cookies have on your browser.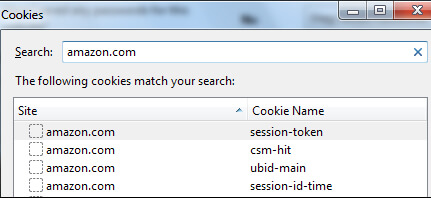 The Bad Sides Of Cookies You Need To Know
Different browsers have different options. As a MacBook user, it may be important for you to know how to clear cookies on Safari browser. In addition to the above, cookies have further disadvantages that might later turn into misuse.
Invade One's Privacy
Your browser is just like your personal diary. It stores some of the most sensitive and delicate information about you. For example, it remembers your username, passwords that you may have saved, and site data from every website that you visit. It goes without saying how critical this data could be.
Affect Normal Operation of Safari
The point is, when the cookies on the Safari browser piles up over time, they will become out of date and useless. At that time, these annoying cookies are not only occupying your disk space on Mac, but they also affact the normal operation of Safari browser. Some bad things will happen in Safari because of these damaged cookies, like freezes, crashes or other malfunctions. So, this is also the reason why you should get rid of these Safari cookies.
Allow Advertising Tracking
It's probably one of the most lethal and dangerous disadvantages of cookies. When a user allows a website to use cookies, they are allowing these networks to keep track of their activities. The purpose of this tracking is to study your activities and then show you advertisements based on your search results and interests.
In addition to just being browsing-friendly, cookies also have some questionable uses. Certain advertising and tracking networks can use these cookies to keep track of your activities across the web. Some websites borrow scripts from an online advertising network. This network can place cookies on the user's browser. As soon as you visit another website that uses scripts from the same network, the advertising network immediately measures the value of your cookie. This informs them that the same person has visited these two websites. In this manner, the advertising networks will be able to track all of your activities across the web.
Do You Want to Delete Cookies From Other Major Browsers Also?
Every browser tends to store cookies that have the same impact as the one stored by Safari on Mac. Just like Mac, the users can also delete cookies from these browsers. This is how to do it
Delete Firefox Cookies:
Open Firefox, go to main menu and select "history".
Press "clear recent history".
A window pops up where you can select cookies and then click "clear now".

Delete Chrome Cookies:
Click "show full history" by going to the "history" tab in chrome"s main menu.
Press "clear browsing data".
Select the period of which cookies you want to delete.
Tick off the box saying "cookies and other site plugin data" and click on the "clear browsing data option".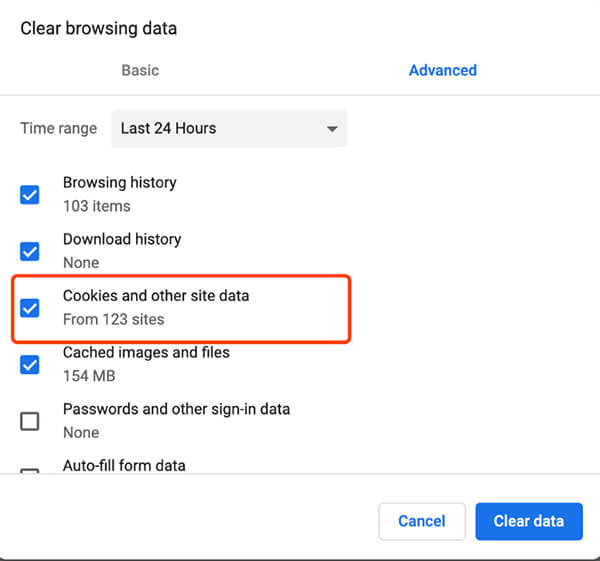 Delete Opera Cookies:
Click "history" in the menu bar.
Click "show all history".
Click "clear browsing data" and select the period you want to erase cookies for.
Select "cookies and other site data" and then click "clear browsing data".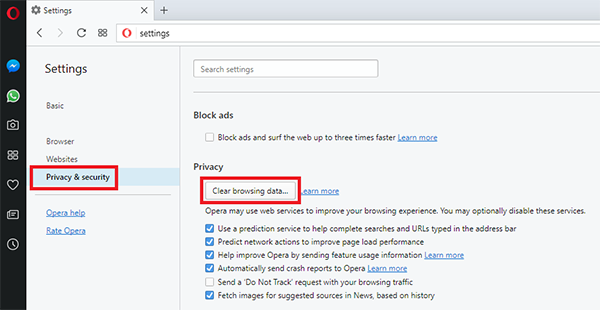 Final Thoughts
Most users do not know how to clear safari cookies on Mac and they end up in either failure or trying useless things. With Umate Mac Cleaner, you can get rid of all unnecessary items lying idle on your system. Removing this stuff enhances the space on the system along with the performance of MacBook.