Regardless of the kind of computer you use, you may come across the black screen issue once in a while. MacBook Pro users have also experienced this glitch. MacBook Pro black screen issue does not mean that your computer is done for good; rather it's just a glitch caused due to some possible underlying issues that can sometimes interrupt your work leaving you frustrated and annoyed. This is a short troubleshooting guide that will take you through all the steps that you can try on your non-booting black screen MacBook Pro to fix the problem. 
Why Did My Macbook Pro Screen Turn Black?
If your MacBook Pro screen goes black randomly, you need to figure out the reasons for that first. There are five major issues that may cause your MacBook Pro to show a black screen instead of booting. They are given below. 
1. Power Issues
If you experienced the problem of Mac screen goes black, power issues are the first thing you need to check as they are one of the most common problems that lead your MacBook to show a black screen and halt booting.
2. Broken Disc Permission or Login Items
Another common problem that may cause your MacBook Pro to show a black screen and interrupt the normal booting procedure is broken disc permission or login item issue. Sometimes, there are some problematic applications running in your laptop that interfere with the auto startup list and prevent the normal booting procedure in your MacBook Pro. This can lead to a screen black of MacBook Pro.
3. Software or App Error
The software or the apps you have in your MacBook Pro can sometimes have bugs in them that can lead to an error. This error due to software or application bugs can interrupt the regular booting process of your MacBook Pro and cause it to turn black.
4. Software or Hardware Incompatibility
A software or hardware incompatibility issue may occur after you have upgraded to the latest macOS. This is a valid issue that sometimes leads to a MacBook Pro black screen issue because of the unresolved bugs or incompatibility issues that the new update may have.
5. Poor Connect
For your MacBook Pro to function properly, the connections within your computer must be strong. If they become loose and dusty, your computer may face black screen issues.
How to Fix MacBook Pro Black Screen Issue
We have come up with some easy solutions to help you if your MacBook Pro screen keeps going black. You can follow these easy methods first and find out if they are work to fix your problem.
1

Check your MacBook Pro's Display First
If your MacBook screen goes black, please check its display first. It's possible that you have accidentally pressed the brightness keys on the keyboard and that cause the black screen issue. To fix it, you can press F1 and F2 keys to adjust the display's brightness. If that doesn't work, just try the other solutions next.
2

Restart your MacBook Pro
If you turn on your MacBook Pro and it starts showing you a blank screen, the first thing that you should do is restart your computer and hopefully, it will continue to boot up normally. If this doesn't work, you can try the following solutions.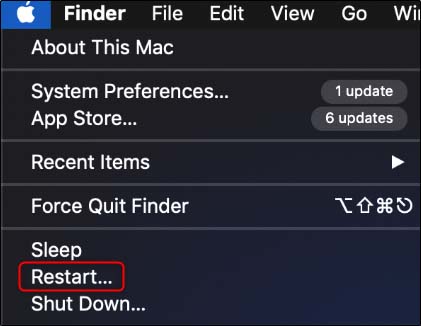 3

Wake up Your Mac from Sleep Mode
If your MacBook gets into sleep mode, that may also result in the black screen situation. In that case, you can try to wake up your Mac from sleep mode. How to do that? You can enter the first letter of your user name and hit the Enter button. Then your Mac will recognize the wrong user name and give you a response. And next your Mac will back to normal again.
4

Enter Your Password
Entering your password is useful sometimes to resolve the problem, so you can also try this easy method when your MacBook Pro screen goes black. Just enter the password of your device and press the Return key. After that, hopefully the black screen has gone.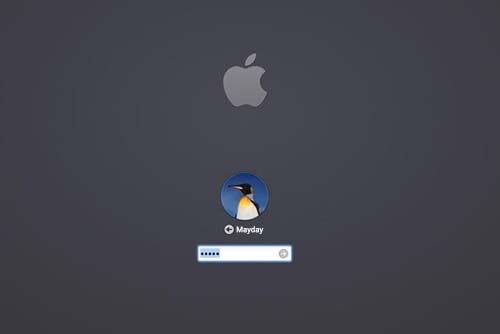 5

Disconnect All The Peripherals
If you have any peripheral devices connected to your MacBook Pro, disconnect them from your computer, and restart it after shutting it down forcefully. Connected peripherals could interfere with the booting of your computer which can be prevented by disconnecting them and turning on your laptop again so it can boot normally. 
6

Disable Startup Items
There are some apps that launch themselves on startup without asking for your permission. If there are too many startup items when booting your Mac, that is also one of the possible reasons for the Mac black screen issue. You need to disable startup items on your Mac like this:
Go to System Preferences.
Then choose Users & Groups from the options.
Choose your user name on the left.
Choose Login Items tab.
Tick off the startup programs you want to disable.
Press the "–" sign below.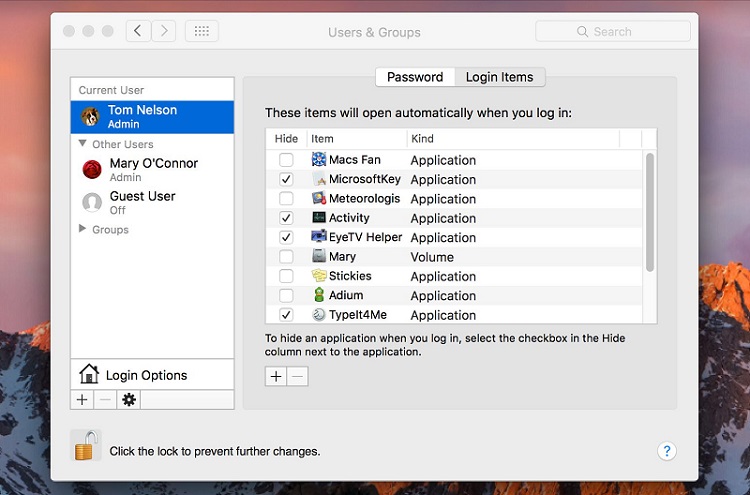 Actually, you can also identify and disable these startup items by running Umate Mac Cleaner. This is a remarkable program that has a "Disable Startup Items" feature to disable these sneaky startup apps that interfere with the normal functioning of your MacBook Pro. It can efficiently detect the startup items, including the hidden ones. You can conveniently disable them in one click or do it one by one according to your preference. And don't worry, it will not cause any data loss or file corruption.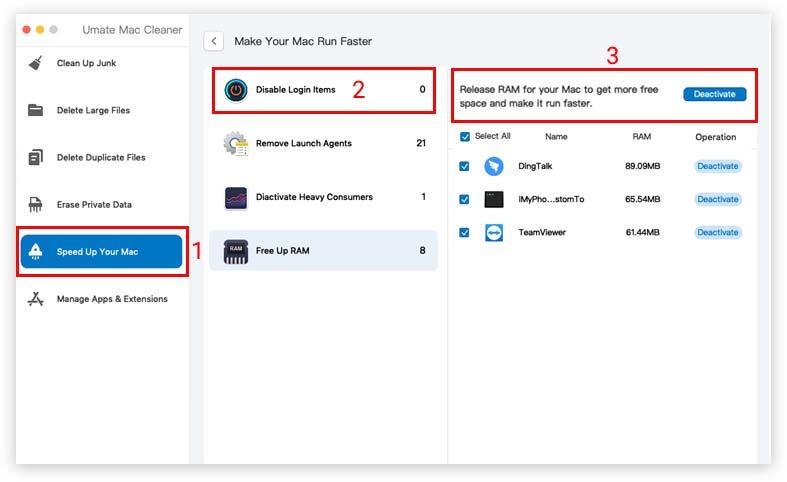 7

Try A Keypress Sequence
Apple laptops have a special sequence of keys that you can press to turn off, reset, or to put your MacBook Pro to sleep when it is stuck due to an issue. This procedure can help fix some issues that interfere with the normal booting of your computer and showing a black screen. Follow the given steps to help fix this issue for you. 
Press the power button and a dialog box will come up but you won't be able to see it on the screen. 
Press the "S" key on your keyboard which can make your MacBook go to sleep. 
Press and hold the power button until a forced shutdown of your MacBook Pro occurs. 
Now, wait for at least fifteen seconds after you shut it down. Press the power button again to turn it on and your MacBook Pro will boot up normally. 
8

Reset System Management Controller (SMC)
If restarting doesn't solve your problem, you can try resetting the System Management Controller (SMC). SMC will reset the settings related to power management in your computer and fixes the problems caused due to the fans, heating up of your computer, sleep issues, and the problems causing display issues. Here's how you can do it; 
Shutdown your MacBook Pro and make sure it is connected to your MagSafe adapter and a wall outlet.
To reset SMC, press Shift, Control, Option, and power button all at the same time for a little while. 
After a few seconds, release all these buttons together and start to boot up your MacBook Pro like you normally do. 
After resetting SMC, your MacBook Pro should book normally without showing a black screen. If the black screen prevails, you can try the next solution in order to fix it.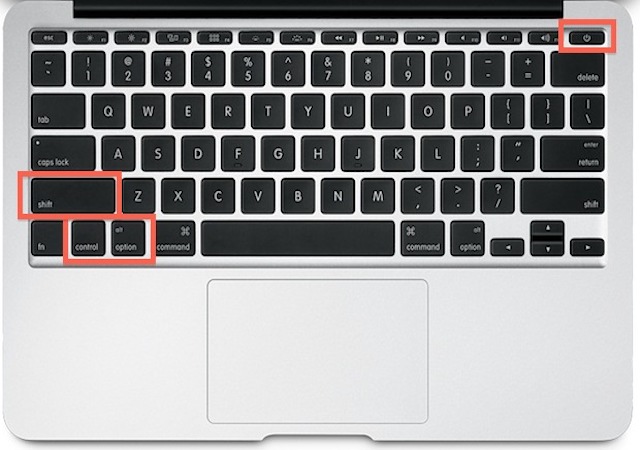 If this solution doesn't help fix the black screen MacBook issue, continue reading. 
9

Reset the NVRAM/PRAM
If none of the mentioned solutions worked for you and you are still facing MacBook Pro black screen issue, it might mean that the cause this time is a bit more serious and requires some extreme solutions. You can try resetting the NVRAM or PRAM in your MacBook which might fix this problem for you. To reset it, follow the given steps;
Force shutdown your MacBook Pro. (the procedure for a force shutdown is mentioned in this article above) 
Press the power button until you hear the startup sound, then press CMND, OPT, P and R keys all at the same time.
Hold all these keys together until you hear another startup sound then release them all together. 
You have now reset the NVRAM/PRAM in your MacBook Pro and it should boot normally now without showing you a blank screen. A catch about this solution is that you might lose some settings when you reset NVRAM. You can check the system preferences in your MacBook to see if the display, date/time, and the disc options are in the proper preferred order.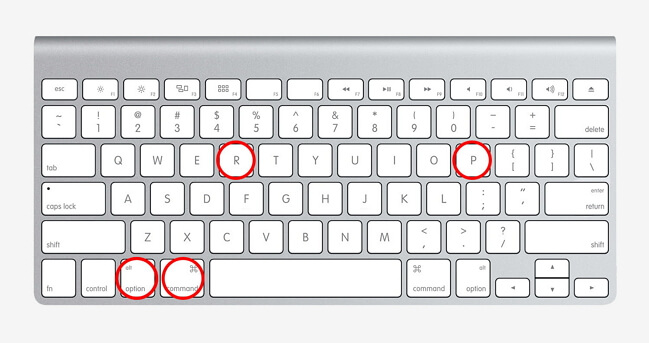 10

Update Apps And Reinstall The macOS
The Macbook black screen issue may occur due to glitches in the current software of your laptop. In order to fix this, you should update all the apps in your MacBook Pro to their latest available versions and also update your computer to the latest macOS. Before you update, make sure two things first:
Backup your MacBook Pro: Make sure you have a backup of your MacBook Pro. Without a backup in place, though, you could lose all of those important files if somethings go wrong. You can use Time Machine to backup your Mac.
Make sure there is enough space: Having enough storage space on your Mac is necessary for reinstalling the new macOS. If there is no sufficient storage space on your Mac to reinstall the new macOS, Umate Mac Cleaner can make things much easier again. It can help you find the easiest ways to free up the storage in your MacBook Pro for a smoother update. 
The cleanup features in this program are advanced and help you get rid of all the irrelevant items in your Mac that take up storage and cause your computer to perform poorly. Here is what this Mac cleaner tool can do to free up space on your Mac.
Clean up junk - Offer both quick clean and deep clean modes to clean up junks files on your Mac.
Delete large files - Locate and delete all the large files (over 50 MB) to create more space for your Mac.
Delete duplicate files - Find all the duplicate file on your Mac and remove them accordingly.
Manage applications and extensions - Uninstall unwanted apps or remove extensions to release more space for your Mac.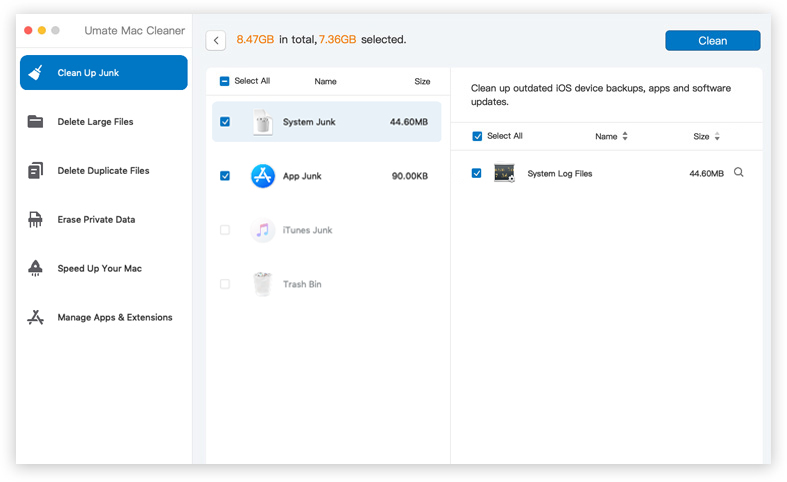 Umate Mac Cleaner is super easy to use. You can get a cleaner and faster Mac within just simple clicks. And you can check out the video guide below to get detailed instructions.
Conclusion
We have come up with some of the most effective ways that can fix the MacBook Pro black screen of death issue without damaging your device. Using Umate Mac Cleaner in your MacBook Pro can help prevent such issues from interrupting your work. And you can continue to have enough free storage and clean space in your computer to save your valuable information and work without interruption.