Among Us is one of the most popular online games in the world today. The game was launched in 2018, but it has quickly become a hit, because of the Covid-19 pandemic. Influencers like Chance Morris and James Charles have streamed it to millions of users. Today, it has transformed into a cult hit.
This is a multiplayer game in which ten players are taken into an alien spaceship, sky HQ, or planet base. Here, they are designated to play in a private capacity as either 'crewmate' or an 'imposter'. Today, the game has more than 90 million downloads across platforms. And if you have not played the game yet, here is your chance.
I have played the game several times and I can't get enough of it.
In this guide, I will show you how to play Among Us online free or with your friends using local Wi-Fi.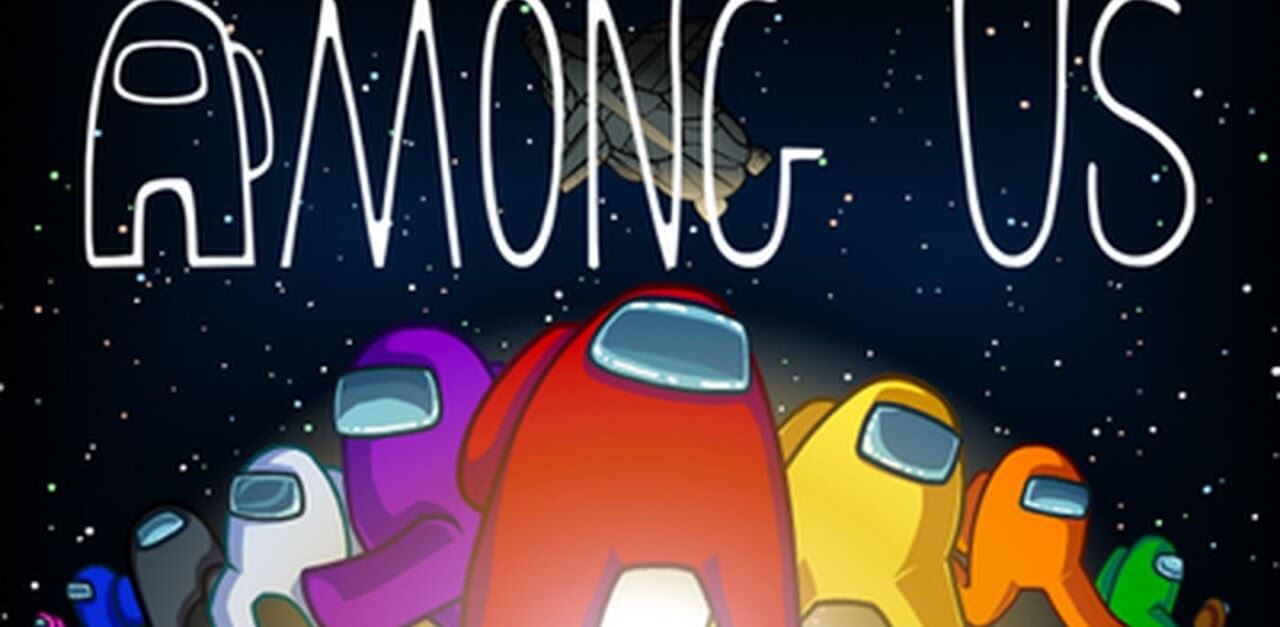 Part 1: How to Play Among Us Online?
If you are looking to enjoy Among Us, play online free with your friends. It is not hard, since all you need is an internet connection.
1. Imposter.io - Keyboard/Mouse Control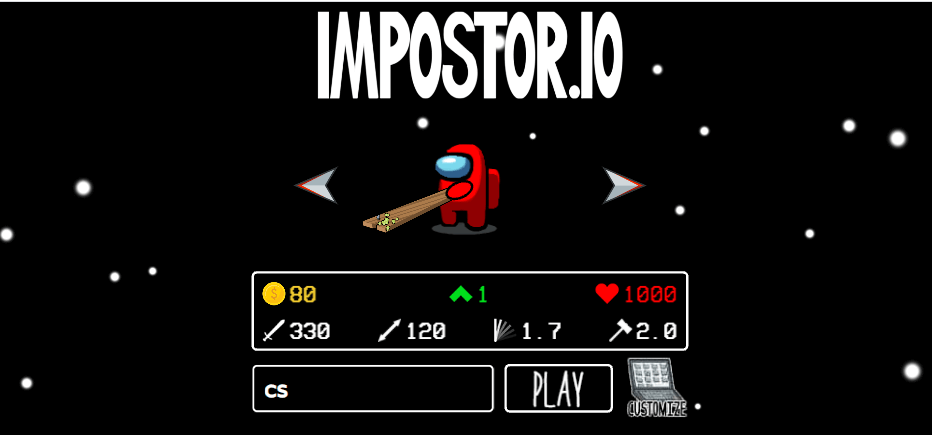 This is one of my favorite ways to play the game. The first step is to open the site imposter.io and enter your name. Click on "Play" and allow the game to load. You will find other players already in.
In this case, you are an imposter. Your job is to sabotage the ship while avoiding crewmen.  They will hit you when you come in contact, ending in your destruction.
You have bad in your hand for smashing through things and killing crewmen. You move from level to level with the number of kills and sabotages. The higher the level, the more enemies you will be meeting.
The game can be controlled with a mouse or keyboard. And using your mouse to control movement is recommended.
If you are playing Among Us game online using keyboard, here are some of the controls you should know:
Arrows UP/DOWN/LEFT/RIGHT – Use these arrows to move around.
W/A/S/D – Move up/left/down/right.
R – Press this key to report a dead body.
Tab – This key opens the map.
Escape – This key will close an open menu – like sabotage, map, and more.
Pros
Easy and free
It indicates how much life you have left
The keys are clearly marked
A large playing surface means more freedom
Cons
It does not seem to strike the enemy very efficiently. This leads to a quick fail as the others keep hitting you fast and with ease.
2. AmongUsplay.online - Keyboard and Mouse Control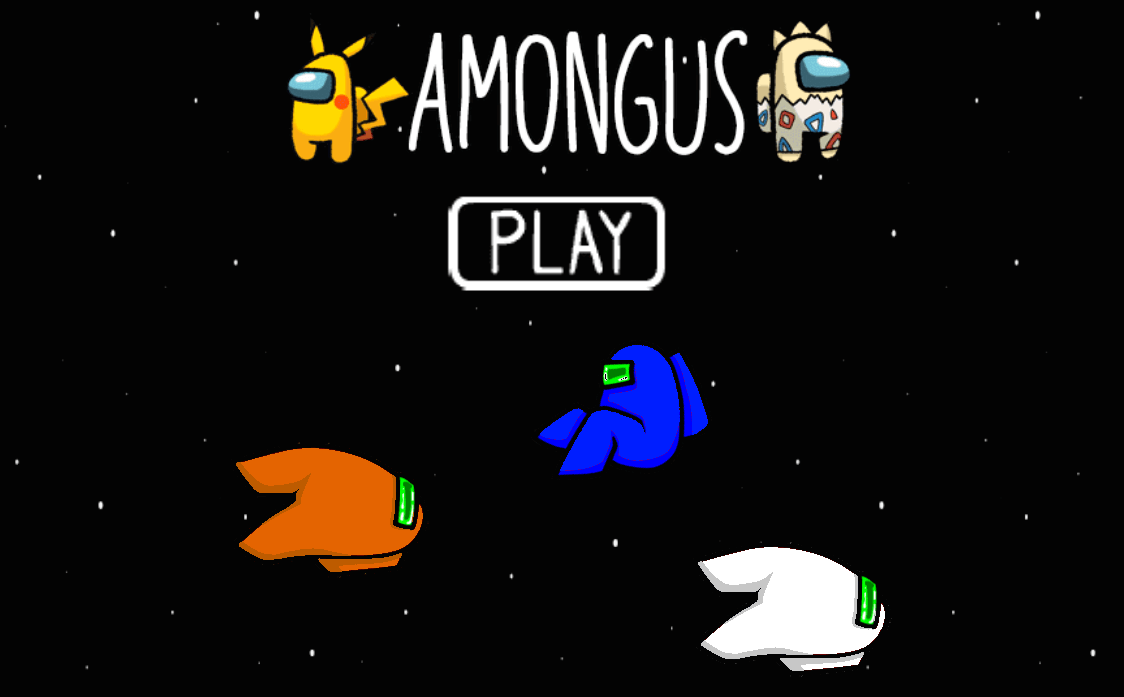 Another way to play Among Us online game is simply clicking on the site amongusplay.online. In this case, you will be using your keyboard to move around the ship and mouse to kill .
On the screen, you will see all the actions you can take to complete the given tasks. There are four simple moves in this option: sabotage, kill, report and vent. Use the mouse to click on any of these orders when in the right position.
The keyboard allows you to easily move around the ship using the arrow keys. While moving, avoid being detected by the crewmen as they will kill you, ending the game immediately.
Pros
Simple key layout
Fun to move around the game as you play
Mouse and keyboard control for convenience
Play in freedom
Free
Cons
The game goes back to start if you are stricken once, which makes it hard to grow fast at your level.
It does not indicate how much life you have left.
3. Kevin.games/among-us-online – Keyboard and Mouse Control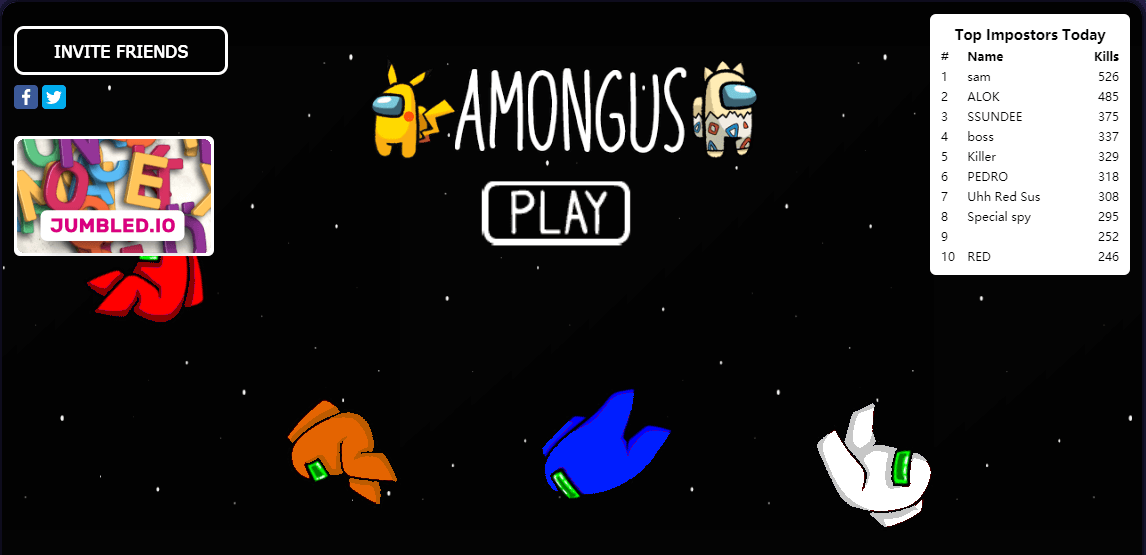 Here is another easy way to play the game Among Us online. Click on Google view site to jump to kevin.games/among-us-online. Then invite friends if you have any. If not, input your name and click on "Play". The online Among Us game is relatively straightforward. The first and primary method is to play directly from your computer or mobile device.
As you complete your tasks, they will be shown on the top left corner of your screen. Use the keyboard WASD keys or arrow keys to move around. And then click on the task using your mouse.
Enter different room and click on "Sabotage then choose what you want to do, for example:
I sabotaged the vent, which started the countdown to meltdown, playing as an imposter.
Pros
Convenient and easy
Moving into rooms makes it look more realistic
You are in control of what you play
It's easy to avoid detection and complete more tasks
Free
Cons
There are too many ads in the free mode
It takes time to learn all the right moves.
4. Using Google sites (Single player) – Keyboard and Mouse Control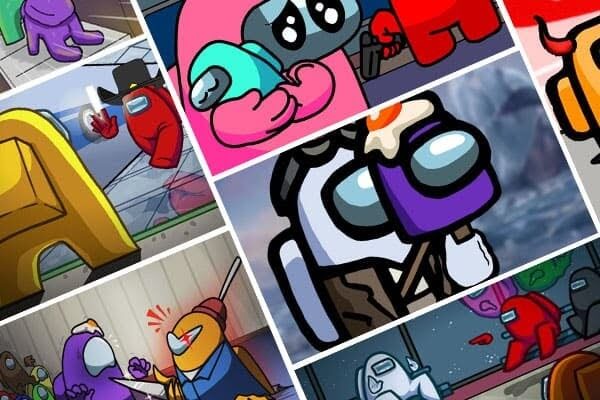 Click on play.sites.google.com to open the game. Then click on "Click to Play Now", wait for it to load. You can play with your neighbors or join a group of online players already excited to run you down. You may have to download and install BlueStacks on your PC to get the game application.
However, playing directly online is also a great option.
Once you have customized the game, click on start and you are good to go.
Note that you will be using keyboard and mouse control. The mouse:
Left click the mouse to run around freely.
Use arrow keys on your keyboard to move in different directions.
Click on Host and Create Game. Other players will connect to your session as long as they are on the same WiFi network.
Your name appears over your character.
Move around as you sabotage everything.
Right click to make a kill.
Pros
Play with people you know
Connect to local WiFi, which saves on data
It shows your life
Easy to create your team
Free
Cons
You may need some time to learn better playing tricks as you move across levels.
5. Among Us Online – Google Extension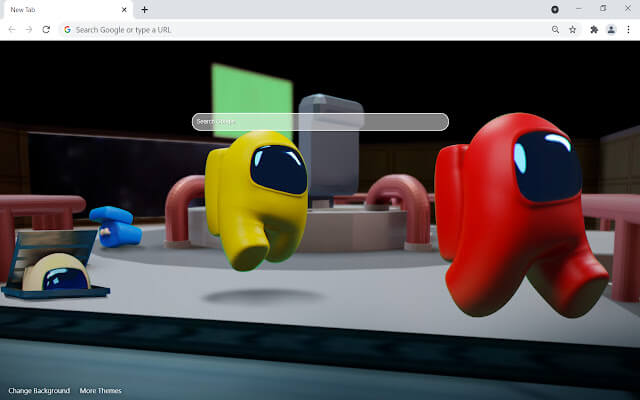 Another easy way to play among us is to use Among Us Online Google extension. This option offers HD Among Us wallpaper on a new tab. It is designed for online fans.
Click on the site above and download the extension by clicking on "Add to Chrome."
Once downloaded, click on the game and start enjoying
Pros
Totally free
Shuffle among different wallpapers
Choose your unique design
Enjoy diversity
Cons
It may get overwhelming if there are too many players
6. Among-us.io – Download and Play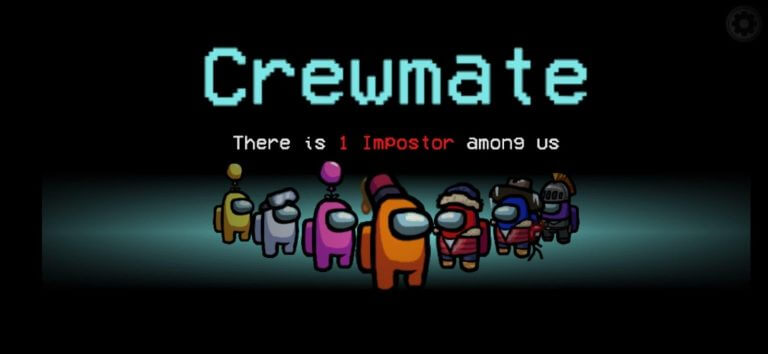 Play Among Us for free on your PC. This is a more convenient option as you don't need to log on any site whenever you want to play.
Click on the Download button from the page to install.
Launch the game, input your name and join thousands of players. Even if you don't have friends, you can still join others already playing.
Simple controls. You can either use a scroll directional pad or the touch/point and click mode. Call out if you suspect an imposter in the group, and communicate with others. You and your friends must constantly repair switches and other devices. You will also need to locate important cards and keys.
It comes with intriguing challenges.
Pros
Totally free
Easy to play
Excellent graphics and features
Cons
Downloading may require some payment
Question: Is it totally free to play Among Us Online?
Among Us online edition is a free game for most devices. If you have an iOS or Android mobile device, you can enjoy the convenience of Among Us online, no download.
Windows users will, however, need to play over the Stream Store or through the company's official site. They can purchase the game for about $5. The game is downloadable directly from the Stream Store after the purchase.
You can also play the game from Inner Sloth's Website and get a stream code. This allows you to download the game.
The process is simpler on Android or iOS. A player simply seeks the game on the app store and downloads it. The free version comes with ads, which you can remove by paying about $2.
Part 2: Is There Any Other Method to Play Among Us Online?
Yes, there is another way to play Among Us online free, apart from the above-mentioned methods. And that is by using screen mirroring.
There is no doubt that mobile devices have changed the world. They have more applications than PCs, and that is why most of us enjoy them. Unfortunately, the screen sometimes is just too small. That means you may not enjoy playing Among Us. The best solution to this is through screen mirroring. This is a process that uses applications that magnify your small Android or iOS device on a bigger screen.
With the screen mirroring software, you can not only play the game on the computer, but also stream your phone to the live broadcast platform like Youtube to explain the gameplay or make a tutorial.
Here is how you can use the application.
For Android
As iMyFone MirrorTo, which is specially customized for Android mobile devices, many users have priority in choosing this software through its simple interface and simple steps.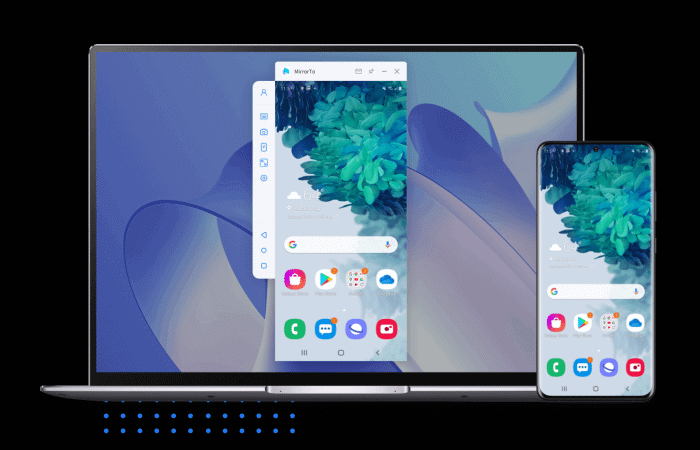 Steps to Play Among Us oneline using MirrorTo:
Launch MirrorTo and install it on your PC.
Connect your phone to the PC via USB cable.
Turn on 'USB debugging' in the 'Developer' option. And iMyFone MirrorTo apk file will be downloaded directly on your phone.
Now your device has been successfully mirrored on your computer. Use keyboard and mouse to control among us games and apps freely!
For iOS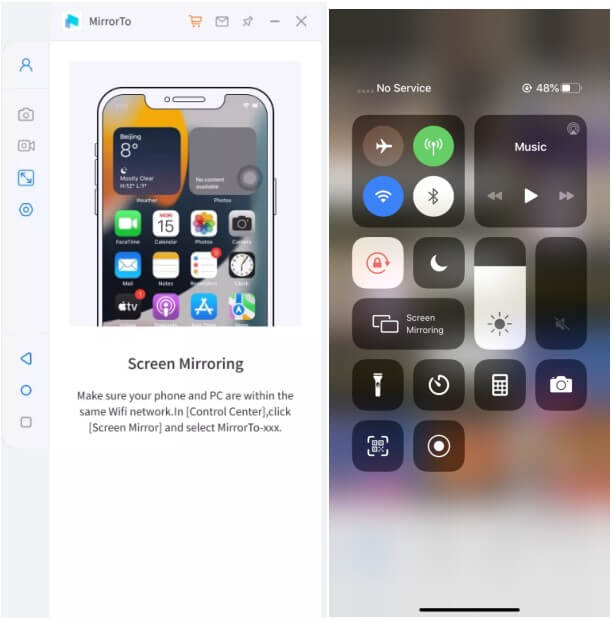 Download MirrorTo from App Store
Connect the device on your PC using the same Wi-Fi network
Open MirrorTo on the iOS app and choose your PC
Click on 'Phone Screen Mirroring.' Your iPhone should appear on the PC
Now launch Among Us online and enjoy
Part 3: You May Also Want to Know (FAQs)
1. Can you play Among Us online without downloading?
Yes. Many people use the Among Us download version because they don't want to keep searching the internet for it. The application is much easier. You can still enjoy the game without downloading it. According to reports from those searching for this option, the game is free to play on mobile. However, the Among Us Free Play No Download is supported by ads.
2. Is Among Us really online?
Yes. Among Us is an online multiplayer game that lets up to ten people play together. They take the roles of "Crewmate" or "Imposter". Crewmates must identify imposters in the game who sabotage the operations on the ship.
3. Is Among Us Free?
Yes and no. The mobile version is said to be free, but it's flooded with ads, which support it. Any player who wants to get rid of them pays $2. PC users will have to pay $5 to stream the game as there is no app.
4. Is Among Us safe?
Among Us does not have any safety features or parental controls. After its release, it was originally rated PEGI 16 but later reclassified to PEGI 7 after drawing so much interest.
5. Why is Among Us Dying?
The main reason is its basic design which does not lend itself well. It has a small development team that has failed to create updates. Also, the prolonged interest has just killed the buzz. Among Us will only keep fading.