Screen mirroring app has never been easier with its introduction. It wirelessly mirrors content from your mobile device to your TV, allowing you to instantly share photos, watch TV shows, videos and movies, and even play games.However, of them, Anyview cast app has gained considerable traction in the last few years. If you're planning to use this software but couldn't decide if it's worth or not, then this guide is meant for you. Check out its key features, reviews, and how to use it for screen mirroring. Plus, you'll learn about the best alternative to this mirroring app.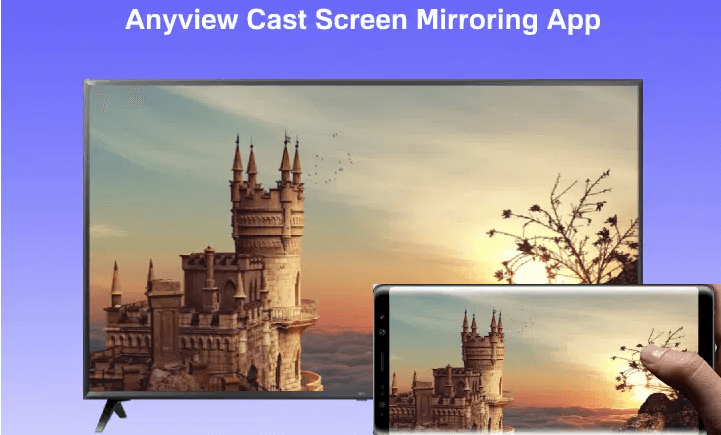 Part 1. Everything about Anyview Cast App
Here's a detailed review of the Anyview Cast app of 2022.
1

What is Anyview Cast App?
Anyview Cast is a popular screen mirroring app. It offers a simple process for wirelessly connecting your smartphone, tablet, or even laptop on your Smart TV.

Once the connection is established, you can enjoy photos, videos, music, and games on a big screen. The aim is to save you from the hassle of using cables to connect your device to a Smart TV. Then, you can get a better visual experience.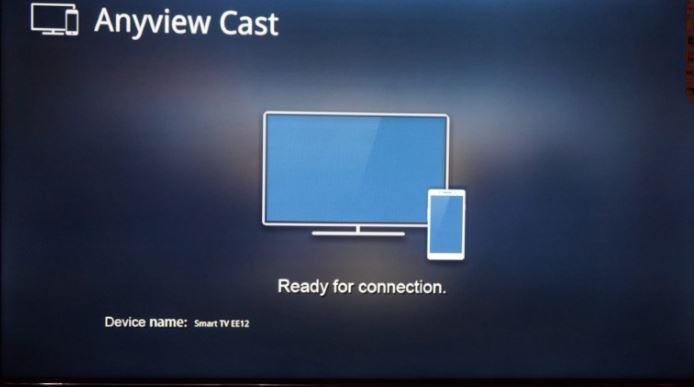 2

What You Can Do with Anyview Cast App?
The primary function of this app is to cast your devices on the Smart TV. Without needing any cable, you can directly connect your devices within seconds as long as they are connected to the same internet.

Plus, you can watch your favorite content on the big screen, share photos and share videos effortlessly. This app can be considered as a modern TV support service.
3

How to Use Anyview Cast App to Watch TV?
While the exact casting procedure varies from devices to devices, so you can follow the steps:
Step 1. Go to the Apps section of your Smart TV and download the Anyview app and launch it.
Step 2. Install this app on your phone, tablet, or laptop from which you want to stream content.
Step 3. Open it and navigate to Start screen mirroring > Select your smart TV. Then, enter the verification code it generates to connect both devices.
Note
The settings might be slightly different between different devices.
Step 4. Within seconds, the app will connect to your devices. Now, you can stream anything on smart TV without using a cable.

4

Truth Reviews about Anyview Cast App
Users have a mixed opinion about Anyview cast. It is a great option for streaming a smart device on a Smart TV, thought it even lacks basic mirroring features. Users don't have much control over the casting process along with having little freedom to customize the controls for convenience. This comes true for gamers who need a professional program for more advanced controller settings.
That's why it is a preferable option if you only want to cast photos and videos for a better visual experience. Else, keep looking for the more professional apps to get even better user experience.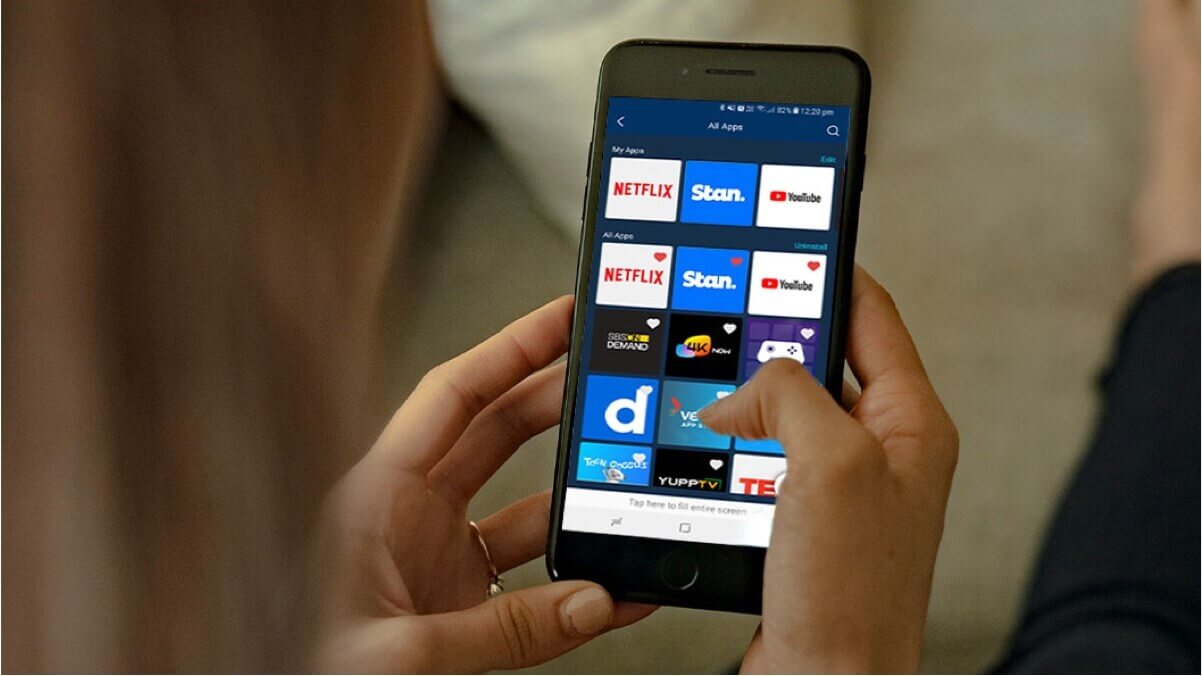 5

Common Questions about Anyview Cast App
We have gathered and answered some common questions of users regarding the Anyview Cast app. Let's read them up!
Q1. How do I connect my phone to Anyview cast?
It is a simple process. You just need to install the app on your phone and go to Start screen mirroring option > Select your Smart TV. The app will automatically connect your phone to Anyview cast on your Smart TV.
Q2. How can I cast Anyview to my iPhone?
The process for casting Anyview on your iPhone is same with other smartphones. First, you need to install the app on your iPhone and Smart TV. From your iPhone, look for your Smart TV's name and select it.
Then, complete the setup process to start mirroring your phone on the Smart TV.
Q3. What is Hisense Anyview cast?
Anyview is available for all popular Smart TVs including Hisense Smart TV. Just go to the Hisense's App Store, download the Anyview cast, and start streaming your smartphone on the Hisense TV.
Q4. Can I display my phone on my TV wirelessly?
Yes, there're a lot of apps support you to display your phone on TV wirelessly. Choosing the right application can make sure that you get the perfect visual experience and have fun playing game without any lag.
Part 2. Better Alternative to Anyview Cast App
iMyFone MirrorTo is the best and most efficient alternative to Anyview cast in terms of features, ease-of-use. Here's everything you need to know about this remarkable program:
1

What is iMyFone MirrorTo Screen Mirroring App?
iMyFone MirrorTo is a one-stop solution to mirror your Android and iOS devices on PC. It supports iOS 7 and above, including iOS 15 & Android 6.0 and above. It offers all the stellar mirroring functions to freely control everything on your smartphone via mouse and keyboard.
After connecting your devices, iMyFone MirrorTo lets you watch TV, play mobile games, send and receive messages and use every kind of Apps without any lag.
2

Features about iMyFone MirrorTo

Cast your smartphone on a PC with a click quickly.


Convenient for your work, like meeting and teaching.


Select customizable options to improve experience.


Watch movies and enjoy Tiktok live stream home screen.


3

How to Mirror iOS Devices to PC?
Check out the below steps to cast your iPhone on a big screen.

Step 1. Connect your iOS device to the computer via USB cable. Next, tap Trust on your iPhone when it asks you to Trust This Computer.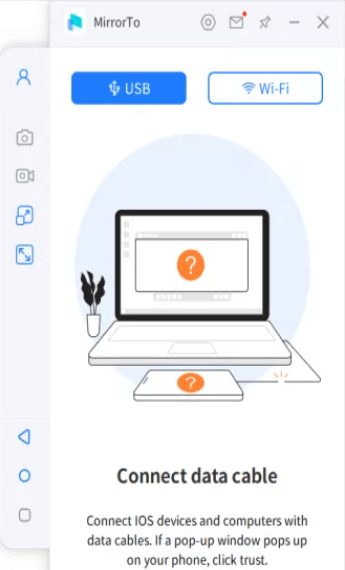 Step 2. Install the drivers first (If you don't have drivers). Then reconnect the device and restart MirrorTo.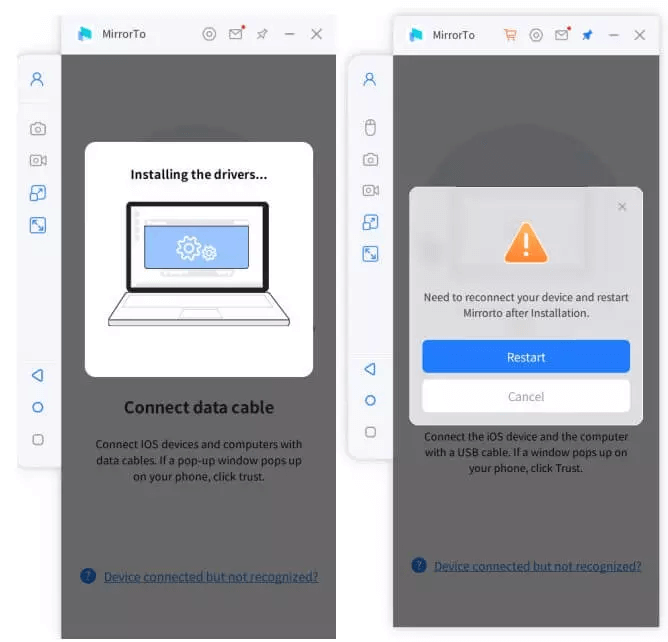 Step 3. Mirrored to the PC successfully. And Then, go to Settings, enter Bluetooth and pair the current screen casting computer.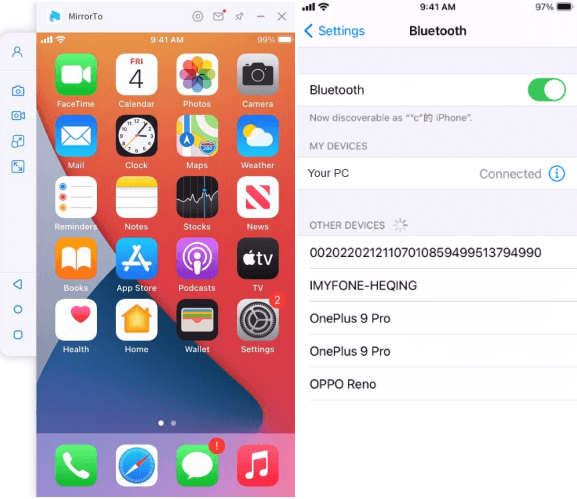 4

User Reviews of iMyFone MirrorTo
iMyFone MirrorTo is the industry standard when it comes to casting a smartphone on a big screen. Having millions of satisfied users, iMyFone MirrorTo is recognized by the world. What attracts the users most is its ease-of-use, consistent connection, lag-free gaming, movies playing as well as professional support service.
You can also check more user reviews of iMyFone MirrorTo.
Conclusion
Now you have got basic understanding of what is Anyview cast app and how to use it. Based on reviews, it's clear that Anyview cast is a not a go-to choice if you want more control over the mirroring process.
That's why we strongly recommend you to use iMyFone MirrorTo to get the most seamless casting experience. It comes loaded with all the advanced mirroring features coupled with a sleek interface that you need to start streaming your phone on the big screen.