Well, you got a green screen and are ready to jazz up your movies and broadcasts with crazy amounts of entertainment value. You bring it home, set it up, then afterward, you have no idea how to use it?
Does the camera automatically remove the green? Is it possible to use the green screen with your operating system? What exactly is the science behind obs chroma key?
This article will tell you how to set the green screen while live stream. Let's dive in.
Part 1: How to Set Up Chroma Key with Green Screen in OBS
A green screen is a fantastic method to add extra professionalism to your broadcasts, even if you're a novice to streaming or want to boost the style of your current life. When it relates to green screens, the software comes first. The easiest decision you'll have to make is which streaming software to use. For simplicity, we'll discuss Open Broadcaster Software (OBS), the most prominent app used by nearly every streamer. Trying to set up your green screen is pretty straightforward once you have it.
Let's read these simple steps to adjust your Green Screen through obs.
Step 1. OBS is available for download. Add your camera as a video source in OBS. Choose Filter from the context menu of the video source.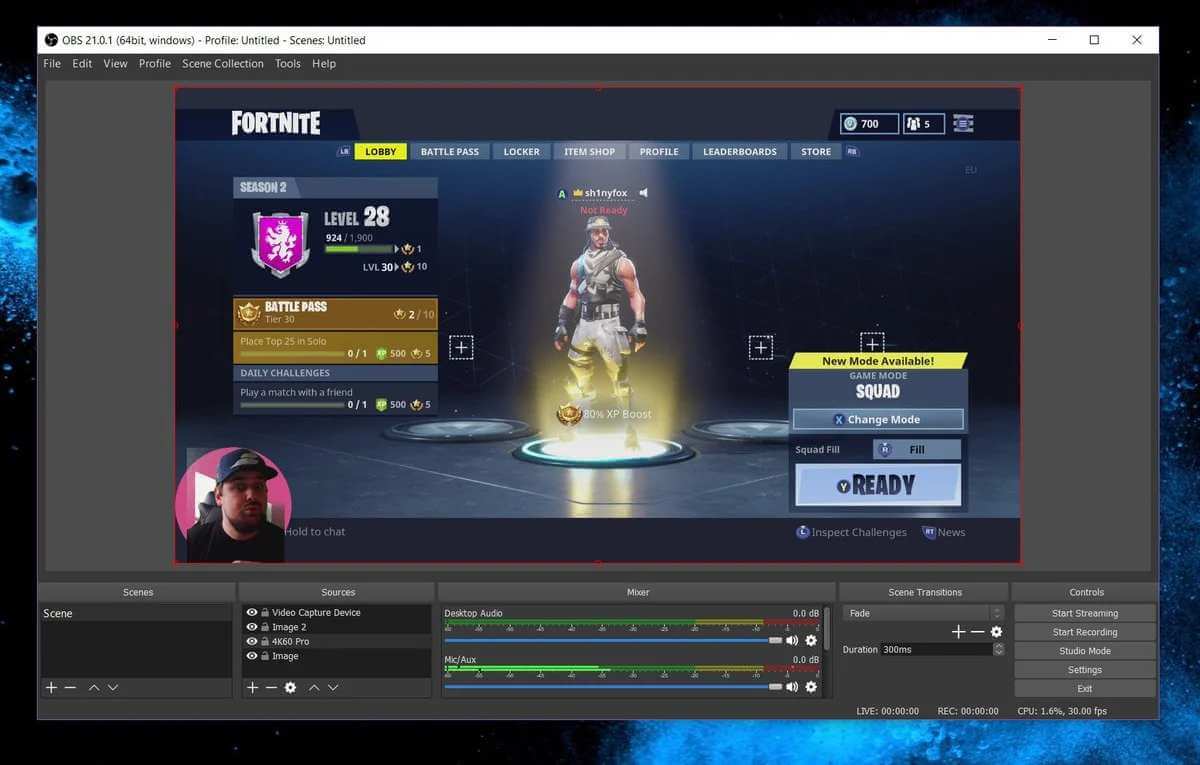 Step 2. Under the effect Filter box, click the Add option. Select the chroma key option.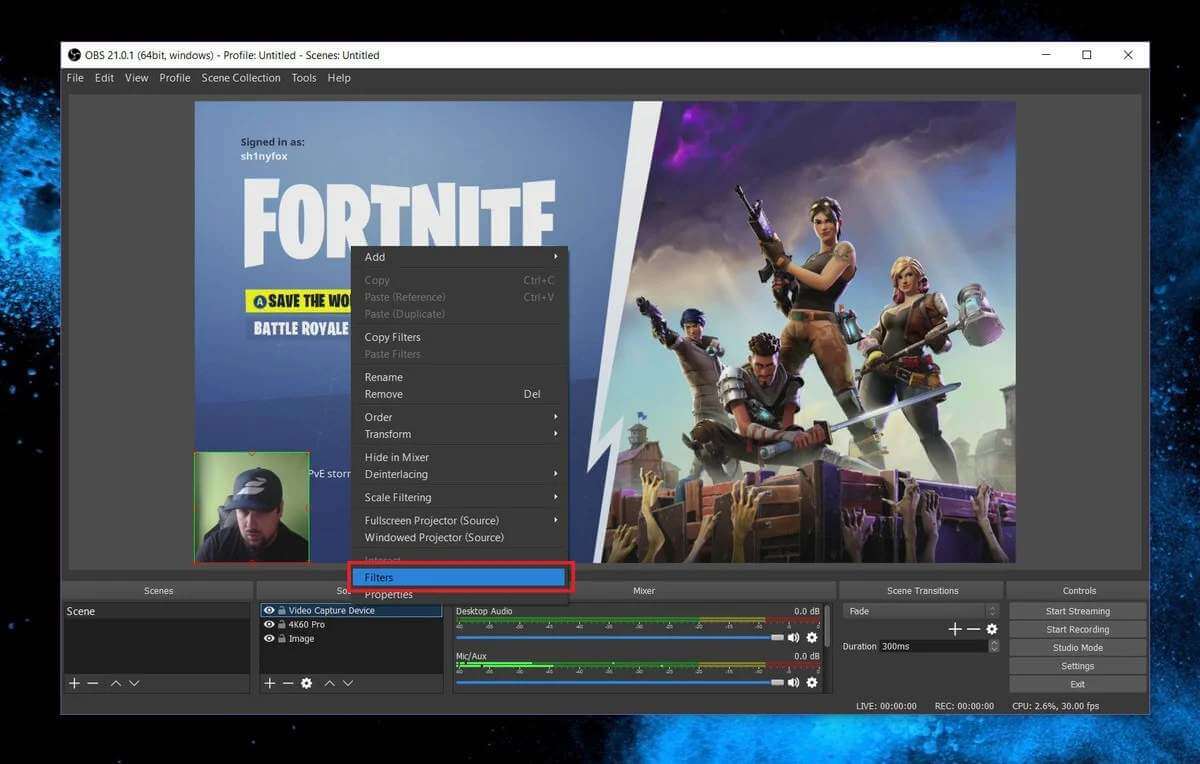 Step 3. Enter a name for the layer, and tune the settings for the layer should you need to.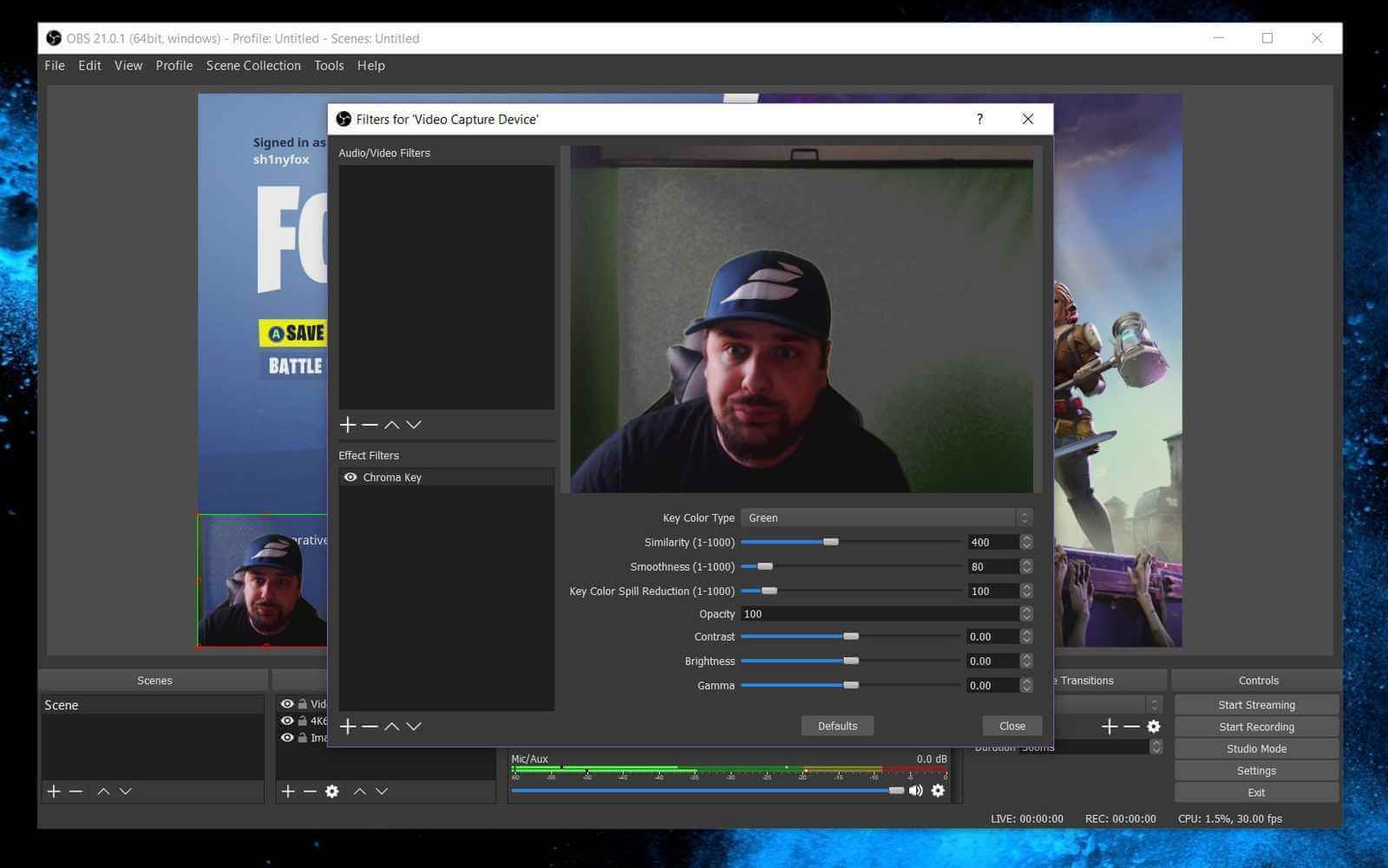 Bonus: Use iMyfone MirrorTo as Your New Live Streaming App
iMyFone MirrorTo is a mirror app built for both Android & iOS phones. It allow users to share their screen to their laptop and access their mobile data and then they can live stream on Twitch, Youtube, Instagram, Zoom, Facebook and other platforms. The application is easy to use, users without tech skills can easily explore the application and achieve their goals.
Mirror & Stream Your Phone Screen to PC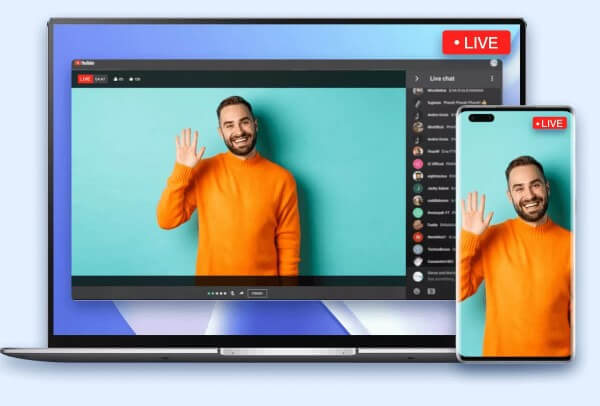 Effortlessly screen-share Android & iOS phones to PC and simultaneous transmission of audio.
Freely control your phone with a large screen from a computer.
Making your phone or tablet into a second blackboard, give you more freedom when teaching or meeting.
Part 2: 5 Tips to Make Your Green Screen Settings Better
These tips can be a lifesaver for most of us while setting up your green screen!
1. The configurations differ from one individual to the other.
This isn't an exact science, but you can't just copy someone else's chroma key parameters and assume you're good to go. From the quantity of light that enters through a window to the furnishings in their room, everyone's environment is unique. The chroma key is affected by all of these factors. Although your window may allow in a lot of light, your desk may cast a shadow on your green screen.
2. Go for adjustable software.
You may then fine-tune the parameters by sliding the bar or dialing in the exact numbers you want. Most programs work in the same way, providing the user with a standard chroma key and how they can alter afterward.
3. Look for new lighting alternatives for chroma keying.
In an ideal circumstance, the green screen will be evenly lit so that the color is consistent throughout. The chroma key color in your software can then be changed to the exact color, and it will function immediately. Life isn't always easy, and we don't work at worth millions of studios.
4. Set correct angles.
We suggest the following lights positioned at 45 degrees from the object for a general configuration, which will provide adequate lighting coverage across the green screen. You'll be better off if you can match the colors just on the green screen as closely as possible.
5. Shadows are more problematic than you might believe.
A more even chroma key is doomed by shadows. They shift colors and make it more difficult for software to determine the correct color, resulting in patchy keying and a flickering effect. It only appears to be a problem.
Part 3: 3 Ways to Remove Video Background without Green Screens in OBS
1

ChromaCam
ChromaCam is a desktop webcam application powered by artificial intelligence that lets you remove, blur, or consider replacing your real context in video social apps without using a green screen. Nowadays, most major video apps, such as Zoom, Skype, and WebEx, as well as video content apps like XSplit, OBS, and others, are supported.
One does not want other listeners to see a busy office in the backdrop when you're on a virtual video conference. In such cases, you may choose to blur or entirely replace your background to eliminate visual distractions and direct your audience's attention to you. You may even utilize PowerPoint slides as the background in the Pro edition of ChromaCam to create a powerful presentation.
Replace the background with your photographs or use a blurring filter to reduce visual noise, increase productivity, and protect your privacy. Video conferencing, web-based learning, and streaming services are all possible with ChromaCam. ChromaCam is compatible with Mac OS X 10.14 and higher and Windows (7, 8, 10, 11). OSX 10.14 with Windows 10 is recommended and an Intel 5th and 6th generation or faster processor.
---
2

CamTwist
CamTwist is a device that can be helpful in instances when you need to live-code a video streaming that can't be downloaded online. For example, in a web browser. If you want to create a screen recording of the online web browser to program in a post-capture environment, it's not the ideal offering like post recordings.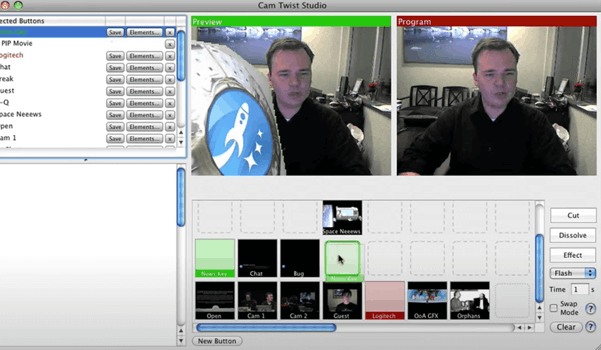 CamTwist's core principle is to produce a screen recorder of whatever clip you tell it to while also convincing the Mac that such a feed is streaming in from the thunderbolt connector. After you've set up CamTwist, you can create a Studio code capture window, and the CamTwist recording will appear as a video sequence to capture.
---
3

Manycam
With Manycam you can turn your phone's built-in camera into a webcam and use it on your desktop for live streaming and video chats. The goal of this app's development is to help you get the most from the assets you already have. This functionality is available with any of ManyCam's subscription levels.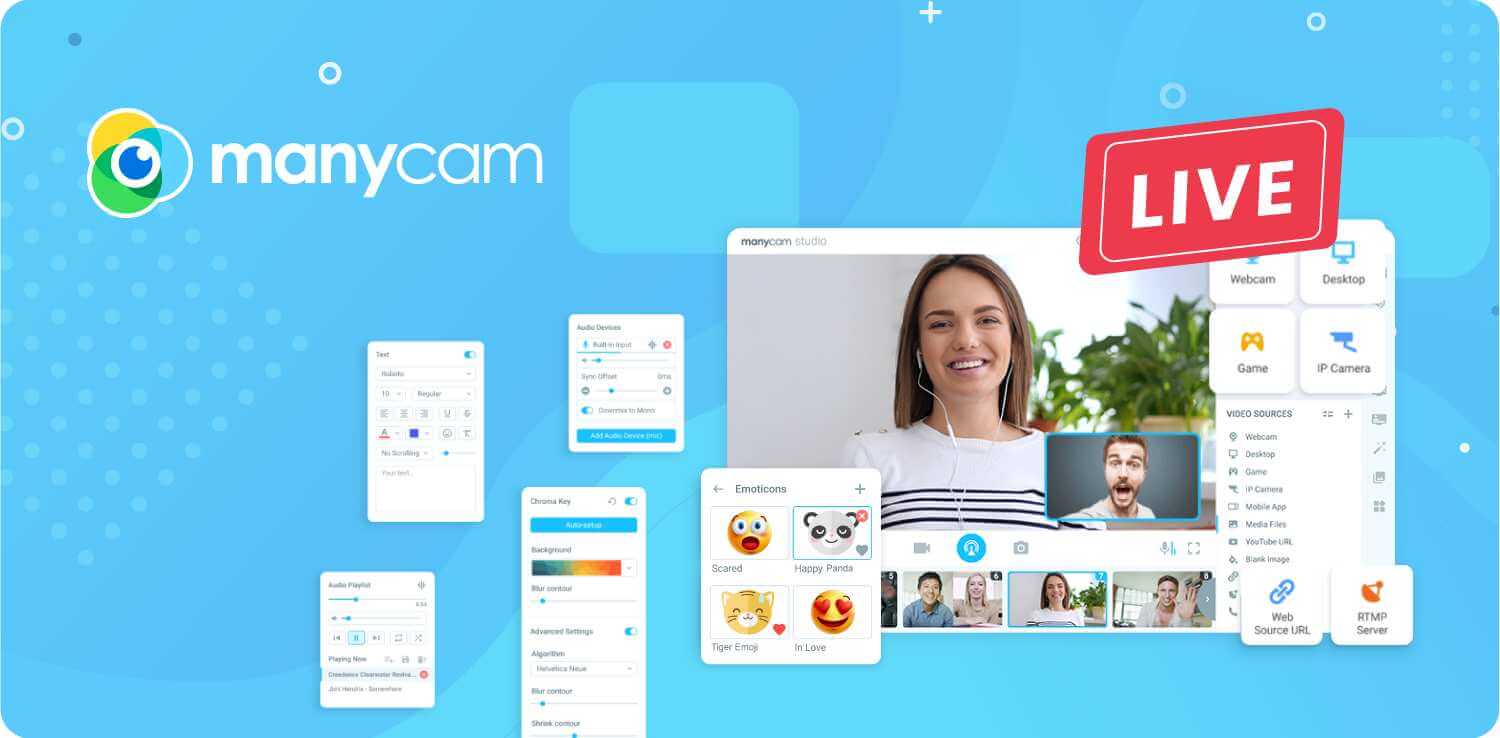 Even if you don't have a webcam, you can participate in a Google or Skype Hangouts meeting. You could hold your phone in a good place while still managing the meeting on your computer. If you have a tripod on hand, use it; if not, don't worry; I'm sure you'll find a method to mount your phone somewhere.
Summing Up
To summarize, our review article demonstrates that iMyFone MirrorTo is a capable mirroring program for broadcasting your Android or iOS device to a large screen. It comes with all of the top-notch features you'd expect from a high-end mirroring program. It also features a beautiful and inventive layout, offering it a turn screen mirror software even for those who aren't particularly tech-savvy. Download the premium subscription to access all of iMyFone MirrorTo's features. Please do not hesitate to contact us if you already have any questions.