Hulu is one of the most popular TV and Movie streaming platforms today, with numerous users worldwide. Users love the wide-ranging options available on the platform in high definition, giving them the best value for their money.
However, many people struggle with unlimited Hulu screens usage. After all, getting more screens considerably increases the benefit derived from your Hulu subscription, allowing you to share your package with others as well. Here, the article will focus on how Hulu Live TV unlimited screens feature works and the way to benefit from it.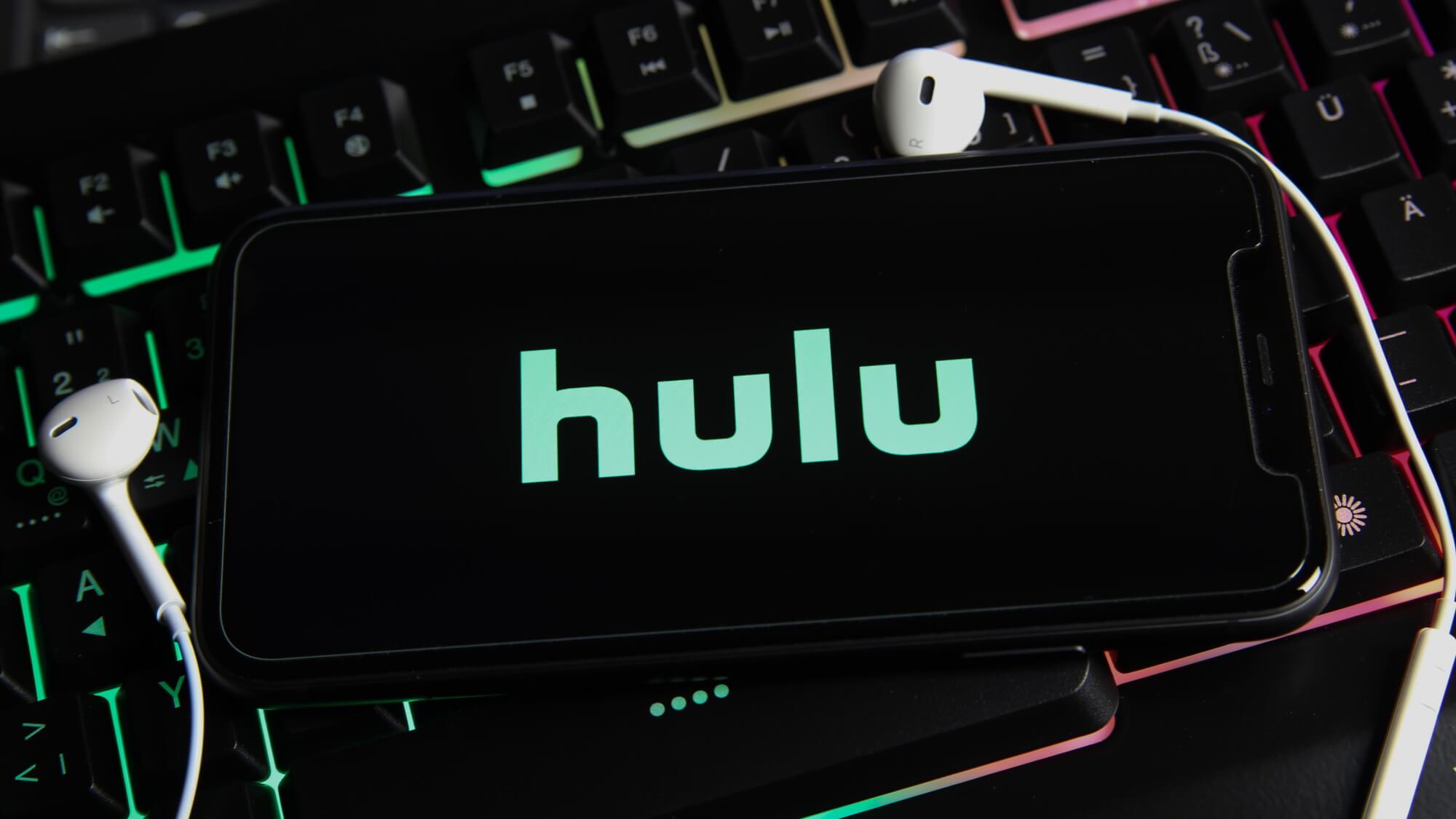 Part 1: How Many Screens Can I Watch Hulu at Once?
Currently, the official packages of Hulu allow you to watch Hulu simultaneously on no more than two screens. However, this aspect does not restrict how many accounts Hulu can be activated. In essence, you can activate the account on unlimited devices. Currently, the following plans are available through the official Hulu subscriptions:
Hulu (With Ads): Here, you can either pay 6.99 USD per month or select annual billing for 69.99 USD. The plan has advertisements involved, which may deter the streaming experience for some users.
Hulu (No Ads): This plan costs you 12.99 USD per month, with no annual billing option. You get all features of Hulu without in-stream ads, except for Live TV with this package.
Hulu + Live TV: Costs 69.99 per month and gives access to both the Hulu library and over 65 live streaming channels. You get a free Disney+ and ESPN+ subscription through this plan as well.
Hulu (No Ads) + Live TV: Costs 75.99 USD per month and involves all Hulu + Live TV package features, along with no in-stream ads on Hulu Library.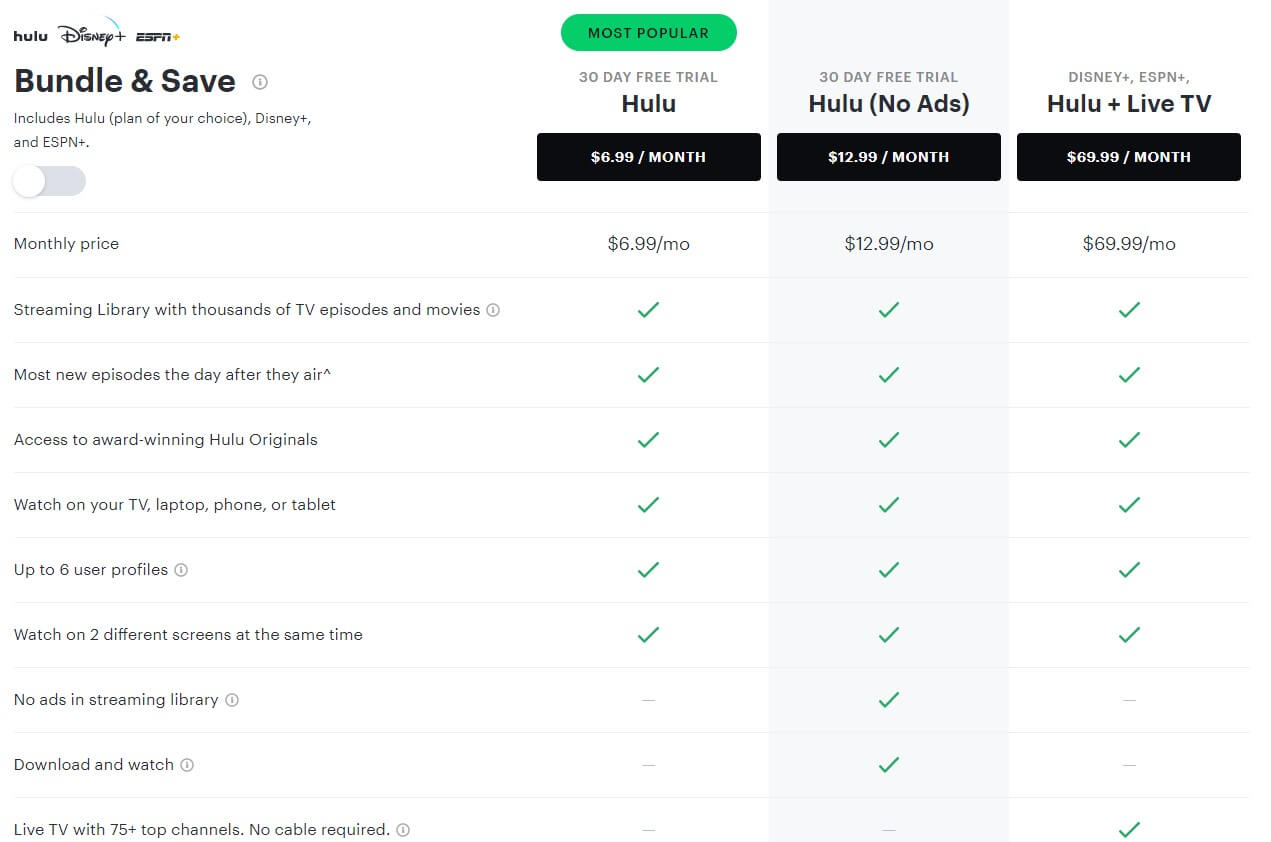 Note
People requiring unlimited screens Hulu are in luck as well. Hulu Live TV unlimited screen upgrade is available for the Live TV plans. You can watch Hulu on unlimited screens simultaneously by paying an additional 9.99 USD per month. If you require both enhanced online storage and unlimited screens option, you need to pay an additional 14.99 USD month along with the Live TV package.
Apart from these packages, you can always purchase premium channel viewership monthly, including HBO and Starz. Similarly, people may get bundle deals with Disney+ and ESPM plus+.
Part 2: How to Get Unlimited Screens on Hulu?
Many people require unlimited screen options on Hulu for many different reasons. For example, people with larger families and households would prefer sharing one package with their family members than purchasing multiple packages. Additionally, having unlimited screens can reduce the per capita cost of viewership.
Simultaneously, unlimited screens on Hulu can enhance the utility users receive from using the service. Many users can consider Hulu the better option when weighing comparable streaming services if they receive unlimited screens Hulu service. Check out the two main methods below to benefit from Hulu Live TV Unlimited Screens.
1. Change Plans and Add-ons
You can change your plan to benefit from unlimited screens Hulu. Follow the given steps to get unlimited screens for your Live TV plan.
Open your main account page by logging in to the Hulu system. Enter your username and password for this purpose.

Once logged in, check the subscriptions section for the "MANAGE PLAN".

In the Plans section, activate the plan you wish to switch to in the future. To benefit from Hulu Live TV unlimited screens, purchase any package that offers Live TV streaming at this step.

The eligibility changes popup will appear for you to confirm the switch. Press "Continue to Switch" at this point.

You can then click on the "+" option to add the unlimited screens extra with the Live TV package.

Finally, review the changes and submit them.
2. How to Share My Hulu Account
Sharing your Hulu account is very easy and beneficial if the correct steps are followed. Consider the following steps in detail to share your Hulu account with your loved ones. There is no specific way to share the account. Instead, most people prefer sharing their credentials with the people they wish to provide access to. The best method is to create provides.
Usually, a single profile can have up to 6 people. General profiles have everything Hulu offers, while kid profiles are suited to a minor audience. First, open your Hulu account by logging in through a web browser.
Once inside, hover your mouse pointer on the browser's top-right corner over the account icon.
The menu options will appear below the account option. Click on "Add Profile".

Mention the person's name for the profile. Enter details about the person's birth date and gender. If you do not wish to reveal the gender, you may select Prefer Not To Say option.
Click on the Create Profile option.
Similar steps can be followed, with a few adjustments, on the Hulu iOS and Android mobile applications.
Part 3: How to Fix Hulu's "Too Many Videos" Error without Unlimited Screen?
Many people may end up receiving the Hulu "Too Many Videos" error if they exceed the screen limits provided by Hulu in their package.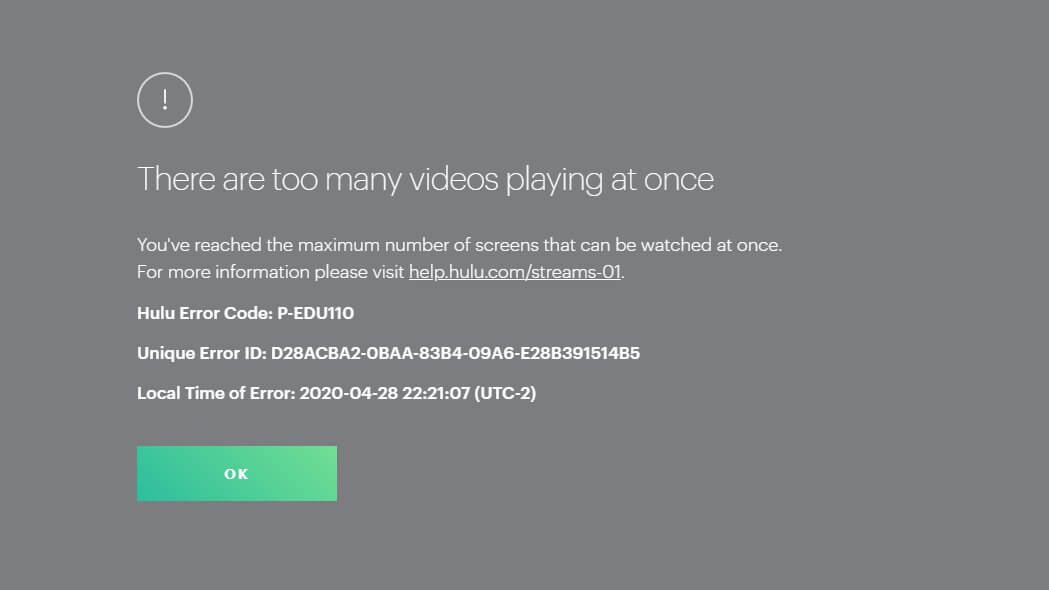 For people using the unlimited screens option, this error is rare. However, for those without unlimited screens, the error can lead to significant inconvenience, where they are watching too many videos from their account. The main reasons for the error may include trying to stream on more than two screens simultaneously, using more than three out-of-home mobile devices, or using the premium content on more than five screens. The best way to fix the effort is mentioned below:
First, you need to manage the currently activated devices. For this purpose, use a web browser to surf Hulu and log in by providing your username and password.
Next, in the "Your Account" section, select the "Manage Devices" option.

All the devices currently accessing your Hulu account are registered here. Consider deleting the devices from the list you do not wish to use Hulu.
Next, you need to log out Hulu from the extra screens. On the same "You Account" section, select "Privacy and Settings".
In the privacy and settings option, select "Protect Your Account" option.

Log out of all computers and then log back into the device you need to use Hulu. Note that this method won't log your out of your web browser on which the option was accessed.
In case these steps can not solve the issue, it is best to contact the official support team of Hulu.
Bonus: How to Live Stream Hulu From Your Phone to PC
Many people wish to watch Hulu on their PC instead of their phone devices. Such live streaming may be possible through many applications. However, most of them end up compromising on quality or causing serious issues with speed and content lagging, which may diminish the experience for the users. On the other hand, we have a solution that can help with exceptional live streaming of Hulu from phone to PC. Let us introduce you to iMyFone MirrorTo.
Features of MirrorTo
Effortless Screen-Sharing: There is no need to try out the messy and difficult setups and time-taking methods to share your Hulu Live Screen from Phone to PC. Instead, use MirrorTo to easily share screens without any issue and control your phone's screen from the computer.
High Definition: The live streaming function ensures HD quality of 90 fps at 2K to make it a memorable experience for you.
Stable Connection: The livestream is very stable. You won't face any issues in the form of time or content lagging when mirroring the screen using MirrorTo.
In-App Displays: You can control your Hulu's Live TV screen from your computer easily using MirrorTo.
Video Tutorial about Mirroring iPhone to PC with MirrorTo
Steps to Follow
Step 1.Download the iMyFone MirrorTo app and install it on your PC.
Step 2.Connect the two devices with the same Wi-Fi connection.
Step 3. Go to "Control Center" and click "Screen Mirroring".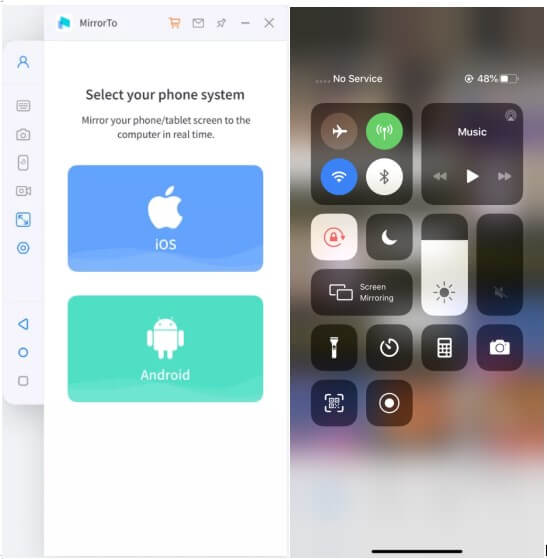 Step 4.Go to "Settings", then enter "Bluetooth" and pair the bluetooth between your phone and computer.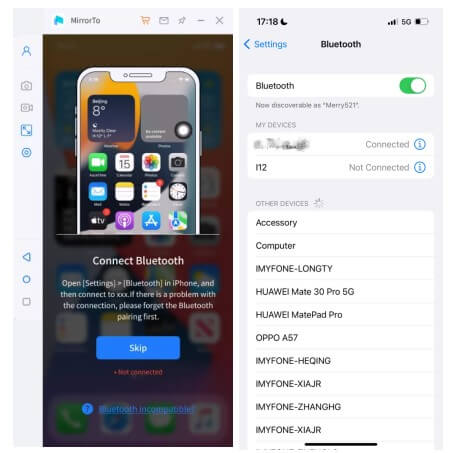 Easy? Try it out today!
Conlusion
Using Hulu on your PC through the live streaming option of iMyFone MirrorTo can enhance your streaming experience and let you enjoy multiple screens easily. Watch live TV and premium content widescreen with your friends and family and have a memorable time. Let us know in the comments section if the article was helpful.