The experience of enjoying videos or watching movies on the big screen brings pleasure like nothing else; that's the reason why cinemas are so famous. But you can create a cinema-like experience at home by screen mirroring iPhone to Sony TV.
Screen mirroring on iPhone is comparatively trickier than Android as fewer programs are available for iPhone users to screen mirror their iPhones to their TVs. However, it is not impossible.
If you want to know how to screen mirror iPhone to Sony TV, worry not as we have compiled a comprehensive guide to reveals the best apps to make your task of screen mirroring iPhone to Sony Bravia a piece of cake.
Part 1: Top 6 Ways to Screen Mirror iPhone to Sony TV
High-resolution mobile phones are good for watching your favorite movie or playing games. But when you have a bigger audience to entertain or wish to enjoy sharper graphics for games, Sony TV has no comparison.
With excellent apps and some tricks we have listed for you, Sony Bravia screen mirroring iPhone becomes an easy task to enjoy your favorite stuff on the big screen. Let's take a look at the top 6 ways to mirror iPhone to Sony TV.
1. AirBeamTV BV
AirBeamTV BV is leading the market of smart screen mirroring thanks to its unique and user-friendly features. The app has allowed iOS users to enjoy their screens despite not having an Apple TV.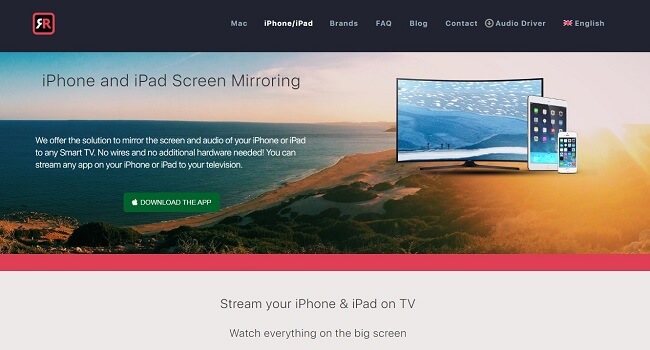 Pros
It's easy, fast, and, most importantly, safe to use
No clumsy accessories like cables or external devices required
Any app from your iPhone or iPad can be mirrored on the TV
Let's you enjoy movies, presentations, music, videos, and much more
Cons
Both iPhone and TV need to be connected to the same local network
iPhone or iPad should be running on iOS 13 or above
Steps to Screen Mirror using AirBeamTV BV
For Sony TV screen mirroring iPhone, you will need to follow 4 simple steps:
Download and launch the app. After its launch, it will search for Sony TVs on your network. When found, select your TV from the list.
If it's the first time, TV might ask you for permission to connect. Press ok using Remote control to allow the connection.
Click on the Start Mirroring option for the selected TV on your phone.
A pop-up will appear asking you to select the Mirror Sony TV. Simply press Start Broadcast to start mirroring on Sony TV.
2. MirrorMeister
MirrorMeister for iOS users allows them to cast apps, movies, videos, etc., to their Smart TV wirelessly. Being an easy-to-use mirroring app that can let you switch from a small screen to a bigger one, the app is pretty popular among users. You can update to iOS 13 for more outstanding performance and a better experience.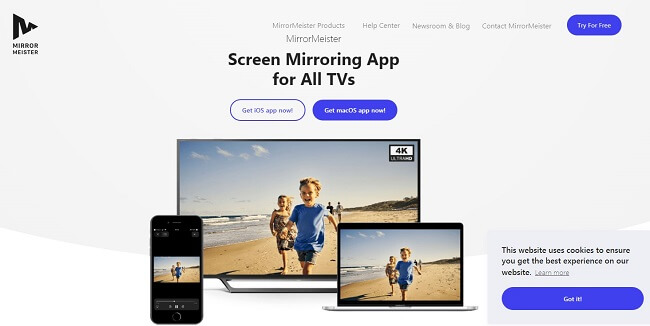 Pros
Supports business projects based on slides, spreadsheets, complicated designs, etc
Supports Facebook, Vimeo, Facebook, YouTube, and much more
Offers excellent Free Trial opportunity
Mirrors games and apps effortlessly
Cons
Netflix, iTunes, Disney+ do not allow screen mirroring
High-intensity gaming lags typically between 1 to 3 seconds
Steps to Use MirrorMeister
Here is how to connect iPhone to Sony Bravia tv screen mirroring using MirrorMeister:
Connect your device and TV to the same local network. Avoid using multiple VLANs or subnets.
Download the app on your phone first.
Launch the app on the phone and then select your Sony TV model.
Click the Start mirroring option on your phone.
Allow TV to start connecting and press Start broadcast to enjoy your fun time on the big screen.
Turn up the volume on your TV and keep your iPhone or iPad to the mute mode for better sound quality.
3. ApowerMirror
ApowerMirror is an excellent screen mirroring app that allows mirroring to PC, MAC, TV, and other mobile devices. The connection could be built through Wi-Fi or a USB cable. Its additional features make it different from its counterparts.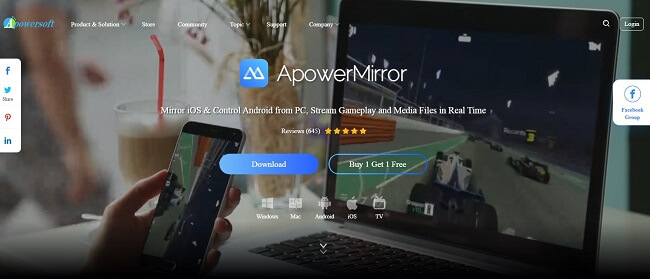 Pros
Works great to share pictures, documents, videos saved on the phone
Live stream apps directly on the TV
A free version gives lets users know about how the app works
Compatible with the latest iPhone and Android versions
Users can take screenshots, add notes, or record screen
The app allows gamers to play games without emulators
The help center of ApowerMirror is always available and responsive
Cons
The app is new and needs some more work for better functioning
Difference of operation in android and iOS devices might be an issue for some users
Steps to make ApowerMirror Work
Connect your iPhone orscreen mirroring iPad to Sony tv with the same network.
Install the app on your phone and TV and run it simultaneously.
Open Control Center on your iPhone and tap on the Screen Mirroring option.
Select Apowersoft and the name of your device, which will lead to successful screen mirroring.
4. LetsView
This screen mirroring app is best considered a primary screen mirroring tool supported on iOS and Android both. The LetsView app lets you experience content on bigger screens without compromising on visual quality. It can serve educational purposes, business meetings, entertainment gatherings at home, and much more.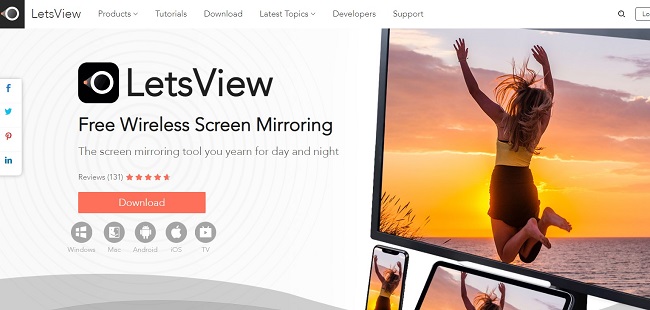 Pros
Free of cost with no paywall features
The fast application allows convenient screening in minutes
Simple, user-friendly interface
Maintains the exact quality
Can record screen once screen mirroring starts
Cons
Wi-Fi is the only option for connectivity
Device control is not available for any mobile device
Have to reconnect after a short while
Steps to Use LetsView
Download the app for the Apple store free of cost.
Once the app is launched, your TV will detect the app running and show a PIN Code or QR code to synch the data.
Enter the PIN or scan the QR code to sync both the devices.
Tap on Start Mirroring on your device to see the magic work.
The volume and visual settings can be set for the TV using the remote control.
5. Dixim Digital TV
Dixim is a more straightforward app for Sony screen mirroring iPhone and Android phones.The app makes the user experience more convenient by arranging the folders categorically and letting them have a more organized screening adventure.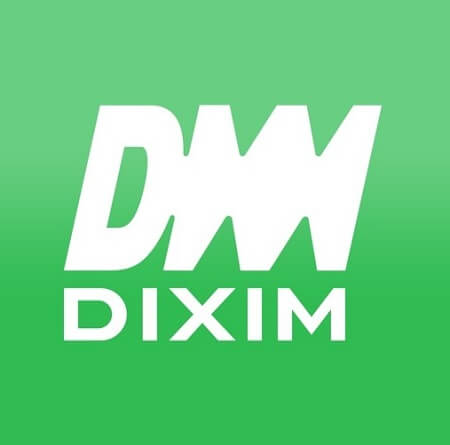 Pros
Arranged folders allow quick and easy selection
It is compatible with major devices, including Sony, Toshiba, etc
Works best on all platforms
Available for free
Cons
Sometimes it becomes quite tricky to find the needed file as all media are grouped based on their type
Has access to media on mobile phone only
Steps to complete the process through Dixim Digital TV
The Steps to use Dixim Digital TV are incredibly simple and let you enjoy your activities on TV without any hurdles.
Download the Dixim Digital TV app on your phone.
Connect your TV and phone to the same network.
Search your TV on your phone and then press 'Shared' on the menu.
Find and select the media you want to share from the list.
Chooses your file and select Play.
6. iMediaShare app
iMediaShare is a comprehensive screen mirroring platform that works well on all Apple products and is functional on a wide variety of TV brands along with multiple wireless-enabled devices. The app requires phones and TV to be connected on the same networks to automatically detect the device.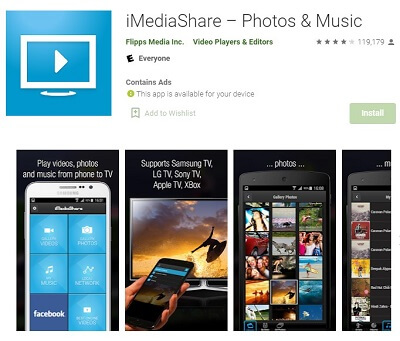 Pros
Available on iPhone, iPad, and iPod as well
Provides full access on the phone to control tv
Users can adjust volume through phone as well
Cons
Requires 8.0 or higher version of iOS
Android users cannot benefit from it
Steps to use the iMediaShare app
Check out the Steps to use the iMediaShare app:
Download the app and after it is launched on your phone, select your TV.
It will scan for a while and then select your device.
Select the 'Shared' option and then choose the media you want to play.
Hit the Play button to watch the chosen file on TV.
Tips
If you want to enjoy a larger screen, a computer is also a good choice. MirrorTo software supports mirroring your iPhone to the computer. Not only can you enjoy the same benefit as TV with a larger screen; you can check social media information or chat with friends on PC with the keyboard and mouse, and you can even transfer files between these devices. Of course, you can mirror Android phones to PC with just 3 steps.
Part 2: Hot FAQs About Mirroring iPhone to Sony TV
1. Does Sony Bravia TV Have Screen Mirroring?
The Sony Bravia TV comes with a screen mirroring option that can be accessed from the input modes. The Miracast technology allows screen display without a wireless connection. You can use Wi-Fi Direct Feature for differently supported devices.
2. Does My Sony TV Have AirPlay?
To check AirPlay on Sony TV, press the Input button on your remote control and select AirPlay and HomeKit settings. Turn on AirPlay.
If you can't find AirPlay on your Sony TV, a software update might be needed.
3. Why Is My TV Not Showing Up On Screen Mirroring?
The devices should be updated to the latest version and connected to the same internet connection. Restart both your devices; if a password is required, it means some restrictions are turned on, which need to be adjusted.
4. Why Can't I Connect My Phone To My Sony TV?
There might be other devices connected to your mobile phone. Only one device should be connected at a time. Also, check the mobile device manual to enable the screen mirroring setting.
5. How Do I Connect My iPhone To My Sony TV via Bluetooth?
From the Settings menu, select the Bluetooth menu under the Network and Accessories option.
Select Add Device from the menu in the search bar and look for your device. Put your device on pairing mode for visibility.
Your device will show up on TV as an available device.
Select your device, and voila, you are ready to Use.
---
Conclusion
So, now you know how to mirror iPhone to Sony TV. Screen Mirroring saves you from using small screens at an extremely nearer distance which is harmful, especially for children. Besides, the full resolution allows you to enjoy every detail to its fullest, and the video, pictures, and other related media become more impressive and exciting.
Important meetings and educational conferences can easily be conducted through screen mirroring with better video quality, enhanced sound features, and the additional features that come with the apps you will decide to choose from above.
The iPhone and iPad to Sony Bravia screen mirroring have made it easy for people to enjoy their favorite movie on a budget without any added hustle.