The VLC media player is a media player that is very popular among PC users today. It is really hard to find one single PC without the VLC media player installed on it. VLC has come a very long way in the industry and rightfully deserves all the credit it gets. It is a perfect substitute for any video player available on PCs, and it comes loaded with helpful features apart from playing multimedia.
However, the VLC media player can give you a ride for your time and energy. As good as it is, it can also develop technical errors like the "no sound" error, where your video plays quite alright, but without audio.
Read on to understand why you may have issues with audio on the VLC player and how to resolve them.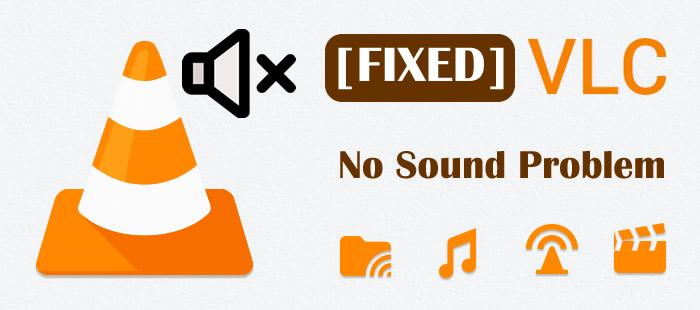 7 Methods to Repair VLC No Sound Issue
Here are 7 ways we can find to fix the VLC video out of sound problem, keep reading and find the way that works for you.
Way 1

Unmute Audio on VLC
The first thing you want to do when faced with no sound error is to unmute the audio right on the VLC media player. It is pretty much a straightforward process to do:
Step 1.Launch VLC and head to the "Audio" section at the top panel.
Step 2.Scroll to "Mute" and simply click on it.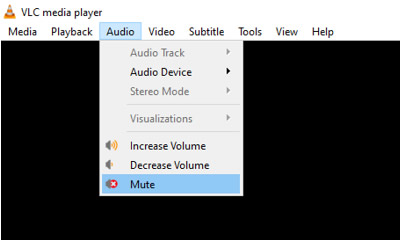 Step 3.Or, navigate to the "Tools" tab, then, "Preferences".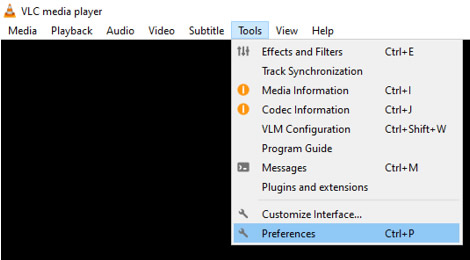 Step 4.In the "Audio" tab, make sure the "Enable Audio box" is checked.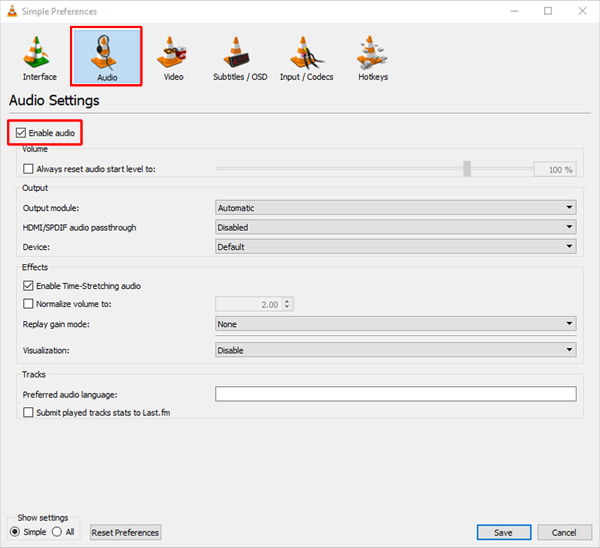 Way 2

Enable Sound Device
One major reason the issue of no sound on VLC occurs is when the sound device is disabled. To remedy this, you have to enable sound in your PC setting:
Step 1.Launch the Control Panel and hit "Hardware and Sound". To open the Control Panel, press the Windows key and search "control panel".

Step 2.Then click on "Sound" to open the dialogue box.

Step 3.Right-click all of the devices, and click "enable".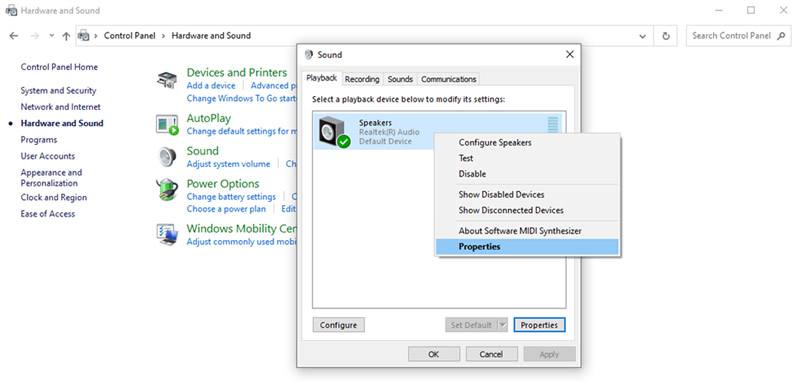 Step 4.Click "apply" at the bottom of the window and then "okay" to save the settings.
Way 3

Disable and Enable Audio Track
Step 1.Make sure the video without sound is playing, then click on "Audio".
Step 2.Select the "Audio Track" option. Toggle it on and off, and that's all.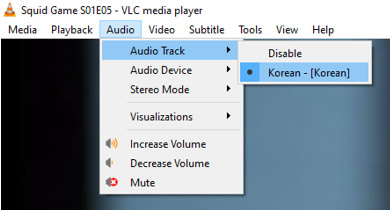 Way 4

Disable All Enhancements in the Control Panel
Should none of the above tricks work for you, you may want to consider disabling all enhancements in the control panel, and it is very easy to do.
Step 1.Launch the Control Panel and hit "Hardware and Sound". To open the Control Panel, press the Windows key and search "control panel".
Step 2.Click on "Sound" right between "Autoplay" and "Power Options".
Step 3.Then right-click on sound devices and click "Properties" at the bottom of the popup window.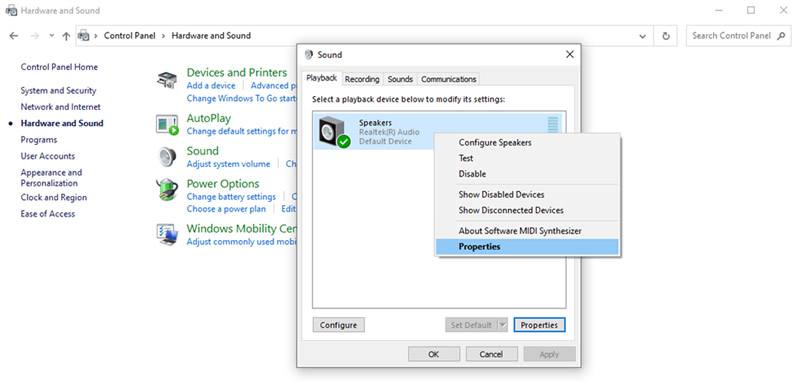 Step 4.Another window will pop up; click "Enhancements" and check the "Disable All Enhancement" box for every device.
Step 5.Hit "Apply" and then "OK" to apply the new settings. Finally, restart your PC for the changes to take effect.
Way 5

Adjust VLC Audio Settings in Preferences
Step 1.Open VLC and click "Tool", then "Preferences".
Step 2.Locate "Audio Settings" in the Preferences window.
Step 3.Check the "Enable audio" if it is not checked.
Step 4.Go to "Output module" right below "Enable Audio" and choose "Directx audio output" from the dropdown list and hit "Save".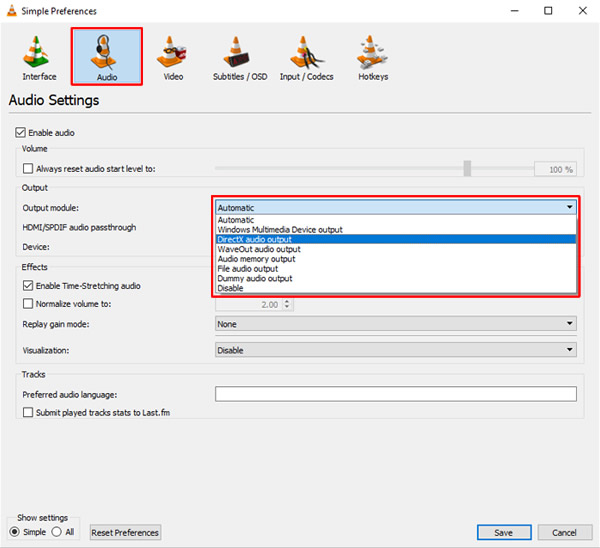 Way 6

Update VLC to the Latest Version
Sometimes, when your VLC media player is out of date, one of the issues that you may face include no sound. Follow the steps below to update the program:
Step 1.Launch VLC and click "Help" at the top panel.
Step 2.Then click "Check for Updates". If there's a pending update, it will be downloaded automatically after permitting it to.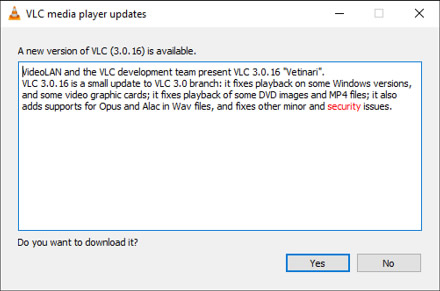 Step 3.Once the download is complete, you will get a prompt to install it; click "Install". After the installation, try to play the video again.
Way 7

Use Efficient VLC Video Repair Tool
If the issue of no sound persists after trying all the above methods, then it is time to try a video repairing tool, like iMyFone UltraRepair, to repair your damaged or corrupted video.
iMyFone UltraRepair - Repair Video
This video repair tool is a versatile tool that you can use to resolve many issues that can come with video files. You can resolve basic and simple issues like video not in sync with audio, no audio, black screen when audio is playing, or skipping sounds.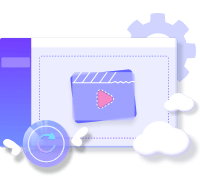 Step 1.Download iMyFone UltraRepair on your computer from the download button below and install it. Launch it and choose "Video Repair" module on the left side of the interface. Add the problemed VLC video that withotu sound by clicking "+ Add video".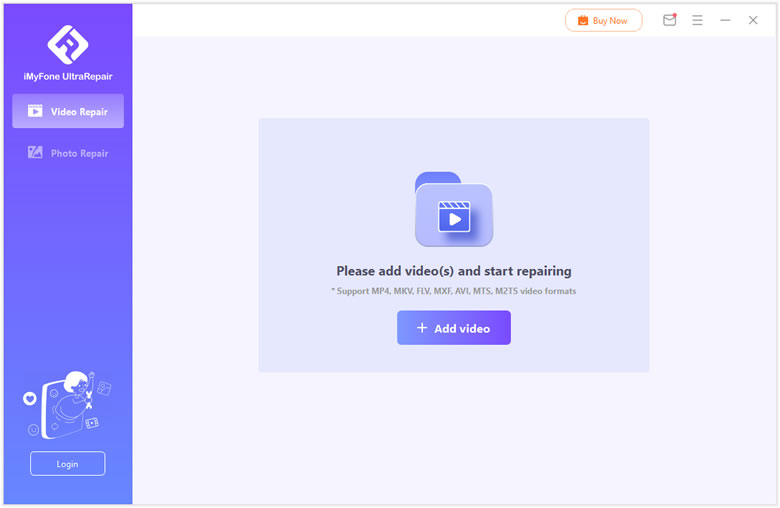 Step 2.Once the uploading process is finished, hit "Repair" to begin the video repairing process.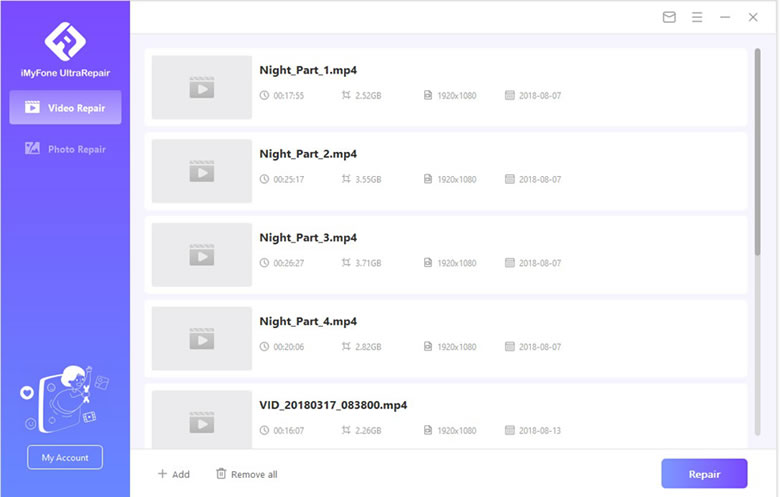 Step 3.Wait for a moment for the program to repair the damaged video file. Then click the "Yes" to save the repaired video.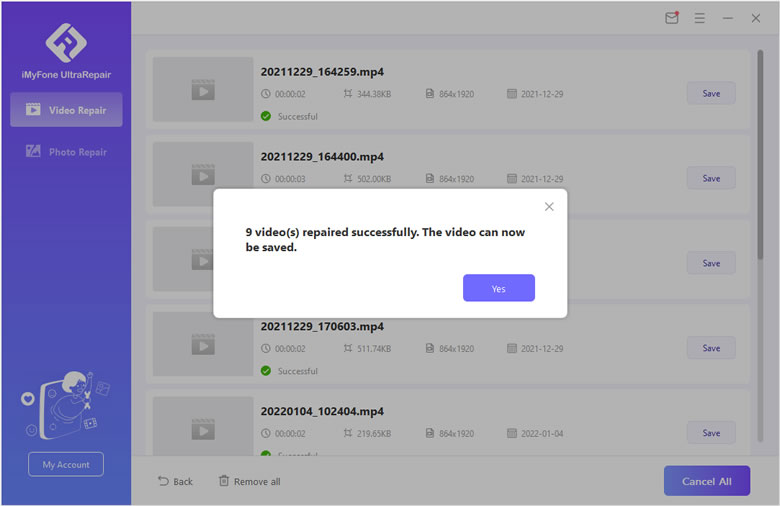 Step 4.For severely damaged videos, use the "Advanced Repair" function, which uses sample video files for more technical repairs. Note that in this mode, sample videos should be filmed by the same device and with the same video format.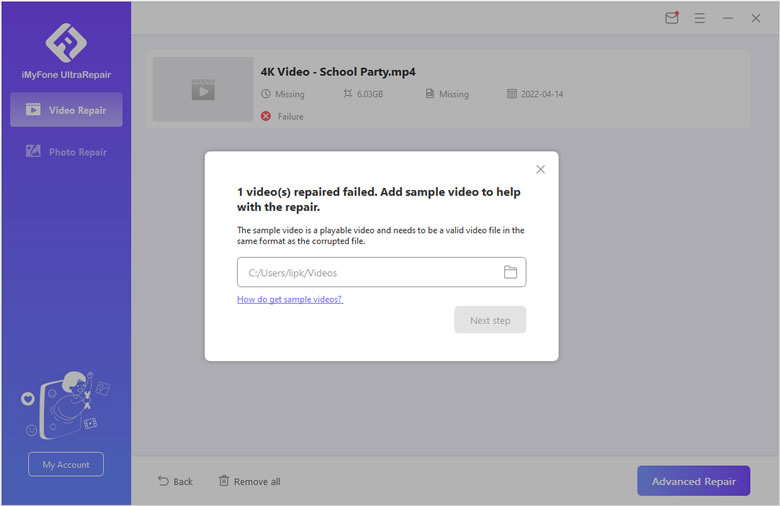 [Extra Tips]
Common Causes of VLC "No Sound" Error
There are numerous causes of this "no sound" error, and knowing them will take you one step closer to resolving the error. Here's a list of the possible causes of the "no sound" error when playing a video on VLC:
The video you are trying to play has no sound: some video files may have no sound attached to them. VLC cannot magically provide sound for a video that has no sound.
Faulty or missing codecs: if your video file contains a video codec that is not compatible with the VLC media player, you will get a no sound error. Codecs are responsible for the compression and decompression of video files to make them faster to transmit.
Configuration settings error: you may have mistakenly configured your VLC media player to play videos, but without audio. Or, maybe someone did it without your knowledge. In the same vein, you may have configured your PC to mute sounds from all output sources.
Corrupted video file: the video file may have become corrupted, and you are only lucky to still have it playing without sound.
FAQs: More Tips About VLC Problems
1

How to convert a media file with VLC?
To convert a media file with VLC, you need to download the program on your PC. After downloading it to your system, upload the video you wish to work on and follow the on-screen instructions. You can also check our blog for a detailed explanation on how to convert a media file with VLC.
2

Why is VLC glitching?
Glitches in the VLC media player can be due to various reasons. These reasons include, but are not limited to:
Virus attack;
VLC is outdated;
The video is faulty;
Bad installation of the VLC package;
Outdated Windows, etc.
Conclusion
If you encounter the no sound error when playing your video, there's no reason for you to be troubled. There are numerous ways for you to resolve it. In this article, seven good methods to resolve no sound issue in VLC have been provided, and you can go ahead to use any of the methods, depending on the issue with the sound.