In Depth Review of Hitpaw Photo Enhancer & It's Best Alternative
Category: Repair Files
4 mins read
Editing photos can be tedious and time-consuming. With digital cameras getting more powerful and higher resolution photos becoming commonplace, it's become increasingly difficult to enhance pictures without the help of specialized software. The demand for reliable tools that simplify the process has been growing in recent years. Hitpaw Photo Enhancer is one such program, offering users the ability to enhance photo qualities.
In this article, we will take a comprehensive look at Hitpaw Photo Enhancer and its best alternative. We will also provide our opinion on which product is best suited for anyone looking to enhance their images.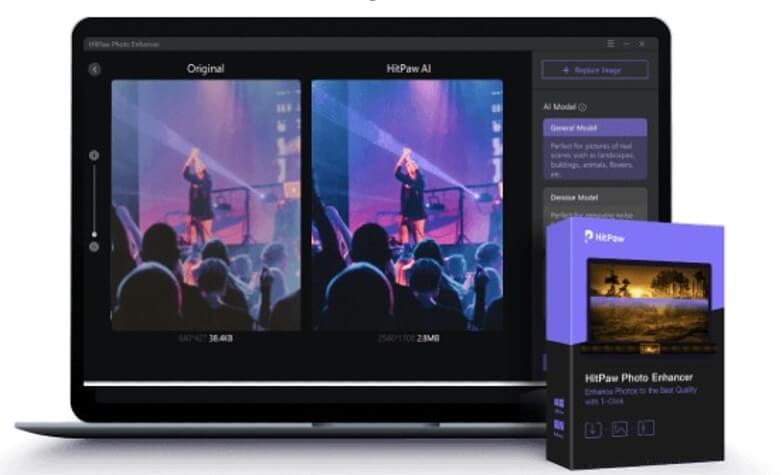 Free download UltraRepair to enhance and repair blurry photos, videos & files easily.
Part 1. All about Hitpaw Photo Enhancer
1

What is Hitpaw Photo Enhancer

HitPaw Photo Enhancer is a powerful and intuitive photo editing software that enables users to easily improve their digital photos with just a few clicks. The software provides an array of advanced features to enhance, retouch, and improve your image quality. It carries out specialized tasks including fixing blur scenes, enlarging images without quality loss, adjusting color balance, making landscape clearer, adding fantasy effects for extra flair, and more. With such capabilities, HitPaw Photo Enhancer allows anyone from hobbyists to professionals alike to take their photo editing experience to the next level.
2

What Features Does Hitpaw Photo Enhancer Have?

HitPaw Photo Enhancer offers great features to help you transform your photos easily. These include:
4 AI models that allow you to upscale images on any occasion. These 4 models are General, Denoise, Face, and Colorise.
HitPaw Photo Enhancer offers batch processing so that you can edit multiple photos at once.
The tool is compatible with both Windows and macOS systems and supports a variety of file formats, such as JPG, PNG, and GIF.
With its range of advanced features, HitPaw Photo Enhancer is perfect for users who want to enhance their photos without hassle.
3

How to Use Hitpaw Photo Enhancer to Increase Photo Quality

Step 1: Download and Install

Visit the official website of Hitpaw photo enhancer. Then, find and hit the "Download" button.

Step 2: Upload the original photo

Click on "Choose images" to upload the photo of which you want to enhance quality. You can also simply drag and drop the photo.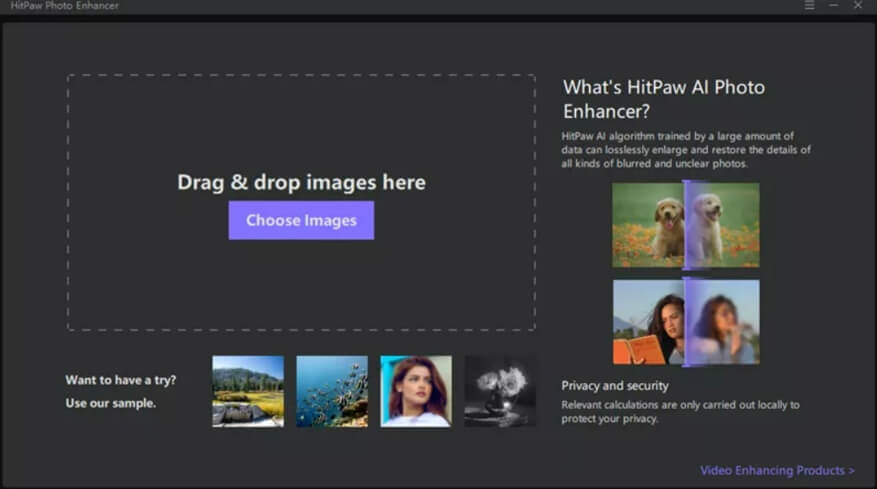 Step 3: Select an AI model
Now, choose an AI model. To enhance pictures that contain real scenes including flowers, animals, buildings, landscapes, etc, use the "General model". To correct the quality of cartoon images as well as the images with low light or high ISO, use the "Denoise model". If you want to decrease the blurriness of old photos as well as portrait images, use "Face model". Further, you can make your black and white photos vivid and colorful with "Colorise model".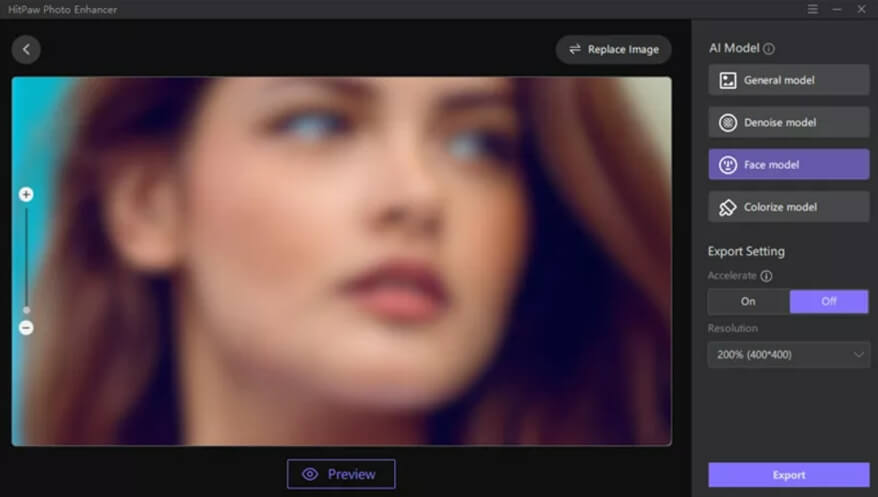 Step 4: Preview and export
After selecting the AI model, click on "Preview" to see how the effect will work. At last, hit the "Export" button to save the enhanced photo to your device.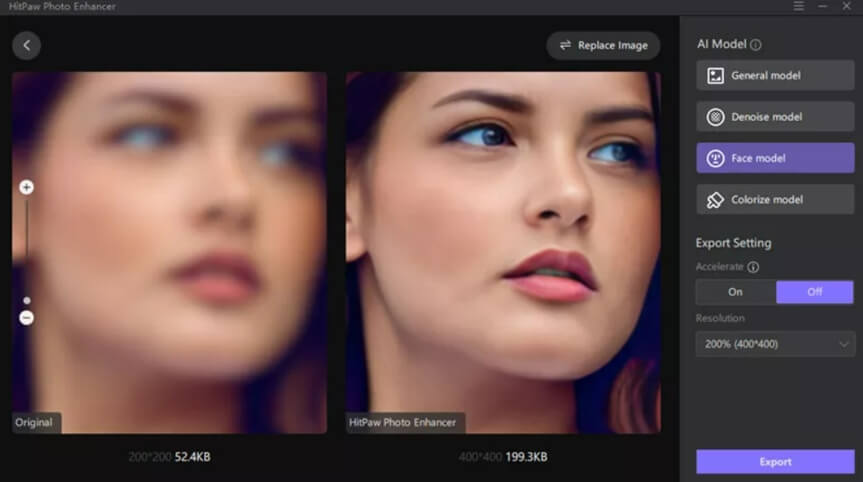 4

Reviews of Hitpaw Photo Enhancer

There is no denying that the Hitpaw photo enhancer is a powerful and useful tool. However, it comes with a hefty price tag making it inaccessible to many users. That being said, if you or someone you know is in the market for a good photo enhancer tool then this might be the option for you. Alternatively, there are plenty of other alternatives on the market that might be more suitable given your budget. All in all, make sure to do adequate research and pick the best choice for your needs.
User reviews of Hitpaw photo enhancer
"The tool offers a simple, easy, and well-informed interface. There is a simple requirement of the interface that it provides to deliver the expected result. After going through a short trial period, I got converted into a lifelong user".
"After enhancement with this tool, I got an outstanding quality of photos. The colors of my images become more vibrant and the clarity also gets enhanced. The final product was much more polished and professional as there was a significant reduction in blurriness and noise".
"The tool is very time-consuming. It takes approximately 3 minutes to upload 1 photo. The result is also so-so".
"Slow performance and poor quality results. Further, when I asked them for a refund, they didn't even reply and tried to deduct money again from my account for the next month".
5

FAQs about Hitpaw Photo Enhancer
1

What system does HitPaw Photo Enhancer support?

Hitpaw photo enhancer supports Windows 11/10 64-bit.
2

Does HitPaw Photo Enhancer integrate with any other apps?

No, Hitpaw photo enhancer does not integrate with any other apps.
3

How much does HitPaw photo enhancer cost?

There are 3 plans available if you want to purchase this tool. $17.99 monthly, $79.99 yearly, and you can get Lifetime access to the tool for $99.99.
4

Does HitPaw Photo Enhancer offer an API?

No, the tool does not offer an API.
Part 2. Is There Better Alternative of HitPaw Photo Enhancer?
iMyFone UltraRepair
---
iMyFone UltraRepair is software that helps people quickly and easily repair corrupted photos, videos, and documents. It is the best alternative to Hitpaw photo enhancer as you will get more features in just 1 tool. UltraRepair can also be used to enhance photos, add great effects, and make improvements with just a few clicks. With this powerful software, you can optimize files with various algorithms like ordinary repairs, noise reduction, and sharpness adjustments to maintain the superior quality of the pictures.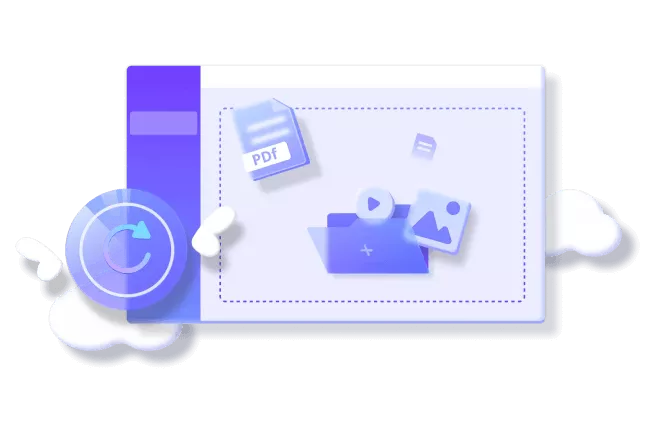 Key Features:
Instantly enlarge old photos and make blurry images look clear .
Allow you to make your black-and-white photos colorful along with many other photo enhancement features.
Facilitate repairing and upscaling images from different devices including phones, cameras, internet, and others.
All types of photo issues can be fixed, like red-eye, blurry photos, low resolution, and many others.
Step by Step Tutorial to Enhance Photos by UltraRepair
Step 1: Download and launch iMyFone UltraRepair.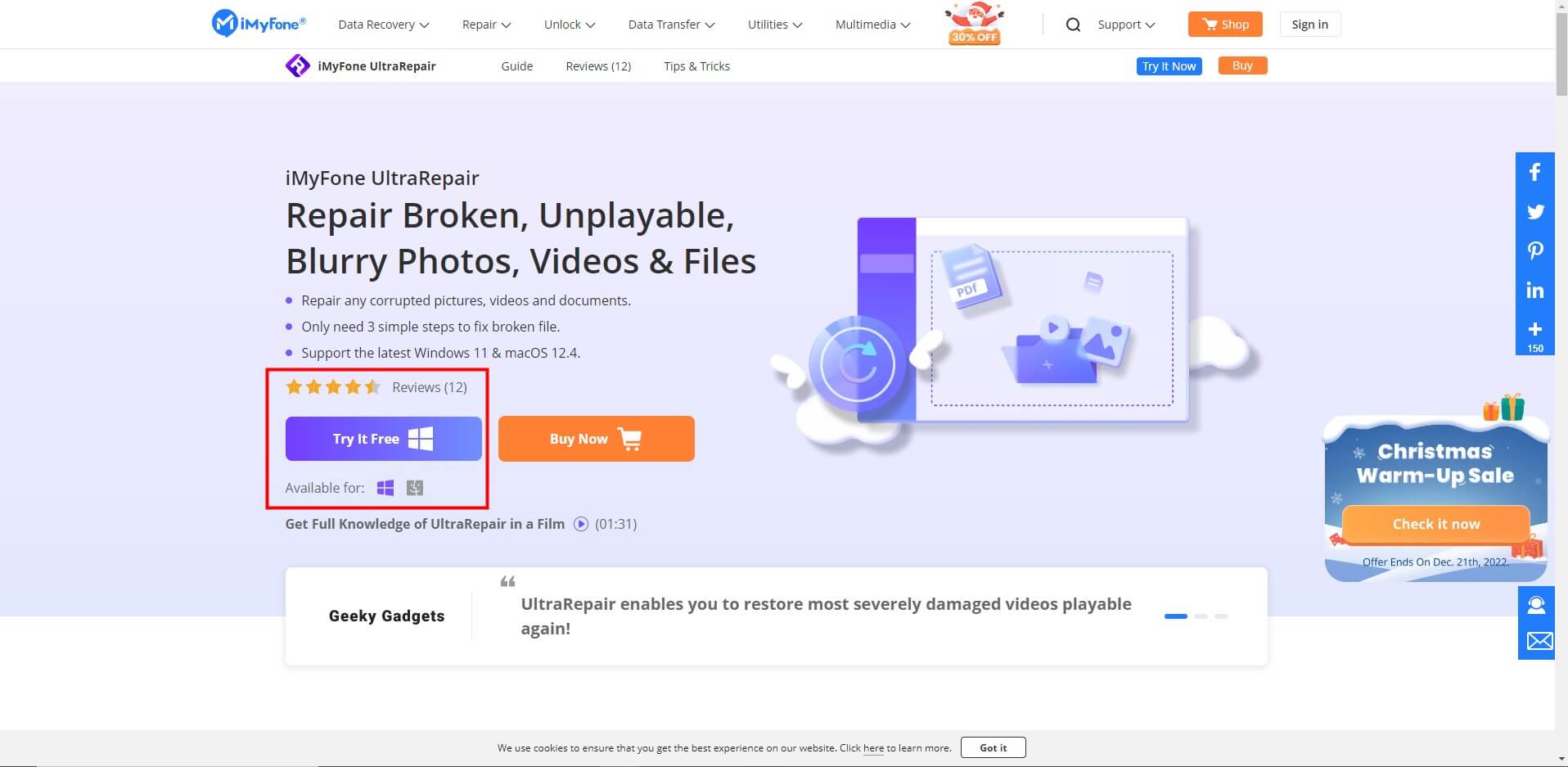 Step 2: Click on "Picture Toolbox" from the menu on the left-hand side. Now click on "Add File" from the "Photo Clarity" section.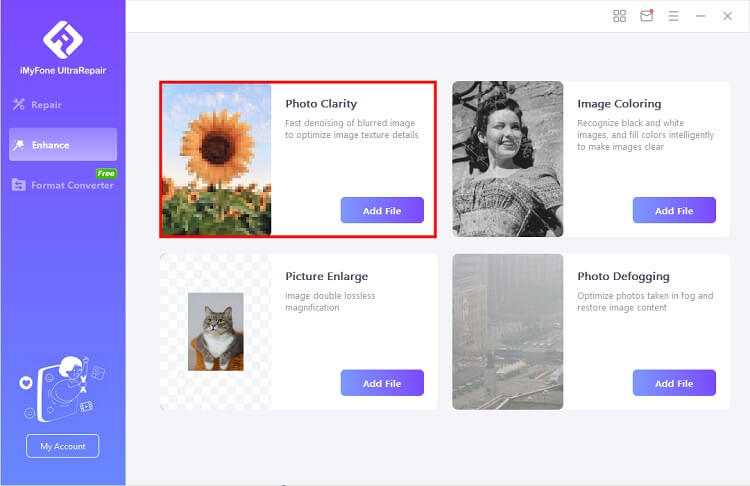 Step 3: Select the image that you want to repair, and see the preview of the enhanced image. Lastly, click on "Save Now" to save the corrected image on your device.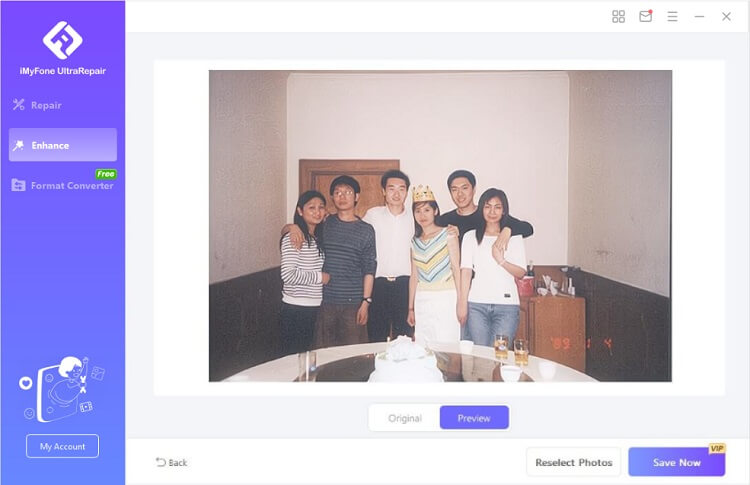 FAQs about Hitpaw Photo Enhancer Best Alternative
1

Is iMyFone UltraRepair free?

No, but the tool provides 3 free trials to enhance the quality of your image.
2

What system does iMyFone UltraRepair support?

The tool supports Windows 11/10/8/Vista/7, macOS 10.10 to macOS 10.15, Android 6.0 and above, and several iOS versions.
3

Does iMyFone UltraRepair offer an API?

Yes, the Ultrarepair app offers an API feature that allows users to integrate different tools and services according to requirements.
4

What does iMyFone UltraRepair can do except photo enhancement?

Apart from photo enhancement, iMyFone UltraRepair can repair different media files including photos, videos, etc.
Part 3. A Comparison Table between 2 Photo Enhancers
Hitpaw Photo Enhancer and iMyPhone UltraRepair are both powerful photo editing tools. But which one should you choose for your creative pursuits? Follow the comparison table below to understand better:
Enhance Tools
Hitpaw Photo Enhancer
iMyFone UltraRepair
API access
No
Yes
Free trial
Available
Available
Pricing structure

Monthly: $17.99

Yearly: $79.99

Lifetime: $99.99

Monthly: $19.95

Yearly: $29.95

Lifetime: $49.95

Deployment
Windows, MAC
Windows, MAC, Android, iOS
Support
24/7 online support
24/7 online support
Lifetime updates
Yes
Yes
Supported images formats
png, jpg, webp, bmp, jfif
JPEG, JPG, CR3, CR2, NEF, NRW, RAF, DNG, ARW, GPR, TIF, TIFF, CRW
Features

Clears blurry images.

Increases photo resolution.

Enhances photos.

Restores old photos.

Repairs corrupted images, videos, and other documents.

Fix a broken file.

Enhances photo quapty and resolution.

Converts photos and videos to other formats.

Vendor details

Company name: HitPaw

Founded: 2019

Website: www.hitpaw.com/photo-enhancer.html

Company Name: iMyFone

Founded: 2015

Website: https://www.imyfone.com/file-repair/#Repair-Photos
Conclusion
To wrap things up, Hitpaw Photo Enhancer is a capable program allowing you to edit and enhance your photos with ease. However, if you are really looking for a top-notch photo editing experience, then we recommend you check out iMyFone UltraRepair. It is a must-have for those who care about their photos and need the perfect touch to make images pop. Its array of advanced settings allows for optimal image sculpting. Whereas, its range of customization options helps to ensure that users end up with high-quality results.