6 Methods on How to Open HEIC File on Windows 10/11
Category: Repair Files
3 mins read
Apple's new image format, HEIC, has gained attention in the past few years. More and more people are using it to store images because of its smaller file size. But we have received some feedback that some customers don't know how to open HEIC files.
Therefore, in this post, we will discuss 5 methods to guide you on how to open .heic files. We will go over each of them in details so that you can choose the one that is best for you! Let's move on!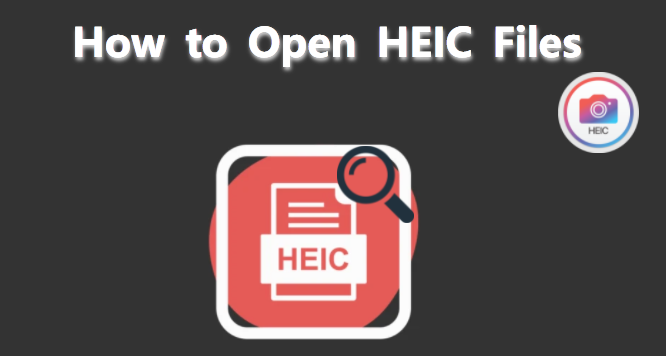 Part 1: What are HEIC Files?
HEIC files are a new image format created by Apple which designed for storing photos with smaller file sizes. It can be helpful if you want to save space on your device or send the photo through email. However, HEIC files are not compatible with most of the devices and programs. If you try to open one on a device that does not support the format, you will need to convert it to a different file type.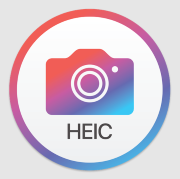 HEIC files have their pros and cons. Let's take a closer look at the format to see if it's right for you.
Pros
Smaller file size
Better quality images
Takes up less space on your device
Cons
Not compatible with most devices and programs
Can't be opened without a particular program or converter
Part 2: 6 Methods to Open HEIC File in Windows 10/11
Now that we know a little bit more about HEIC files, let's discuss how to open HEIC files. Here are 6 methods:
1

Convert HEIC to Other Format for Free

In most situations, your computer does't support to open Heic file. Therefore, if you want to know how to open HEIC file in Windows 10/11, then you can use iMyFone UltraRepair to convert the HEIC to png or jpg format. This is totally for FREE.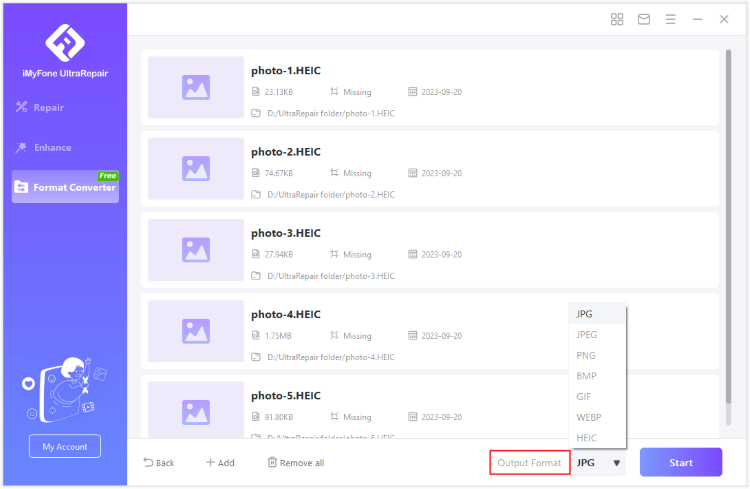 2

Get HEIF and HEVC Extensions for Windows 10

You can get the HEIF and HEVC extensions from the Microsoft Store if you're using Windows. These extensions allows you to open HEIC files in programs like photos and paint.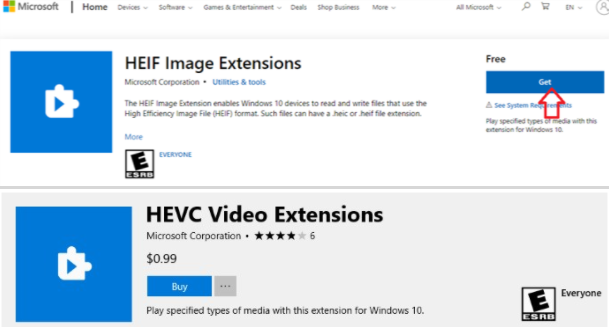 To install the extensions, follow these steps:
Step 1: Open the Microsoft Store. And search for HEIF > HEVC.
Step 2: Install the two extensions. The HEVC extensions will cost you $0.99
Step 3: Once you have installed the extensions, you will be able to open HEIC files in Windows programs. This is the easiest way to open HEIC files on Windows.
3

Open HEIC File with Adobe Lightroom

Adobe Lightroom is a popular photo editing program. It can be used to open HEIC files in windows 10 and convert them to other file types.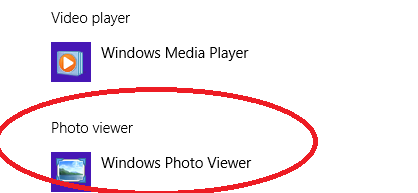 To open a HEIC file in Adobe Lightroom, follow these steps:
Step 1: Download and install Adobe Lightroom. And from your start menu, go to /b>Settings. Select Apps.
Step 2: Navigate to the Default Apps Menu. And click on Photo Viewer.
Step 3: Select Adobe Lightroom as the default program.
4

Share as JPG from iPhone

If you want to share the photo as a JPG, you'll need to open it in the Photos app and tap on the Share button. From there, select how you'd like to share the photo — via Mail, Messages, Twitter, Facebook, or other options.

When you tap on Mail or Messages, you'll be asked if you want to share the photo as a JPG or HEIC file. If you choose JPG, the photo will be compressed and converted before being sent.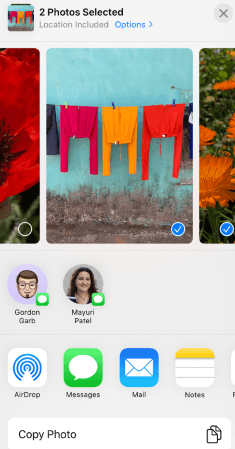 Keep in mind that this method only works for sharing photos one at a time. So, if you want to send multiple HEIC files as JPEGs, you'll need to open each photo individually and share them separately.
5

Reset Image Extension

To open HEIC format, another method to try is to reset the image extension. This works when the extensions installed on your PC can't work properly. On Windows 10. try the following steps: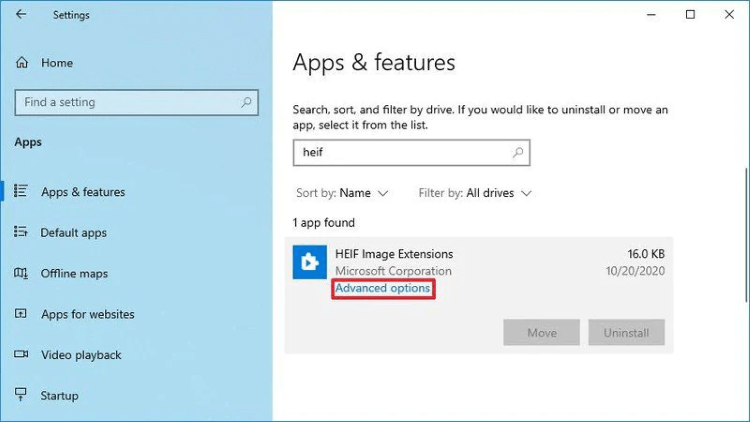 Step 1: Go to the Settings of your PC and choose Apps and Features.
Step 2: Click on the HEIF Image Extension option when it pops up.
Step 3: Download there, click the Advanced options.
Step 4: Click to reset, then confirm for it to continue.
6

Download to Use Windows Plugin

To open a HEIC file on Windows, the last resort is to download a plugin for using. After that, you don't have to make edition to the file.

An option here is to try CopyTrans, which serves as a plugin that can help yo open the HEIC files on your Windows 10/11 successfully.
Part 3: How to Open Corrupted HEIC File Without Losing Content?
There are times when after you try methods to open HEIC files on Windows 10/11, they can't be opened as expected, they are corrupted or turning grey.
In cases like that, it's sure that what you need at that moment is a professional HEIC file repair tool like iMyFone UltraRepair, which works to repair your damaged HEIC files on your computer without modifying the original content. You're suggested to convert the file format first.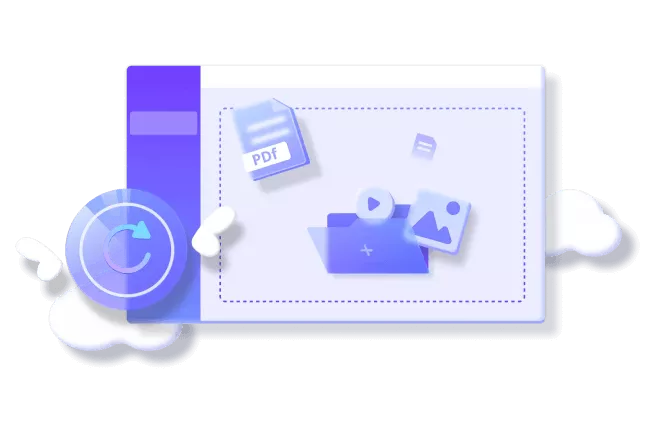 Key Features:
Repair corrupted photos of various formats, incluing HEIC, JPG, JPEG, PNG, NRW, CR2, CR3, etc.
Repair corrupted photos of various corruption styles, such as blurry photos, noised photos, yellow or blue photos, exposed photos etc.
Also support to repair blurry photos to improve their quality and resolution.
Support to colorize black and white photos, old photos, family photos with realistic colors.
No file size and number limit to the uploaded photos.
Support to use on all versions of Windows and Mac systems.
Step 1: Download and launch the software to choose Repair tab.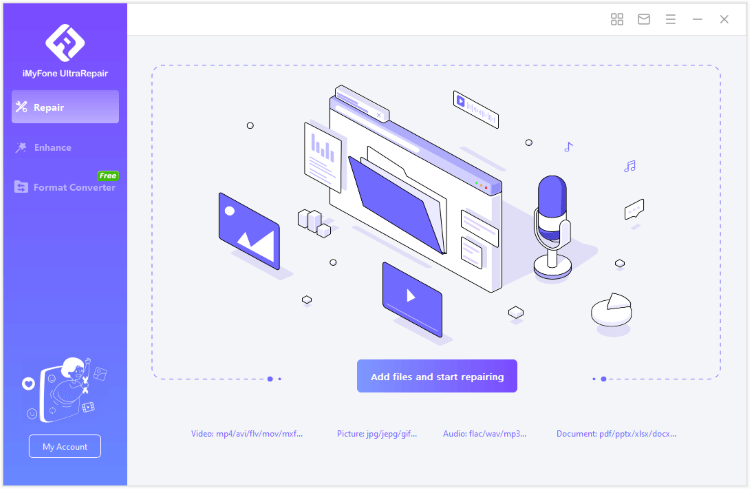 Step 2: Upload all your corrupted HEIC files, then click Repair.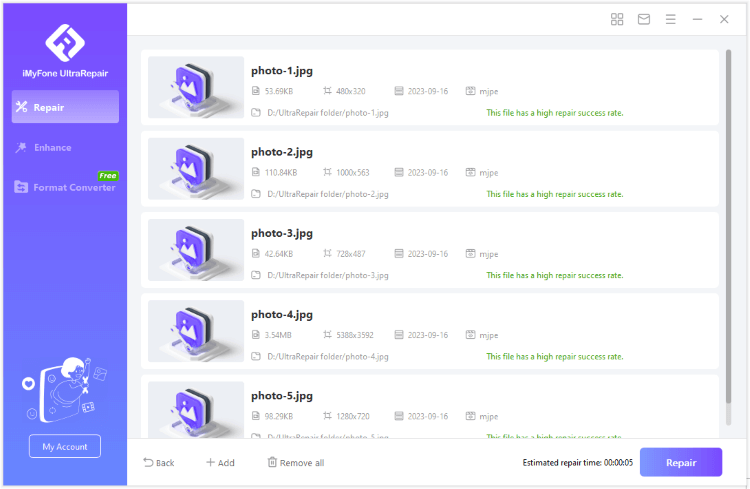 Step 3: Preview or save the repaired HEIC files.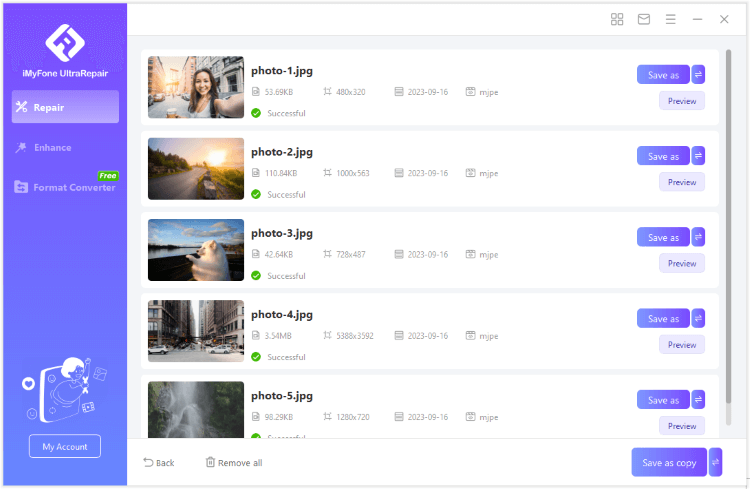 Limited Time 10% off Coupon Code for iMyFone UltraRepair: YTR5E7
Part 4: FAQs about Opening HEIC Files
1

How can I stop my iPhone saving photos in HEIC format?

To stop your iPhone from saving photos in HEIC format, simply go to your Settings app and select the Camera section. From there, you can choose to either keep JPEG as your default photo format or change it to another form.

If you want to disable HEIC completely, you can go to Settings > General > About and turn off the Use HEIF setting. This will disable all features that use HEIC on your device.
2

What else program opens HEIC files?

If you don't want to use CopyTrans or iMyFone UltraRepair to open your HEIC files, other options are available. The following programs can also be used to open HEIC files:
Apowersoft Photo Viewer
File Viewer Plus
Dropbox
Adobe Photoshop
3

How do I convert HEIC to JPG on Windows 10 for free?

As mentioned, you can download iMyFone UltraRepair to try, which converts your HEIC to JPG files on Windows 10 totally for free.
Bottom Line
These are just some of the many programs that can be used to guide you on how to open HEIC files. You can try them all to see which works best for you.
If you get a corrupted HEIC file, you can try using iMyFone UltraRepair to repair, which ensures to get your HEIc files back to life without touching any stored data.