[2023 Full Guide] How to Play MKV Files on Mac in 5 Ways?
Category: Repair Files
4 mins read
As a popular video format, the MKV file is often used for playing videos that requires high quality and high definition. For Windows users, playing MKV files seems to be an easy task with the right codec that the system comes with.
But it's not the case as for Mac users. Therefore, how to play MKV files on Mac becomes a question. So in this article, we'll introduce how to open MKV files on MacOS with 5 methods. All of them are easy tools that you can download and use for free!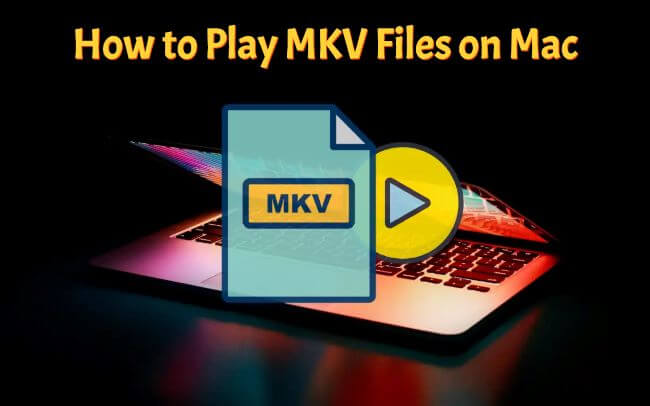 Instantly repair corrupted MKV files on Mac in 3 clicks.
Part 1: Info of a MKV File
MKV, or Matroska Video, is a flexible multimedia container format. It combines video, audio, subtitles, and additional data in a single file.
Not tied to a specific company, MKV supports various codecs, making it ideal for high-quality content like movies and TV shows.
Part 2: How to Play MKV Files on Mac in 5 Ways?
In this part, you'll learn how to play .MKV files on Mac with 5 methods. All of them are worth trying, simple and easy.
1

Try Elmedia Player

Elmedia Player offers an excellent option for playing MKV files on a Mac. It is a user-friendly and dependable player catering to both experienced users and beginners.

The tool supports a wide array of formats, including FLV, SWF, AVI, MOV, MP4, MP3, and MKV. In essence, it serves as an all-encompassing player capable of handling any file on your Mac.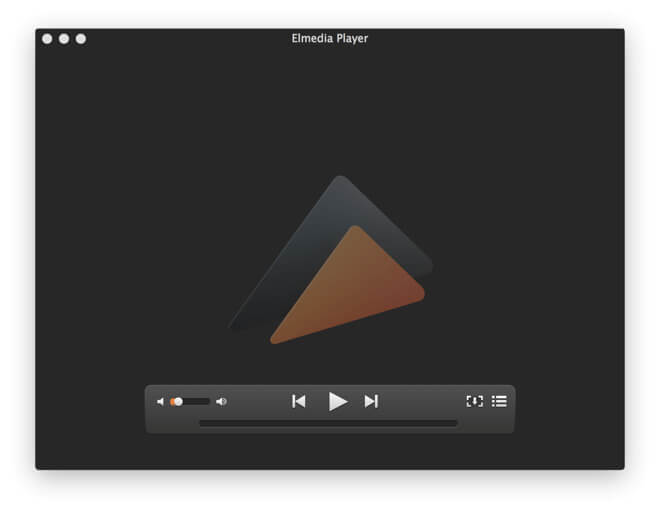 Step 1: Download the software from its website.
Step 2: Launch it and turn to the menu bar, then go to File, and click Open option.
Step 3:Choose the MKV file you want to open and start playing it.
2

Try VLC Media Player

To open MKV files on Mac, VLC should not be missed out. As an open-source media player, VLC is compatible with many operating systems including Mac. To safely play the MKV file, VLC is your top choice.
Step 1: Download VLC to your MacOS.
Step 2: Right click your MKV file, choose Open with and select the VLC for it to begin playing the file.
3

Try MKPlayer

MKPlayer is an alternative Mac media player with standard features and customizable video settings. It efficiently handles files such as MKV, offering support for multiple audio tracks and subtitles.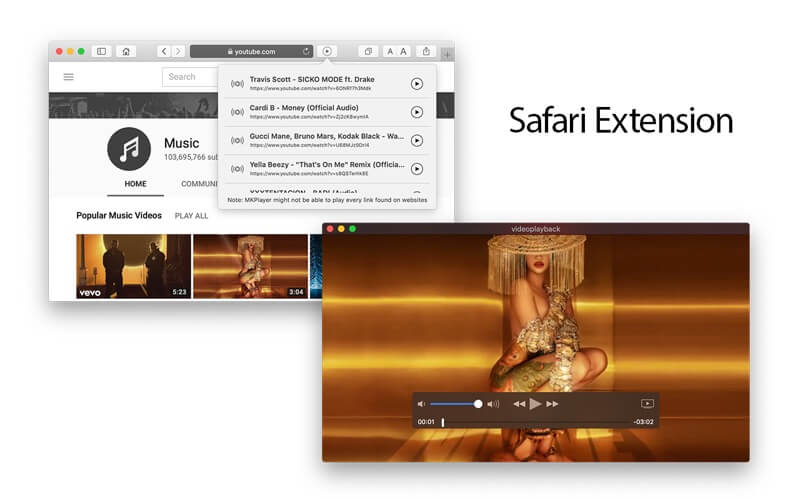 Step 1: Download the player and launch it.
Step 2: Open your MKV file from the folder to play it.
4

Try QuickTime with Plugin

Directly playing MKV files in QuickTime Player is not supported, but using a plugin like Perian that works for QuickTime, so that you can play MKV files on your Mac is also a choice.

However, it's worth noting that Perian is compatible only with QuickTime 7.6.6, and loading MKV files may take an extended time due to the intricacies of frame location recognition.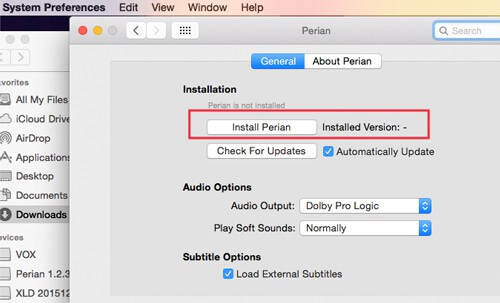 Step 1: Download and install the Perian to your Mac.
Step 2: Select the MKV file you want to play, right click on it.
Step 3: Select Open With, then Perian – Open in QuickTime Player option.
Step 4: When applied with the Perian, your default media player should be able to open and play the MKV file.
5

Try QuickTime in MP4 or MOV Format

If you don't want to download the plugin but still want to try the QuickTime, converting the MKV file into another supported format can fix the problem of all.

And the commonly supported file format by this media player is MP4 or MOV. Therefore, you can choose the desired video converter such as iMyFone UltraRepair, which supports to convert the format for free, to ensure the smooth playback.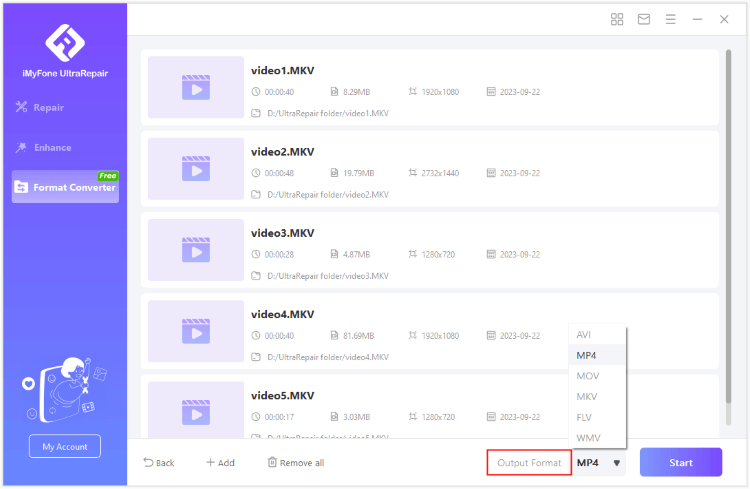 Using the tools mentioned above can surely help to open MKV files on Mac. But what to do when the files get corrupted and shows no sign of playing?Then the normal process of the playback should not work, you have to repair corrupted MKV files first.
Bonus: How to Open/Play MKV Files on Mac When Corrupted?
And here, let me introduce the professional file repair tool - iMyFone UltraRepair. As a dedicated software, it works to repair any damaged files to ensure the smooth playback later on.
Besides MKV format, AVI, MP4, MOV, 3GP, MPEG, WMV, M4V and other popular formats are all supported to be repaired with ease.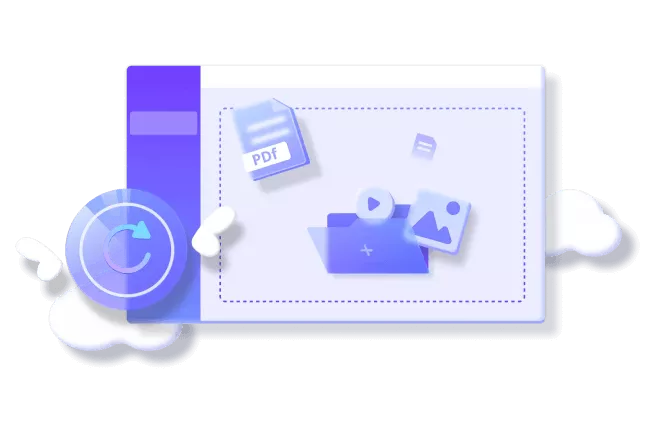 Key Features:
Repair corrupted MKV files without changing the original content.
Also support to repair corrupted audio, photos and documents.
Support to convert video file format for free.
Support to use on both Windows and Mac systems.
Step 1: Download and launch the software to chhose Repair tab.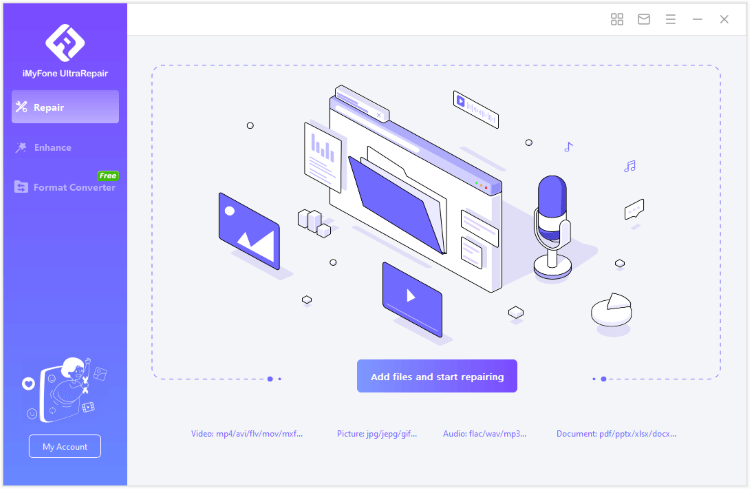 Step 2: Upload all your corrupted MKV video files, then click Repair.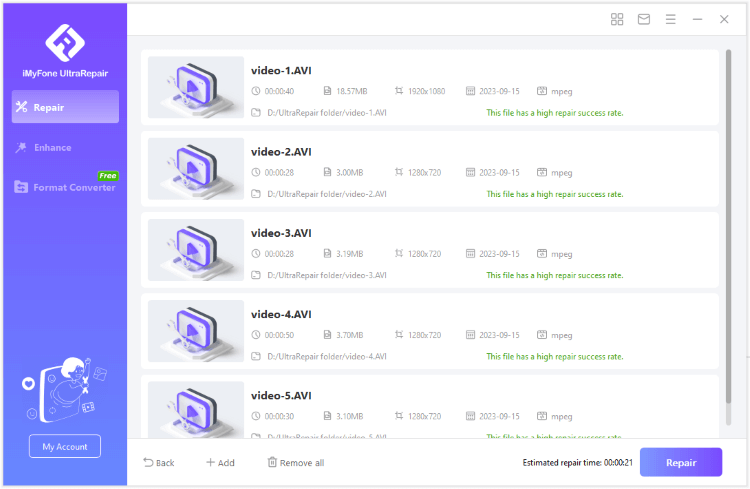 Step 3: Preview or save the repaired files.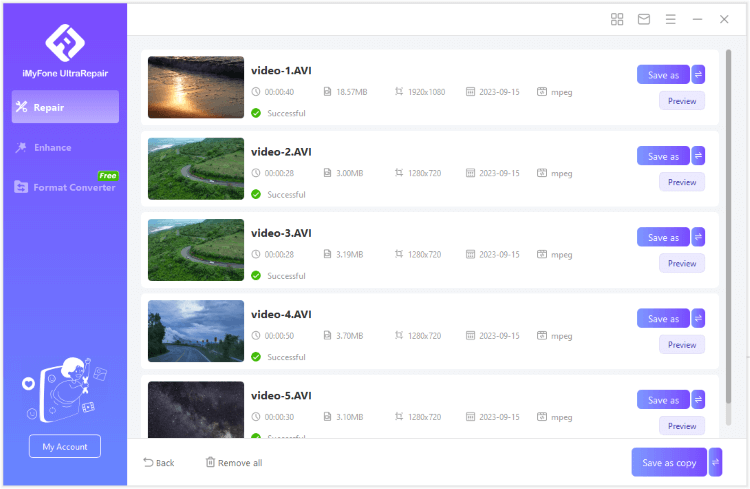 Conclusion
And here's all about how to play MKV files on Mac. All tools and methods introduced here are all worth trying. And to open your corrupted MKV files, it's suggested to repair them first via iMyFone UltraRepair, which works to get all your data back for a better playback later on!