An Ultimate Guide to Removing Noise from Images/Photos
Category: Repair Files
5 mins read
Looking for ways to remove noise from image? Look no further, we have compiled this article with various denoise tools for you.
Image noise, also known as image grain, is the visible distortion available on a picture. It varies on the light angle and the setting of your camera. Moreover, image grain affects the quality and clarity of the image. A digital image is always comprised of noise due to processing and transmission.Image noise reduction is a necessary step of image editing.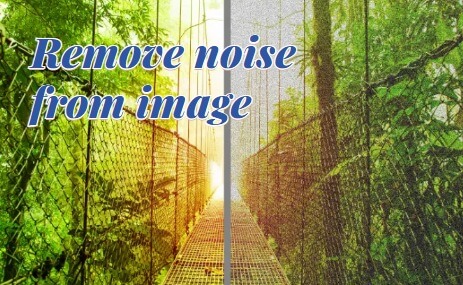 A graphic designer can remove grain from a photo within a matter of seconds. However, it is a typical task for non-designers. So, continue reading further to know about the various image-denoising tools and their significance while photo editing.
Now download UltraRepair to enhance and repair blurry or low resolution photos without losing quality.
Top 3 Photo Denoisers for Removing Noise from Photo for PC?
1

iMyFone UltraRepair

Rating: 4.8/5 stars

iMyFone UltraRepair is a great tool that is used to upscale the image without losing its quality. It allows you to effectively remove noise from image, colorize black-and-white photos and make blurry images clear with just one click. It has a user-friendly interface that allows you to fix damaged and noisy images within a matter of a few seconds. Besides, UltraRepair can also repair broken photos, videos and PDF files,and more.
Step-by-Step Tutorial to Remove Noise from Images with iMyFone UltraRepair:
Step 1: First of all, download iMyFone UltraRepair from its official website and launch it on your PC. On the homepage, select the "Picture Toolbox" and then opt for "Photo Defogging" option out of all the options available.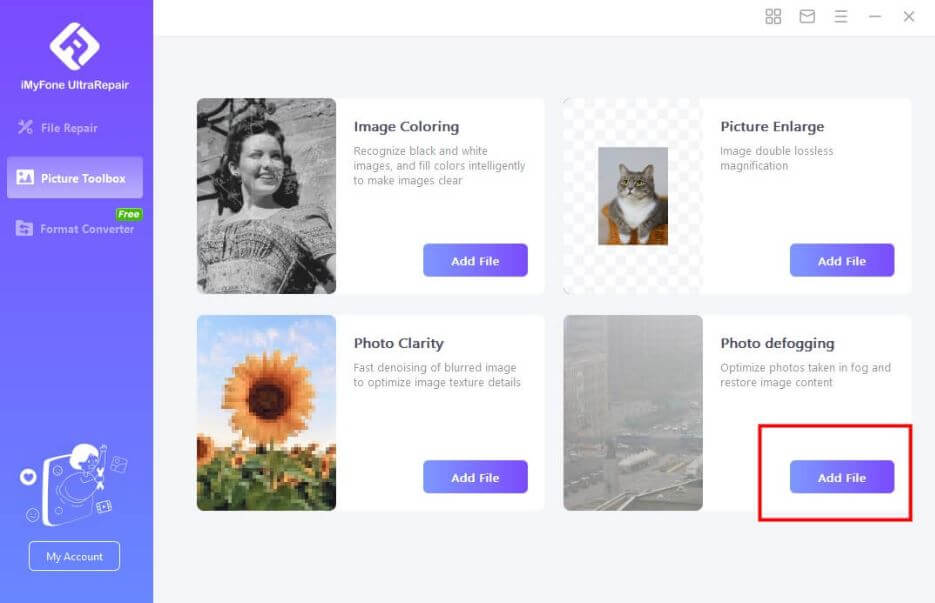 Step 2: Next, you need to open the image that you want to repair and iMyFone UltraRepair will do the rest. You can see the progress of image repair on your PC screen.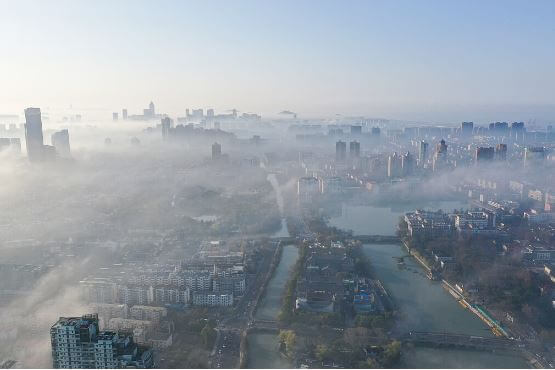 Step 3: Finally, click on the "Save Now" button to save the enhanced image to your desired location.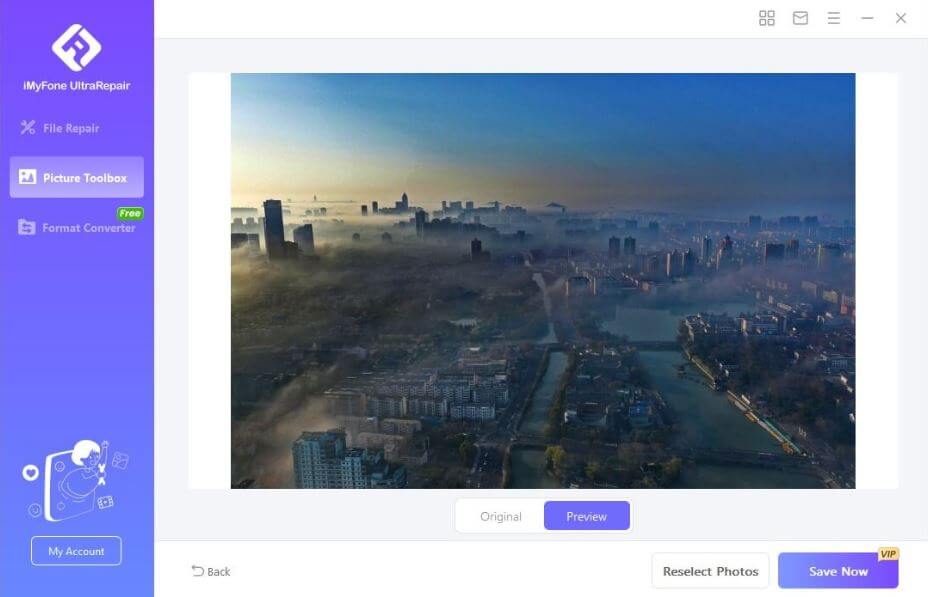 2

VanceAI

Rating: 4.7/5 stars

Vance AI is another popular denoising tool that can help you get rid of a noisy image within a few seconds. It works with AI algorithms to provide you with a hassle-free experience. You can either enhance your image online or download its free version for Windows.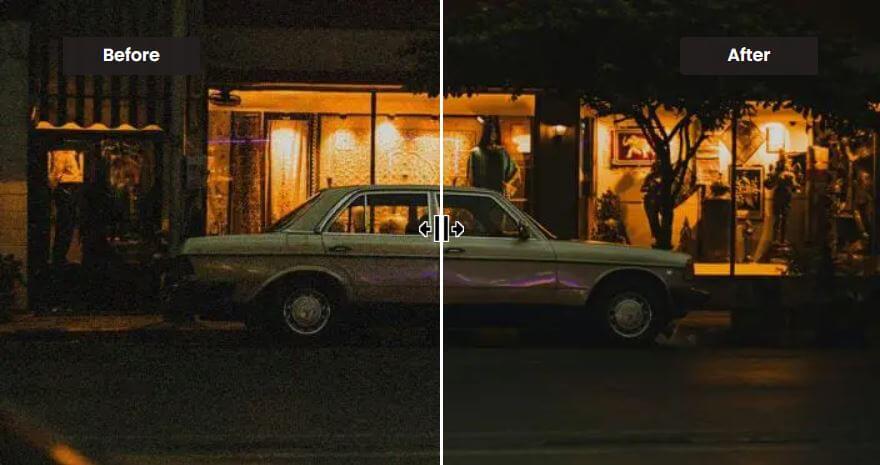 It reduces the image noise automatically with the following 3 steps:
Step 1: Open the Vance AI image denoiser tool and click on the "Denoise Image Now" option. Upload the image that you want to enhance and enable the "Auto" button available on the right side of the screen.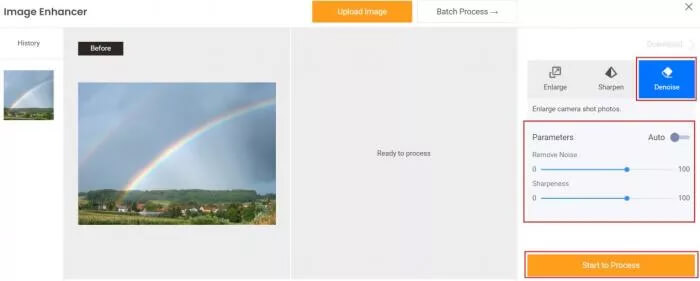 Step 2: You can also adjust it manually using the sharpness sliders. Lastly, preview and download the denoised image.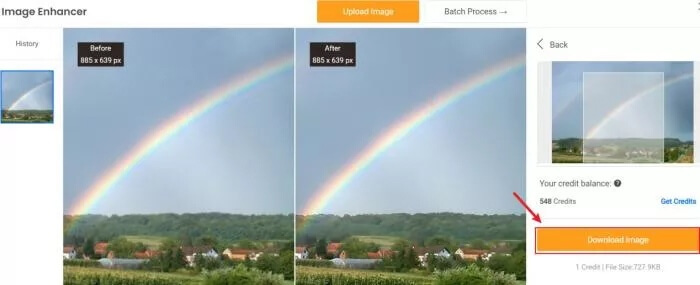 3

Topaz DeNoise AI

Rating: 4.3/5 stars

Topaz DeNoise AI is another denoising tool that uses artificial intelligence to enhance image quality. It clears all the digital noise to deliver a sharp and detailed image. You can also use it as a plugin in various graphic designing tools like Lightroom and Photoshop.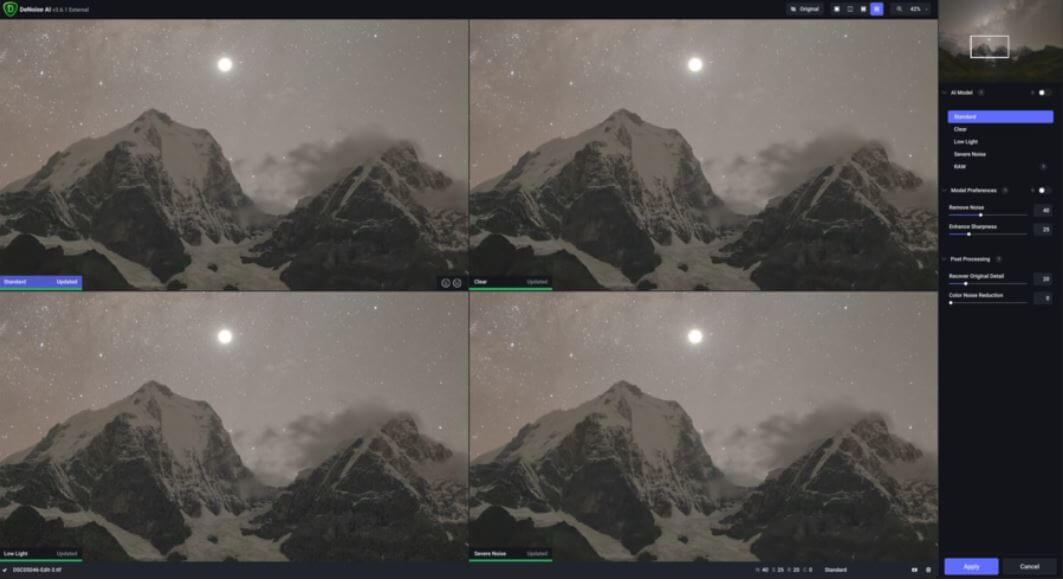 Follow the steps given below to denoise your images with Topaz DeNoise AI:
Step 1: Download and open Topaz DeNoise AI on your PC.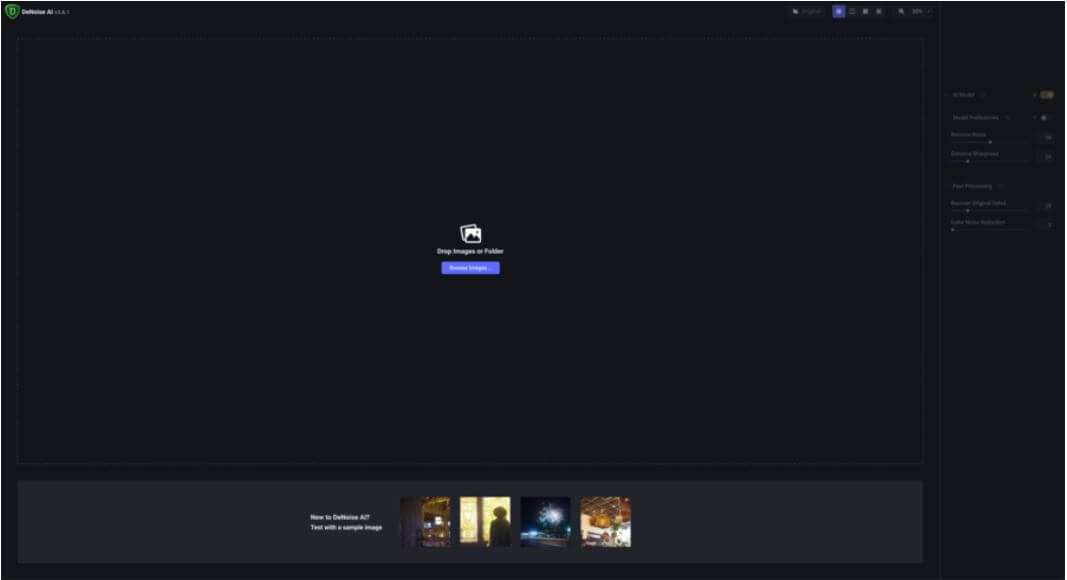 Step 2: Drag or upload the image that you want to denoise and select the "AI Model" button available on the right side of the screen. Now, adjust the image sharpness manually using the various sliders.
Step 3: At last preview and compare the image before saving it to your system.
Part 2. 3 Popular Online AI Image Denoisers to Remove Noise from Photo
1

AI Image Enlarger

Rating: 3.5/5 stars

AI Image Enlarger is one of the best online tools that can help you with various AI-based image editing tools. It offers an AI Denoiser tool to enhance image quality by removing background noise or grains. It comes with cutting-edge noise removal algorithms and a user-friendly interface making it easier for you to operate. It is completely automatic and you don't need to worry about any additional settings or manual adjustments. To top it all, it is available to use for free.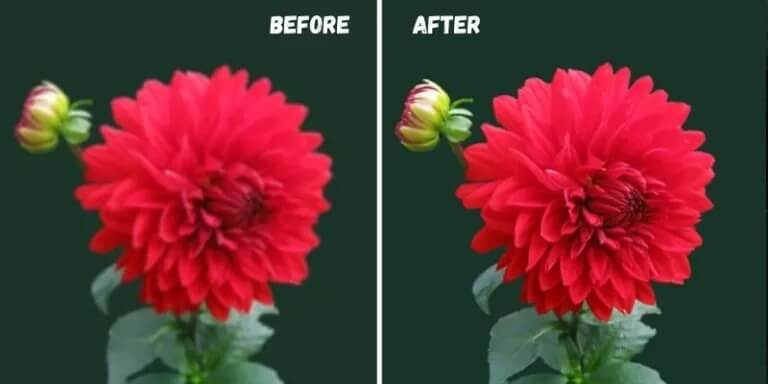 Follow the simple steps given below to enhance your image quality through AI denoiser:
Step 1: Open the official website of AI Image Enlarger. And then, open the AI Denoiser tool from the AI Tools section available at the top of the screen.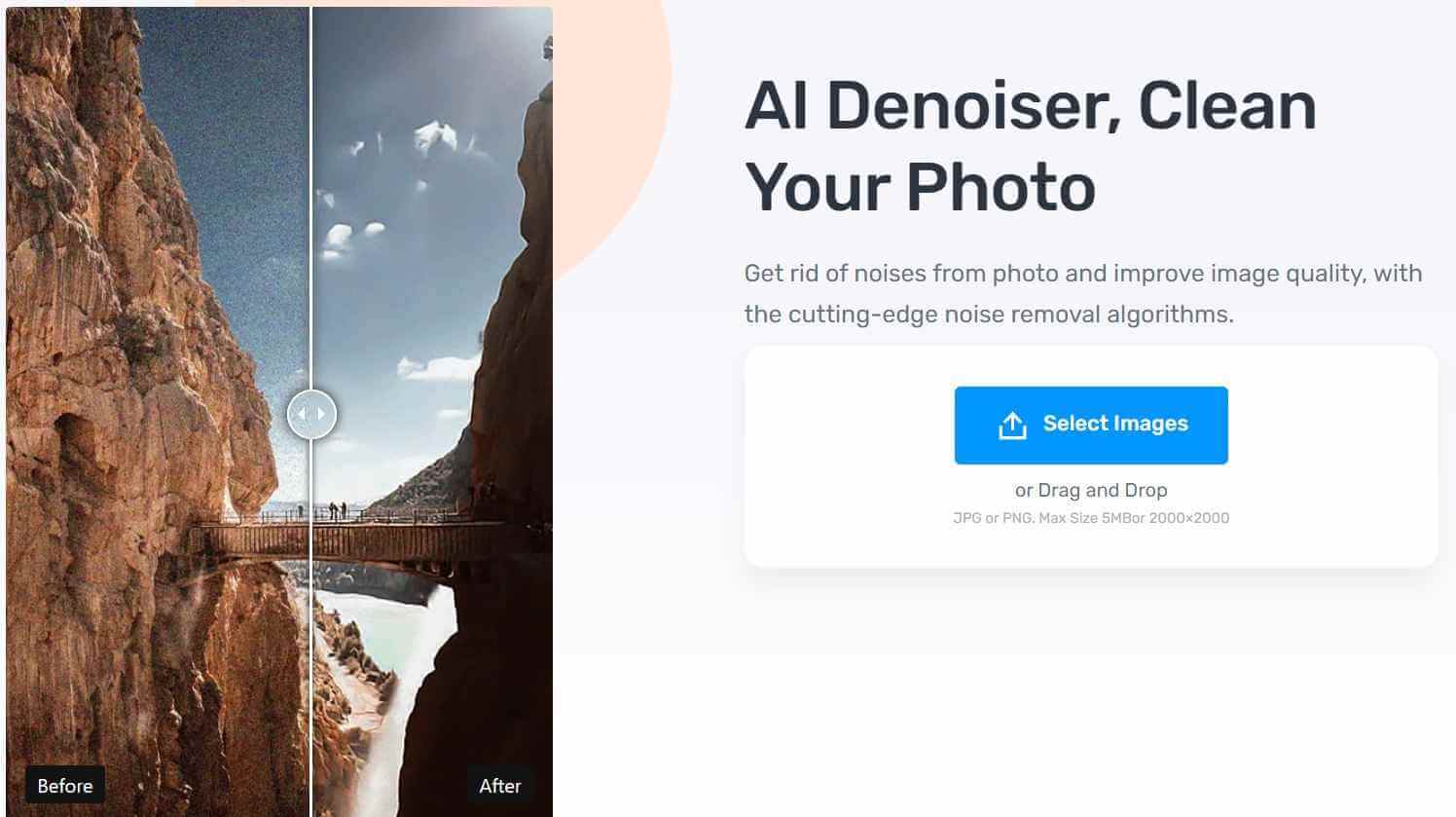 Step 2: Next, upload your image and wait for AI Denoiser to work.
However, it is associated with a few drawbacks.
It doesn't allow you to preview the denoised image before downloading.
It doesn't support an image size of more than 2000 x 2000 pixels.
2

Remove Noise Online by Pinetools

Rating: 4.2/5 stars

Remove Noise Online by Pinetools is a great image denoiser that can help you edit your image online. It doesn't take much time to enhance the image quality. It is a web-based tool that is capable to remove noise from the image caused by various factors like motion blur, lens distortion, etc. With this smart tool, you also get access to various editing options like colors, image flipping, adding text, special effects, etc. Moreover, this tool doesn't even require any sign-up or payment. Hence, it is one of the best choices for beginners with no knowledge of editing.
The following simple steps will help you denoise your image easily with Pinetools:
Step 1: Open Pinetools on your web browser. Then, upload the image by clicking on the "Choose File" option available on the homepage.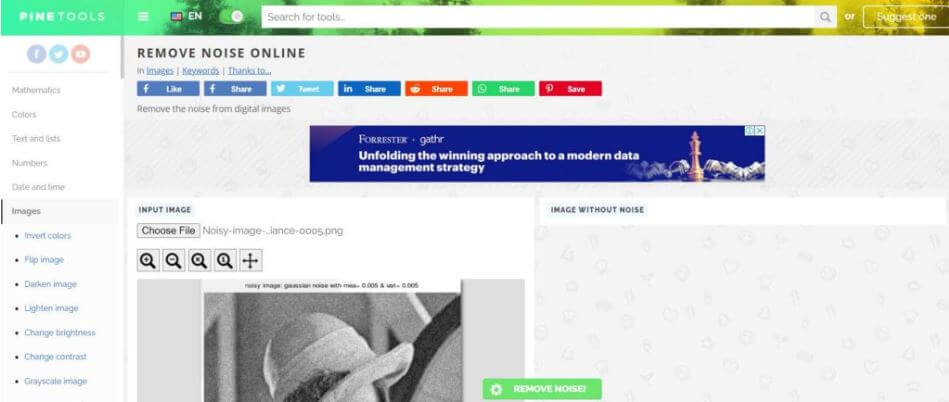 Step 2: At last, click on the "Remove Noise" button available at the bottom of the screen.
3

Avc.ai

Rating: 3.7/5 stars

AI technology has automated most of the tasks including image editing. AVC.ai has also launched its AI Image Denoiser to help you get clear image quality without any distortions. It has a simple and user-friendly interface and allows everyone to upscale image quality hassle-free. It is made up of various AI-based algorithms that help you to remove grain from a photo easily. It supports various image formats including PNG, JPEG, JPG, WBEP, etc.

Just like other AI-based online denoising tools, you need to follow the simple steps given below to upscale your image quality with AVC.ai Image Denoiser:

Step 1: First of all, open the official website of AVC.ai. Now, select the AI Image Denoiser tool and upload the picture.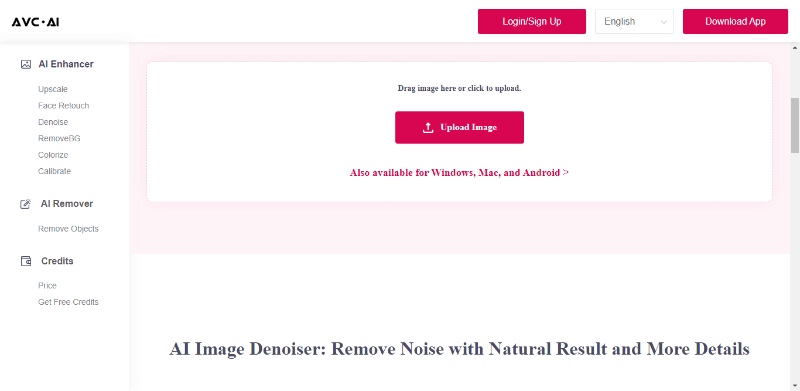 Step 2: Lastly, wait for the final result as AI Image Denoiser will automate the process for you.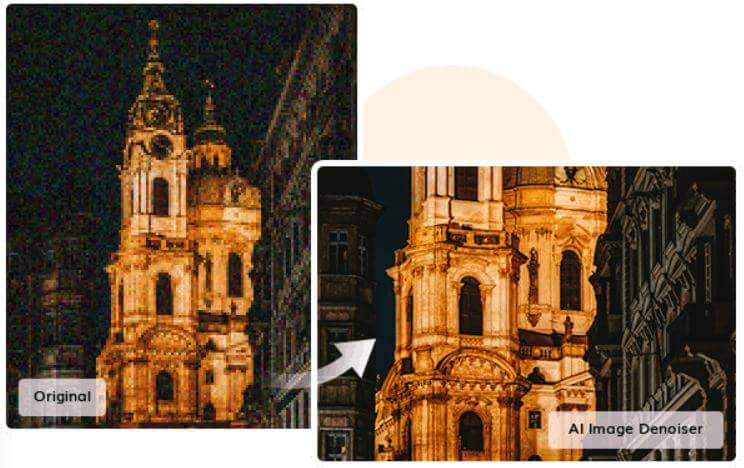 Part 3. FAQs about Image Noise Reduction
1

What is denoise in image?

Digital images are generally comprised of noise or digital distortions that reduce the image quality. Your image might look blurry due to the availability of these distortions. These distortions are caused due to image processing, wrong light angle, etc.

The denoising feature allows you to preserve the minute details of your picture and enhance the image quality by removing the grains. Denoising the image is the process of removing distortions and grains available on the original image. It is an advanced tool that uses various algorithms to remove noise from photos.
2

Does the denoise tool affect image quality?

Yes, the denoising tool reduces the image quality while removing the grains from the image. It reduces the minute details of the image and affects its sharpness.
3

Why is denoising images important?

Image denoising is important to restore the original content of the image. It enhances the image quality by removing grains and making them clearer.
4

What removes background noise? important?

Various graphic designing and photo denoiser tools are used to remove background noise from an image. iMyFone Ultrarepair is one of the most reliable tools that can help you get rid of image noise easily without any technical knowledge.
5

Which filter removes noise from a photo?

Weiner filter and Median filter work best to remove different types of noise from a picture. They deal with Speckle noise, Gaussian noise, and Poisson noise to improve the quality of an image.
Conclusion
Image noise is part of a digital image. However, you can easily remove it with some basic AI denoising tools. We have mentioned some critical tools you can use to remove grain from a photo easily. iMyFone UltraRepair is one the best noise reduction software that can help you remove noise from your picture without any technical know-how. It can help you get a quality image without spending much time on video tutorials.
We hope that you have found this article useful and have got a perfect solution for image noise removal. Enhance and showcase your digital image within a couple of minutes with AI denoisers.