[Solved] How to Unblur text image with 5 Recommended Tools?
Category: Repair Files
4 mins read
Have you ever come across a text image that was too blurry to read? It can be frustrating when you need to read important information but the text is too unclear to decipher.
Well, in this guide, we will explore various methods to unblur text image, including desktop and online tools. Keep on reading as by the end of this guide, you will have a clear understanding of how to unblur text in an image. Let's have a look!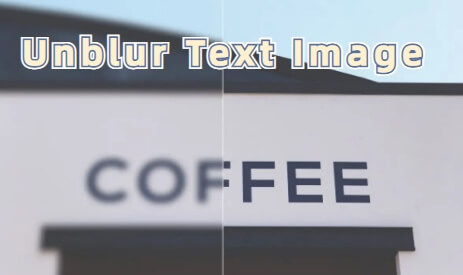 Now download UltraRepair to fix or enhance blurry photos/images to regain the original content and quality.
Part 1: Why Unblur Image text?
What is Deblur text?
Deblur text refers to the process of removing blurriness or fuzziness from text that has been captured or scanned from a physical document, image or video. When text is blurred, it can be difficult to read and interpret, and it can also be challenging for automated systems to accurately recognize and extract the text.
Situations where you need to unblur text from image
There are several situations where you might need to unblur an image with text. Here are some common scenarios:
Recover Lost Information: In some cases, important information may be lost or obscured due to a blurry image. And to rrecover these info, you need to unblur the image.
Improve Accessibility: For people with visual impairments or other disabilities, a blurry image can make it difficult or impossible to read the text. By unblurring the image, you can make the text more accessible to a wider range of people.
Read a blurry scanned document: When you scan a document, the resulting image may be blurry or low-quality, making it difficult to read the text. In this case, you may need to unblur the image to make the text more legible.
Avoid Misinterpretations: When dealing with professional documents like contracts or agreements, unclear text can lead to misunderstandings. To avoid this, it's advisable to unblur image text.
Part 2: The Best Tool to Unblur Text Image Easily
To easily recover the blurry image text, a dedicated photo enhancer tool like - iMyFone UltraRepair should be your best helper. By using advanced algorithms to analyze the upload image, it works to restore blurry or distorted images and make them clearer and easier to read in 1 click!
Blurry text images caused by poor lighting, motion blur, low resolution and other reasons can be fixed without you manually adjusting anything, it's a total automatic process!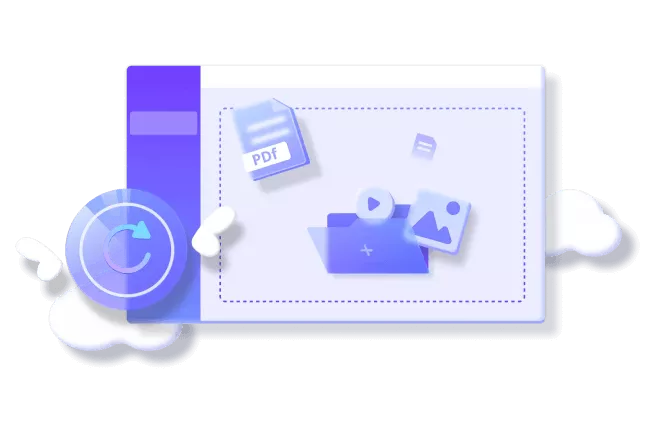 Key Features:
Unblur text in an image without affecting the artifacts of the image.
Support various image formats including JPG, JPEG, GIF, CR3, CR2, NEF, NRW, RAF, DNG, ARW, etc,
There is no file size limit on the files to be repaired.
Support to convert image to other formats for free.
Also support to repair blurry videos, corrupted audio, and damaged files in simple steps.
Support to use on both Windows and Mac systems.
Watch the video on how to make a blurry photo clear:
Step 1: Launch iMyFone UltraRepair and choose the Enhance tab, then click the Photo Clarity tab to Add File.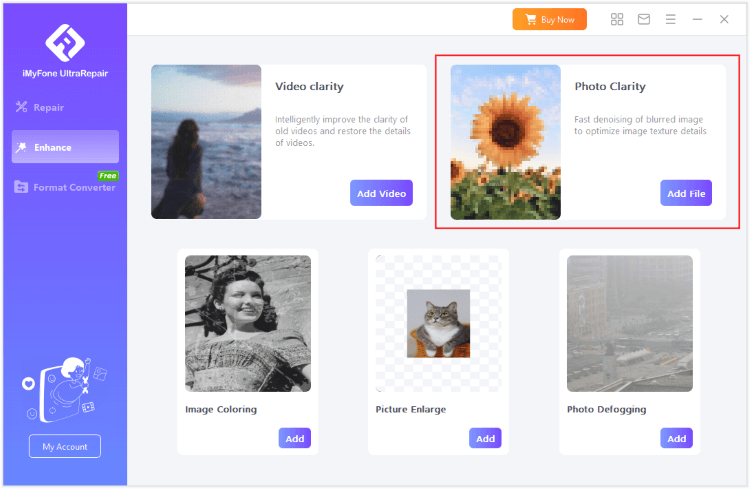 Step 2: Upload the photo you want to make it clear, then the software will begin to remove the blur from image automatically.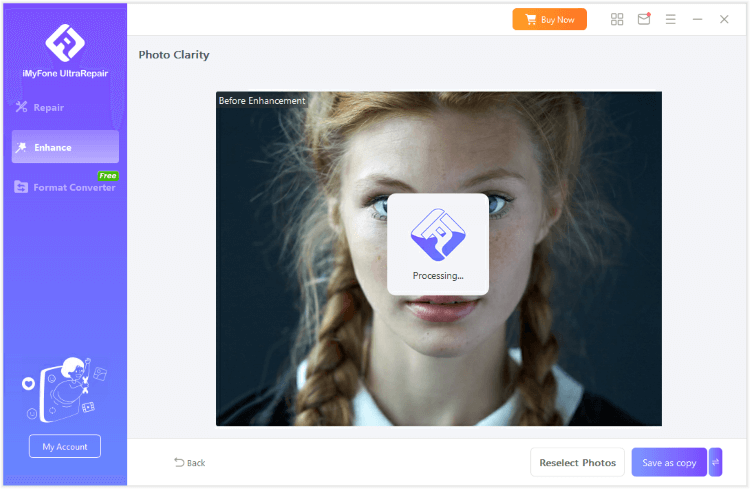 Step 3: When the photo is unblurred, you can save the enhanced photo as copy.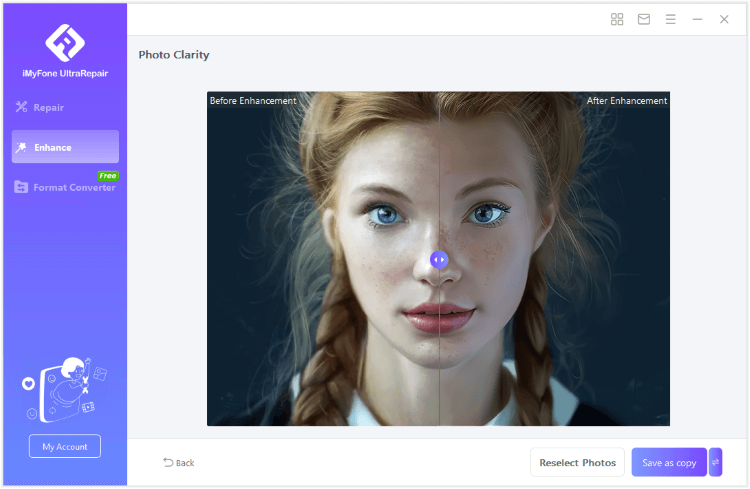 Limited Time 10% off Coupon Code for UltraRepair: YTR5E7
Part 3. 4 Other Popular Tools to Unblur Text Image Online
You can also unblur text image online for free with the following 4 tools.
1

Fotor

Fotor is an online image editing tool that offers various features to enhance the quality of images. Among its many features, Fotor also provides the ability to unblur text images online. Here the best features to know: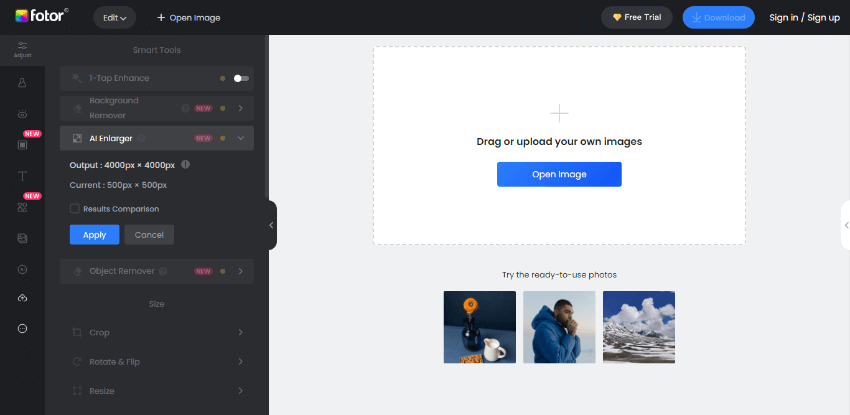 Fotor's unblur tool allows users to upload images directly from their computer or import them from a URL. This makes it easy for users to work with images they already have or find online.
It uses advanced algorithms to unblur text images online. These algorithms help to identify and correct the blur in the text, resulting in a clearer and sharper image.
Fotor's unblur tool provides various adjustments to fine-tune the unblurring process. Users can adjust the amount of blur reduction, sharpness, and contrast to get the desired effect.
2

Adobe Express

Adobe Express is a powerful and user-friendly tool that can be used to unblur text in an image online. With its advanced features, this tool can help you enhance the quality of text images and make them clearer and easier to read. Here are the best features of Adobe Express that make it an excellent tool for unblurring text images:
The sharpen feature in Adobe Express can be used to increase the clarity of text images. It works by highlighting the edges of the text and making them more defined.
The deblur feature is specifically designed to help unblur text images. It uses advanced algorithms to reduce the blur and bring back the sharpness of the text.
The contrast feature in Adobe Express can be used to improve the visibility of text in images. It adjusts the brightness and darkness levels in the image, making the text more legible.
3

Pixelied

Pixelied is a online tool that can help you to unblur text images. It offers a variety of features that make it easy to restore text in a blurred image. Here are the main features of Pixelied: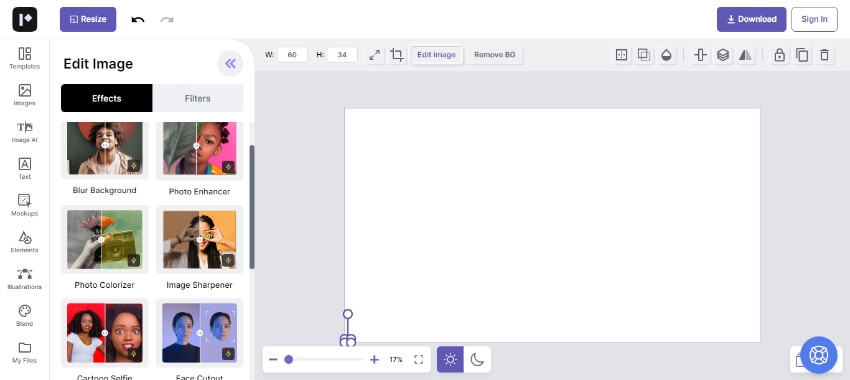 Pixelied will try to restore the text in your image by using advanced image processing techniques. It can help to improve the clarity of text images that have been blurred or pixelated.
This tool offers a range of settings that allow you to customize the text recovery process. You can adjust the level of detail, brightness, contrast, and more to achieve the best possible results.
The interface is intuitive and easy to use, so you can quickly get started restoring text images. Pixelied also offers helpful instructions and tutorials to help you get the most out of the tool.
4

Canva

Canva is also a powerful online tool for easily unblurring text from images. It has some main features that make it a great choice for anyone looking to improve their image clarity. These are as follows: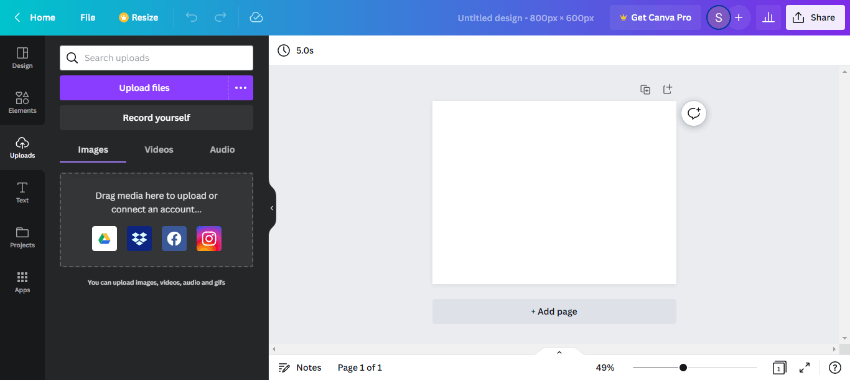 Canva allows users to sharpen and adjust the contrast and brightness of their text images, resulting in a much clearer picture. Additionally, users can crop and resize images to get the perfect look.
Canva comes pre-loaded with a variety of image enhancement presets, allowing users to quickly and easily tweak their images for the best results.
Canva can recognize text in images and automatically adjust the blur and contrast to make the text easier to read.
Part 4. FAQs about Unbluring Text Image
1

How to unblur an image text on iPhone?

To unblur an image text on iPhone, you can try the following methods:
Zoom in: Sometimes, simply zooming in on the text can make it clearer and easier to read.
Adjust Focus and Exposure: Use the camera app to adjust the focus and exposure of the image to try and bring the text into focus.
Use a Third-Party App: There are many third-party apps available on the App Store that can help unblur an image.
Use an Online Tool: There are many online tools available that allow you to upload the blurred image and apply filters or algorithms to unblur the text.
2

Can you Unblur text on an image?

The answer is yes. Trying desktop like UltraRepair, online tools like Canva, Fotor, Pixeleid can all help to unblur image text.
3

Can you unblur things?

In general, it is not possible to fully "unblur" an image or video once it has been blurred, as blurring involves the loss of information that cannot be recovered. However, depending on the type and severity of the blur, it may be possible to partially restore some details through image processing techniques such as deconvolution or sharpening. Additionally, if the original, unblurred image or a similar image with similar features is available, it may be possible to use that as a reference to enhance the blurred image.
4

Can you Unblur a censored photo?

Unfortunately, in most cases, it is not possible to fully unblur a censored photo. This is because the process of blurring involves intentionally distorting or obscuring the details of an image, making them harder to distinguish or recognize. In some cases, the blur may also be combined with other techniques such as pixelation, making it even more difficult to undo.

But if you still wish to attempt it, there are some tools that claim to do so. It is essential to choose the best tool helpful in doing it.
Conclusion
In conclusion, trying to unblur text image is a common challenge faced by many people, whether for personal or professional reasons. While there are several methods and tools available to unblur image text, iMyFone UltraRepair stands out as the best option due to its efficiency, ease of use, advanced features and safety in using. Download it to have a try, unblur text in an image now!