Are you looking to buy VLC Media Player? You probably are if you are reading this article. The VLC media player is a very popular video player used by Windows and Mac users worldwide. Who doesn't love VLC? It's a piece of software that can do it all; play any format, download subtitles, and even works with the media server. It has low CPU usage while being very responsive, and it has a clean user interface. If you're in a pinch and need something last-minute, here is everything you need to know before buying a VLC media player.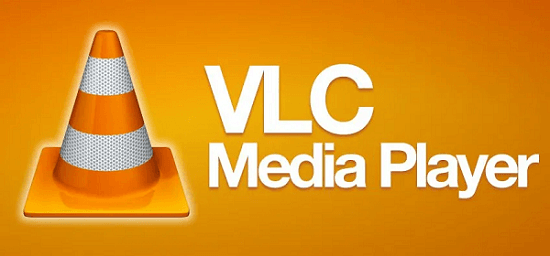 Part 1: An Overview of VLC Media Player
VLC Media Player is a free, open-source video player for many audio and video formats. It plays most multimedia files, including AVI, MP4, MKV, MOV, OGG, WMV, ASF, etc. It can record live streams from any local media source or network drive. VLC Media Player is available for Windows, Mac OS X, Linux, Android, and iOS systems.
This player plays most multimedia files, DVDs, Audio CDs, VCDs, and various streaming protocols. It can also stream PCM audio over network connections using Sorenson VP8 technology. With the help of VLC Player, you can enjoy any media content on your computer or portable devices without worrying about compatibility issues with different formats or codecs.
Part 2: Features of VLC Media Player
Here are the features which make this player one of the best.
01

Play almost every Format
VLC Media Player can play almost every music file you can think of. Furthermore, because it is open-source software, it will always come with community drive code. As a result, thousands of individuals worldwide can contribute to making this fantastic tool what it is. The main line is that if you have a music file that you can't play in any player or that has decoder issues, run it via VLC since it usually gets it right.
02

Plays RAR Files
This may appear ordinary or strange at first, but it is handy if you have a large amount of compressed music. If you have a RARed music file, instead of going through the tedious process of extracting the media and using hard drive space, go to the File tab, open it, and choose the RAR. Can you guess what happens next? VLC handles it admirably.
03

Download YouTube Videos
Good music should be available for free. Isn't that right? That is precisely what VLC does for you. Select Open Network Stream from the Media menu. Then copy the YouTube URL and press the play button. It's as easy as that. When you open the browser again, you'll be asked if you wish to save the video. So it's time to ditch YouTube Premium and save some money.
Part 3: How to Use VLC Media Player Repair Corrupted Video?
VLC Media Player is one of the most popular and widely used media players that can be used on different types of platforms. It comes with a bunch of pre-installed functionalities and other advanced options that can be used to perform various tasks related to media files. If you are having issues with your corrupted video or audio files, then use this application and decode those corrupted videos easily.
Here are two methods. By using them, you can solve your video's problems.
01

Transcode MP4 and MOV videos using VLC
Follow these steps to fix the issue.
Open VLC Player. Then click Media > Convert/save.
Insert MP4/ MOV videos that need to be transcoded by clicking Add. Then click convert/save.

Provide the file location in the Convert window for the Destination file option.
From the Profile list, select the required input codec.
To alter the settings of a specific profile, click the Edit Selected Profile button. You can also make a new profile or remove an existing one.
In the convert window, click on start.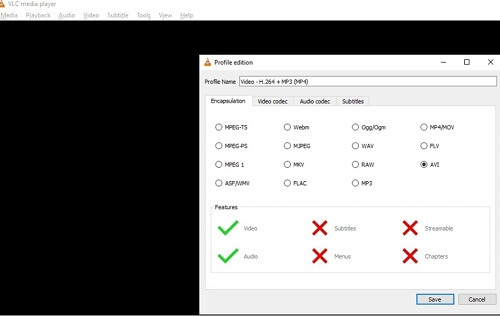 This solution will resolve corrupted MP4 and MOV file difficulties caused by the media player. After converting, you can play the videos in VLC or other viewers supporting their new profile.
02

Change the video output settings in VLC
Follow the given steps
Launch VLC Media Player and go to Preferences, and select tools > video.
Change the video output options from Automatic to DirectX (DirectDraw) in Video Settings.
Click Save and restart the player.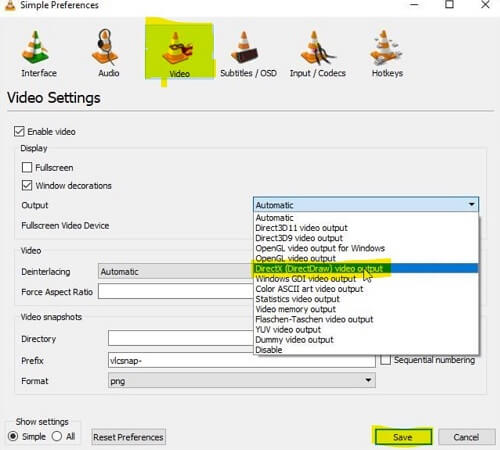 iMyFone Ultra Repair - Best Alternative for VLC Media Player
If you're looking for a VLC Media Player alternative, iMyFone UltraRepair is a solid choice. It's a powerful video repair software to help you fix various broken video issues.
The best part is that it's not costly. There are no hidden fees or additional costs attached to this software, so you can use it worry-free, knowing there won't be any surprises down the road.
If you're looking for an easy way to handle your video files, iMyFone UltraRepair can be what you need!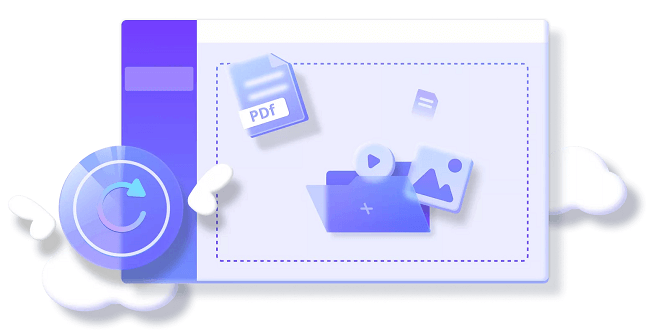 FAQs Related to VLC Media Player Review
1

What are the disadvantages of VLC Media Player?
VLC Media Player is real software that provides all the features required to play media material. Although it has generated several antivirus alarms, it does not contain any malware and is thus completely safe to download.
2

Is Windows Media Player better than VLC?
Choose VLC over Windows Media Player if you wish to play some file formats. With all of this state, we can't resist telling the media player which one looks better. VLC is the ideal choice for many worldwide since it supports various formats and versions.
3

Is the VLC Media Player virus?
VLC Media Player, sometimes known as vlc.exe, is a valid process file. It is associated with the VideoLAN Team's VLC Media Player software.