Question
"Why does my iPhone's touchscreen stops working properly and why can't I unlock my iPhone both by Face ID and screen password? That's really strange! I want to figure out the causes and find a solution to fix this unresponsive screen."
For iPhone users, it is annoying to encounter unresponsive screen, as this problem has affected the daily use of iPhone. It is mainly caused by hardware and software issues, falling to the ground, or some bugs occurred. Whatever the reason, having an unresponsive iPhone can be the most annoying thing ever when you need to use the phone urgently. In this article, we illustrate some methods to unlock iPhone with unresponsive screen.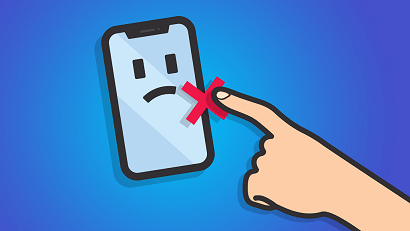 Part 1. Unlock iPhone with Unresponsive Screen for Free
If you are in a hurry and want to fix this problem just by adjusting the iPhone, then you can try the methods below.
1

Force Restart Your iPhone
When you fail to unlock an unresponsive screen, forcing a restart of your iPhone remains the easiest and fastest way. Just click the related buttons and begin to restart, then this method may address the issue, but you have to notice that different versions lead to different methods, let's see their differences!
For iPhone 6 or earlier: Press and hold the home screen and power button at the same time, then you will see the Apple logo appears on the black screen.
For iPhone 7 or iPhone 7 Plus: Press and hold the volume down button and the power button at the same time, then a bar appears to warn you to slide it to restart.
For iPhone 8 or later: Press the volume up button quickly and then release it, and also press and release the volume down button quickly. After that, long press and hold the power button until the Apple logo appears.
2

Erase the Screen Passcode via iTunes
If you have already synced your iPhone with PC, you can unlock the unresponsive screen via iTunes by erasing the screen passcode.
Step 1.Connect your iPhone to your PC with a lighting cable.
Step 2.iTunes will detect your device automatically. Click the "Device icon" on the left, then go to the "Summary" lab.
Step 3.Tap on the "Restore iPhone" and follow the instructions to continue.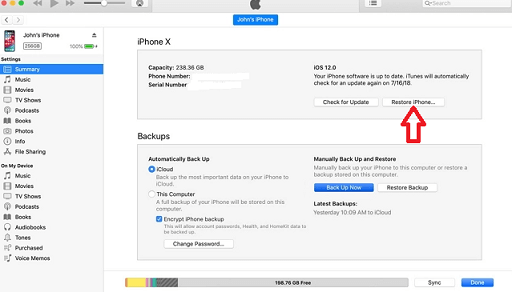 Note
Use iTunes to unlock the unresponsive screen may clean up all your data. Please think twice before using this method.
3

Use a Keyboard
Using an external keyboard might also help unlock iPhone with unresponsive screen. Besides, you don't need to worry about the data loss with the help of the external keyboard. Let's see the detailed steps!
Step 1.Connect your external keyboard to your iPhone through the Bluetooth or the OTG cable.
Step 2.Press the power button which warns you to enter the passcode.
Step 3.Type the passcode by keyboard, then you will unlock your unresponsive phone screen.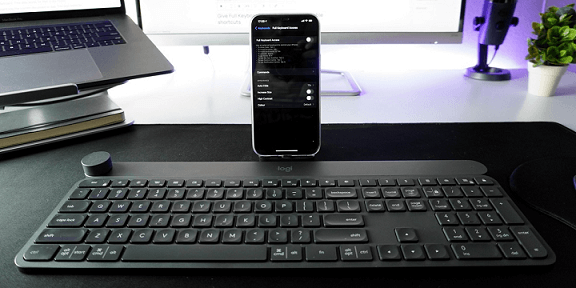 4

Consider Siri
Siri may be a possible trick to help you unlock iPhone with unresponsive screen. This method works while Siri is enabled on your iPhone and you are required to use your voice to give commands. However, the premise is that Siri has been already enabled on your iPhone and you once tried to use Siri by your voice.
To use this method, the following steps are required:
Step 1.For an iPhone 8 or earlier, you need to press the home screen to activate Siri. While for iPhone X or later, press the power button to activate Siri.
Step 2.Once done, ask Siri to turn on the "VoiceOver".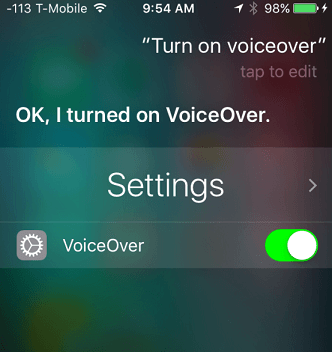 Step 3.Swipe to select the "Slide to unlock" option, and tap on the right passcode buttons, then tap them to enter passcode.
Step 4.Double-click "Done" to submit the passcode.
Part 2. Unlock iPhone with Unresponsive Screen via iMyFone LockWiper
If the methods mentioned above can't work out and you also don't want to cause any data loss, then we recommend you to use a professional removal tool – iMyFone LockWiper.
iMyFone LockWiper is an excellent lock removal and screen issues fixing tool that can fix all of the screen problems such as locked, disabled screens, and so on. The great advantage of this tool is that it enjoys a very user-friendly interface and easy-to-understand instructions. Every user can use this tool without any technical skills, let's move further to see the detailed features!
Key features of iMyFone LockWiper:
Compatible with all iOS versions and iOS devices.
Fix all the screen issues on iOS devices, such as lock screen bug, and broken screen.
Guarantee a high success rate when unlocking second-hand iPhone.
Remove Apple ID on all iOS devices without the password.
Here are the detailed steps to use iMyFone LockWiper:
Step 1.Download and launch iMyFone LockWiper. and select the "Unlock Screen Passcode" option.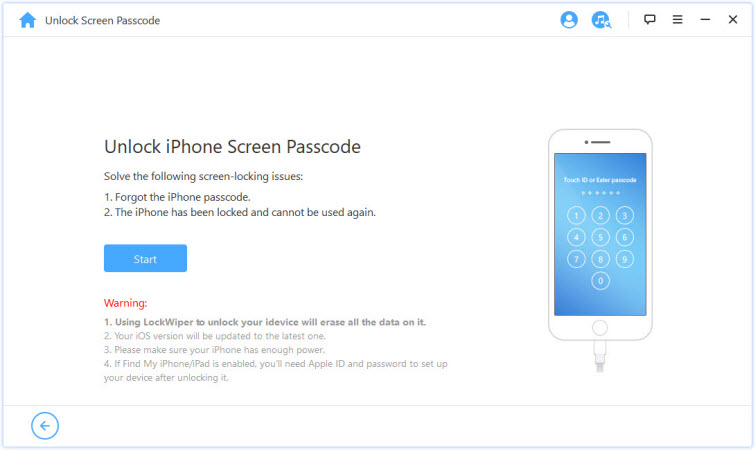 Step 2.Tap on the "Start" to start the process.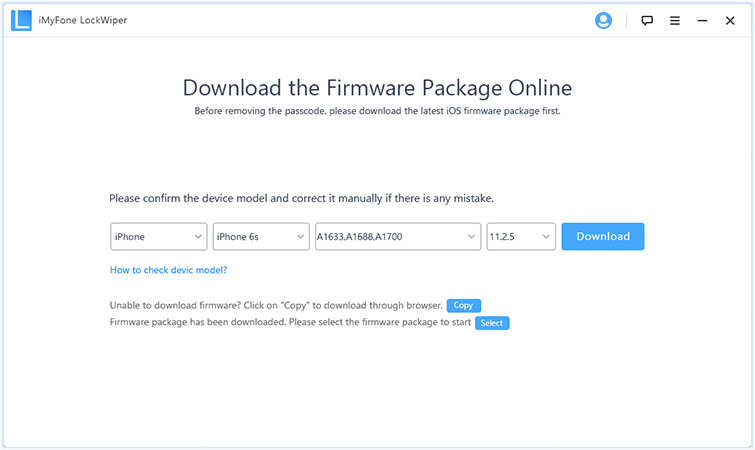 Step 3.Click the "Download" tab to download the right firmware package, then click "Start to Extract".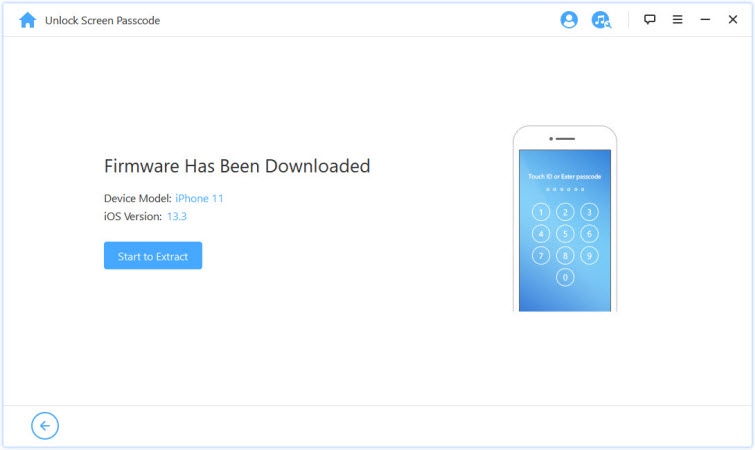 Step 4.Click "Start Unlock" to address the screen issues, then follow the notice and enter "000000" to make sure that you have given a permission to unlock your iPhone. Finally, click "Unlock".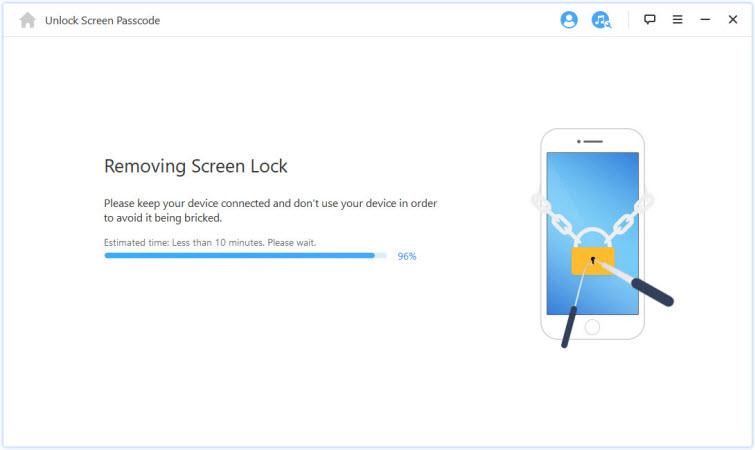 Wait for a while, then your screen issue will be solved! You can reset the screen lock again.
Conclusion
Having an iPhone with an unresponsive screen can be the most frustrating thing ever. In order to unlock iPhone with unresponsive screen both systematically and safely, we highly recommend iMyFone LockWiper. Its professional screen issue fixing skills and other functions can be a good helper when you encounter any of the screen issues. Just download it and give it a try!