How to Export WhatsApp Chats More than 40000 WhatsApp Messages
Category: Transfer WhatsApp
3 mins read
Today, WhatsApp is one of the most popular apps for communication. It is used for both personal and business-related messages. More so, several business owners now depend on this platform to communicate and share information with clients, employees, colleagues and more. Its relevance cannot be over emphasized.
WhatsApp has gone through a significant upgrade, which makes it possible to save over 40,000 messages. However, what if you'll need to export more than 40000 chats and messages?
In this guide, this problem would be explained in details: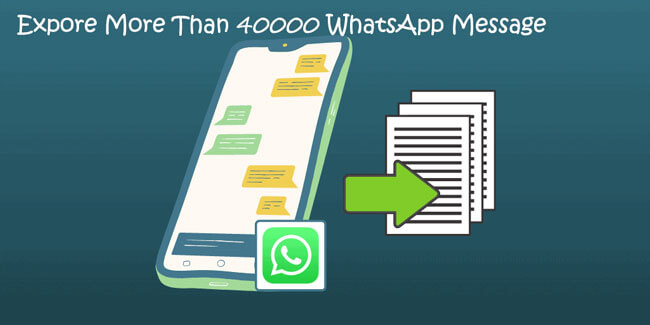 Part 1: Can I Export More Than 40000 WhatsApp Messages?
WhatsApp chat settings have been designed to back up and save chats on the phone's memory automatically, even though it is dependent on backup frequency.
If you make use of the inside WhatsApp export chat feature, you would be asked whether to export with media or not. Once this is done, an email with these chats is sent across. Please note that this way is limited and with media, youcan only send 10,000 recent messages; without media, you can export less than 40000 messages. This is all because of email capacity.
Here is a simple step-by-step guide for you:
Open the chat and tap on three-dot icons.
Choose More and press the Export chat function.
Choose to include media or not to proceed.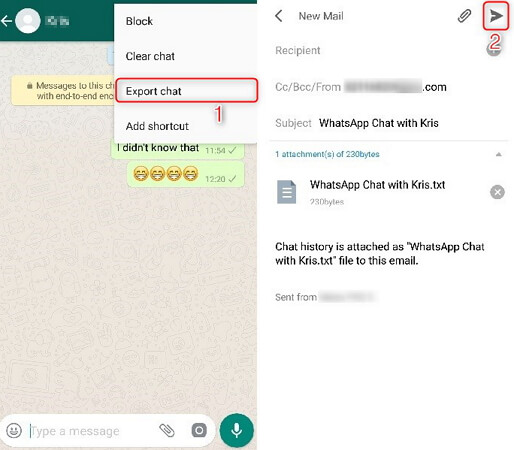 Following the steps above, you would have an individual or group chat/messages in your email easily. However, you are here to find a way to export more than 40000 messages, even with media, so you cannot miss the following part.
So, back to the question: Yes, it is possible to export more than 40000 WhatsApp messages from both iPhone and Android devices.
Part 2: No Limitation on Exporting More than 40000 Messages
iMyFone tools are the perfect choices and there are two major types: iMyFone iTransor and iMyFone D-Back. The former is for both iPhone and Android while the latter is for android devices only. Each of them has been proven effective over time, and trying them out would be a great idea!
2.1

ExportMore than 40000 WhatsApp Messages from iPhone & Android Directly

iMyTrans is the best tool to export over 40000 WhatsApp messages from iPhone/Android. This tool would break every barrier limiting the exportation of these messages on various devices. For instance, exporting with or without media wouldn't be a problem, unlike the normal WhatsApp process.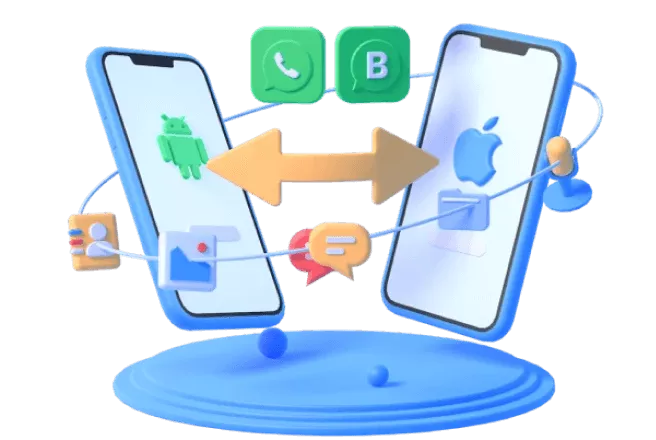 Key Features:
Supports both WhatsApp Messenger and WhatsApp Business data.
Export WhatsApp chats and media files to computer without limitation.
View the exported WhatsApp messages in CSV or HTML format.
Export, backup, restore and transfer WhatsApp data between iOS and Android devices.
Step 1: Download,install and launch iMyFone iMyTrans on your computer.
Step 2: Go to Back Up WhatsApp on Devices from the left panel and then connect your phone to computer with a usb cable. Once it is recognized, click "Back Up to start". Wait for the backup process done.

Step 3: Go to the "Restore/Export WhatsApp Backup", select the backup you just made from the list. Select to Export to Computer.

Step 4: Afters canning the data in your WhatsApp backup, all the chats and attachments will be shown. Filter them by the search function and choose the WhatsApp chat with more than 40000 messages you want to export, decide where and which file format to export, click "Export".
2.2

Export Morethan 40000 WhatsApp Messages from Android

The other tool is iMyFone D-Back. You are able to view existing and deleted WhatsApp messages on your Android smartphone easily.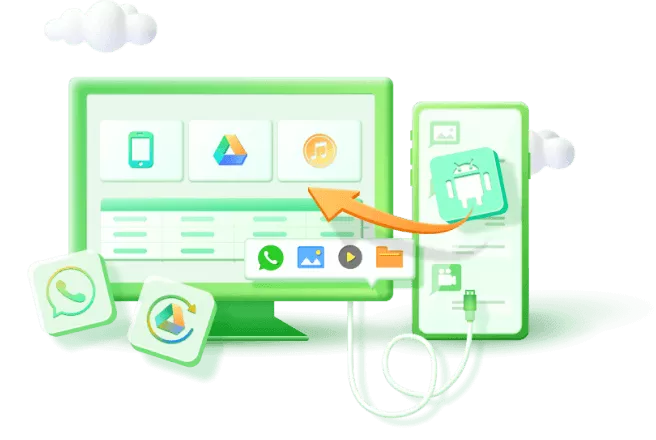 Key Features:
It helps export more than 40000 WhatsApp messages from Android phones and tablets.
It supports multiple file types like WhatsApp and contacts, videos, photos,messages, etc.
It guarantees 100% safety.
This only takes simplesteps to do this export.
Below is a step-wise procedure on howto export over 40000 WhatsApp messages from Android using iMyFone D-Back. Now it only offers the Windows version.
Step 1: Download and Install D-Back for Android on your PC. Then launch the software and start it by choosing Android Data Recovery out of the two available.
Step 2: Select device information and click the "Next" tab. Then an auto-download starts for the matching data package on the Android smartphone.

Step 3: Now connect the Android smartphone to PC with a USB Cable and put the device in downloading mode as instructed on thescreen. Then select the WhatsApp file type you want.

Step 4: Start to scan. Then preview andchoose the needed files from WhatsApp (messages)to export.
Following these steps, you can easily export more than 40000 messages from Android devices.
FAQs Related to Export WhatsApp Message
1

Can I export WhatsApp messages?

Yes, you can export WhatsApp messages via Email. First, select the target WhatsApp chat. Tap the "Vertical Ellipsis" icon to launch, Click "More Option", and then tap on "Export Chat". If you want to export only the part of the text, choose "Without Media", if you need to export all info, just click "Include Media".
2

Can I save WhatsApp messages to my computer from my Android phone?

Yes, just follow this easy four-step.
Use a USB cable to connect your Android phone with a PC. Then, go to the internal memory on your phone and select the "What App" folder.
Copy the folder directly and paste it on your computer.
Go to WhatsApp folder and click the message > Choose "Export to TV". The procession needs a few minutes and all the messages will be stored in the extension. You can get the WhatsApp message on your laptop.
3

How do I copy WhatsApp messages?

First, go to WhatsApp, and click "More Option", then go "Setting" > "Chat" > "Chat backup" > "Back Up". In this way, you can backup your WhatsApp Message and copy it directly.
Conclusion
Exporting WhatsApp messages with/without media is one of the easiest things to do as long as you have a reliable tool. There are limitations with the normal process of using WhatsApp chat export settings, but with iMyTrans, there is no limitation, and so much can be done.