Many people are concerned about changing their phone numbers and keeping the WhatsApp chat like before. Yes, it is possible. There are different solutions to this problem. WhatsApp provides a feature in which you can change your phone number. Your phone and WhatsApp will remain the same, but the number will be changed. However, if you want to transfer your WhatsApp data to another smartphone, then you will need a third-party tool.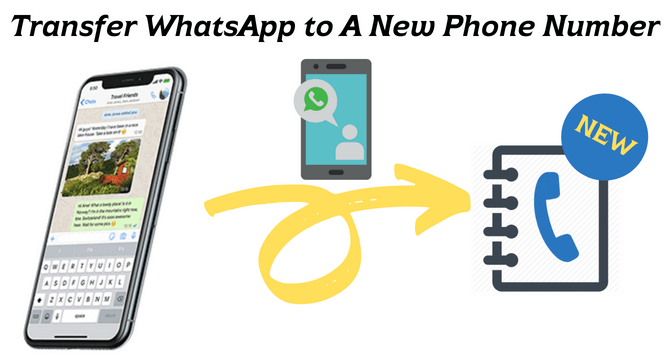 In this article, we will tell you everything about transferring your WhatsApp messages and chats to a new phone number.
Part 1. Can I Transfer My WhatsApp Messages/Chats to A New Number?
Yes. You can transfer WhatsApp messages/chats to a new number. Although it might sound easy, you need to be very cautious. If you are not careful, then you might lose your WhatsApp data. Setting up a new phone is exciting, but what worries people is their WhatsApp data. The answer to their query is positive. WhatsApp allows the user to change the account to a new number while keeping the WhatsApp chats and all other information the same.
When you change your WhatsApp account to a new phone number, the chat will remain the same. But if you are also changing your smartphone, it is not possible directly. You need to use a third-party tool or different methods to transfer the data.
In the next part of the article, we will discuss a few techniques and tools that allow the user to keep the WhatsApp data and change the phone number.
Part 2. How to Add/Create a New Phone Number to WhatsApp
It is not difficult to add or create a new phone number to WhatsApp. But for the ease of users, we have defined a few simple steps that they can use and add or create a new phone number to WhatsApp. Let us get into the steps.
Step 1.Open WhatsApp on your phone and click on three dots in the top-right corner. Tap on Settings.
Step 2.Now, click on Account, and you will see different options. If we want to change the phone number, click on Change Number.
Step 3.Here, you need to enter both the old and new phone numbers along with their country code. Tap on Next.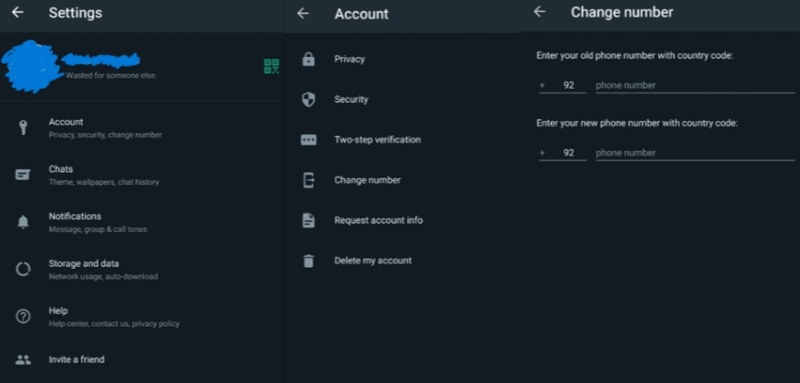 Step 4.Before you enter the phone numbers and transfer WhatsApp data, you must create a recent and new backup on the drive. Go to Settings > Chats > Chats Backup > Backup and upload your backup to Google Drive.
The user should bear in mind that after changing the phone number. The new phone number should be able to receive texts because a code will be sent to a new phone number for confirmation. After confirmation, WhatsApp data will be deleted from the previous phone number. It is an easy process, but you have to be cautious; if not, then you might lose your WhatsApp data.
Part 3. How to Transfer WhatsApp Chats/Messages/Files to a New Phone Number
To transfer WhatsApp chats/messages/files to a new phone number, you must create a backup. There are different ways to create a backup for your WhatsApp account. If your old and new phone numbers are both on Android or iOS phones, then you can use the following steps to backup your WhatsApp data on Google Drive/iCloud.
Step 1.Open WhatsApp on your mobile phone. Go to Settings.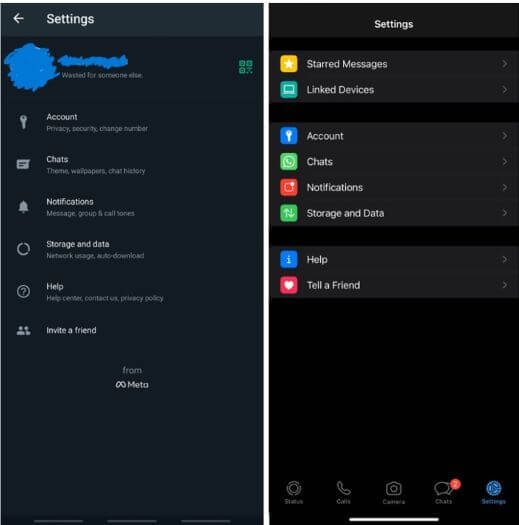 Step 2.Under the settings, go to Chats. Then tap on Chat Backup.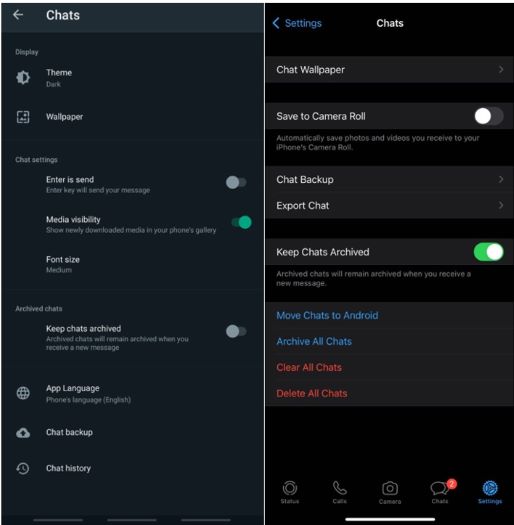 Step 3.On Android, you can click on Back Up, and on the iOS device, you can click on Back Up Now. It will create a backup on Google Drive and iCloud.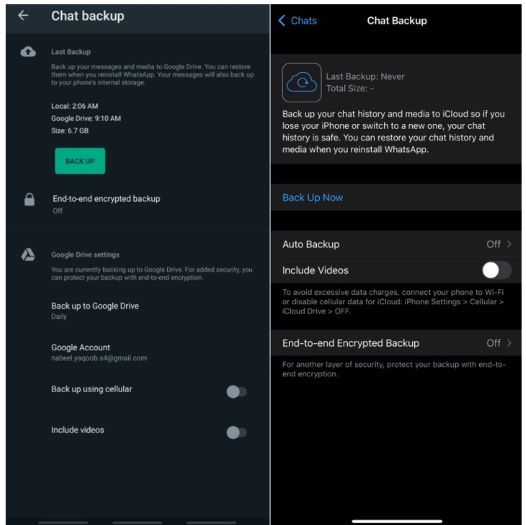 Step 4.Now, open WhatsApp on your new phone number, and enter the same Google Account or iCloud Account. It will ask you to Restore the previous chat; click on Yes. It will transfer the previous WhatsApp data to your new phone number.
Part 4. Ultimate Alternative: One-click to Transfer WhatsApp to New Phone/Number
If you don't want to get into the trouble of changing the phone number and then entering the confirmation code, you can use an alternative solution. This alternative solution requires a third-party data transfer tool which is iTransor for WhatsApp. It is a professional data transfer tool that allows the user to transfer WhatsApp data along with media files with a 100% success rate and 0% data loss. It is a very easy tool, and it has an interactive user interface that makes WhatsApp data transfer directly from one phone to another.
The program is not only capable of transferring WhatsApp data from one phone to another, but it can also create and restore WhatsApp backup. The user has the option to export chat in different ways. So, iTransor for WhatsApp can transfer, backup, restore, and export WhatsApp data easily. It is very secure and does not exploit data in any manner.
Steps to transfer WhatsApp to a new phone number with only one click
Step 1.Download and install iTransor for WhatsApp on your computer. Click on Transfer WhatsApp between Devices.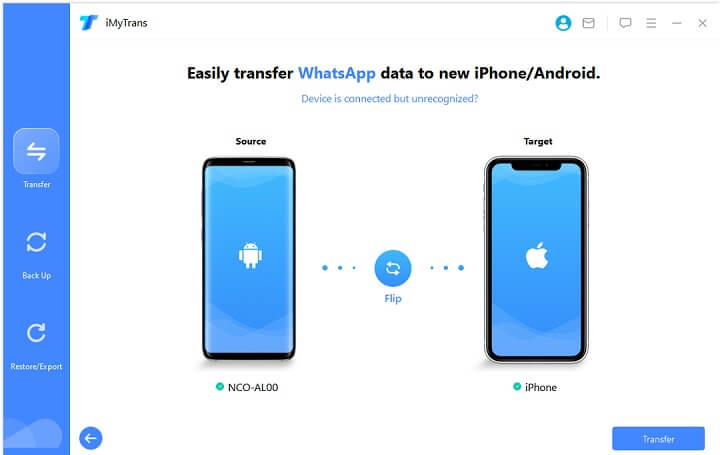 Step 2.Connect the phones to the computer using a cable and make sure to check the source and destination device so the transfer can occur efficiently. Then click on Transfer.
Step 3.The program will install an enhanced or customized WhatsApp as it will help the phone to access the program. This WhatsApp version is safe. Wait for the transfer to complete and follow simple instructions.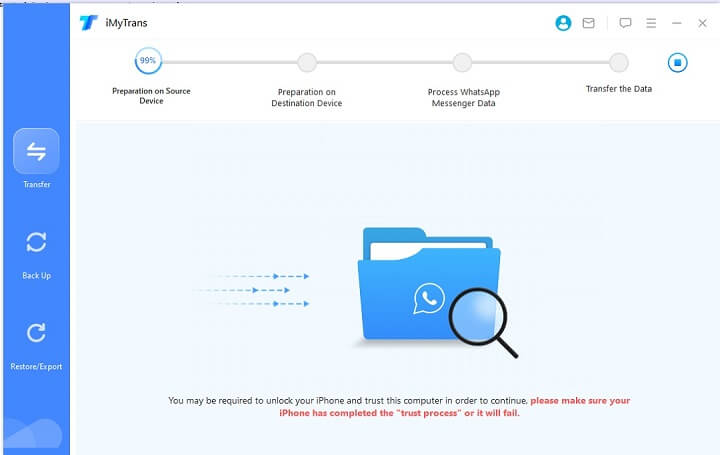 Step 4.Once the transfer is complete, click on Done and check WhatsApp data on your new phone.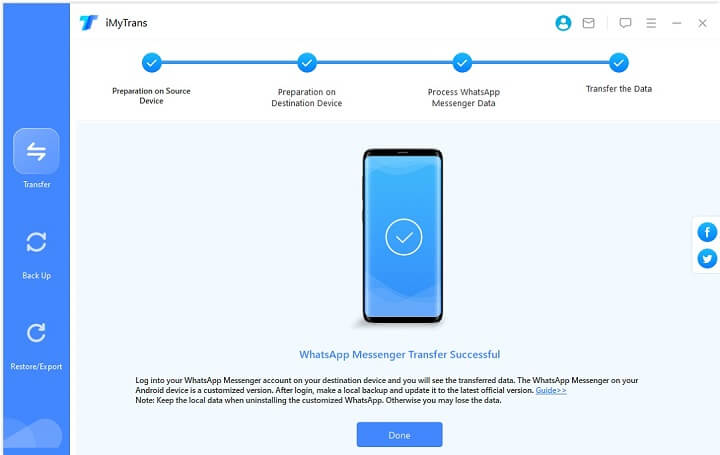 Conclusion
Changing phone numbers or adding a new phone number to WhatsApp is not difficult anymore. There are some default WhatsApp features and third-party tools that allow data transfer without any hassle. The easiest way is to use iTransor, as it transfers data with one click. You only need to connect two devices and click on transfer. The rest of the work will be done by iTransor, and WhatsApp data will be transferred to the new device easily.